Back to profile
Critter Connections Animal Programs Reviews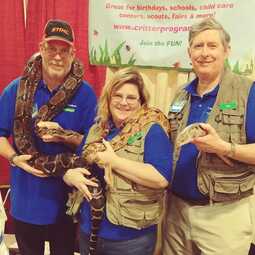 Avg 4.5 | 14 Reviews

Animal For A Party from York, PA

50 Verified Bookings
Starting at $150 per event
---
14 Reviews for Critter Connections Animal Programs
Sort:
Community Event•Reviewed on October 29, 2023•From Elkins Park, PA
If you are having a party with children, you can never go wrong with reptiles, animals and insects. The children loved all the animals and even the cockroaches. The snakes are friendly and don't mind being handled. Michael was an expert and was extremely calm and kind with the children. I would definitely recommend Critter Connection and I will be hiring them again for our next corporate event. Michael was great, many thanks for your entertainment!
Event•Reviewed on July 13, 2023•From Ellicott City, MD
We had a wonderful time, thank you for bringing all your critters along for a great show!
Birthday Party (Kids)•Reviewed on April 29, 2023•From Wallingford, PA
Excellent performance! Micheal was exactly the 20 kids we had at the house needed. The hour show kept both parents and kids engaged the entire time. It made for a very memorable experience!
Critter Connections Animal Programs:
Thank you Matthew for your kind words. I had a lot of fun sharing my animals with everyone.Please keep us in mind for your future program. Mike with Critter Connections
Birthday Party (Kids)•Reviewed on September 24, 2022•From Potomac, MD
They were fabulous! We sent her the whole party around them and they did not disappoint. Had several parents and children say it was the best party they ever went to, and that was definitely because of critter connections!
Birthday Party (Kids)•Reviewed on June 5, 2022•From Spring City, PA
My experience with Critter Connection, wonderful. My experience with "the bash" or whatever scheduling platform this is —- absolutely horrendous. Your emails are misleading. You need to be more transparent with your emails on how the scheduling actually works. You connect the customer with the company as a 3rd party. You don't actually book a damn thing. Critter connection never even received my reservation from you all. Luckily, I contacted them directly a few days prior and they jumped through hoops to make it happen for us. I can't imagine how many other people experience the same thing but don't have the same outcome as I. Shame on you all.
Corporate Function•Reviewed on April 28, 2022•From Washington, DC
Critter Connection was great at our Earth Day event! Tenants enjoyed interacting with the animals and reptiles! Highly recommend for your event! -Jill
Birthday Party (Adult)•Reviewed on March 5, 2022•From Bristol, PA
My Birthday experience was so EPIC thanks to Mike. I was ?? & 1 percent satisfied with the services provided to my family and I. The patience's that Mike had with me overcoming my fear of snakes was GREAT. I didn't think it could be done and he definitely made my BIRTHDAY SUCCESSFUL. I must say I recommend them to anyone who wants to have an EPIC and satisfying experience with snakes (etc). Thanks for everything….. it's definitely a memorable experience to have under your belt. Again, thanks for everything
Birthday Party (Kids)•Reviewed on January 8, 2022•From Delaware City, DE
CC connections was amazing! Not only was the team super accommodating to a reschedule but the amount of animals and knowledge the team brought to our party, was wonderful. Both the adults and kids loved it! I would absolutely recommend them to anyone even remotely thinking about it. It was worth every penny!
Corporate Function•Reviewed on August 22, 2021•From Pasadena, MD
Mike never showed up to our event, which started at noon. We called at 1:00 to find out if he was lost, he answered the phone quite rudely. After we explained that we had booked an event and hadn't seen the performer yet, he told us they were on the way to some address in PA (we are located and booked an event in MD). There were A LOT of disappointed kids at this event, who missed being able to hold and pet the critters. I would NOT recommend this company to anyone.
Birthday Party (Kids)•Reviewed on March 28, 2021•From Gwynn Oak, MD
This was beyond an amazing experience. Mike captured the attention of toddlers and adults with his intriguing animal show. He brought frogs, bearded dragons, lizards, and lots of snakes! He communicated very well with me in regards to what I was to expect and what he needed for his set up. Thanks for making my son's first birthday a success!
Birthday Party (Kids)•Reviewed on March 20, 2021•From Annapolis, MD
this was awesome. kids and adults had a good time!
Birthday Party (Kids)•Reviewed on July 18, 2020•From Waldorf, MD
Job well done
Birthday Party (Kids)•Reviewed on April 1, 2019•From Montgomery Village, MD
He's amazing. I have no words to describe how great he's was my nephew birthday party . His animal are awesome
Birthday Party (Kids)•Reviewed on March 16, 2019•From Bethlehem, PA
One of the best Animal shows we have seen ! The performer was amazing with the big crowd we had at the party. Kept all the kids and adults involved. We learned a lot of fun facts about each animal. Awesome ! Would definitely be booking him again in the future