16 Divorce Party Ideas to Celebrate Your New Chapter
Kickstart your new life with one of these divorce party ideas.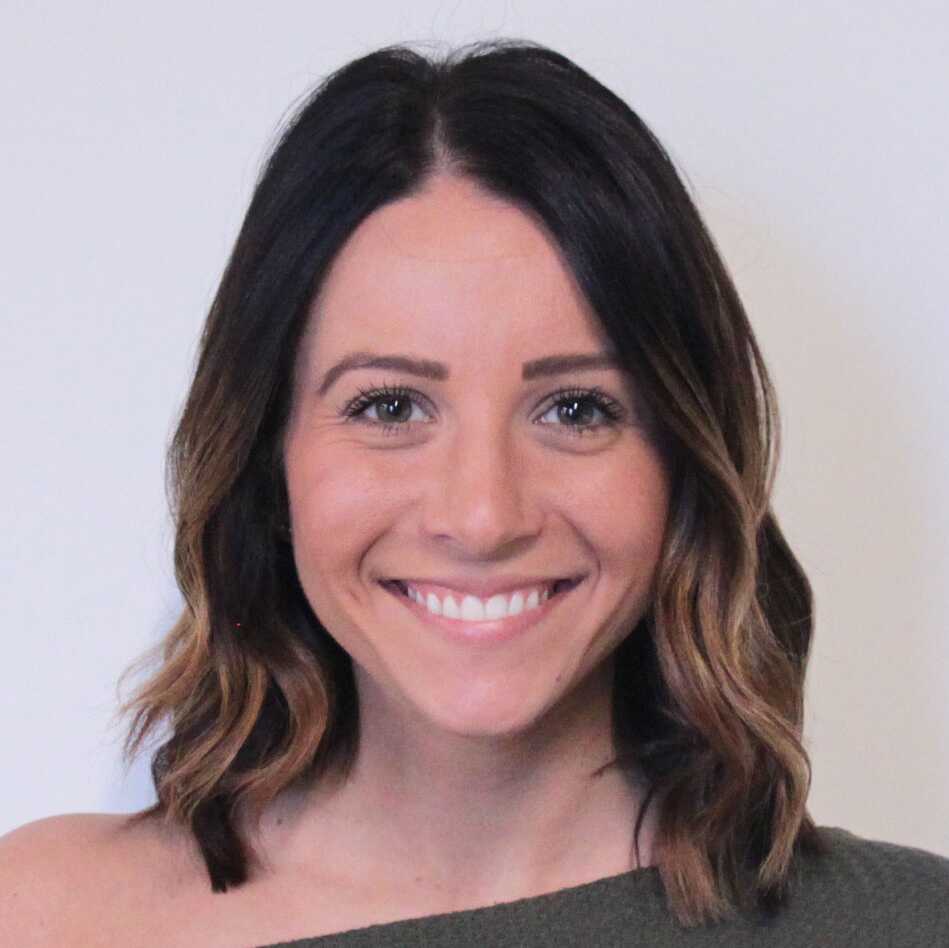 It's time to celebrate the fresh start of a new life and what better way than a divorce party with your best friends. From divorce cakes to pampering with close friends, and everything in between, these divorce party ideas will kick start navigating this new world.
A divorce celebration is something positive, and there's some divorce party etiquette that should be followed. Don't mock your partner or throw out your wedding ring, and definitely do not burn your wedding dress or divorce papers (you'll have major regrets afterwards). Your new life should start with good vibes only and no regrets.
Celebrate this next chapter in life with these divorce party ideas:
Cocktail Party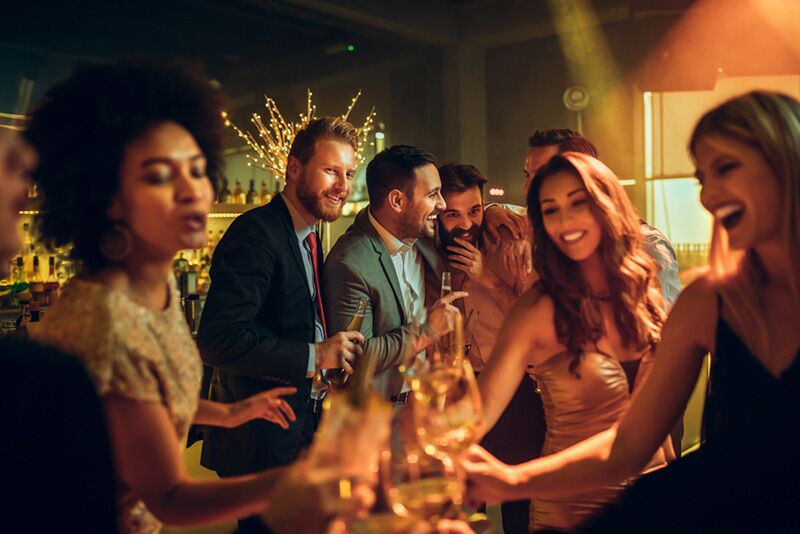 Photo: bbernard/shutterstock.com
Since this is a celebration, what's better than a cocktail party. Create a list of all of your favorite cocktails and even make a signature drink that celebrates you. Have guests dress up for the occasion, and put on a classy and laid back playlist. Go big and hire a bartender to handle the drinks so you can sit back and enjoy.
Hire a Psychic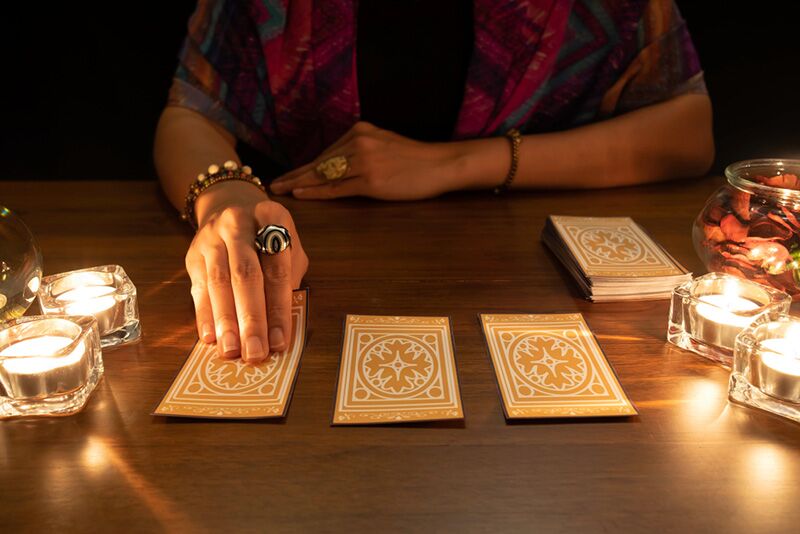 Photo: vimolsiri.s/shutterstock.com
Wondering what the future holds now that you're divorced? Hire a psychic to come to your divorce party and share their vision of what lies ahead. Looking for even more views into the mystical world? You can also hire a tarot card reader or astrologer to add a little fun and mystery for you and your guests.
Old School Game Night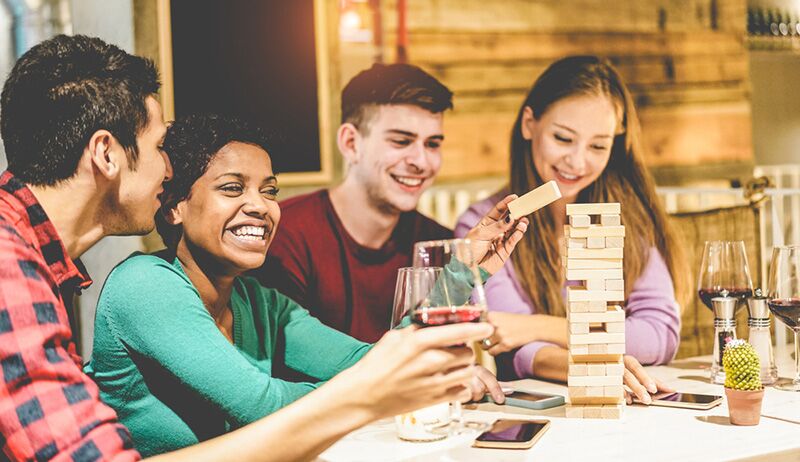 Photo: DisobeyArt/shutterstock.com
If you want to have the best divorce party ever then we recommend you host a fun old school game night. Whether you love board games like Monopoly or Clue, or love card games like poker, you can't go wrong. And, you can even have guests bring their favorite games. If you're looking to get back out there, why not queue up a good old game of MASH to predict the future.
Dance the Night Away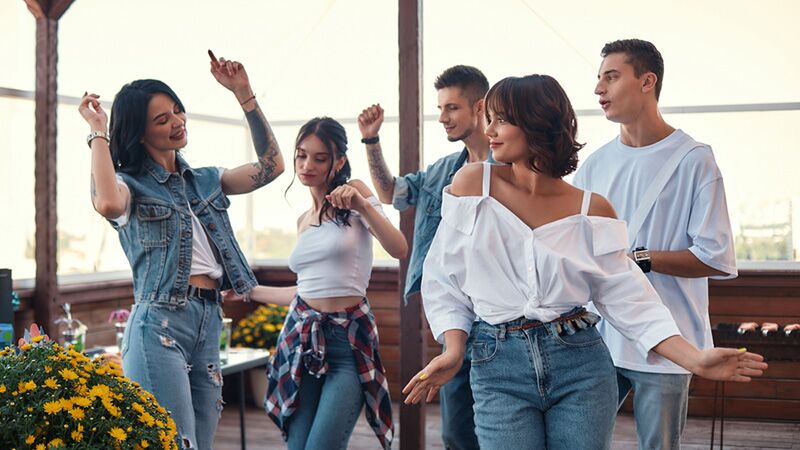 Photo: Friends Stock/shutterstock.com
What could be more fun than a dance party with your best friends. Hire a DJ or a local band and let them know your favorite tunes ahead of time. Nothing is more trendy than 80s or 90s hits right now and we personally think that would be a blast.
Sing Karaoke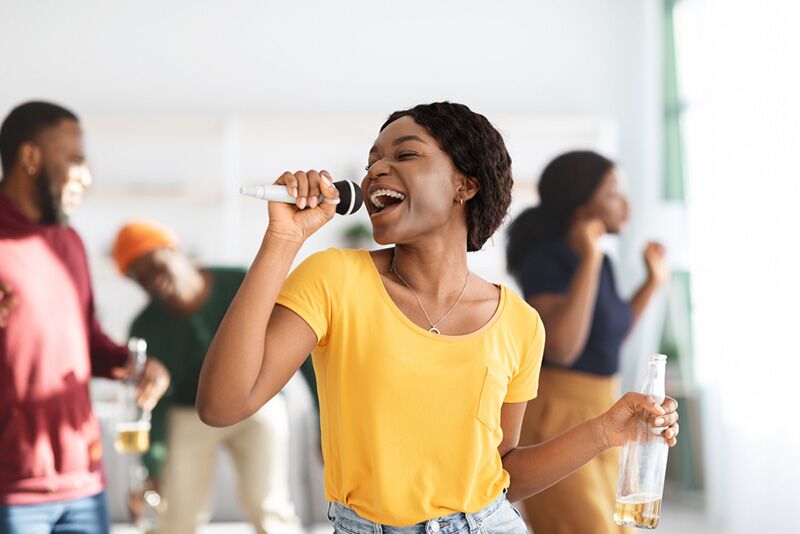 Photo: Prostock-studio/shutterstock.com
If you think karaoke isn't your thing, now seems like a great time to try it! Check your local area for bars or restaurants that host karaoke nights. If you'd rather do it in the comfort of your own home or event, you can hire a karaoke DJ to queue up songs and get the party started.
Workout with Friends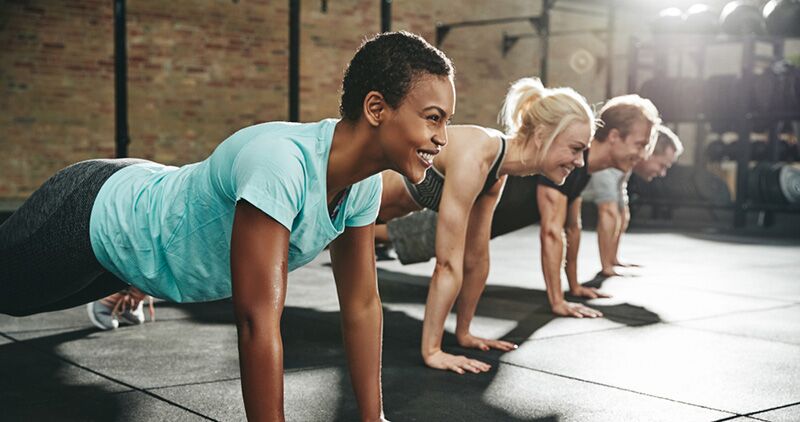 Photo: Ground Picture/shutterstock.com
What's more empowering than moving your body to Beyoncé and Taylor Swift hits with your best girls. Whether it's something high energy like a boot camp or cycling class, or something a little slower like barre or yoga, nothing will make you feel better than a good workout and some post workout endorphins.
Book a Spa Day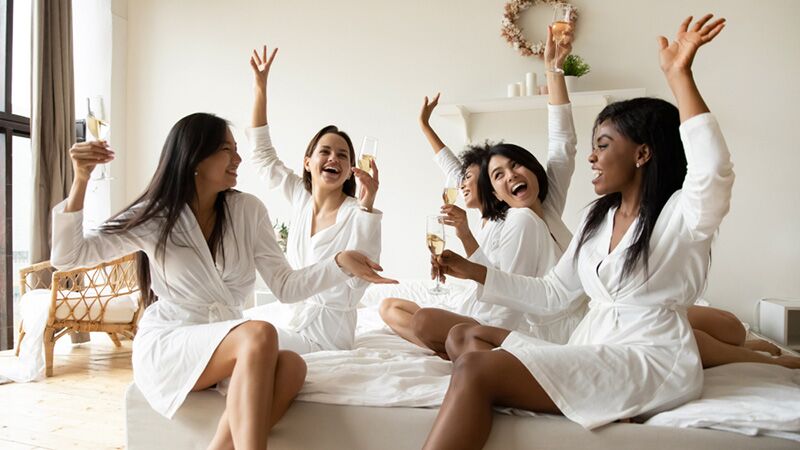 Photo: fizkes/shutterstock.com
Nothing screams the best divorce party ever like a full day at the spa. Massages, manicures, pedicures and a nice glass of champagne, what could be better. If a full spa day isn't what you're looking for, a facial is an easy and relaxing way to start.
Wine Party
Photo: Africa Studio/shutterstock.com
White, red, rose? Why not all 3! Have everyone bring their favorite bottle of wine and set out your best wine glasses. Host your own personal wine tasting with the different bottles brought by guests and get ready to sip the night away and reminisce.
Host a Sleepover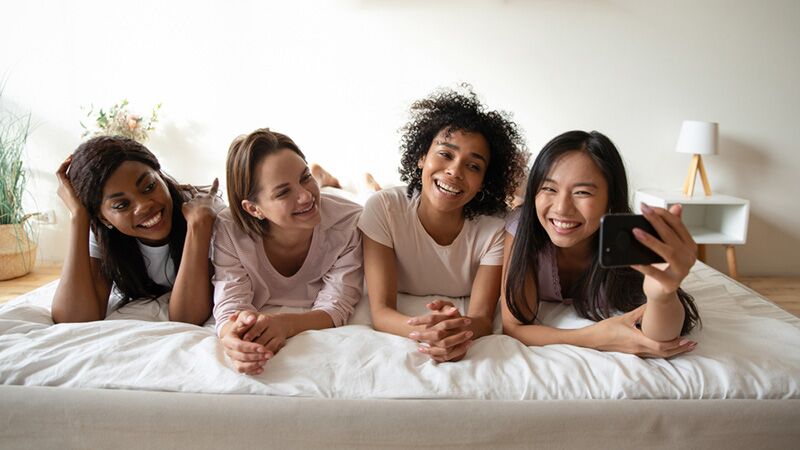 Photo: fizkes/shutterstock.com
Invite a few of your closest friends and pretend you're a teenager (who doesn't have an ex-husband) who's ready for a all-nighter full of movies, popcorn, and lots of gossip. Make this sleepover a little more adult friendly by adding in your favorite cocktails or mocktails, and order in some takeout from your favorite restaurant.
Have a Divorce Cake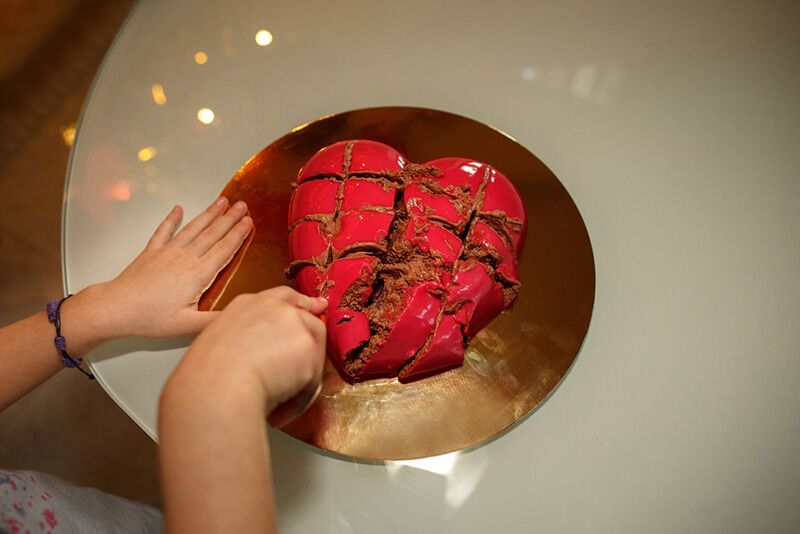 Photo: Wedding and lifestyle/shutterstock.com
Just because you had a big wedding cake, doesn't mean you can't have a lovely divorce cake. If cupcakes are more your vibe, order from your local bakery and add some creative toppers (we recommend checking out Etsy for more ideas).
Live Music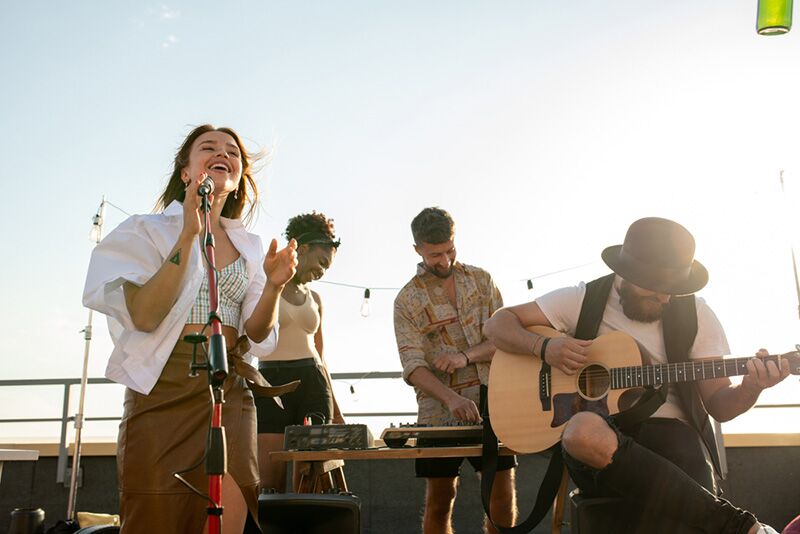 Photo: Pressmaster/shutterstock.com
If you're having a big divorce party, a live band would be a fun addition to your celebration. After all, music is the key to any good party! If you're having a smaller soiree, a solo musician like a singing guitarist or steel drummer may be more fitting.
Play Divorce Party Games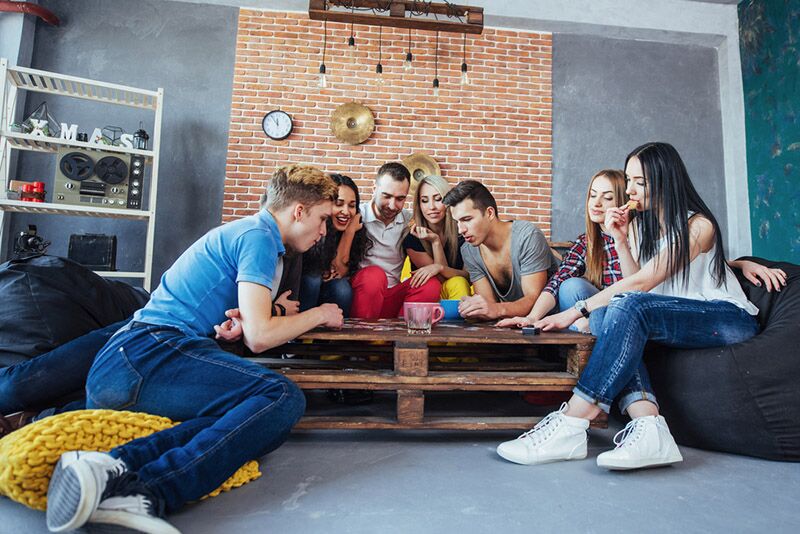 Photo: Standret/shutterstock.com
Depending on your divorce party guest list, there's a variety of different divorce party games available on sites like Etsy and Amazon. These printable games from Etsy featuring easy divorce party games like scattergories. You can also 
Choose a Divorce Party Theme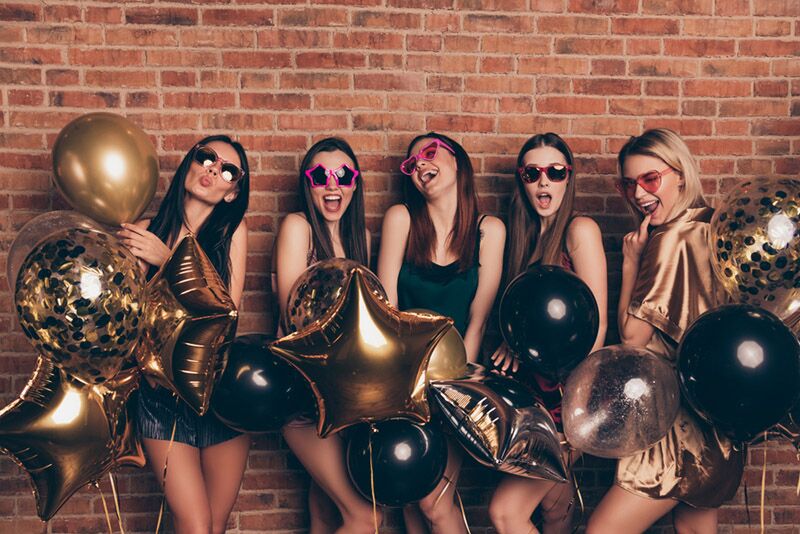 Photo: Roman Samborskyi/shutterstock.com
All of the best parties have themes! For a divorce party theme with your girls, we recommend going with something nostalgic or pop culture inspired like The Princess Diaries, Taylor Swift, Clueless, or Mamma Mia. The key is to celebrate in style and you can't go wrong with a classic theme like black and gold. 
Create Vision Boards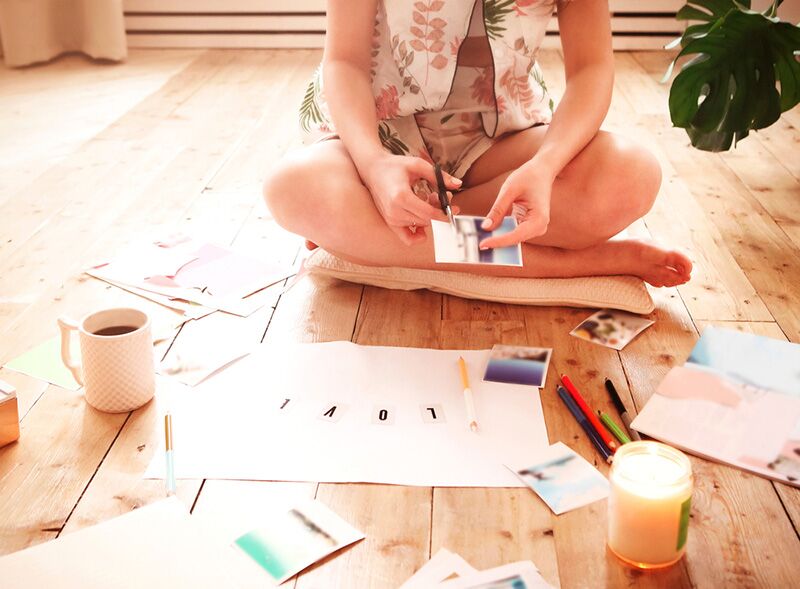 Photo: Dasha Petrenko/shutterstock.com
What do you want the rest of your life to look like? The possibilities are endless and it's always fun to dream big. That's where vision boards (and some post divorce quotes!) come in. You can go old school and grab poster boards and cut out clips from magazines, or you can do it digitally on sites like Canva or Pinterest.
Have a TV Show Binge Night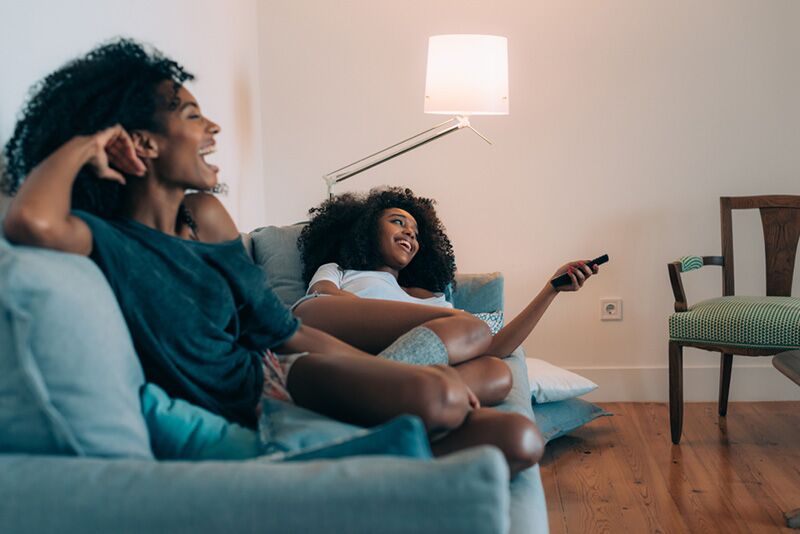 Photo: David Prado Perucha/shutterstock.com
Time to put on your comfiest t-shirt, find a new trending tv show (or your favorite classic like Gilmore Girls or FRIENDS), and relax on the couch. This can be a group event or your own as a single person. The key is to make sure that you're enjoying yourself with a tv show binge.
Make a DIY Divorce Piñata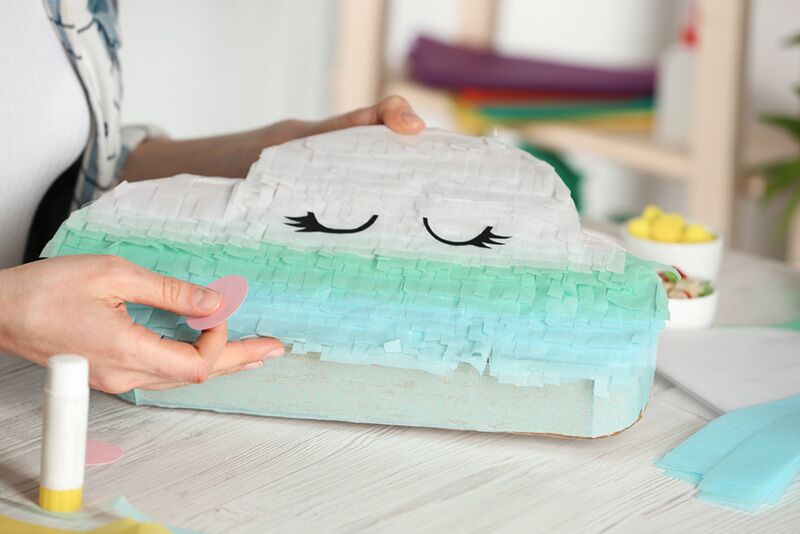 Photo: New Africa/shutterstock.com
If you have a little pent up anger, this could be a fun way to get that out. Pull up YouTube and follow this simple way to make a DIY divorce piñata. Fill it with your favorite candies, mini alcohol bottles, travel size makeup, and more. Don't forget some fun beads, sunglasses, and other items that will make a great photo op.
Find more party ideas and inspiration here on The Bash.