Back to profile
Michael and Jennifer McLain - The Banjocats Reviews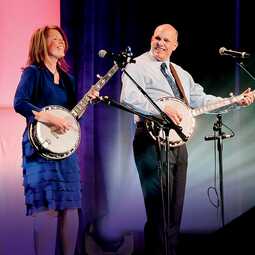 Avg 5.0 | 23 Reviews

Bluegrass Band from Jacksonville, FL

31 Verified Bookings
Starting at $1,200 per event
---
23 Reviews for Michael and Jennifer McLain - The Banjocats
Celebration•Reviewed on October 8, 2022•From Asheville, NC
The perfect backdrop to our mountaintop wedding!
Celebration•Reviewed on April 29, 2017•From Asheville, NC
This band is absolute perfection. They "made" our event. The music was at a level few can achieve, and their flawless command of the room was notable. Pitch Perfect in all ways! The musicality and harmonies were fabulous. I can recommend this band with great enthusiasm. Take a look at their credits, and listen to their sound. It cannot be better. I am indebted to Michael and Jennifer, Dan, and Kori for sharing their great talent with us. It is real music, and the best of the best. My thanks! MPW
Concert•Reviewed on September 23, 2021•From Greensboro, NC
We could not have asked for a better group for our event than the McLains and their band. They were awesome and we will absolutely use them again. I think Jennifer thought I was being funny, but having been a professional musician for a number of years, it was so refreshing to hear a bluegrass band that was always in tune. I recommend them without reservation.
Celebration•Reviewed on November 17, 2016•From Spring City, TN
Wow! What an incredible performance. If you like Alison Krauss you are going to love Jennifer's voice. Both Micheal and Jennifer are outstanding musicians and I would highly recommend them both. They played at an employee appreciation type event and the team loved them. They really made the event. We only had Michael and Jennifer play but the duo was awesome. I can only imagine how good it would have been with the entire band. Check out their CD if you have never heard them!
Wedding•Reviewed on April 15, 2017•From Weaverville, NC
We inquired about Michael & Jennifer for our wedding that was just three months away; they responded promptly and amazingly, were available! They were reasonably priced, and agreed to let my musician brother play several songs with them. Talk about accommodating! Their music was the perfect backdrop for our Western North Carolina wedding.
Wedding•Reviewed on September 18, 2015•From Dexter, MI
Michael and Jennifer and the others in the group were superb! True professionals and very talented! For my daughter's wedding, we wanted them to play on the farmhouse porch during the ceremony, then move and play from the barnhouse patio immediately afterward, then move again to the pavilion tent to play during dinner. None of this was a problem for them. Very accomodating! And everybody love them! Their musical talent and audio expertise was all top notch! I rated them all with 5's because they truly deserve that rating! Thanks Banjocats! (also very nice people!.. it was a pleasure meeting them!) Sincerely, Rick Howard
Rehearsal Dinner•Reviewed on November 8, 2013•From Lenoir City, TN
Michael and Jennifer were wonderful to work with. We hired them to play at our son's rehearsal dinner in Knoxville. Their music and energy was one of the biggest reasons the evening was so much fun. They even took the time to learn a new song I requested. I really cannot say enough good things about them. They definitely were 5 PLUS in every category! In addition to being professional and extremely talented, they are NICE, as well. I feel like we made two new friends. I would not hesitate to hire them again, and can recommend them Highly!!
Fundraiser•Reviewed on October 25, 2014•From Stuart, VA
Mr. and Mrs. McLain were very accommodating and most of all very professional. They went above and beyond with providing much needed help with the booking process and and delivered a five star performance. I would most definitely consider booking them again and I would recommend them to anyone looking to receive a great performance!!!
Wedding•Reviewed on September 9, 2017•From Radford, VA
Outstanding band in their music and professionalism. They made the wedding a very special day.
Concert•Reviewed on December 10, 2016•From Harriman, TN
The band was a wonderful addition to our program, received much positive feedback from our audience, and was a pleasure to work with overall from beginning contact to concert break down!
Festival•Reviewed on May 10, 2014•From Glen Saint Mary, FL
Excellent! Exceeded our expectations, we will book them again and enthusiastically recommend to others.
Wedding Reception•Reviewed on August 15, 2015•From Fairmont, WV
The Banjocats were absolutely fantastic!! They made our wedding day so special! I highly recommend them for your event!
Celebration•Reviewed on February 28, 2015•From Charlotte, NC
Michael and Jennifer did an amazing job at my house party. They were able to accommodate my venue and budget; and suggested a paired down version of their full band, to just the two of them and it worked out beautifully. I wanted a more intimate, casual music environment and they delivered exactly the mood I was hoping for; warm, engaging, fun. They took great care to make sure the acoustics were right in my home, and let me participate in the song selection and even learned a special song I wanted for the event. And they are both lovely to work with; pleasant and helpful. I would hire them again in a hearbeat!
Wedding•Reviewed on May 24, 2015•From Boulder, CO
Delightful people, superb musicians. Flexible, helpful. They made for a memorable "sound track" for our wedding weekend--the rehearsal dinner, the ceremony( many of our guests raved that church music was "best ever") and the reception. They are great but showed no ego-- graciously allowing some (pretty talented actually) guests to play a song and even helping out with a base line and fiddle. I would have them again ( and might--i've got one more kid) in a heartbeat. Only one qualifier. Michael is too humble to be an MC-- I would not ask him to do that. (But he'll do whatever you ask, with a smile. And amazing musical gifts.
Wedding•Reviewed on November 18, 2017•From Naples, FL
They did a wonderful job with the little info that I gave them with what songs I wanted. They were very flexible and friendly when they came on the day. They played beautifully and made a special day even more so with lovely music. Thank you so much. I would definitely use them again. Allison Harrison
Rehearsal Dinner•Reviewed on August 1, 2014•From Mount Airy, NC
We had the banjo cats for a rehersal dinner . They were very accommodating on types of songs and how the program should run. Set the tone for the evening as enjoyable and upbeat
Wedding•Reviewed on June 6, 2014•From Draper, VA
Celebration•Reviewed on July 18, 2014•From Greensboro, NC
Event•Reviewed on June 8, 2016•From Knoxville, TN
Community Event•Reviewed on August 2, 2019•From Lexington, KY
They were great! We had them play at the post race party for a race we hosted and we heard nothing but good things from our participants.
Community Event•Reviewed on May 27, 2018•From Fancy Gap, VA
Everyone loved Michael and Jennifer and their performance at our mountain community Memorial cookout. What a success!
Private Party•Reviewed on April 21, 2018•From Dahlonega, GA
Michael and Jennifer McLain were wonderful in every way! They truly made our event special.
Anniversary Party•Reviewed on December 31, 2017•From Bryson City, NC
Great friendly talented professional band.