Back to profile
Ash Jackson&Andrew Richardson JRC Cartoon Portaits Reviews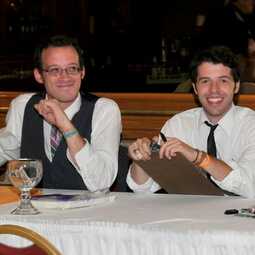 Avg 5.0 | 110 Reviews

Caricaturist from Hopkinton, MA

256 Verified Bookings
Starting at $125 per hour
---
110 Reviews for Ash Jackson&Andrew Richardson JRC Cartoon Portaits
Birthday Party (Kids)•Reviewed on June 16, 2012•From Dedham, MA
They were excellent! The crowd thought they were great! I look forward to having them again the next event I plan on having for my child! Great job guys! Thanks again (^;*)
Wedding Reception•Reviewed on October 24, 2015•From Groton, CT
These guys made our wedding so much fun! Instead of the overdone photo booth caricatures made the perfect party favor. Ash and Andrew dressed the part for our Gatsby wedding and provided the best artwork for our guests! They're fantastic!
Holiday Party•Reviewed on January 3, 2015•From Norwich, CT
Ash and Andrew arrived on time despite messy weather. Very accommodating and professional with guests at our Holiday Celebration.
Trade Show•Reviewed on October 21, 2015•From Foxboro, MA
They were great. They took many requests from our clients and myself. They also had a lot of patience with people, more than I would ever have! I will hire them again, thinking of them for our holiday party and some more trade shows!
Birthday Party (Adult)•Reviewed on October 13, 2012•From Rehoboth, MA
Ash and Andrew did such a great job. The guests at my party were thrilled to have such a unique favor to take home and I couldn't have been more pleased. I would highly recommend them for any event!
Wedding Reception•Reviewed on October 3, 2015•From Windham, NH
Every guest that I spoke with raved about the caricaturists that we hired for the wedding. It was a unique experience for all our guests and it was amazing to see everyone's portraits. Ash & Andrew did a wonderful job and they helped make our wedding even more special and fun.
Wedding•Reviewed on November 8, 2013•From Walpole, MA
An unforgettable experience, worth every penny... We are so happy we hired Ash & Andrew. Their work was amazing, and it allowed us to give a unique, personalized wedding favor to all of our guests. Everyone will remember our big day thanks to Ash & Andrew. Thanks again, guys! Nick & Jenn
Corporate Function•Reviewed on October 4, 2015•From Dedham, MA
Ash & Andrew were efficient, professional, and focused. They cranked out a solid number of caricatures in the 3.5 hours they were at the event. They added a terrific dimension to the party as a conversation piece, a non-contact game of sorts that engaged folks from toddlers to octogenarians. Some guests didn't think their caricatures resembled them very much, but overall Ash and Andrew made the portraits good looking, and not ugly or overly unflattering. We would definitely recommend them to others.
Community Event•Reviewed on June 15, 2011•From Weymouth, MA
I recently had Ash & Andrew at 2 different commmunity Cancer Survivor events. They are great artists, courteous and professional! A big hit with our cancer survivors and their families. I would definitly recommend them. Thank you, Karen Welsh Account Executive
Bat Mitzvah•Reviewed on April 18, 2015•From Warwick, RI
They were wonderful! All of my guests got to have their picture done and all were very pleased!! I am completely satisfied with both of their work!!
Rehearsal Dinner•Reviewed on May 18, 2012•From Westerly, RI
Ash did an excellent job, and everyone had a great time and enjoyed their caracitures. We were highly satisfied with their professionalism and artistic ability
Wedding•Reviewed on October 17, 2015•From Boston, MA
Ash & Andrew were a great addition to our wedding. We didn't want to do a photo booth so we decided to go with Ash & Andrew. All our guests enjoyed getting their caricature done, and they worked so efficiently that everyone was able to get one. I highly recommend them!
Birthday Party (Adult)•Reviewed on April 21, 2012•From Worcester, MA
I hired Ash Jackson to create a caricature for my brother's 50th birthday in April. Everything was done through email. Correspondence was excellent. Ash was extremely accomodating and the caricature came out great. Everyone at the party was in awe. I would definitely recommend Ash. Pamela S.
Sweet 16 Party•Reviewed on November 19, 2011•From Foxboro, MA
Ash and Andrew arrived promptly, as promised. They were very accomodating and actually stayed an extra hour so that all of the guests could have their caricatures drawn. Would definitely recommend them and would also be willing to hire them again! Thanks so much for making our daughter's Sweet 16 more entertaining!!
Birthday Party (Adult)•Reviewed on October 28, 2012•From Lowell, MA
The overall experience with the artists and with gigmasters was outstanding from beginning to end. I would highly recommend using the gigmaster service to anyone looking for professional, talented entertainment. Everything was done via email making the process so convenient and easy. The caricature artists were a huge hit at our party. Ash and Andrew not only drew the subjects sitting in front of them, but also accommodated requests to draw from photos guests had brought with them or had stored on their cell phones. They were extremely professional and talented and I would most definitely hire them again for another event. Thank you Ash, Andrew, and gigmasters!!
Wedding Reception•Reviewed on June 25, 2011•From Chocorua, NH
They were amazing. People came up to me all day and said how awesome it was to have this type of entertainment at a wedding. They were very professional. Even after packing up most of there markers, paper etc.,they unpacked and did a drawing for him. Thank you, Joanne
Prom•Reviewed on April 27, 2013•From Hopedale, MA
Ash and Andrew recently worked our after prom party! They were fabulous, punctual, and very professional. They were very accommodating and provided us with superior artwork!
Christmas Party•Reviewed on December 24, 2011•From Manchester, NH
Excellent! Fun for everyone.
Wedding Reception•Reviewed on May 29, 2011•From Southington, CT
We hired Ash & Andrew to come to our wedding reception & could not have been happier. They were completely professional...on time, courteous, and drew amazing caricatures!! They moved quickly so all of our guests could get drawn but still did them with care & creativity. Would definitely recommend them & would hire again! Thank you for adding such a memorable addition to our wedding!!!!
Graduation Party•Reviewed on June 5, 2011•From Winthrop, ME
Ash and Andrew were very comfortable with the students. They worked diligently to make sure every student had their portrait done. All of the students were very happy with the finished product. I would definitely hire them again.
Christmas Party•Reviewed on December 16, 2010•From Boston, MA
This was great fun for our company holiday party! They were very flexible and stayed longer to accommodate our group. I highly recommend.
Birthday Party (Kids)•Reviewed on June 18, 2011•From Hyde Park, MA
Just amazing! They are true artists and my guests loved them!!! I cant wait to use them again next year!!
Bat Mitzvah•Reviewed on May 29, 2011•From Wellesley, MA
Very pleasant, very accomodating and extremely talented. We will definitely tell our friends. Our young guests were very happy!
Quinceañera•Reviewed on November 13, 2010•From New Bedford, MA
They did a great job.None of the party guest new they were having the drawings done & they just loved it.They did some of my daughter s friends in groups of three which was a great momento for them to have.I'd love to hire them again for my next big event!!
Bat Mitzvah•Reviewed on March 26, 2011•From Rhinebeck, NY
Ash was always very prompt in replying to my inquiries prior to the event. The large caricature that he completed prior to the event was great - I was able to make a poster for guests to sign. They came to the party from 3 hours away, yet they were early to the party. They did the drawings very quickly, so that there was never a line even though we had 100 guests. The drawings were terrific, and great fun for the kids and adults too!