Back to profile
Ugly Rumor Reviews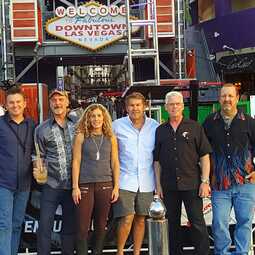 Avg 5.0 | 18 Reviews

Classic Rock Band from Denver, CO

22 Verified Bookings
Starting at $600 per event
---
18 Reviews for Ugly Rumor
Picnic•Reviewed on July 30, 2022•From Loveland, CO
What a great band! Professional, fun, easy-going! As a professional Marketing & Events Planner, working with a group that is easy to communicate with, happy and helpful --- is simply a breath of fresh air. We highly recommend Ugly Rumor for your event! Our event attendees of over 200 raved about the atmosphere of our casual, joyful outdoor concert and picnic. Thank you Ugly Rumor for bringing the fun!
Private Party•Reviewed on July 23, 2022•From Arvada, CO
The entire band was great, incredible musicians and professional to boot! Would recommend the band for ANY event you have! No complaints what-so-ever! Truly appreciate the performance and the manner it was all handled from start to finish... Great fun!
Birthday Party (Adult)•Reviewed on June 11, 2022•From Aurora, CO
Everyone was very professional, and our entire party had a really great time!! I would hire Ugly Rumor again and would recommend them to anyone looking for a band for their party!! Thanks again all!!
Birthday Party (Adult)•Reviewed on August 14, 2021•From Berthoud, CO
WOW is what I have to say about this band. They are so talented and put on a show that everyone attended is still talking about! They are friendly, professional and just all around great! They have a great fun playlist and even let the birthday boy get up there and have his rockstar moment! Will most definitely keep them in mind for our next backyard bash!
Rehearsal Dinner•Reviewed on July 16, 2021•From Englewood, CO
We had Ugly Rumor play in our backyard for a Welcome Dinner for our son and daughter n law. They were amazing from beginning to end! Wayne was so accommodating from the first time we spoke. The musicians are extremely talented and Mike the sound guy was fantastic. The band had everyone on the dance floor! All of our guests were blown away by the talent! I can't wait to have another party so we can have Ugly Rumor play again. You won't be disappointed if you hire this band!!
Birthday Party (Adult)•Reviewed on July 31, 2021•From Golden, CO
I would give 10 stars for each attribute if I could. Ugly Rumor was simply amazing in every way! They were easy to work with before the party with proactive communications. When we were hit my a huge rainstorm they hunkered down and stayed with us until it blew over and played until the next wave of rain forced us to shut it down. They were communicative, accommodating and friendly throughout all the weather and craziness of moving everything around because of the downpour. When they were finally able to play they were awesome. The music and singing were on point. They had everyone out dancing and interacted with our guests. Truly couldn't have asked for more.
Birthday Party (Adult)•Reviewed on September 12, 2021•From Littleton, CO
This band was very entertaining and extremely talented! We definitely will see them again!
Coffee Shop Event•Reviewed on July 17, 2021•From Morrison, CO
Ugly Rumor is simply fantastic! What a wonderful experience! Very professional and very personable - interacted with the crowd. Just an all around terrific time! Would definitely hire again!
Birthday Party (Adult)•Reviewed on October 15, 2016•From Boulder, CO
We were so impressed by Ugly Rumor, they were incredible!! We got very personalized attention and service prior to the event and their talent was seriously impressive!! They had our entire party dancing and many of our guests commented on how great the band was! We also appreciated how well they accommodated our request for specific British Rock songs. They even did a special band rehearsal just for our event! We highly recommend this band, you will be thrilled!
High School Reunion•Reviewed on September 10, 2016•From Westminster, CO
Ugly Rumor an awesome band, not only are these guys talented, they are friendly, professional, and by interacting with the audience, made Ranum High Schools 40th reunion so much more fun!! I can't even begin to say how AMAZING they were when they played our class song Free Bird, they had all of us on the dance floor!!! Thank you Ugly Rumor for being a part of a special night and for making it even memorable!!
Fundraiser•Reviewed on July 4, 2016•From Estes Park, CO
We hired Ugly Rumor to provide "car related" music for our Car Show in July. They kept in touch with us prior to our event, and were always courteous and punctual in all communications. Ugly Rumor is a "terrific band"-- a quote from my son-in-law, who is a sound engineer in Southern California and books bands for a club there. I really enjoyed meeting the band members and loved the music-- and it was nice to have my own opinion verified by a professional! We hope we can book them to come again next year!
Private Party•Reviewed on May 28, 2016•From Laporte, CO
Ugly Rumor was the hit of our annual crawfish boil this year. The neighbors are already asking if they will be back next year and we are happy to oblige! They were professional and accommodating from the moment we booked the gig. Most importantly, they are extremely talented and entertaining! They delighted all age groups and even stayed a couple hours longer when we asked. We've already booked them for next year and can't wait to enjoy their timeless music again!!! FIVE STARS.
Ugly Rumor:
Thanks Gretchen. You all were such a blast to play for. We are locked in for next year and can't wait. Enjoy your summer and please let us know if you are coming out to see us this summer. Wayne Ugly Rumor Band
Community Event•Reviewed on August 20, 2016•From Platteville, CO
This band is the best! The day of the gig got rained out and they all drove out here again the next day to help us out! They made that day's events even better! Thanks Ugly Rumor.
Fundraiser•Reviewed on August 22, 2015•From Milliken, CO
These guys were amazing! Everyone had nothing but great things to say about the band. Fantastic music set, and even after the time was up the band played on! Thank you Ugly Rumor!
Birthday Party (Adult)•Reviewed on July 25, 2015•From Lakewood, CO
The band played for my dad's 55th birthday and did great! Everyone in the band was very friendly, they had an amazing set up and their performance was awesome! Everyone wanted to know where I had found such a good band! Even though I had only requested 4 hours by the end everyone wanted them to continue playing I offered to pay more but a band mate was on call for his job so they couldn't continue.. I just wish I would have booked then for a longer set because they were the life of the party!
Community Event•Reviewed on July 4, 2017•From Estes Park, CO
Great Music, Great musicians. And thoroughly professional in every way.
Community Event•Reviewed on June 3, 2017•From Aurora, CO
The band was great and kept the party going. They were very accommodating in our need o make a few announcements throughout the day.
Luau Party•Reviewed on August 26, 2017•From Westminster, CO
Ugly Rumor did a fantastic job for our event! The music was great and we had great response all around from our community. We would definitely book again.