Back to profile
Royalstrings Duo ROCK/POP/CLASSICAL Reviews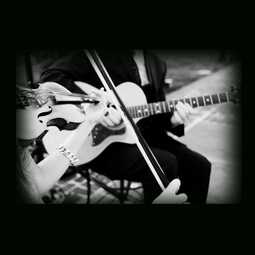 Avg 5.0 | 64 Reviews

Classical Duo from Paramus, NJ

112 Verified Bookings
Starting at $200 per event
---
64 Reviews for Royalstrings Duo ROCK/POP/CLASSICAL
Wedding Cocktail Hour•Reviewed on August 21, 2010•From Riverhead, NY
This team is AMAZING!!! Steve and Boris are just incredible. I can't begin to tell you how many people approached me at the wedding and still now, 2 weeks later asking me where I found them and how incredible they sound. During cocktail hour, quite a few guests approached me and asked if I realize they are playing Metallica and Michael Jackson! Everyone was just amazed. We requested our first dance song by Lifehouse be played by them instead of our DJ, which they never played before, and did an amazing job. I look forward to using them again for future functions as well as referring to family and friends. They get an A+ in my book! You guys ROCK!
Wedding•Reviewed on November 15, 2008•From Township of Washington, NJ
They added the elegant touch that we were looking for our event. We had a small intimate gathering and they played graciously through the ceremony and dinner reception. At the last moment we had to move the ceremony from outside to indoors because of impending rain (every bride's nightmare) but their professionalism and flexibility made it a non issue. We thank them sincerely for making our day so special. I would recommend them for any special occassion. Terri & Mike Gould
Wedding•Reviewed on August 23, 2008•From Riverhead, NY
My husband and i hired Royal Strings to play at our wedding this past August 23 and let me tell you, they were AMAZING!! everyone EVERY PERSON came up to me and asked me about them and couldnt stop raving about how good they were. We are sooooo happy with there performence and will quickly refer anyone who is having an event to use them. Words cannot describe how awesome they made our wedding all i know is that we would defintily use them again i wouldnt even bother calling anyone else!!
Wedding Ceremony•Reviewed on August 28, 2010•From Danbury, CT
Royalstrings Duo were amazing!!! Steve was friendly, warm and accomodating from the moment I began talking with him, and even showed willingness to learn songs at our request! They were so professional and played so absolutely beautifully we had no less than 30 people ask where we found them. I would recommend them over and over again, and hope to pass on many future cutsomers into their hands, you simply will not be dissapointed if you work with these extremely talented and sweet gentlemen!
Wedding Ceremony•Reviewed on January 10, 2010•From Verona, NJ
They performed at my daughters wedding sunday and they were wonderful!!They did classical versions of led zepplin and coldplay for the ceremony and it was great!!! The guests were so impressed. they really worked around us since they came into a very crazy rehersal with eight small children and they just starting playing it was great. I would reccomend them to everyone. Thanks again michele f
Wedding•Reviewed on September 27, 2008•From Reading, PA
Royalstrings Duo was absolutely tremendous. They were flexible when we had to move the wedding indoors at the last minute. Many guests complimented their performance before and during the ceremony as well as the cocktail hour. I would highly recommend them to anyone. They played all the songs that we had requested prior to our wedding day.
Wedding Ceremony•Reviewed on August 22, 2009•From Jersey City, NJ
Our Wedding Day was absolutely perfect and Royalstrings Duo had a lot to do with that. Steve was wonderful! He always responded to my emails promptly and was incredibly accomodating to our unique song selections. Everyone at the wedding thought they were amazing and they truly added something special to our ceremony. I am so grateful to them for sharing their talent with us. As a bride with far exceeded expectations, I will recommend Royalstrings whenever I get the opportunity.
Wedding•Reviewed on April 26, 2008•From New York City, NY
My newly wedded wife and I hired Royal Strings duo and their performance was captivating! We held our ceremony at the public Central Park Conservatory South Garden and their performance drawn and touched so many onlookers as well as my guests at our ceremony. Well done Royal Strings! Definite a class act!
Wedding•Reviewed on June 14, 2008•From Asbury Park, NJ
I hired Steve of Royalstrings to play acoustic guitar during my garden wedding ceremony in June. He was very professional and sounded beautiful. I received many positive comments from guests about how wonderful he sounded and how the acoustic guitar added a touch of unique class to the ceremony. Would highly recommend him and Royalstrings!
Wedding•Reviewed on June 20, 2009•From Beach Haven, NJ
I could not have imagined a better musical accompaniment to both my wedding ceremony and reception than Royal Strings...they were a joy to work with from my very first contact with them = friendly, fun and extremely professional. Always prompt with returning phone or email messages. I would recommend them 100%. Would love to have another party/special occasion for them to provide the entertainment!!
Wedding•Reviewed on September 20, 2008•From West Orange, NJ
RoyalStrings did a wonderful job at our wedding. The ceremony was outside and their music beautifully complemented the whole set. We got a lot of positive comments from our guests. Thank you so much, Steve. Ava & Bill
Wedding•Reviewed on August 9, 2008•From Lafayette Hill, PA
Professionals who eliminated our worry about ceremony and cocktail hour music! A hit with the guests, who are still buzzing about it! Thanks!
Wedding•Reviewed on May 10, 2008•From West Orange, NJ
They were absulutely great! They helped make our wedding a memorable one. They were prompt, they were extremely accomodating, and they are very talented. I received great comments from the guest about them also. Would definitely recommend, to help make someone elses wedding a memorable one. Thank you so much guys, God Bless you, Sergio and Nadyme Murteira
Private Party•Reviewed on August 27, 2008•From Great Neck, NY
Puntual, proffessional, warm, considerate. Great guys and very talented!
Wedding•Reviewed on April 19, 2008•From Bradley Beach, NJ
We cannot express to you both what an amazing impact your music made on our ceremony. Numerous guests informed us that it was one of the most moving ceremonies they ever attended, and they credited your beautiful music! We thank you for accommodating our song requests - they sounded better than we could have ever imagined. THANK YOU SO MUCH for bring your wonderful talent and professionalism - and of course your fantastic music! - to our wedding! We wish you all the best in the future, and we will spread the Royal Strings word!!
Wedding•Reviewed on April 5, 2008•From Holbrook, NY
cocktail hour music was great....everyone loved it
Wedding•Reviewed on December 29, 2007•From New York City, NY
totally satisfied, will definetly recommend and call again for future events.
Christening•Reviewed on December 1, 2007•From New York City, NY
Sensational. They are genuine, salt of the earth, people with tremendous talent and a sincere passion for the beauty of music. Thank you for everything! You made the day as beautiful as it deserved to be.
Wedding•Reviewed on October 27, 2007•From Monroe, NY
EXCELLENT !! Good value, polite, funny and charming over the phone, I had a special request for music to walk down the aisle to- sent it to them and they played it beautifully. They were at the church before I was, set themselves up with minimal direction and did their thing - they were great!
Anniversary Party•Reviewed on September 28, 2007•From Yonkers, NY
the guys were great, very professional, punctual, and sensitive to the fact that I wanted to surprize my wife for our anniversary. I plan to use them again whenever I have a function that would be enhanced by live music.
Wedding•Reviewed on May 17, 2008•From Basking Ridge, NJ
Wedding•Reviewed on September 22, 2007•From New York City, NY
We hired Royal Strings Duo to play at our Wedding Ceremony in Central Park, NYC. I can't say enough great things about their professionalism and enthusiasm. Many of our guests commented on how classy our ceremony was - and this was largely due to the music they played. Great Job! Our Ceremony would not have been the same without them!
Christening•Reviewed on May 20, 2008•From Newark, NJ
Wedding•Reviewed on September 8, 2007•From Titusville, NJ
They were extremely accommodating and sounded wonderful for both the ceremony and cocktail hour. Very prompt and excellent communication from Steve. Thanks again!!
Wedding•Reviewed on August 25, 2007•From Alpine, NJ
Thank you Royal Strings for doing an outstanding job at our daughters wedding. Steve was very helpful in helping us choose the correct music for the ceremony and cocktail hour. The gypsy show was simply amazing! They received a standing ovation from our guests!!!