Back to profile
Pairadeux Reviews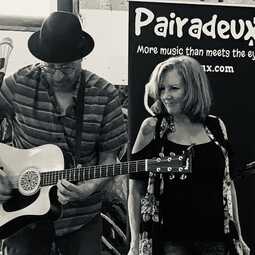 Avg 5.0 | 35 Reviews

Cover Band from Port Saint Lucie, FL

57 Verified Bookings
Starting at $500 per event
---
35 Reviews for Pairadeux
Wedding Reception•Reviewed on August 14, 2010•From Ouray, CO
What can I say? They were great! Very easy to work with and very professional. Hire them - you won't be disappointed.
Fundraiser•Reviewed on November 13, 2010•From Denver, CO
I hired these two very talented people for a charity event. I needed entertainment who could cover all ages from 18 to 88. They did not disappoint. The crowd I was working with can be somewhat critical :)...but that night I heard nothing but compliments and requests to invite them back. They were also very courteous and friendly, a big plus in my book!
Wedding Reception•Reviewed on August 15, 2009•From Boulder, CO
Great fun band! Fantastic personalities and very flexible to fit our specific wants and needs.
Festival•Reviewed on September 7, 2007•From Cheyenne, WY
How can two musicians sound so good? I received many comments about their performance. Great job and thank you.
Celebration•Reviewed on June 13, 2015•From Castle Rock, CO
These guys were great! They were very accommodating with the chaos of throwing a surprise party. Wonderful music and they have a talent for knowing what songs the audience wants to hear and adjusting to fit what we wanted as the day went on. Highly recommend!
Anniversary Party•Reviewed on December 12, 2005•From Denver, CO
They were outstanding!! For such a diverse crowd that we had, they were able to play something everyone could enjoy. They had people up and dancing and having a great time. The interact great with the folks in the crowd and everyone enjoyed them!!! I would highly recommend them to anyone!!!
Wedding Reception•Reviewed on August 7, 2010•From Loveland, CO
Unbelievable!! We will recommend them to everyone we know.
Wedding•Reviewed on December 31, 2006•From Torrington, WY
They were absolutely wonderful. Had the crowd dancing pretty quickly after dinner--this is amazing because usually after dinner everyone sits around for awhile. I had requested a particular song--which they learned for that evening:) Wonderful music selection-- As one member put it--"I either have the 45 OR the CD"...We will definitely have this band back!! They were pleasant and professional to deal with, and were perfect for our venue because we have a space issue, and their music sounds like way more than 2 people. Great Job guys, thank you very much for making our New Year's Eve a great one!!
Private Party•Reviewed on December 2, 2011•From Wheatland, WY
Very nice people and our clients were completey satisfied. We had hired them for a private party and they really appreciated the good music. We will try to have them back here for another event in the future.
Wedding Reception•Reviewed on January 24, 2015•From Denver, CO
These guys were excellent for our January wedding. We got so many compliments from our guests on how great they were. They're very versatile in their musical abilities and can learn nearly any song if they don't already know it. They're also very skilled at assessing the audience and 'working the crowd'. One thing we especially enjoyed was their suggestion to do a married couple's dance where the last couple standing is the one married the longest - what a great idea for a wedding. We chose them because their recording on gigmasters sounded great, they had a wide music selection, and set a very reasonable price for the event. They sounded even better in person.
Event•Reviewed on June 30, 2012•From Granby, CO
Pairadeux was very good. They have a big sounds, crowd pleasing song list, and are very easy to work with! Thank you!
Wedding Reception•Reviewed on June 4, 2010•From Hesperus, CO
Pairaduex was awesome for my wedding. They communicated in an extremely timely manner. They made sure they were at the venue with plenty of time to set up and get organized. The music was outstanding. With a wide varitey, there was something for everyone to dance to. My guests ranged in age from 9 years old to 75, and at one point or another everyone was on the dance floor. Thank you Pairaduex for helping to make my wedding the best day of my life! ~Sunee Golder
Rehearsal Dinner•Reviewed on September 9, 2011•From Estes Park, CO
Don't hesitate, BOOK THIS BAND. Elizabeth and Neil are absolute pro's. They are extremely talented, versatile, friendly, accomodating and made our son's rehearsal dinner a joy. The dance floor was never empty, they gladly played every request that was in their extensive repertoire. Their acoustic dinner music was perfect as well. In addition to contacting us for special requests, they made contact with our restaurant venue, made sure they were they ahead of time, set up and ready to go. We would hire them again instantly, and our friends are requesting their contact info. Pat and Janie
Wedding Reception•Reviewed on October 8, 2011•From Breckenridge, CO
Neil and Elizabeth were awesome! So glad we hired them to play for our wedding. From the moment we arrived at our reception venue (a 40x60 tent outdoors at a private home looking over Breckenridge) Elizabeth was there to greet us and to get us organized. They were on top of everything and took all the stress away from us. And, on top of that, their music was unbelievable. We loved them, our guests loved them, and everyone had an incredible time. We'll be looking for reasons to host another party just to have them come play for us again. You couldnt do any better if youre looking for a band to play for your event, especially your wedding!
Anniversary Party•Reviewed on July 15, 2012•From Golden, CO
Pairadeux were extremely professional, yet they were warm and accomodating at my affair. They performed all of the songs we chose. They were absolutely excellent and I cannot say enough good things about them. I only regret that it has taken me this long to respond!
Wedding•Reviewed on September 20, 2008•From Lyons, CO
Since "discovering" Pairadeux through Gigmasters, we had the opportunity to go hear them play several times before the wedding. They always put on a fabulous show - we were never disappointed! Even when it began to rain at our reception, they were troopers, and kept right on playing. They are quite personable and positively wonderful entertainers. We will definitely attend their gigs in the future. -Cheryl & Dan
Wedding Ceremony•Reviewed on October 16, 2010•From Fort Collins, CO
Pairadeux was awesome at our wedding. If you want a band that will actually listen and play what you want and handle themselves with class then Pairadeux is the band for you. I would absolutely recommend Pairaduex for any ocassion. Thanks to Neil and Elizabeth for making or wedding a specail event.
Wedding•Reviewed on September 22, 2007•From Denver, CO
My husband and I had an absolutely wonderful experience with Paraduex as our band for our wedding on Sept. 22 2007. They had a wonderful performance and a great vibe for the whole evening. I was also very impressed with the selection of songs they had in their repertoire, they had a great mix of new and old, fast and slow. We had a great number of people dancing all night long, often times overflowing the dance floor. We had selected from their list all the songs that we really liked and they played everyone of them! I would recommend them to everyone I know!
Wedding Reception•Reviewed on September 20, 2009•From Pueblo, CO
Pairadeux was very fun to work with! They were one of the best bands I have heard in a while. They were great! Nate and Jenna september 20, 2009
Wedding•Reviewed on July 18, 2009•From Saratoga, WY
Pairdadeus was positioned w/ difficult logistics due to the setting. Never was it a problem - infact they were quite communicative in letting us know they were willing to make what ever was necessary work. They were a group I would reccommend to anyone.
Private Party•Reviewed on July 19, 2008•From Kiowa, CO
Pairadeux was awesome! They were great to work with getting ready for the party. The vocals are spectacular and so is their overall music talent. They both worked so well with the crowd and really seemed to enjoy taking requests and did a great job in diversifying the music. We will hire them again and again and again!
Corporate Function•Reviewed on December 12, 2009•From Denver, CO
Neil and Elizabeth were not only organized and efficient, they were talented and fun to work with. They can play a broad range of styles and they can play them WELL! I hired them for a corporate holiday party, and my group is generally pretty reserved. Neil and Elizabeth got them out on the dance floor and made the party seem like an actual party!
Wedding•Reviewed on August 23, 2008•From Conifer, CO
Not only were Neil and Elizabeth extremely friendly and open from the get go.... but they worked with us to make our wedding day the best ever! They were (are) amazing! We have had so many compliments on them - I can't even begin to tell you! Neil and Elizabeth we love you! Your personalities and your music ROCK! I would absolutely recommend them to EVERYONE!
Picnic•Reviewed on August 15, 2010•From Aurora, CO
We loved having Pairadeux perform at our neighborhood concert. They have a great sound and they played songs that everyone knew and loved. Elizabeth's vocals on Cherry Tree were better than the original version! And Neil's guitar solos ROCKED!!! Well done!
Wedding Reception•Reviewed on August 6, 2010•From Denver, CO
Pairadeux rocked!!!!!! They were on top of everything from the beginning and i quickly realized that i didn't have to worry about a thing. They played at our wedding and the dance floor was not empty all night, and everyone commented on how amazing they were!!!!! Thanks Pairadeux!!