Back to profile
The Essentials Reviews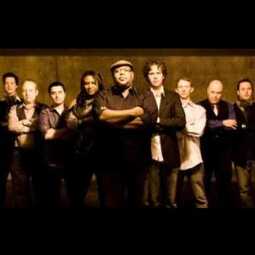 Avg 5.0 | 44 Reviews

Dance Band from Portland, OR

91 Verified Bookings
Starting at $2,800 per event
---
44 Reviews for The Essentials
Wedding•Reviewed on July 29, 2017•From Lincoln City, OR
BEST BAND EVER!!! We hired the Essentials to play at our wedding and they brought the thunder!!! Throughout the whole planning process they were extremely helpful and easy to get in contact with!! They had no problem accommodating any of our requests! The overall talent of these musicians is astonishing!! Their stage presence and positive attitude made our wedding that much more special!! I would book them again in a heartbeat!! We love you guys! Thank you for an amazing performance and the great conversation!!!
Wedding Reception•Reviewed on September 17, 2016•From Priest River, ID
The Essentials were the perfect band for our wedding. We love soul, funk and motown and they crushed every song. Aaron was very easy to communicate with and accommodating when we had to make some last minute changes. All in all a great wedding band who I highly recommend.
Wedding•Reviewed on July 24, 2016•From Bridal Veil, OR
The Essentials are simply fantastic, we cannot recommend them enough! From working with Aaron during the planning stages, to helping us pick first dances, to the the amazing three sets they provided - these guys are top notch! I'm secretly hoping they'll play the waterfront blues festival so that we can dance to them even more!
The Essentials:
Thanks for the kind words Michael! Glad you guys had as much fun as we did. Congrats!
Halloween Party•Reviewed on October 29, 2016•From Portland, OR
The band is excellent !!! The music selection, the sound quality, the showmanship, and best of all, the fun aspect, all superb. Everybody had a fabulous time.
The Essentials:
Thanks so much Sudeep. That was an AWESOME party!
Wedding Reception•Reviewed on June 25, 2016•From Medford, OR
We could not have picked a better band to help us celebrate our wedding. The Essentials were a pleasure to work with, they are incredibly talented, and they were an absolute blast. I've gotten more colmlipments on them than on any other part of our wedding. I would not hesitate to book them again.
Wedding•Reviewed on September 12, 2015•From Mount Hood Parkdale, OR
We hired the Essentials for our September wedding. Aaron was so quick to respond to all many questions and concerns. He was always so professional in his communications. Everything went so smoothly on the wedding day. The band was set up and ready to go on time. But the best part of the experience was their talent - they are an incredibly talented group of musicians and truly made our wedding day so special. They had everyone dancing - even family members we thought we would never see dance! They even signed our guest book and took part in the sparkler send off - such a great group of people!
Wedding Reception•Reviewed on August 29, 2015•From Mount Hood Parkdale, OR
The Essentials were the best choice we could have made for our wedding reception! They were absolutely amazing musicians and everyone loved them. We worked with the over almost a year to plan and they were extremely professional, flexible and accessible to work with the entire time. They even learned a song for the daddy daughter dance that was outside their genre. Couldn't be happier, except I wish I could hear them play more often!!!
Wedding Reception•Reviewed on August 15, 2015•From Welches, OR
The Essentials were truly an 'essential' part to the success of our wedding! We received countless compliments about the quality of the music, and the band had everyone dancing throughout all three hours of their performance. I can't say enough good things about the band--which extend beyond just the phenomenal music they play. From day one, they were so easy to work with, incredibly professional and very responsive. They were very accommodating and patient as we figured out logistics and always willing to answer any questions we had. If you are looking for a live band of immensely talented musicians who will bring your party to the next level, look no further!
Wedding Reception•Reviewed on August 22, 2015•From Ashland, OR
These musicians really made the whole wedding a success. Everyone danced, young and old. My sincere thanks and appreciation to these talented men.
Wedding Reception•Reviewed on August 30, 2013•From Oregon City, OR
We totally loved the Essentials!!! It was a win win situation for all of us at our daughter's wedding. We literally danced the night away to their wonderful music and were told by the band that we gave them energy! Ruxton, their contact man and fantastic lead guitarist was delightful to work with as well. THrough our multiple emails and texts throughout the months leading up to our event, he was able to help us create the perfect evening. I would highly recommend this fabulous group for any type of event that gets folks up on their feet to rock the night away!!!!
Birthday Party (Adult)•Reviewed on November 14, 2015•From Seattle, WA
We loved the Essentials!! A lot of guests were wanting them to play at their event!! Our only critique was how loud and echoy it was in the back by the windows. The sound check looked like it was only done right in front of stage and to the side. It was too loud for some guests and they had to leave. I wish they would have played a few more songs I requested a head of time. :)
The Essentials:
Yep, this was a super tough venue acoustically because it was so large and "echoey". ...but it sure was spectacular with all that marble and greenery! Definitely one of the most gorgeous and classy places I think we've ever played. Thanks again for having us Laurel - we had a blast!
Wedding•Reviewed on May 4, 2013•From Newberg, OR
It is impossible to express in words how wonderful The Essentials were at our wedding. They were a pleasure to work with while we were planning, and then they put on one of the best shows I have danced to in my life, and every person at the wedding said the same thing. They were on time, beyond professional, flexible with our evolving wedding timeline, and so appreciative that we had chosen to have live music for our big day. I cannot imagine our wedding being a wonderful as it was without having not just live music, but specifically The Essentials as our band. It sounds cheesy, but you truly do not have to look any further for the perfect band. Trust me.
Wedding•Reviewed on June 29, 2013•From Mount Hood Parkdale, OR
I wanted a 70s/80s Funk Soul band for our wedding reception, and I truly couldn't have asked for anything more fantastic than the Essentials. The minute we booked them, everything was stress-free and easy. The band members were professional in all aspects, from their timely communication to their demeanor. And man, the music was awesome! I only wish we'd had two more hours to dance the night away. Thank you!
Private Party•Reviewed on August 1, 2012•From Government Camp, OR
awesome
Wedding Reception•Reviewed on July 14, 2012•From Portland, OR
We had a smaller wedding party (approx. 80 guests) and we had the best time dancing to the Essentials! They were amazing! Having a live band at a wedding is certainly better than a DJ! We were also impressed with their level of professionalism. Both the bride and groom lived out-of-state, and all contact prior to the actual wedding date was over phone and e-mail. We took a chance on these guys, and it really paid off well! They exceeded our expectations. Hire them and you won't be disappointed!
Wedding Reception•Reviewed on June 2, 2012•From Bend, OR
The Essentials played at our wedding. We love R&B/soul music & our hope was to have a band that would let us dance all night, and the Essentials provided amazing music to let this happen. The band made the night and helped us have the best party we have been to. Once they started playing I never left the dance floor. I wish I had a reason to have them play again & hope to have a big party every few years just to hear them & boogie down again. A million thanks to the band, y'all are so much fun!
Wedding Reception•Reviewed on September 8, 2012•From Newberg, OR
The Essentials MADE our wedding. I have never heard a wedding band sound better and get the place moving better than this band. They are a pleasure to deal with, extremely reliable, communicate clearly, sound incredibly tight, and they will absolutely rock your party. We have received so many comments from our guests of "where did you get that band", "you guys had the best wedding band", etc. Funk, Soul, Rock... these guys do it right. Thank you, The Essentials, for blowing our expectations away and for helping us celebrate our big day.
Wedding Ceremony•Reviewed on June 23, 2012•From Sisters, OR
We love The Essentials! I would not hesitate to have them play at any other event that I was involved with. They are super talented, super nice, super professional, and play a great, fun, and wide range of music that EVERYONE loved! We had tons of compliments about them at our wedding. Don't hesitate to include them as part of your event, they will rock the house!
Fundraiser•Reviewed on October 1, 2011•From Corvallis, OR
The Essentials played for our charity fundraising event and they were incredible! The crowd ranged in age from 21-80 and everyone loved them. The dance floor was packed and they were wonderful to work with! We hope to use them again and would definitely reccomend them!
Picnic•Reviewed on July 16, 2011•From Dundee, OR
Fundraiser•Reviewed on April 9, 2011•From Portland, OR
Loved the Band! Great Music and band members really accomodative to our fundraiser needs, timing and breaktimes! Definitelyu recommend to other organizations and depending on our next years event, we may use you guys again! Take care and thanks for a great job, Sharon Garland Big Night Out CoChair
Wedding Reception•Reviewed on September 17, 2011•From Portland, OR
The Essentials are the real deal. Everyone kept saying all night that they were the BEST band they've ever heard at a wedding. They kept us dancing all night long and the music selections were great! They were set up and ready to go on time, highly professional, extremely talented and super fun! We would highly recommend them to anyone! Thanks again! :)
Wedding Reception•Reviewed on May 29, 2010•From Portland, OR
The Essentials were great!! We loved the music and our guests were all very complimentary. They did a great job meeting our special requests. Bill was a pleasure to work with.
Wedding Reception•Reviewed on April 3, 2010•From Troutdale, OR
Our wedding guests loved The Essentials. We had a great time dancing and we are looking forward to seeing them again soon.
Wedding Reception•Reviewed on October 2, 2010•From Medford, OR
They were great! Very professional and organized. The crowd thoroughly enjoyed the music. Would recommend them highly.