Back to profile
The Essentials Reviews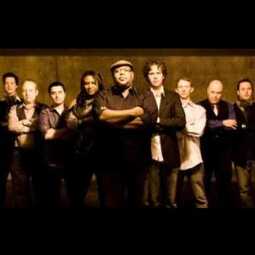 Avg 5.0 | 44 Reviews

Dance Band from Portland, OR

91 Verified Bookings
Starting at $2,800 per event
---
44 Reviews for The Essentials
Wedding Reception•Reviewed on October 10, 2009•From Turner, OR
The group arrived very early and was set up well in advance of the performance. They spent quite a bit of time doing sound checks to make sure that their performance volume was appropriate for the space. They dealt well with a surprise that the event was upstairs which required hauling all of their equipment up the steps. These musicians are totally professional, extremely talented and a LOT of fun! Even when most of the guests had left our party they continued to perform as if playing for a full house. I would absolutely recommend this group for any event.
Wedding•Reviewed on August 5, 2006•From Springfield, OR
These guys are outstanding. They received a number of compliments from the wedding guests and hopefully picked up a gig or two out of the event. We, as the couple getting married, enjoyed the band and the music all night long. Thanks again guys, The Newlyweds!
Corporate Function•Reviewed on July 17, 2009•From Portland, OR
Corporate Function•Reviewed on February 28, 2009•From Portland, OR
Everyone loved the band. I would have liked to have more communication beforehand but I guess I should have initiated more myself.
Wedding•Reviewed on June 20, 2009•From Hillsboro, OR
Hands down, this is one of the most talented and soulful bands in the Pacific Northwest! My party did not want to go home because they kept bringin' it. They were professional, very sweet, and knew how to work the crowd. Both old and young were shakin' it. For our first dance they performed Otis Redding's, "That's How Strong My Love Is" and it was spot on. This was a special request and they did more than an excellent job. They exceeded our expectations and made our wedding extremely fun and memorable. They also accommodated our budget without skimping on quality. Go with The Essentials and you are guaranteed to have the best party ever.
Wedding•Reviewed on July 25, 2009•From Bend, OR
I was very pleased by my experience with The Essentials. It was nice to use gigmasters, but as well, nice that the band was accessible via email as well. Very professional. The moment they played the first note to our first dance of the evening until we begged for one more, every song was perfect!! There was something for everyone. We had to continually move tables just to make room on the dance floor for everyone. Additionally, they were so generous in helping my local ceremony musicians by providing an external PA system.
Wedding•Reviewed on August 3, 2008•From Salem, OR
Great band. Talented, versatile with varied musical abilities, and very fun. There is no wedding that would not be enhanced by these folks.
Wedding•Reviewed on May 17, 2008•From Underwood, WA
These guys (and ladies) are AMAZINGLY talented, we absolutely loved them. They played at our wedding, seemed to have a great time, even ran an errand for us on their way up to the venue. They also ran our background music and our ceremony music off of our ipod so that no one in our wedding had to worry about it. I just wished they could have played longer. They were very professional, friendly and seemed to have a great time. Most important though was how incredibly talented they were. They all congrtulated us and gave us hugs at the end of the night, I wish they lived in our area so we could just go listen to them elsewhere!! Hire this band if you love music!
Wedding•Reviewed on September 28, 2008•From Poulsbo, WA
The Essentials were a highlight of our wedding! At first we were a little nervous to book them since we did not have the opportunity to see them live prior to our event, but as soon as they started playing my fears were completely alleviated. Gabe was professional and helpful throughout the planning process. At the event, they were set up and ready on time, dressed professionally, and they played a great selection of music. The sets were lively, fun, got people to dance and didn't include cheesy songs that you normally hear at weddings. Many people said it was the best band they'd heard at a wedding!! Highly recommended to anyone who loves good music!!
Birthday Party (Adult)•Reviewed on September 23, 2007•From Medford, OR
Absolutely fantastic band. Wonderful communication and highly professional. Very very talented and entertaining. Everyone (all 150 guests) loved the music! What a wonderful group of musical guys. I would highly highly recommend them to anyone. Perfect for a wedding or special event. They were the highlight of my dad's 70th birthday party. Thank you again to Gabe and the group...Kellee
Wedding•Reviewed on August 8, 2008•From Sisters, OR
We had The Essentials play for our wedding, and they did a fantastic job. EVERYONE was raving about how great the music was. They really made the evening special!
Awards Night Party•Reviewed on February 10, 2007•From Albany, OR
Great, Just Great. The show was phenominal. The best banquet we have ever had. Gabe was extreemly helpful and accomidating on the bussiness side. Thanks!
Corporate Function•Reviewed on December 9, 2006•From Eugene, OR
We hired The Essentials for our company holiday party and they really brought the house down. Everyone was up and dancing. The whole group commented on how much they liked the music. Most people especially enjoyed the horn section and the talent of the lead singer. Thanks for the music!
Christening•Reviewed on October 13, 2006•From Corvallis, OR
Wedding•Reviewed on August 25, 2006•From Gresham, OR
This band was great. Very talented, exteremely professional. They were a big hit with everyone at the reception. Really made the evening fun.
Private Party•Reviewed on August 12, 2006•From West Linn, OR
We had a wondeful summertime outdoor event and the Essentials just put it over the top. They were talented, professional, and made the planning and execution of the event that much more effective. The music selection was outstanding. Their musical ability and Showmanship made it both fun to dance and listen. A big Thank You to Mr. Gabe Dickinson, Group Leader of The Essentials for his professionalism and management. They came prepared to put on a show and all we had to do was provide adequate staging, electrical power, and guests who were ready to Party! Les de Asis
Wedding•Reviewed on July 14, 2007•From Portland, OR
The Essentials were great! It was a little tricky trying to get a hold of Gabe sometimes, but alas, I was a tireless bride always seeking confirmation! Although The Essentials forgot Clark's queue for the music and just started playing, it was all okay! They rocked the house down and we even had our wedding crashed by a bunch of quilt show ladies in Sisters for the weekend. The Essentials played more when we called for encores and even changed their playlist when we wanted something fast as opposed to a slow song. I really loved their set up, their image, their talent and their music. I searched long and hard for a group that I loved- The Essentials are that.
Wedding•Reviewed on September 24, 2006•From Gaston, OR
I can't say enough about this group! They were the icing on the cake for my wedding! If you are looking for a great vibe and for all your guests to get down, The Essentials do not disappoint! Thanks again Gabe and Co. You guys are definitely a churnin' urn of burnin' funk!
Wedding Reception•Reviewed on July 13, 2013•From Portland, OR
Communication with the band several weeks before the event was difficult/delayed, which impacted our ability to request songs for the first dances, that they otherwise would have most likely been able to play/accommodate. Instead, we used recorded songs with an iPod. Otherwise, when the band played, they rocked the house and certainly got the guests dancing, which was our most important criteria! We enjoyed them immensely but just wished we could have had better communication leading up to the event.
The Essentials:
From the outset of our interactions I was very clear about our set list policies. I provided the information she requested as it became available, including my recommendations for first dance songs. When the client requested songs that were not in our repertoire I gave them options regarding song selection, to which they chose to use recorded versions to maintain their song choices. Original arrangements simply were not feasible in this situation. I did my absolute best to maintain our client's expectations and do apologize if anything I described was unclear, but the feedback given is largely assumptive in a way that we did not perpetuate.