Back to profile
THE TRIP Reviews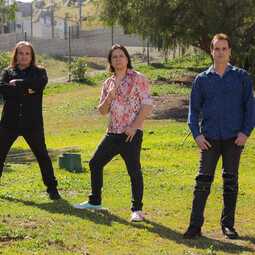 Avg 5.0 | 186 Reviews

Cover Band from Anaheim, CA

309 Verified Bookings
Starting at $3,500 per event
---
186 Reviews for THE TRIP
Corporate Function•Reviewed on May 9, 2023•From Solana Beach, CA
Huge thanks to The Trip for putting on the best concert we've ever seen. Seriously, you will not believe how amazing these musicians are. They had the crowd fired up for hours with great song after great song, performed like they sound on the album, only better. We opted to add legendary guitarist Ron Thal to the band, and if you can swing it, we highly recommend you do the same. The sound was absolutely exquisite. This is a band filled with musical virtuosos; every single member brought magic and energy to the performance. We'll book them again the very first chance we get.
Wedding Reception•Reviewed on January 6, 2023•From Laguna Beach, CA
The Trip was awesome! From our first contact with them to saying goodbye on the night of our wedding, they were nothing short of amazing, professional, and fun! Our guests loved them — high energy, totally into all of it, easy to work with. Would readily recommend them to anyone looking for a great band. Cannot wait to hear and see them again!!
THE TRIP:
Thank you so much for having us play your special day Judy, and also the wonderful review! You and Rob were awesome to work with and we wish the best for you both. Hopefully, we can play another event for you soon! Mike - Drummer
Fundraiser•Reviewed on September 9, 2022•From Dana Point, CA
The Trip was absolutely amazing! All our guests thought it fit the fundraising event perfectly, and many came up to say it was the best "Sails 'n Ales" they have been to in all the years we had been doing it (even though it was raining!). We plan to ask for The Trip to participate again- it just was utterly perfect.
Community Event•Reviewed on July 23, 2022•From Carlsbad, CA
We hired The Trip for our community concert in the park. People in the community kept coming up and complimenting on their music choice and how incredible they sound. The Trip was fantastic! They were timely, professional and rocked it!
Private Party•Reviewed on July 15, 2022•From San Diego, CA
This is the third time I've used The Trip since 2008- for a big corporate party on the USSMidway and smaller event at my home- to this most recent 50th HS Class Reunion with 150 in attendance. Hands down the number of compliments in this band from dancers and non dancers alike was about how great they were. How people felt like they were listening to the original Journey or other band. They were fabulous all the way around - from booking process to execution. And I'd def use them again - Joy Campanaro.
Birthday Party (Adult)•Reviewed on May 29, 2022•From Yorba Linda, CA
If we could afford it, we would have The Trip perform every week for us !! Absolutely amazing experience and people are still talking about the event days later. The talent is off the charts and the range of music was ridiculous! Made my birthday boy feel very special. And nice guys to boot.
Birthday Party (Adult)•Reviewed on April 2, 2022•From Poway, CA
Best band that I have ever hired. Every song they played sounded exactly like the orginal! Instrumentals and vocals both spot on and amazing. I couldn't believe it. Sound mixing and volume were perfect too. Must have had half the party guests come up to me saying how blown away they were by the band. On top of that, they were all super nice guys, very professional, and great with the guests. 5 stars for sure.
Private Party•Reviewed on July 10, 2021•From Long Beach, CA
They.Are.INCREDIBLE!!!!!! If I could give them 10 stars I would. They were exactly what we were looking for and absolutely exceeded our expectations. If you're looking for a VERY good cover band and to have an epic party, please hire these guys. Don't hesitate. From the moment they started playing until the very last song, the dance floor was absolutely packed. Our guests are still talking about how good they were 5 months later. They cover every classic song better than the actual song. I would hire them again in a heartbeat, this was my dream band!!!
Birthday Party (Adult)•Reviewed on September 11, 2021•From San Juan Capistrano, CA
The TRIP was professional from the first point of contact. I never worried that they would come. They were particularly accommodating in that we wanted them to perform on our bandstand, which was a little tight with the drum set, but worked out beautifully. Everyone had a fantastic time, including the neighbors listening nearby. I would rehire them in an instant for my next large party.
Corporate Function•Reviewed on November 16, 2019•From Anaheim, CA
The Trip was AMAZING! They totally rocked our 1960's corporate anniversary party at the House of Blues in Anaheim. Our staff and guests could not stop raving and have asked us to use them next year. They are such talented musicians...and so friendly to work with! They dressed up for the theme and are for sure a class act! We will definitely be using them in the future! Just need to plan another party!
Community Event•Reviewed on August 7, 2021•From Huntington Beach, CA
The Trip played my neighborhood block party. The band sounded amazing and rocked the party from Zeppelin to The Cult to GnR. Would gladly hire them again!
Birthday Party (Adult)•Reviewed on January 18, 2020•From Norco, CA
The TRIP band exceeded our expectations for our event... If there avail and you don't book them , Your cheating yourself and your guests.... Highly recommended!!
Fundraiser•Reviewed on November 9, 2019•From Huntington Beach, CA
We hired The Trip for our annual school fundraiser and they did not disappoint! Everything that we asked for, the did, and made our night incredibly easy and fun. All of the attendees had a fantastic time. Mike is a pleasure to work with, super laid-back, professional and accommodating. The entire band is extremely talented and have a great energy. Can't wait to see them play again, and would not hesitate to hire or recommend The Trip for any event! Thanks, guys!
Wedding•Reviewed on October 19, 2019•From San Juan Capistrano, CA
Mike and The Trip were truly amazing for our wedding! They were a pleasure to work with and so incredibly talented. They had everyone dancing all night! We will definitely hire them again!!
Birthday Party (Adult)•Reviewed on August 3, 2019•From Newport Beach, CA
Mike the drummer responded quickly, was professional, he made booking a breeze. He called to confirm details a couple days in advance, he arrived early as did the rest of the band to set up and sound track. They were ready to go ahead of schedule. They offered to help if we needed anything and all of this was fantastic, just how you want it to go. However, their talent and song list are stellar, every song performed perfectly, they had my girlfriends literally RUNNING to the dance floor each time a new song came on! EVERYONE who attended, loved THE TRIP. They are incredible! My highest recommendation! If you hire them, be sure to invite me to the party!
Corporate Function•Reviewed on March 20, 2019•From Santa Barbara, CA
They performed at our corporate event at the Hilton Santa Barbara. They did such an excellent job. We received great feedback from the crowd. Thank you for making this such a great event!
Wedding•Reviewed on November 3, 2018•From Visalia, CA
We have had so many people tell us how amazing this band was! The Trip was a dream come true. I never thought we would find someone as awesome as they were. Not only was their performance outstanding, but the members were in communication with us throughout this whole process. They were very easy to talk to. Thank you guys for everything and making our wedding an incredible night! -Dustin and Meredith Shannon
Birthday Party (Adult)•Reviewed on June 2, 2018•From San Clemente, CA
Unbelievable!!!! Extremely talented. I looked them up on YouTube and it doesn't really show their true talent. I had a backyard birthday party for my husband and all of my different age group guests couldn't stop mentioning how incredibly awesome the band was. They play rock n roll and much more. They have the versatility of playing other music genres. They were are also very accommodating to my guests with their song requests. Mike was very helpful and easy to communicate for the pre-arrangements of my event. I usually have different themed parties and I know they would be the band that i would hire again and again. Susan F June 2 2018
Wedding Reception•Reviewed on August 10, 2018•From San Clemente, CA
The Trip was awesome! Super talented musicians who created a really fun atmosphere. Everyone left sweating from a massive fun dance party with huge smiles on their faces. All of our friends says it was the best wedding they'd ever been to. A lot of that credit goes to The Trip and the way the music made it a great party!
Family Reunion•Reviewed on September 8, 2018•From Newport Beach, CA
Great band, excellent musicians, nice people. Lovely evening. Thank you for uplifting the whole event. Rock on!
Wedding Reception•Reviewed on August 25, 2018•From Laguna Beach, CA
The Trip is a fantastic band, on time and warm, but very professional. They were the perfect MC's for our celebration! We had so many compliments on their talent and performance from our guests at the wedding! I would love to hire them again for future events!! Thumbs up for The Trip!!!
Wedding•Reviewed on October 6, 2018•From La Jolla, CA
Mike, Eric, & the guys were awesome!! The dance floor was rockin! The ceremony instrumental was beautiful. Would definitely recommend to anyone wanting a great party!
Christmas Party•Reviewed on November 17, 2018•From Anaheim, CA
Great band! These guys are awesome and very talented.
Wedding Reception•Reviewed on November 19, 2017•From La Jolla, CA
We hired The Trip to play at our wedding and they were awesome! It was so important to my husband and I to find a wedding band that played all the music that we love (all genres). The Trip played everything that we wanted to hear and even played special requests. Everyone could not stop talking about how amazing they were and everyone chanted for an encore at the end of the wedding. We will definitely hire them again for any special event that we have.
Halloween Party•Reviewed on October 28, 2017•From Orange, CA
Hire this band ! My wife and I hired The Trip for our Halloween party. The Trip played and performed a wide variety of songs from different decades and genres.. With such an extensive song list, you can work with The Trip to customize your own set-list. All songs performed sounded fantastic ! All of our guests were blown away...You will not be disappointed.