Back to profile
Epic Entertainment feat. Pro DJ Daniel Baker Reviews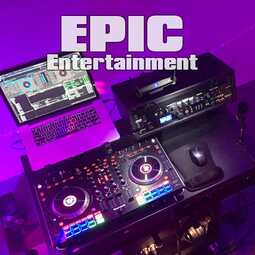 Avg 5.0 | 81 Reviews

DJ from Hennessey, OK

115 Verified Bookings
Starting at $450 per event
---
81 Reviews for Epic Entertainment feat. Pro DJ Daniel Baker
Sort:
Wedding•Reviewed on November 4, 2023•From Oklahoma City, OK
Amazing!!! Highly recommended, He was professional, polite and helped out in more ways than just being our DJ but also helped coordinate with our photographer and officiant to make things easier on us for our big day. He also made great suggestions throughout the day such as adding a game for everybody to participate in and even helped me out when I was having trouble taking off the cork of our champagne!! Definitely book this guy for your wedding!!!!
Private Party•Reviewed on October 28, 2023•From Rogers, AR
DJ Dan from Epic Entertainment, saved a situation where a DJ cancelled on us and made our party come together perfectly. He communicated with us beforehand and arrived, setup, and performed in such a smooth, chill, professional manner. A rare find.
Wedding Ceremony•Reviewed on August 6, 2011•From Oklahoma City, OK
I can't say enough nice things about Dan. He *made* our wedding day. I'm not sure where to begin so instead, here are 3 reasons to hire Dan: 1) He knows how to throw a party. We had great food & venue, but without Dan, the night would've lagged. He gave me a signal to let me know when the guests were done eating, when would be a good time for toasts, etc. Great facilitator! 2) Responds quickly to emails/calls/questions. 3) He was a great DJ. He has great taste in music. He bases his music choices on the crowd's energy so there was just the right amount of fast songs for us. He's also charismatic & was a great emcee for the wedding. The perfect DJ!
Private Party•Reviewed on November 16, 2019•From Ponca City, OK
DJ Dan is a great DJ. He is professional and accommodating. His light show is spectacular!!!! The kids at our dance were up and dancing the entire dance. Hire DJ Dan and you won't be disappointed!
Private Party•Reviewed on September 17, 2010•From Ardmore, OK
DJ Dan was awesome! He was on time, had a kickin' sound system, and the coolest lights we've ever seen! Daniel played requests from everyone and mixed up the different types of music perfectly. Can't wait for the weather to warm up again so we can have DJ Dan back again. We will never need to look for another DJ, we will call DJ Dan before we set our party dates, to make sure HE is available! If you want the most professional, super-fun mobile DJ at your next party, TRUST ME, DJ Dan IS THE MAN!!! -The Brown Family
Wedding Ceremony•Reviewed on September 30, 2011•From Plano, TX
DJ Dan provided us with his services at our wedding reception and let me say that this was unmistakebly the best decision that i made. It was flawless from start to finish. He is a great mc and a professional in every aspect . All of his equipment is top of the line , he wouldn't settle for less. This was THE BEST PARTY I'VE EVER ATTENDED!!! And DJ Dan was a huge part of the reason why. He did everything i asked of him and more. If you are having a party of any sort do yourself a HUGE favor and hire DJ Dan and the Oklahoma Party Patrol to ROCK your party !! Thanks again Dan!!
Birthday Party (Kids)•Reviewed on April 29, 2023•From Bethany, OK
Daniel was fantastic! Very personable and the kids loved the music. Would definitely hire him again. Great light show too!
Event•Reviewed on November 5, 2022•From Bethany, OK
AWESOME to work with! I received nothing but positive feedback from both guests and my team! Will definitely booking in future!!!
Fundraiser•Reviewed on October 18, 2019•From Sulphur, OK
DJ Dan has an amazing light and sound set-up. He will bring the feel, fire and fun up to the next level at your event. We had lots of little kids and DJ Dan played age appropriate music without leaving the parents bored. Everyone was involved! The lights were spectacular. Everything was top notch!! Thanks DJ Dan!!
Birthday Party (Kids)•Reviewed on August 26, 2023•From Coalgate, OK
He was great the sound, music lights everything was perfect I would recommend him to all my friends
Wedding•Reviewed on May 25, 2019•From Oregon, MO
We could not have asked for a better DJ for our wedding and reception. We thought it would be difficult to find a great DJ given our circumstances, we live in California and our wedding was in Oregon, MO. Thankfully we found DJ Dan through this website, he was extremely accommodating, responsive to our questions and ideas, and very professional. We assembled most of our own playlist with Daniel's advice and he added some great music from his own catalog as well. Our guests and the venue owner were extremely impressed as well. Thank you Daniel for braving the weather and traveling from Oklahoma to help make our wedding fantastic!
Wedding•Reviewed on October 13, 2016•From Lawton, OK
Best Wedding DJ ever! If your looking for a DJ you can stop looking because Epic Entertainment feat. DJ Dan is phenomenal. He showed up to the wedding and got everything set up before I even realized he was there. He went above and beyond to ensure everything was perfect. DJ Dan is an incredible host, he kept the reception flowing smoothly and made sure we hit all the important stuff, he even had a fun game for us to play (shoe game). He had all the music on my list and was even able to accommodate a last min request. I didn't stress once during cause I knew he had it all under control. I cant say enough awesome things about Epic Entertainment feat DJ Dan. Book Now!
Wedding Reception•Reviewed on January 15, 2022•From Lakin, KS
Mr. Baker was a joy to work with and did an amazing job with our daughter's wedding. I received lots of compliments and everyone wanted to know where the DJ was from. Everybody had a good time at the dance and that was due to the amazing talent and equipment that Mr. Baker brought. I would highly recommend him for anyone's dance! You won't be disappointed.
Prom•Reviewed on May 8, 2021•From Enid, OK
DJ Dan was very friendly and easy to work with. His energy and personality kept the prom attendees on the dance floor and entertained. We wouldn't hesitate to hire him again for future parties!
Wedding•Reviewed on March 6, 2021•From McLoud, OK
DJ Daniel was great. Highly recommended for any special event.
Corporate Function•Reviewed on May 21, 2023•From Oklahoma City, OK
5 stars across the board! Worked great with our prickly staff, kept the event running and was very accommodating to our needs and changes.
Valentine's Day Party•Reviewed on February 7, 2020•From Tulsa, OK
He was fantastic. Friendly, professional and outstanding. We will be using him again in the future.
Prom•Reviewed on June 17, 2019•From Yukon, OK
We used DJ Dan for a prom scene in a feature film being shot around Oklahoma City. We had some pretty specific needs and let me say DJ Dan delivered! The director was beyond thrilled with the lighting and music provided as it was critical to what we needed to accomplish. I have never seen a better light show from a DJ, and because of this we were able to capture incredible footage for our film. Beyond the presentation and music, DJ Dan was amazing to work with. He was professional, responsive, timely, considerate, and just a great guy! I cannot recommend him enough. If you are lucky enough to get the chance to book him DO IT!
Birthday Party (Adult)•Reviewed on May 17, 2019•From Wichita, KS
I had a wonderful time! He was very punctual and interactive. The sound quality was amazing plus he has an elaborate setup. DJ Dan was able to handle the request from the guests. I would definitely recommend his services and I will be using his services again.
Community Event•Reviewed on August 11, 2018•From Oklahoma City, OK
Great job! Highly recommended!
Corporate Function•Reviewed on July 12, 2018•From Edmond, OK
I had to reschedule my event due to matters beond my control but we worked it out between my company and his.
Wedding•Reviewed on June 16, 2018•From Towanda, KS
They were great. Our wedding went seamlessly and everyone enjoyed the music! I will be hiring them again for my best friends wedding.
Community Event•Reviewed on June 9, 2018•From Dallas, TX
DJ Dan was awesome. He went above and beyond what we asked him to do. We had some issues on our end (no fault to him) and he went above and beyond to help us. He delivered an amazing pool party and I would highly recommend him to anyone for any event!
Wedding•Reviewed on October 7, 2017•From Alma, AR
Everyone said I was the calmest bride they ever saw, I said it was all thanks to DJ Dan! He took care of it all! I would recommend him for anything!
Birthday Party (Kids)•Reviewed on September 19, 2017•From Kiefer, OK
We though he was awesome with the kids. I would certainly use him again. He made sure all light were off, air was back to where it was suppose to be and all doors were locked. Totally trusted Daniel! Great job! 5 stars