Back to profile
Fresh Beats Reviews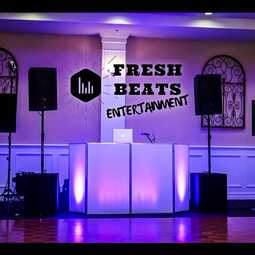 Avg 5.0 | 20 Reviews

Mobile DJ from Bay Shore, NY

33 Verified Bookings
Starting at $475 per event
---
20 Reviews for Fresh Beats
Wedding•Reviewed on August 27, 2022•From Long Beach, NY
The music at our reception was fantastic. It was the right balance of songs we requested/requests from guests on the night/music chosen by the DJ to keep the atmosphere lively. There wasn't a point that a music change interrupted the flow.
Graduation Party•Reviewed on June 11, 2022•From Mineola, NY
Joel was an awesome dj! He arrived early and was very professional. He kept our crowd entertained and everyone had a blast! We will recommend him to everyone!
Quinceañera•Reviewed on April 22, 2022•From Baldwin, NY
Excelente trabajo the bash gracias por su buen servicio
Fresh Beats:
Muchas Gracias Edwardo!
Memorial Service•Reviewed on July 24, 2021•From Smithtown, NY
He did a great job.. very professional
Private Party•Reviewed on November 7, 2020•From Coram, NY
Birthday Party (Adult)•Reviewed on December 14, 2019•From Long Island, NY
We had 70 people attend my moms 80th Birthday Party at a venue, age range from 10 - 80 years young! DJ Joel certainly kept the party moving and flowing, announcing, handle toasts, and kept guests entertained with his liveliness and great personality. He brought in a variety of styles that appealed to different age group yet able to get them ALL moving when HE joined in the dance floor. This kid is energetic, has infectious smile and loves his gig! Most importantly, you've contributed to make my mom's party a memorable and unforgettable one. Thank you !!!
Birthday Party (Kids)•Reviewed on November 8, 2019•From Westbury, NY
My daughter's sweet 16 Camillie was nice thanks to Joel and his team. They were excellent, and very professional, they walk us through the whole party, music was a plus. we all had a good time. I will highly recommend them as a Dj and also the fotógrafer -pictures came up nice......thanks to all of you ??
Sweet 16 Party•Reviewed on October 13, 2019•From Patchogue, NY
It was easy to communicate with them and request anything. Super excited to work with them in the future!
Wedding•Reviewed on October 12, 2019•From Queens, NY
We had a Hispanic wedding and everything was done perfectly. Joel was so professional and he did a great job at handling all of our requests. He has a great talent in doing weddings and I am going to be recommending this company to all of my other friends & family. Overall, we had a amazing time and all of our guests did too. Thanks so much again!
Sweet 16 Party•Reviewed on August 10, 2019•From West Babylon, NY
Joel was very professional, reliable & punctual but most importantly he was a fantastic Dj! He got everyone up & dancing in addition to being very accommodating with all of our requests. The event planning packet he provided made it easy for us to organize all the party details & kept things running smoothly throughout the evening. He also stepped up & helped us out big time with a last minute lighting issue & took over putting together our photo montage when I simply didn't have the time. Our daughter had an amazing Sweet 16 & we will absolutely hire him again for all of our future events!
Fresh Beats:
Thank you so much, Patricia. Your event was beautiful and it was our pleasure to provide with such a wonderful experience. We looking forward to working with you in the future as well.
Graduation Party•Reviewed on July 21, 2019•From Farmingville, NY
Fantastic DJ, highly recommend them for your next party.
Fresh Beats:
Thank you Mitch. The review is much appreciated. It was our pleasure to do your son's graduation!
Family Reunion•Reviewed on August 3, 2019•From West Babylon, NY
I couldn't ask for better service! A big Thank you to Joel for making my Family Reunion such a special day. He went with the flow and delivered all the right songs at the right time. He was very attentive to my needs as a host and had such a positive and great energy. I was so happy and I can't wait to hire him again next year!
Fresh Beats:
Thank you for the review Shantel. Looking forward to celebrating with your family again next year!
Graduation Party•Reviewed on June 22, 2019•From Huntington Station, NY
Anniversary Party•Reviewed on May 11, 2019•From Bronx, NY
I really enjoyed it. Joel and Oscar did an amazing job with the music and worked around the schedule that was needed. The music was really good, had a variety of songs. Would recommend it to my friends and if I had another party in the future I would contact them again.
Fresh Beats:
Thank you so much for the kind review. It was a pleasure working with you and we look forward to future events as well!
Wedding Reception•Reviewed on May 4, 2019•From Huntington Station, NY
Joel was a great DJ I would use him again in the future and he was also very reasonable and professional
Sweet 16 Party•Reviewed on March 24, 2019•From New York City, NY
Joel was GREAT! I was looking for a DJ for an intimate Sweet 16 with little time to find one. Not only was he able to execute an amazing set, but he was super affordable as well. He was reliable, very great with communication, and also a great guy! The guest and birthday girl loved it! He offered diverse music choices as well. Please book Exclusive Events for your next event. You won't regret it!!
Fresh Beats:
Thanks so much for the review. It was our pleasure of handling your event and making it a fantastic night!
Sweet 16 Party•Reviewed on February 22, 2019•From Brooklyn, NY
I was given the job of hiring a DJ for my daughters Sweet 16. I gave my specifics to Gigmaster and Right off the bat, Joel contacted me with an offer which fit the budget perfectly, so much so, that I opted to upgrade. We texted back and forth regarding the particulars, what type of music to play, lighting and any other special instructions, like announcements. He showed up early and set up pretty quickly. The party didn't have as many guests as we planned for, but Joel got everyone up and having a good time. He killed it, he's a total professional and I would have no problem hiring him on for another party, thank you.
Fresh Beats:
Thank you so much for such a generous review. We are so happy to have been the one to make your daughters Sweet 16 such an unforgettable night. Our number one goal is to make every party as amazing and special as we made your event!
Anniversary Party•Reviewed on January 3, 2019•From Woodbury, NY
Very professional and did great work for my event! Would recommend!!
Fresh Beats:
Thank you, Maria. It was our pleasure to be able to provide you such a great party. We look forward to working with you in the future.
Quinceañera•Reviewed on December 22, 2018•From Westbury, NY
It was the best! I'm so glad Exclusive Events hosted my sweet 16. Thank you! I 100% recommend EXCLUSIVE EVENTS.
Sweet 16 Party•Reviewed on August 29, 2015•From Islip, NY
This guy is straight amazing. He is more professional than he looks. He really showed us that when he got there 4 hours early and when we got there, all the lights, tv's, and booth were already set up. He knows Spanish and that was a big plus for us, because he could make anoucments, get the right music we like, and was a great crowd motivated getting everyone dancing. Just a great guy overall. Thanks for the amazing party dj twist.