Back to profile
Keith "King" Gipson Reviews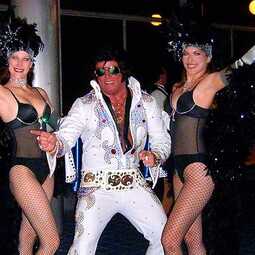 Avg 5.0 | 33 Reviews

Elvis Impersonator from Clayton, NJ

48 Verified Bookings
Starting at $250 per event
---
33 Reviews for Keith "King" Gipson
Wedding Reception•Reviewed on October 31, 2020•From Old Bridge, NJ
Keith was absolutely amazing!! He was the star of the night. He was able to get everyone up and dancing, and sounded just like the real Elvis. Very Talented. During the contract Keith moved and still flew back for my wedding and made it an extra special day. I will always be grateful for the type of commitment that he has shown. His wife was very good at keeping in contact the whole time throughout state covid policy changes.
Birthday Party (Adult)•Reviewed on October 18, 2019•From Philadelphia, PA
Keith 'Elvis' was a Huge success at our party.He was Terrific and I would highly recommend him to anyone looking for a true entertaining, professional. His voice and moves were right on and he interacted with everyone. Great time by all
Club Event•Reviewed on July 16, 2019•From Woodbury, NJ
Keith put on a terrific show and everyone here at Colonial Park Apartments were very, very pleased. Hoping we can do this again in the future.
Birthday Party (Adult)•Reviewed on June 9, 2018•From Feasterville Trevose, PA
Keith "King," his wife Eileen, and their scarf lady were phenomenal to us, and especially to my Mom for her 80th surprise b-day party. He sang my song requests for Mom, put her on a hot seat and sang to her and danced with her, gave teddy bears to the kids, interacted with everyone at the party, and stayed and took pictures with all of us at the end. I can't say enough good things about Keith and his wife and making my Mom's special day, memorable! I would absolutely recommened Keith as he is a special performer, sings great as Elvis, all the way down to the costume and rings on his fingers. Great times and pictures to remember! Thank you, thank you very much
Memorial Service•Reviewed on March 3, 2018•From Montville, NJ
Birthday Party (Adult)•Reviewed on November 26, 2017•From Gloucester City, NJ
We hired Keith for my grandmother's surprise 80th birthday and it was the best money we ever spent for a gift! He got the entire crowd involved and made sure the kids got special gifts. He was funny, personable and overall just a fantastic time! His wife Eileen was so easy to work with and such a great help. I would definitely recommend Keith "King" Gibson!!
Wedding Reception•Reviewed on September 16, 2017•From Cape May, NJ
Keith was great! Spent a lot of time with us an our guests taking pictures! And dancing! It was a great surprise for our guests
Wedding Reception•Reviewed on July 28, 2017•From Hainesport, NJ
Keith was a wonderful addition to our wedding reception! It was a surprise for the groom, and they were very accommodating leading up to the event in getting everything organized and coordinated! They could have been a little quicker with their response times, as sometimes I waited a few weeks for return emails. But as the days leading up to the wedding approached, they were responsive in coordinating with everyone involved to get it set up! Keith put on a great performance and had everyone dancing! It was a great addition to the night!!
Birthday Party (Adult)•Reviewed on April 23, 2017•From Franklinville, NJ
Keith and his wife were very accommodating and on time! The performance was fabulous! Couldn't have asked for anything better! My Mom was so surprised and thrilled at her 70th birthday party. Keith made her day! She couldn't stop talking about her Elvis experience! Highly recommend for your next event!
Birthday Party (Adult)•Reviewed on October 1, 2016•From Newark, DE
He did an amazing job for us. Everyone at the party thoroughly enjoyed the show he put on. He definitely made the party a success. Great job! Very nice people! thank you for making my moms 70th birthday party complete!
Birthday Party (Adult)•Reviewed on July 30, 2016•From Somers Point, NJ
Five stars in all of the above categories does not even begin to justify the rating for Keith "King" Gipson. He and Eileen were absolutely amazing!!!! The level of professionalism was outstanding. The talent was spot on!!! Such an enjoyable show for everyone at the party. Highly recommend
Wedding Reception•Reviewed on July 30, 2016•From Hainesport, NJ
Keith was amazing! He came out in his Eagles jumpsuit, and the bride went crazy over him. He sounded great and looked just like Elvis. Keith sang and danced with everyone at the wedding, and stayed for pictures. He was very professional and even had scarves to hand out to the crowd. He was very accommodating, arrived early, and allowed us to open with a speech from the bridesmaids. His wife Eileen was very kind in helping to set up the event as well. Everyone is still talking about his appearance at the wedding, and the bride is still in tears over the surprise. Everything was perfect! If you ever need Elvis to come to your event, I would highly recommend Keith!!!
Birthday Party (Adult)•Reviewed on April 30, 2016•From Cherry Hill, NJ
Keith "King" Gipson was an excellent performer. He really catered the event to our guest of honor while making each of our guests feel included and part of the show. His team was professional and responsive during the whole process. I would highly recommend Keith "King" Gipson to anyone looking for a talented and professional performer. He certainly created lots of great memories for our guest of honor.
Birthday Party (Adult)•Reviewed on October 24, 2015•From Cherry Hill, NJ
Keith and his "entourage" were outstanding! They were extremely professional -- his act was fine-tuned, well planned and accommodating to our requests. Talent-wise, the best! We felt that the King was in the house! He worked the crowd and had all of us dancing, singing and laughing (with delight). He gave out scarves to all of the women, teddy bears and a gift for the birthday guest of honor. As his appearance was a surprise to the entire party (20 people), his wife, Eileen, worked with me to keep the surprise intact until the very first moment of his appearance. Awesome! I would HIGHLY recommend Keith as a great Elvis impersonator and oversll entertainer.
Convention•Reviewed on June 18, 2015•From Philadelphia, PA
Keith and his support crew (Eileen and Nick) were wonderful! We hired him to perform at our trade show booth, and he went above and beyond! He sang some custom lyrics for us, and walked around the show handing out our business cards and promoting our business before and mid-show. We got a ton of great feedback from everyone at the show and even heard people walking around singing our custom lyrics afterwards! He and Eileen are very professional and did a fantastic job! We highly recommend him!!
Birthday Party (Adult)•Reviewed on February 28, 2015•From Woodbury, NJ
Birthday Party (Adult)•Reviewed on November 23, 2014•From Long Branch, NJ
What a show! Keith really made my Aunt's 75th birthday party come to life. My Aunt and all her guests had the best time. She says that his performance was the greatest gift! Additionally, Keith's wife and Manager made this entire process a breeze. They were extremely accommodating, gracious and fun to work with. Can't say enough positive things about this experience. Thank you both! Desiree
Birthday Party (Adult)•Reviewed on June 14, 2014•From North Brunswick, NJ
My Mom's 70th birthday party was that more exciting and memorable because of Keith's performance! He was awesome!
Event•Reviewed on October 19, 2013•From New Castle, DE
Keith is the best singer and entertainer we have ever had at our annual veterans reunion. Everyone was thrilled with his performance. He certainly knows how to work the audience. He got a standing ovation at the climax of his performance. They loved him. What a show! Jim Timmons 317th Veterans Group
Anniversary Party•Reviewed on June 8, 2013•From Atlantic City, NJ
From the planning stage, to the actual performance everything was perfect - we couldn't have asked for anything better!
Wedding Reception•Reviewed on May 11, 2013•From Philadelphia, PA
Keith, "The King", was outstanding!!! My husband and I loved him, and my daughter, well; she couldn't get over his magnificent performance. Everyone at our daughter's wedding reception thought he was exceptional! His voice was as smooth as Elvis' was, as if Elvis himself was right in front of you performing. Also, he was prompt, very professional, and his entrance was fabulous. Constant communication with his wife/manager, Eileen, (aka, Priscilla, as my husband called her) made our anxiety go away. Thank You, Thank You, Keith, "The King", for an outstanding performance and Eileen for all of your help !! A rating of 5 is not high enough, as he is fantastic!!!!
Retirement Party•Reviewed on April 24, 2013•From Burlington, NJ
Booked him for a surprise going away party for a passionate Elvis fan. Venue was a challenge; her place of employment- a bar at night with patrons. Keith arrived early and verified details of show we wanted and how we would spring the surprise. The surprise came off perfectly & the show was fantastic! Everyone loved it & guest of honor said it was the thrill of a lifetime. Keith handled everything beautifully, adapting to venue issues, requests from crowd, etc. Vocals were so good some guests thought he was lip-synching at first. His team was courteous, professional and accommodating. Great value!. I would reccomend him to all & use him again any chance I get!
Birthday Party (Adult)•Reviewed on June 2, 2012•From Vineland, NJ
I hired Keith for my sister's surprise 60th birthday party. It was THE MOST entertaining show! Keith even got my 82 year old Mother on the dance floor and had my sister's grandchildren getting his autograph. OH, WHAT A NIGHT! The scarves, teddy bears, chocolates and special gift for my sister were all a wonderful added touch. The communication prior to the event was excellent. Our family and friends will be talking about this event for a long time to come. His performance has made a lasting impression on all of us. I would highly recommend Keith for whatever event someone might be planning.
Dinner Dance•Reviewed on January 10, 2012•From Monroe Township, NJ
excellent communication before event, arrived promptly, engaged all the women, played all the music we wanted, is very talented, and he enjoyed it as much as we did. would highly recommend!
Wedding Cocktail Hour•Reviewed on October 7, 2011•From Pennsauken, NJ
I hired Keith as a surprise for my son's wedding, what a wonderful surprise for all who attended. Everything about Keith and his performance were far beyond my expectations. He was just fabulous and very loving. It is obvious he enjoys making people happy and there were plenty of people there that just couldn't get enough of him. Thank You Keith for keeping The King Alive!!!!! Also thank you to your lovely wife, she was so helpful and sweet all the way thru the process. You Guys ROCK!!!!