Back to profile
Chad J. Willett: "Smash the Box" Reviews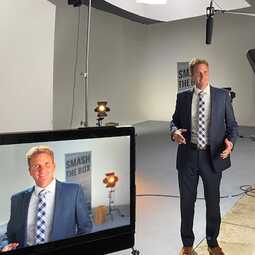 Avg 5.0 | 31 Reviews

Motivational Speaker from New Albany, OH

57 Verified Bookings
Starting at $1,500 per event
---
31 Reviews for Chad J. Willett: "Smash the Box"
Corporate Function•Reviewed on September 9, 2016•From Chapel Hill, NC
Chad took the time to learn more about us and tailored his presentation just for our group. Chad is professional, talented and accommodating. We held our team retreat outdoors on an unseasonably hot and humid day. This is not the norm for Chad, who usually works indoors. But Chad is a trooper. He not only came out to speak with our group on that warm day, but he arrived early and totally prepared. I would highly recommend Chad.
Corporate Function•Reviewed on May 5, 2016•From Raleigh, NC
Chad Willett was everything that we envisioned for our event and more! He was professional, engaging, and the information was so relevant that everyone walked away feeling so much better than when they walked in the room.
Corporate Function•Reviewed on June 7, 2013•From Columbus, OH
Chad was very professional and received a lot of praise from my peers, and superiors who attended the meeting. Wonderful presentation that resonated with all of us. Thanks so much!
Event•Reviewed on April 23, 2013•From Cincinnati, OH
The presentation ws excellent and he really engaged the audience, which is what we were hoping for.
Corporate Function•Reviewed on November 19, 2015•From Cleveland, OH
Chad was a wonderful presenter, engaging, confident, and charismatic. Chad tailored the presentation, pulling in relatable examples for our crowd, driving home the point. We look forward to continuing to engage Chad with our future events.
Corporate Function•Reviewed on October 2, 2013•From Mason, OH
Chad was fantastic! From day one, Chad was onboard. He was responsive and attentive. His material/presentation was rock solid and relevant. He had us all walking a bit taller as he left our stage.
Corporate Function•Reviewed on March 14, 2013•From Pittsburgh, PA
We had a great experience with Chad. He was really engaging and delivered an inspiring and useful message. We have his 7 Steps for High Creative People plastered on the walls of our office and I really feel like we will see long term value from his framework. John Williamson VP, Finance Direct Energy
Corporate Function•Reviewed on April 1, 2016•From El Paso, TX
Our association's goal is to get speakers that our audience will walk away having learned how and motivated to meet their goals in business and personal life. Chad was very attentive to our needs and requests, therefore accomplished our goals. After his presentation, not only did some of the audience express to me "he was great", I witnessed some of them go straight to him to thank him, that alone shows how pleased our audience was. He was the key to our event's success, so I would definitely recommend Chad Willett. Thanks Hilda Beck Director of Education & Events Greater El Paso Association of REALTORS
Corporate Function•Reviewed on October 28, 2015•From Indianapolis, IN
Chad was engaging and our staff enjoyed his presentation.
Grand Opening•Reviewed on August 26, 2015•From Lorain, OH
Chad is a dynamic speaker. He came in early and mingled with the crowd. Learned people's names. He also stayed after and talked with people. He has a genuine interest in people and connects with the audience in a positive manner. He covers the topic of creativity and thinking outside of the box in a unique manner... through audience participation. I highly recommend Chad to be a speaker for your event.
Awards Night Party•Reviewed on December 6, 2014•From Canton, OH
We needed an MC that could engage our fun loving crowd with professionalism and be able to think on his feet as we were new to pulling off a video and powerpoint presentation in a full scale theatre enviroment. We only phone interviewed Chad once before committing and the luck of the Irish must have been with us. Chad ended up being AWESOME. He adapted to our crowd, ad-libbed when needed, followed our rather sketchy script and allowed our people to be the spotlight. This gave our usual people that MC the evening off to enjoy our Night at the Oscar program. We will use Chad's services again and I would highly recommend him. I would also be open to live attests!
Corporate Function•Reviewed on September 17, 2014•From Carmel, IN
Chad was the emcee for an awards banquet and keynote speaker for our property management conference. Chad was very flexible and handled all of the challenges and last minute changes. Smash the Box was a big hit and our education speakers were able to immediately incorporate his ideas into our core mission and moving forward as a company. I believe that Smash the Box is a way of looking at life differently not just the workplace.
Corporate Function•Reviewed on March 18, 2014•From Columbus, OH
Chad was great, our group enjoyed his presentation very much. Chad was very engaging with the crowd.
Event•Reviewed on August 6, 2016•From Jackson, MS
Chad provided a great session for our attendees. The only negative feedback received from the attendees was there was too many video clips as part of his presentation, but he did a good job incorporating them into the topic. He was very engaging and high energy and the perfect closing keynote for our event.
Corporate Function•Reviewed on April 11, 2014•From Muncie, IN
My organization hired Chad as the keynote for a conference. We worked with Chad over a phone meeting to communicate the message we wanted to send our members. Chad was very professional and quick to put together an outline for his keynote session, which was exactly in line with the message we had asked him for. Chad communicated very quickly with any follow-up questions or information we had coming up to the event. He got the conference started with energy and a motivating message about thinking outside the box. Our members complimented the keynote throughout the day! We were very pleased with how he got our members thinking and energized!
Corporate Function•Reviewed on February 21, 2013•From Frankfort, KY
Meeting•Reviewed on October 25, 2019•From Terre Haute, IN
Chad was very personable and his interaction with our audience was great. He was genuine and sincere and left us feeling inspired to break through the walls that we set for ourselves. He delivered what we had discussed prior to his presentation, plus more. He kept the audience engaged with his humor and participation from the audience. We are very happy that we selected Chad to be our keynote speaker and hope we have an opportunity to engage him again in the future.
Corporate Function•Reviewed on June 19, 2019•From Columbia, SC
Chad did a great job as the keynote speaker for our conference. I received a lot of positive comments from attendees about his talk days after he spoke. Many of the attendees mentioned several times practicing the tips he provided to break down walls and be more creative. I highly recommend him for your event.
School Assembly•Reviewed on August 23, 2018•From Montrose, PA
Chad was easy to work with, and accommodating to meet our specific needs. He was well received and delivered a positive and energetic message for my staff.
Corporate Function•Reviewed on August 8, 2018•From Atlanta, GA
Chad was terrific! Great energy and a nice way to start our meeting. He got the crowd involved and thinking differently. I would recommend Chad for any event where new thinking, change management or innovative direction is an important topic in your organization.
Corporate Function•Reviewed on May 15, 2018•From Cleveland, OH
Chad is a consummate professional. I received first class service from start to finish. He helped with preparations for the event and tailored his presentation to meet the needs of our group. I would strongly recommend Chad to anyone in search of a professional speaker for their meeting or event!
Corporate Function•Reviewed on April 4, 2018•From Columbus, OH
Literally could not have asked for more - this guy was accommodating from day 1 when we were still deciding to use Chad. He did three sessions for our team at Health Care Logistics to attendees from every single department. From shipping to sales and everyone was able to relate and take away something to improve themselves and their daily interaction with not only our customers, but with each other as well. Highly recommend him for any event you have!
Community Event•Reviewed on March 1, 2018•From Genoa, OH
Chad did a great job very energetic and interesting. students were very active.
Corporate Function•Reviewed on October 12, 2017•From Canton, OH
Chad was very professional and personable. His message was relatable to everyone in our group and his sense of humor was appreciated. He used his creative and artistic background to deliver his unique message. I recommend him to anyone looking for a motivational key note.
Corporate Function•Reviewed on September 18, 2017•From Cleveland, OH
Chad did a great job and was accomodating with our group. He was able to adapt his presentation to fit with our theme. Our group had very positive feedback from Chad's presentation. Highly recommend!