Back to profile
Ben Franklin, Keynote Speaker - Brian P. Mulligan Reviews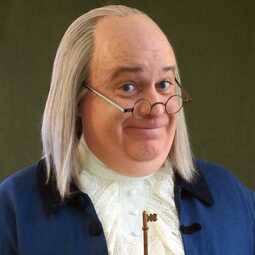 Avg 5.0 | 22 Reviews

Ben Franklin Impersonator from Philadelphia, PA

36 Verified Bookings
Starting at $425 per event
---
22 Reviews for Ben Franklin, Keynote Speaker - Brian P. Mulligan
Corporate Function•Reviewed on September 24, 2019•From Philadelphia, PA
Brian Patrick Mulligan has performed multiple times for us as Dr. Ben Franklin. As a trusted voice for Dr. Ben Franklin, Brian's vast knowledge of Dr. Franklin, his inventions and the time period, as well as his perfectly timed puns and quips were the talk of our corporate tenth anniversary celebration. Our attendees thoroughly enjoyed his performance and appearances at our receptions and luncheon. We loved him so much the first two days of our event that we asked him to come back a third day. We are looking forward to sharing some photographs. We highly recommend Brian Patrick Mulligan. Huzzah! ---Terry L. Cunningham, Sr. Event Manager, Legacy Foodservice Alliance
Corporate Function•Reviewed on October 30, 2019•From Philadelphia, PA
Best Ben Franklin we could have ever asked for! What a delight it was to work with Mr. Mulligan. He is a true professional, and an engaging performer who seems to bring warmth and comradery into every room he walks in to as Ben Franklin. He was a huge hit at our Board of Directors dinner, and many of our Directors said because of him, it was the best Board dinner we had had in years! He also is great for photos - knows just the right expressions to make a great photo op!!
Corporate Function•Reviewed on October 30, 2018•From Philadelphia, PA
Brian was stellar! He rang his bell around the aisles and got lots of attention. He was in character the whole time and very funny. A total draw at the booth — so many people came to have their photo taken with him! We would hire him again in a heartbeat.
Corporate Function•Reviewed on September 20, 2019•From Washington, DC
What can I say... Brian is a wonderful entertainer and did an amazing job at our conference party. Should you ever require his services you can rest assured that he will take care of you and your guests. A truly talented person.
Corporate Function•Reviewed on March 29, 2019•From Philadelphia, PA
Brian is a classic professional and I would highly recommend him.
Birthday Party (Adult)•Reviewed on April 13, 2019•From Sicklerville, NJ
My family loved having Brian Patrick Mulligan at my dad's belated 70th birthday party. Few times have I seen my dad as happy as he was when Ben Franklin walked into my brother's house. Brian's introductory speech and game show was loved by all of my family and very entertaining. My dad had so much fun interacting with Ben Franklin after the main show with my family. I would highly recommend Brian to anyone interested in history. He was a true professional and highly entertaining as Benjamin Franklin. My dad has already said he plans to book Brian for a future event.
Corporate Function•Reviewed on June 26, 2018•From Newark, NJ
Absolutely Excellent!!!
Corporate Function•Reviewed on November 5, 2018•From Philadelphia, PA
We were very happy with Brian (a.k.a. Ben Franklin) during our evening networking event. Leading up to the event, he was prompt on arrival on event day. He was very helpful in our pre-event calls and was always receptive to the type of banter and interaction we were looking for in an entertainer. He was very witty and friendly when greeting our guests and, subsequently, worked well with our other entertainer on site. I would definitely recommend him for any event you are doing in need of a Ben Franklin, or any other impersonator/persona that he has on his resume that he could do for your event!
Convention•Reviewed on April 18, 2015•From Saint Louis, MO
I HIGHLY recommend Brian and I'm sure I will work with him again! Brian as "Ben Franklin" was amazing to work with from the start. We needed him to help draw a crowd to our convention booth. We had multiple calls to brainstorm, strategize and teach him about our products. Brian had a lot of great ideas like a Colonial Quiz Show. At the conference, "Ben" was amazing, he went out into the halls and handed out our materials, drove people back to our booth, did photo opps and so much more! He had a bag of props I wasn't expecting that amazed and delighted my customers! I couldn't be more pleased with how it all turned out!
School Assembly•Reviewed on January 12, 2018•From Yorktown Heights, NY
Being that the name of our school is Benjamin Franklin Elementary, we contacted Brian to kick off our school's 50th anniversary celebration. He was perfect in both character and appearance. From the moment he stepped into the school, he never broke character and was a real hit. All the students wanted to hang with him and ask him questions. His performance was professional and true to the facts of the life of Ben Franklin. He was engaging, interactive and the students and teachers loved participating. An overall, terrific program!
Fundraiser•Reviewed on April 6, 2017•From Ashburn, VA
Brian was flexible, fun, and friendly!!! Class act!
Event•Reviewed on December 16, 2016•From Philadelphia, PA
awesome Ben Franklin! professional, hilarious, perfect for our event. everyone very much enjoyed his company, fit the part to a tee and is very knowledgeable about the history and Ben Franklin himself. Highly recommend!
Community Event•Reviewed on October 28, 2017•From Hawley, PA
It is too bad there isn't an adjective more definitive than Fabulous! Wait maybe there is "HUZZAH"!!
Anniversary Party•Reviewed on March 24, 2017•From Adamstown, MD
He has performed twice for us in our senior living community. Always with a wit and enjoyable demeanor. I highly recommend him.
Convention•Reviewed on October 20, 2016•From Arlington, VA
Perfect.
Corporate Function•Reviewed on October 8, 2016•From Philadelphia, PA
He did a great job at both of our corporate functions!
Wedding Reception•Reviewed on August 26, 2016•From Philadelphia, PA
This all started out as a crazy idea. Wouldn't it be fun to have Ben Franklin stop in to the reception at the daughter's wedding. Well, as the idea got rolling, one thing led to the next and Brian Patrick Mulligan "Ben" was on the invite list. Some had a little apprehension about the whole concept but the bride gave her OK on it. This process of hiring a character was a little unusual for us but after speaking with Brian on the phone and communicating via the internet our nervousness was minimized. Brian was the consumate professional. He listened to what was being requested and even offered up his experience to work through our uncertainties. Well worth it
Corporate Function•Reviewed on October 29, 2018•From Philadelphia, PA
Birthday Party (Adult)•Reviewed on January 21, 2016•From Washington, DC
Corporate Function•Reviewed on November 29, 2017•From Pedricktown, NJ
Private Party•Reviewed on October 8, 2015•From Adamstown, MD
It was a fun performance and informative as well. Our residents really enjoyed it. I would highly recommend Brian as he really gets into character.
Corporate Function•Reviewed on September 23, 2019•From Philadelphia, PA
Brian Patrick Mulligan is a trusted voice for Dr. Ben Franklin. His vast knowledge of Dr. Franklin, his inventions and the time period, as well as his perfectly timed puns and quips were the talk of our corporate tenth anniversary celebration. Our attendees thoroughly enjoyed his performance and appearances at our receptions and luncheon. We highly recommend Brian Patrick Mulligan. Huzzah! ---Terry L. Cunningham, Sr. Event Manager, Legacy Foodservice Alliance