Back to profile
Fil Lorenz Orchestra Reviews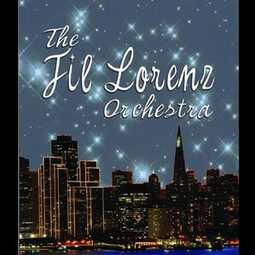 Avg 5.0 | 41 Reviews

Jazz Band from San Francisco, CA

58 Verified Bookings
Starting at $800 per event
---
41 Reviews for Fil Lorenz Orchestra
Wedding•Reviewed on May 26, 2013•From San Francisco, CA
I don't usually do reviews, only when the experience is exceptional, as is the fantastic performance that Fil Lorenz and his orchestra lent to our wedding reception. From the months planning ahead and coordinating, Fil was gracious, professional, and insightful, balancing the desires of my bride and I with his decades of professional experience, with which he and his orchestra brings a deep and meaningful understanding of jazz, blues, and soul. Fil provided us with his eight piece band, boasting an incredibly soulful horns section, strong keys, bass, and guitar, and amazing vocals. Yes. This is THE band.
Wedding Reception•Reviewed on October 13, 2012•From Tiburon, CA
Fil Lorenz and the Fil Lorenz Orchestra were incredible, to say the least. After spending months searching for the right band for our wedding, I finally booked the Fil Lorenz Orchestra, and I am SO happy that I did. Fil was reliable, accommodating, organized, and accessible anytime I needed anything. He took all of my special requests and made them happen effortlessly. Two month after the wedding, people are still coming to me all the time talking about how incredible the band was and asking me "where did you find them?!" I'm still trying to come up with excuses to hire them again. Overall amazing - 12 out of 10 stars.
Birthday Party (Adult)•Reviewed on December 10, 2011•From San Francisco, CA
I worked with Fil to put together a 4 piece band for my 50th birthday party. The theme was 1961 and I wanted a band that could play the standards. From the beginning Fil did a great job of providing information and suggestions. He was also very responsive to my questions and requests leading up to the event. The party was a great success and the band was a major contributor to that success. Jonathan Poretz as the lead singer was fantastic. I didn't think it was going to be much of a dancing crowd but by midway through the evening the dance floor was full. Thanks again for making my birthday a memorable one!
Cocktail Party•Reviewed on October 28, 2011•From Berkeley, CA
Fantastic! 5 stars for sure! Fil was a pleasure to work with and selected a wonderful trio (sax, string bass & guitar) for our corporate cocktail reception at The Claremont. They were prompt, pleasant, extremely talented and obviously were into their music - compliments from our guests throughout the evening. I will definately be working with Fil again and would not hesitate to recommend him to anyone having a special event! Mary Koenig, Bishop Ranch, San Ramon, CA
Event•Reviewed on October 4, 2011•From Hollister, CA
Wow and wow again. The Fil Lorenz Orchestras delivered beyond our wildest hopes and dreams. They played for the celebration of our daughter's marriage, and while they didn't steal the show (after all, this is our daughter we're talking about), they came close. Whether dancing or just toe-tapping, our friends & family were spellbound by the band's extraordinary talent, great music selection and all-around performance. We kept pinching ourselves, so powerful was the spell spun by these incredible pros. As music and dance buffs, we all agreed: the Fil Lorenz Orchestra was absolutely amazing. Run, don't walk to book this band. We ourselves can't wait to bring them back!
Corporate Function•Reviewed on December 9, 2011•From San Jose, CA
The Fil Lorenz Orchestra played at our corporate holiday party this year and everyone absolutely loved them! They played some great selections during dinner as background music and moved to more lively songs afterwards. They were great with accommodating all of our speeches and timing their breaks around our schedule. It was an absolutely memorable evening in part to their presence!
Wedding Reception•Reviewed on October 15, 2011•From San Francisco, CA
Fil was amazing. Our DJ wasn't the greatest, and Fil's band more than picked up the slack. Guests kept commenting on the band and asking for their contact info--and my bride and I had a similar reaction. They were amazing. Musicians that attended the party even gave their compliments. Fil always answered his phone, went out of his way to accommodate my requests. One of the members of his band, a trombone player and singer, cancelled at the last moment. What did Fil do? He replaced the trumpet player and then hired an additional person to be the singer out of his own pocket. I think this more than explains the type of guy he is.
Corporate Function•Reviewed on July 15, 2011•From Yountville, CA
Thank you so much for playing at our recent Swingin' Soiree at our 2011 HBW Leaders Summit in Napa. Our company's leaders thoroughly enjoyed listening and dancing to your music! You were such a pleasure to work with, from booking to finalizing a contract to the actual day of, your professionalism was top notch! I hope to get the opportunity to hear you again or hire you for another event.
Fundraiser•Reviewed on April 30, 2011•From San Francisco, CA
Fil and his ensemble were on time, sharply dressed, and extremely accommodating. Most of all, they put in a top-notch performance that kept our guests thoroughly entertained. I would gladly work with this group again. Thanks, Jeff
Wedding Reception•Reviewed on November 6, 2010•From Pleasant Hill, CA
I would absolutely recommend The Fil Lorenz Orchestra to any bride who wants her wedding night to be memorable! Fil was so professional and easy to work with. He put me at ease time and time again. Getting married can be stressful, and anytime I had questions or concerns he was always available. The time spent to make sure my wedding was perfect was appreciated and unexpected. Thank you so much to Fil and his orchestra of stellar musicians! A real professional and an amazing band. Thanks again!
Wedding Reception•Reviewed on November 27, 2010•From Oakland, CA
Fil Lorenz is a fantastic bandleader, multi-instrumentalist, MC, composer and arranger and is a consummate professional across the board. He made a special arrangement for our first dance, an unusual circumstance since he has a catalog of music ranging across the past 100 years. His band is extremely flexible, so you can customize the experience. From a warm guitar trio to a full-on big band, Fil can put together great ensemble(s) for your event. When the party needs a funky change, the bassist sheds his upright and grabs the electric as the band moves fluidly into high octane grooves from Stevie Wonder and other Motown masters. Highest recommendation.
Anniversary Party•Reviewed on October 22, 2010•From San Mateo, CA
Fil's band was excellent! He was super easy to work with before and during our event. I would recommend the Fil Lorenz Orchestra anytime!
Cocktail Party•Reviewed on October 24, 2010•From San Jose, CA
I manage a large apartment complex that has a yearly indian-summer pool party. Everyone was thrilled they didn't want it to end. Dealing with Fil Lorenz was a pleasurable experience. They played a wide variety of music catered to our diverse crowd. Very talented group of musicians. Everything went smoothly from the beginning to the time they packed up. Thanks so much. I would definitely recommend them, and would hire them again.
Casino Event•Reviewed on October 23, 2010•From Atherton, CA
The Fil Lorenz Orchestra did a fantastic job in helping to set the perfect atmosphere for our "Rat Pack" themed event. The band was great, but their singer was amazing! I loved these guys! Thanks, Jan Habermann
Christmas Party•Reviewed on December 8, 2010•From San Francisco, CA
The Fil Lorenz Quartet made our UCSF Chocolate and Jazz event very special and memorable. "We are the music makers...and we are the dreamers of dreams." - Willy Wonka.
Wedding Cocktail Hour•Reviewed on October 30, 2010•From San Francisco, CA
The Fil Lorenz Quartet was outstanding! They added a touch of class to our wedding reception with their sophisticated sounds and matching suits. It was also very sweet of the band to allow my 7th grade nephew to "sit in" on saxophone. Thanks Fil for helping to create a wonderful afternoon.
Festival•Reviewed on December 3, 2010•From San Francisco, CA
Highly Recommended.
Birthday Party (Adult)•Reviewed on January 16, 2011•From San Clemente, CA
Fil and his band were the perfect balance of sophistication and hip coolness. They were the talk of the party. Thank You, Dan
Birthday Party (Adult)•Reviewed on October 19, 2010•From Santa Barbara, CA
I've had the pleasure of working with Fil Lorenz on a corporate event in the past, so when the opportunity arose to use his services for a large family function, I did not hesitate to give him a call. From my prior experience with Fil, I knew I could count on him to deliver 100%. That's exactly what he delivered, and then some. Fil and the gentlemen in his orchestra are true professionals and I thank them for a job well done.
Corporate Function•Reviewed on January 14, 2011•From Los Angeles, CA
The Fil Lorenz Quartet's performance was wonderful. Our event was a huge success and I believe the music made the difference. I would hire them again.
Wedding Ceremony•Reviewed on May 14, 2011•From Napa, CA
Fil and his team were great. They traveled well! Everyone complimented us on their professionalism and sound. They were a 6 piece orchestra for the dancing and 3 pieces for our dinner and cocktail hours. They did a great job on our song, "Gilbraltar" by Sinatra. They also accomodated my fiancee's maid of honor who sung a song she brought with her. Everyone got up and moved, regardless of their level of dance expertise. Fil was great in coordinating everything and professional in all of our discussion. Couldn't recommend them more!
Halloween Party•Reviewed on October 31, 2010•From Rohnert Park, CA
Bar Mitzvah•Reviewed on April 16, 2011•From Danville, CA
Fil Lorenz Orchestra did a wonderful job at my son's Bar Mitzvah. Their music set the perfect tone for the evening. They were easy to work with and very professional.
Christmas Party•Reviewed on December 16, 2010•From San Francisco, CA
Wedding Reception•Reviewed on February 27, 2011•From Truckee, CA
Fil Lorenz's quartet was a big hit. I'm so happy I chose these talented musicians. Very friendly, accommodating, courteous, punctual, etc. I would be glad to recommend them to anyone. Thanks, Sandra