Back to profile
The Julie Lyon Quartet Reviews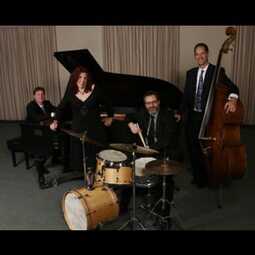 Avg 5.0 | 20 Reviews

Jazz Band from Westbury, NY

28 Verified Bookings
Starting at $600 per event
---
20 Reviews for The Julie Lyon Quartet
Private Party•Reviewed on August 23, 2014•From Weston, CT
all my guests loved them!
Corporate Function•Reviewed on December 2, 2009•From Orlando, FL
The Julie Lyon Quartet was great. The perfect music for a corporate function. Also, during dinner we performed a murder mystery and asked Julie Lyon herself to join the cast and play a suspect in the show. She was great! I highly recommend her and the band for any corporate event.
Trade Show•Reviewed on October 20, 2009•From Orlando, FL
Very flexible doesn't take special request personally and appreciated the business. Claire Gould, rxforevents.com
Cocktail Party•Reviewed on April 19, 2009•From Orlando, FL
Wedding•Reviewed on January 18, 2009•From Orlando, FL
I couldn't have asked for a better group for my wedding. I requested things they don't usually do - but they were willing to do whatever it took for me to have exactly what I wanted on my wedding day! And of course the music was fabulous!
Wedding•Reviewed on June 7, 2008•From Saint Petersburg, FL
Julie and the quartet were fantastic. One of my guests said that her voice was better than Diana Krall's. We had a lot of non-dancers, but I think even they enjoyed the music. My husband and I thought that the quartet made the event very classy and a good change from the traditional wedding dj. We enjoyed the music so much that we are planning on trying to catch one of their future performances. Julie is wonderful to work with and I will highly recommend the quartet to anyone who loves jazz.
Wedding•Reviewed on April 26, 2008•From Sarasota, FL
This group sounded even better live than on the recordings we sampled before booking them for our daytime wedding reception. Their sound was exactly what we were hoping for when we decided that we wanted a jazz quartet for the event. Julie made everything easy for us and the gig went off without a hitch. They were on time, professional and sounded great!People are still talking about how good the band was at our reception. I would absolutely book them again or recommend them to anyone that likes this kind of music.
Wedding•Reviewed on December 29, 2007•From Melbourne, FL
The Julie Lyon Quartet exceeded all of my expectations. They are amazing and made my wedding a very special and memorable event!
Corporate Function•Reviewed on December 8, 2007•From Orlando, FL
I had the tough task of trying to find the perfect entertainment for our employee Christmas Gala. When I decided on the Julie Lyon Quartet I explained that this was for a corporate function and their were lots of fine guidelines that we had to be aware of due to this being a faith based company. Julie made me feel so confident that everything would go well and as she promised, it did. I would recomend this Quartet to anyone having a party from 2 to 92. They sound amazing, were very professional, and made me feel at ease in a stressful situation.
Wedding•Reviewed on October 19, 2007•From Casselberry, FL
I knew I wanted a different feel for my wedding reception other than a DJ. After much research I decided upon the Julie Lyon Quartet which turned out to be the best decision for my wedding. With my wedding of approx 75 people I wanted to make sure that the music didn't overwhelm the event. The Julie Lyon Quartet kept the music going at an appropriate level in both timing and loudness the entire time. I couldn't be happier with my decision! Julie's pre planning checklist was what I needed to plan the reception from beginning to end. Everyone at the wedding including those who aren't jazz fans said how fun it was to hear live musicians. I would book them again!
Wedding•Reviewed on June 10, 2007•From Saint Petersburg, FL
The Julie Lyon Quartet was the perfect addition to the perfect wedding. The band learned and performed a rather obscure song for our "first dance" and performed an inspiring version of it perfectly (You Are My Everything by Nat King Cole). I and the rest of the family and our friends enjoyed the music and their selection of songs. One of the best things was that they were not too loud, thus, everyone could actually hear each other when they talked. IF you like the quartet jazz sound, go with Julie Lyons Quartet!!! The next time I have a big celebration they will be the first on my band list. Oh...and do I have to mention how great Julie's voice was?!?!
Convention•Reviewed on February 1, 2007•From Orlando, FL
They were a great addition to our event and they set the atmosphere for the night. We enjoyed their talent and performance very much.
Corporate Function•Reviewed on January 9, 2007•From Orlando, FL
Julie was a pleasure to work with. Her group was very professional and telented. Would hire her again in a heartbeat!
Church Service•Reviewed on December 17, 2006•From Winter Haven, FL
This was the best idea for the Christmas party at my church. Everyone was very pleased and I would recommend the Julie Lyons Quartet to anyone having an event and want to book a band. I can not express my gratitude for their professionalism.
Corporate Function•Reviewed on December 16, 2006•From Orlando, FL
We loved The Julie Lyon Quartet. We will use them again. Very professional. They arrived on time and their talent was the best we have heard in a long time. I would recommed them above all others.
Wedding•Reviewed on October 14, 2006•From Orlando, FL
I thought the band was overall perfect. Played many classic Jazz songs. Julies voice is both soulful and soothing. It brought the class and elegance we wanted for our wedding. It made the atmosphere seem like a high end jazz club and everyone commented on how great the band sounded. They even me sing to my new bride while the band played. The could not have been more accomidating or professional. I hope to use them again for future events
Restaurant Event•Reviewed on August 18, 2006•From Lakeland, FL
Julie and the guys are great very talented and professional. Barbara Gomez Louie Mack's Steakhouse
Grand Opening•Reviewed on May 24, 2006•From Kissimmee, FL
This was the 1st event I had coordinated, so I was a little nervous and hesitate about booking the entertainment. But the Julie Lyon Quartet was a pleasant surprise; they set my mind at ease by taking care of the small details I would have otherwise overlooked. Their professionalism and talent far exceeded my expectations. They brought a since of elegance and delight to what could have been an otherwise bland and boring affair. I am grateful for their services, as well as the compliments I received from guests as a result of them. They will most definitely be our 1st choice of entertainment for all of our upcoming events.
Anniversary Party•Reviewed on March 11, 2006•From Crystal River, FL
The Julie Lyon Quartet was stellar - top class in every way. We loved working with them and enjoyed their performance even more. They are dependable - they showed up when said, and were set up and ready to go by the agreed time. The audience loved them - they are truly talented professionals. On top of everything else, Julie's voice is just as incredible in person as on the CD. We loved them!!
Community Event•Reviewed on March 4, 2006•From Windermere, FL
Their music was beautiful, it completely fit the mood and style of the party.They created such a wonderful atmosphere, and I've gotten nothing but compliments about them. They worked so professionally and well, I'm sure I'll think of them first when planning another event. Thanks so much, Elisa Davis Chairman, Ways and Means Committee WOJSL