Back to profile
Trio Sol De Mexico Reviews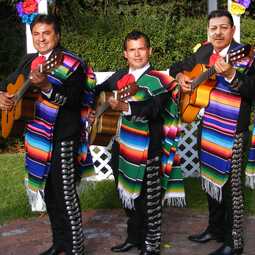 Avg 4.5 | 405 Reviews

Mariachi Band from San Jose, CA

896 Verified Bookings
Starting at $100 per hour
---
405 Reviews for Trio Sol De Mexico
Birthday Party (Adult)•Reviewed on May 5, 2018•From Los Gatos, CA
Watch Out for this mariachi band. They were a NO SHOW for us without any warning to us or Gigmasters for a Cinco-de-Mayo party. We were the first clients booked for that night so watch out for the multiple bookings by this band. We paid the secure deposit to Trio Sol De Mexico and many months later we still have not seen the money?? Not sure why gigmasters still has them on the website for bookings????
Trio Sol De Mexico:
Tina, Thank you for taking the time for your review. A quick update: Our base player CANCER surgery went ok. Chemo-therapy and Radiation is pending. Our lead guitar player had a stroke as I had suspected. He will undergo his second surgical treatment next week. I thought that people should know what you, in my opinion, INTENTIONALLY FAILED TO DISCLOSE. Family emergencies happen that are beyond our control. I know how important your event was, but the unfolding events took on a greater family urgency.
Celebration•Reviewed on September 4, 2018•From Salinas, CA
I canceled the event due to an emergency but their response and service after that was horrible. Very unprofessional and I would never use them again. They are money hungry and didn't honor their word on giving me another time to reschedule the event so they can play. They just where interested in getting his other half of the money more then proving good service to me. I would not recommend them at all.
Birthday Party (Adult)•Reviewed on September 16, 2018•From Union City, CA
Trio Sol De Mexico did a wonderful job helping us celebrate our Dad's 80th birthday party. Lots of songs that my dad grew up with. They arrived early and were very welcoming to all the guests. We would definitely hire them again to make an ordinary birthday party a special one that all will remember.
Private Party•Reviewed on September 16, 2018•From Mill Valley, CA
Mario kept us informed about where they were from in Mexico, he delighted us with musical anecdotes, drew us all together as an audience with many questions and was the big hit of my Fiesta. Everyone of my guests has commented on how fortunate I was to have found them (on Gigmasters) So many thanks, Gage Schubert Mill Valley
Community Event•Reviewed on September 14, 2018•From Tracy, CA
Celebration•Reviewed on August 4, 2018•From Fremont, CA
Trio Sol was superb in every way. Their communication was thorough, prompt and professional. Their music and harmonies were precious and they did a FANTASTIC job accommodating the unique venue we used. AND - they arrived early to checkout out the set up and be fully prepared. I would book them again and again.
Retirement Party•Reviewed on August 11, 2018•From Menlo Park, CA
Mario was great. he was quick to respond, and kept in touch throughout the process. The group was great and everyone really enjoyed the music. Would definitely use them again.
Family Reunion•Reviewed on August 5, 2018•From Alviso, CA
The trio was fantastic they played every song we requested and believe me there was some very old songs. they have a very large repertoire and very accommodating very friendly definitely having back them back again thank you
Birthday Party (Adult)•Reviewed on July 7, 2018•From San Jose, CA
This was the best BIRTHDAY surprise for my grandma and im so happy i booked them. I will definitely be having them again without a doubt. They played all the songs requested and more. They came professional and my grandma face when she seen them was amazing! They are the best?????thank you for making her 88yr birthday amazing!
Sweet 16 Party•Reviewed on June 30, 2018•From Livermore, CA
Amazing! I first heard Trio Sol de Mexico during a celebration of life for a family member at a park a year or so ago. Planning my daughter's Sweet 16 I knew right away that I wanted them to perform. Everyone loved them! They played several songs I requested in an earlier email which was great. They were so good. Their voice and guitar music was absolutely beautiful and filled the whole room! They were very friendly and communicative. I would definitely book Trio Sol de Mexico again. In fact I'm already looking at my calendar to see what else I can book them for for future events! Thank you so much Trio Sol de Mexico!
Birthday Party (Adult)•Reviewed on June 22, 2018•From Berkeley, CA
Celebration•Reviewed on June 2, 2018•From Santa Clara, CA
They are amazing!!!!!! Such a high quality band. Super friendly, energetic, and really loving people. ABSOLUTELY RECOMMEND.
Birthday Party (Adult)•Reviewed on May 27, 2017•From San Francisco, CA
Totally awesome mom turned 90 . She loved the surprise
Fundraiser•Reviewed on May 19, 2018•From Oakland, CA
They were great and very easy to work with. On time and professional and their music made our fiesta event really fun and memorable!
Wedding•Reviewed on August 16, 2012•From Piedmont, CA
Had a very easy experience booking Trio del Sol on gigmaster. The communication was very clear and response was quick. I booked them to perform during the cocktail hour of my brother's wedding. We received so many compliments from the guest. They were a wonderful addition to a beautiful wedding. I highly recommend this group and hope to use them again for my mother's birthday.
Cinco De Mayo Party•Reviewed on May 4, 2018•From San Francisco, CA
They arrived 45 minutes late and only came with 2 band members. They did entertain my group of seniors and were apologetic. I just feel that there should be a heads up given if they are going to arrive that late.
Trio Sol De Mexico:
Facts should be told truthfully. Two members arrived at 11:35. Manuel explained to you the reason for the delay. You agreed to wait for a bit but José was stuck in traffic. You told them when to start and when to finish. They did the best they could under the circumstances. Thank you for your understanding.
Corporate Function•Reviewed on May 2, 2018•From San Francisco, CA
Overall great experience!!
Birthday Party (Adult)•Reviewed on March 10, 2018•From Salinas, CA
I have used Trio Sol De Mexico before and they are awesome! Very professional, on time and accommodating. They played all my mom's favorite songs. I would highly recommended them. I will be booking them for my next celebration.
Birthday Party (Adult)•Reviewed on March 31, 2018•From Hayward, CA
Contrate al trío para la fiesta sorpresa de mi papá y fue una maravilla no solo estuvieron puntuales pero todo el show estuvo bellísimo muy profesionales encreiblemente fascinada con ellos mis invitados muy fascinados con toda la música que cantaron yo creo que no hay palabras para decir lo excelente que son trío sol de Mexico muchísimas gracias y yo lo recomiendo 100% los mejores muchas gracias hasta pronto
Birthday Party (Adult)•Reviewed on February 24, 2018•From San Francisco, CA
They came on time and were wonderful. Life of the party
Wedding Reception•Reviewed on February 17, 2018•From Dublin, CA
Birthday Party (Adult)•Reviewed on February 1, 2018•From Soquel, CA
Trio Sol De Mexico:
Scott, Thank you very much for your review. We are here to serve you and your guest. Mario
Anniversary Party•Reviewed on January 27, 2018•From Salinas, CA
Didn't really know any trio/bolero songs, they were out of tune and just overall a bad experience.
Anniversary Party•Reviewed on January 21, 2018•From Vallejo, CA
This mariachi band is amazing! Would highly recommend them for any event! Mario was my point of contact, and he was very accommodating and made my parent's 50th anniversary memorable! Several people approached me during and after to inquire where I had found them. I will definitely utilize their services in the future!! Thank you Trio Sol de Mexico!!
Memorial Service•Reviewed on January 17, 2018•From Newark, CA
The Trio Sol De Mexico were great I would definitly recommend them or we will use them in the future Thank you so much for making my grandma's funeral more beautiful then ever