Back to profile
Cast Musical Band Reviews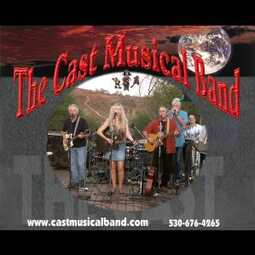 Avg 5.0 | 24 Reviews

Variety Band from Orangevale, CA

40 Verified Bookings
Starting at $400 per event
---
24 Reviews for Cast Musical Band
Fundraiser•Reviewed on February 20, 2010•From Sacramento, CA
This band was perfect in every way. Our event was made so much better by having the Csat Musical Band performing. They were friendly and professional. They were on time and played great selections throughout their performance. Most of all the were very accomodating in allowing interruptions for announcements that were poorly planned. They didn't complain or seem upset. They just laughed it off. The evening was fantastic!
Birthday Party (Adult)•Reviewed on July 26, 2008•From Ripon, CA
The Cast was very professional, on time, they sounded great and were flexible with our guests requests. We had 11 of our guests inquire about the Cast's services. They surpassed our expectations by far. Would love to have them come play again.
Dinner Dance•Reviewed on May 24, 2008•From Placerville, CA
They our our new band for reedyville. Thay are more than great. Very nice people. Thank you Steve and Robin Reedy
Wedding•Reviewed on July 8, 2007•From South Lake Tahoe, CA
Cast Musical Band is wonderful! All memebers shinning my wedding day! Thanks so much James, Sana...and everybody! You are amazing! The songs we requested and you guys did play very well for us, thanks so much! And we had a great and memorable night, thanks so much! And we're looking forward to seeing you guys again, we'll call you for our next coming gathering then!
Birthday Party (Adult)•Reviewed on June 21, 2013•From Incline Village, NV
Great Band , very talented, great music selection, and they even played the "Bonanza" theme to kick off the music as requested.
Wine Tasting Party•Reviewed on February 12, 2012•From Sacramento, CA
Cast Musical Band:
Danielle and several of the tenants and their employees gave us wonderful compliments. I'm sure she means well by her critique, however, we always strive to earn the highest marks... 4.5 leaves me dissapointed... though overall reccommendation was 5:~ ) Jim
Anniversary Party•Reviewed on July 9, 2011•From Los Angeles, CA
OUTSTANDING! I can't say enough about this group. We asked for the impossible and they delivered! The Cast Band was invited to perform at my parents' 50th wedding anniversary, a big rustic outdoor party in the Sierra. They sounded great, played fantastic music that was HIGHLY ENJOYED by guests ranging in age from 2-80. They even got my 72 year old parents (and many others)out dancing on the grass to a beautifully played "Have I told you lately that I love you." Many many guests asked for their information and mentioned they were the best band they'd ever heard at a party. Thank you Jim and gang for a heartfelt and talented performance. We will see you again!
Halloween Party•Reviewed on October 23, 2010•From Pleasant Grove, CA
The was awesome! everyone just loved them. thanksabunch for a wonderful party!
Birthday Party (Adult)•Reviewed on August 28, 2010•From Fair Oaks, CA
Wedding Ceremony•Reviewed on August 7, 2010•From Olympic Valley, CA
The Cast Musical Band was an excellent choice for our daughter's wedding. They were easy to work with and were extremely accomodating with music requests before and during the reception. Highly recommend the Cast Musical Band.
Private Party•Reviewed on June 26, 2010•From Pleasant Grove, CA
Me and my guests were so happy with The Cast! They totally made our party the best! Love you guys tons! - Tobie
Retirement Party•Reviewed on May 22, 2010•From Ripon, CA
Private Party•Reviewed on September 29, 2012•From El Dorado Hills, CA
Great band, and lots of fun. Even our neighbors (who were not at the party, but could hear the music from their homes) commented on what a great band it was and how much they enjoyed the music. Easy to dance to - all around an excellent experience.
Birthday Party (Adult)•Reviewed on May 11, 2013•From Auburn, CA
Fundraiser•Reviewed on August 27, 2011•From Camino, CA
This was an awesome band.....so very accomodating and talented! I'm sure they will pick up at least 3 or 4 gigs just from my party...I highly recommend them! Everyone was raving about them - I would hire them again in a heartbeat!!
Grand Opening•Reviewed on September 22, 2012•From Sacramento, CA
Cast Musical Band:
Thanks to Mr. P and Old Navy for having us. But we are very disapointed with their review. We received many compliments from him, employees and customers alike. I've never had this low a score in my history here. Client would only pay for a trio, and I think they may have wanted "younger" music. We are mostly Classic Rock. I know we did an excellent job and played overtime for minimum pay, in sweltering heat. Client shook my hand and said we were great! I guess he doesn't believe in giving students an A.
Birthday Party (Adult)•Reviewed on July 1, 2017•From Citrus Heights, CA
I hired them for a friend's 30th birthday party. From the initial emails back and forth to set everything up, to the actual performance, they were amazing. Very talented musicians, super friendly, and very professional. They truly made the party perfect and I would recommend them to people as well as hire them again for any other event that needs live entertainment. Thank you so much!
Cast Musical Band:
Thanks Ryan, Becca and families. We had a great time with you all. We hope you'll make this an annual event:~) Unfortunately after 12 years with Gigmasters, my membership fee rose 25% and I've chosen it unfair to pay the increase. Take care, Jim Goodman
Club Event•Reviewed on February 18, 2017•From Citrus Heights, CA
Our party was very happy with the Cast band. They played music we all loved and accommodated our request for a special type of music. Many guests made it a point to let me know of their satisfaction and asked that I ask them back again soon.
Birthday Party (Adult)•Reviewed on October 30, 2016•From Oakley, CA
Cast Musical Band was amazing!! Performed so many songs, including learning a new one to fulfill my special request. They added a special touch to our father's 70th bday party. Highly recommend them and we will for sure use them again!!
Cast Musical Band:
This was one of the nicest families and parties we've performed for... And the reason I keep doing this for 45 years now... to make a difference and leave something good behind. Happy Birthday Randy. Cast Musical Band is honored to have been with you all. Jim Goodman
Private Party•Reviewed on September 12, 2015•From Rescue, CA
Over the years I've hired several Bands and I must say this was the cream of the crop All my Guest made comments about how much they enjoyed the Band Thank You Cast Musical Band you're wonderful Lou
Club Event•Reviewed on June 6, 2015•From Napa, CA
Jim did a great job for this event. All our members enjoyed his music.
Wedding Reception•Reviewed on October 25, 2014•From Incline Village, NV
Cast Musical Band performed at our wedding reception. They were fantastic with a broad repertoire of songs ranging from folk, country, classic rock, Motown, and good dance music. They were also very accommodating and in touch with us a few weeks before the event to find out if we had any special requests. Even though they were not initially familiar with a few of our requests, they learned them and did a great job. This is a very talented group and very willing to work with you for the best fit with your event. We would love to have them play for us again and highly recommend them to all.
Corporate Function•Reviewed on September 22, 2016•From Reno, NV
The band performed as agreed and the attendees thoroughly enjoyed the music. The dance floor was full up to the time that the band was done playing per the agreement with our organization.
Retirement Party•Reviewed on May 6, 2016•From Chico, CA
Everyone loved them! People are still talking about how great the band was. If we ever have another event I would hire them in a heart beat!