Back to profile
Raising Cain Reviews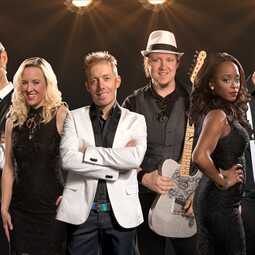 Avg 5.0 | 51 Reviews

Cover Band from Denver, CO

131 Verified Bookings
Starting at $3,000 per event
---
51 Reviews for Raising Cain
New Year's Eve Party•Reviewed on December 31, 2021•From Slater, CO
Wedding•Reviewed on August 25, 2018•From Lyons, CO
Raisin Cain were AMAZING!! They were so much fun to work with and had so much energy, they really made the reception. They are an incredibly friendly, professional, and talented group. We would absolutely recommend them to anyone. They have a wide range of music they play and it really got everyone involved, across generations. We haven't stopped getting compliments about how much fun Raisin Cain were and we think it was one of the best decisions that we made!
Wedding Reception•Reviewed on September 2, 2018•From Vail, CO
Only one thing you need to know about this band: You want them to play at your daughter's wedding reception. They played at my daughter's large wedding and were fantastic! They showed their fine musical talent with a wide variety of styles, tempos, interaction with the audience, and didn't miss a single beat. Vocals, guitars, keyboards, drums, horns - every musician was a virtuoso. The whole package was a night of exceptional music. The old folks danced till they got tired and left, and the young folks danced till closing time. This band worked hard to meet all our wishes. Book them.
Retirement Party•Reviewed on December 17, 2017•From Loveland, CO
They were absolutely wonderful!!!!!!!!!!!!!!!!!!!!!!!
Celebration•Reviewed on January 13, 2017•From Denver, CO
Absolutely phenomenal. The group did an unbelievable job entertaining our guests; when you hire Raising Cane, you don't just hire a band- it's an all out performance. We (my group, not them) didn't do a great job laying out the venue, and the band got creative and ended up leaving the stage and interacting with the crowd to get everybody engaged. The music was awesome, they sounded unreal, and everybody absolutely loved them. Would hire them in a heart beat. Worth. Every. Freaking. cent.
Corporate Function•Reviewed on July 11, 2017•From Keystone, CO
Great group, great attitude!
Corporate Function•Reviewed on April 25, 2017•From Colorado Springs, CO
Raising Cain was outstanding during our company's awards dinner function. They were very friendly, interactive, and extremely talented. The variety and quality of music was impressive and they were simply a big hit with our group!
Convention•Reviewed on March 1, 2017•From Colorado Springs, CO
We booked Raising Cain for an association conference. The conference attendees range in ages and taste; but for the first time in all years of this event we had the majority of people dancing! The band did a great job of getting people hyped up and accommodating song request by the audience. Their voices are amazing! Great to work with and organize with an even better turnout!
Corporate Function•Reviewed on December 10, 2016•From Glenwood Springs, CO
Raising Cain was fantastic! They played our company Holiday Party and had everyone on the dance floor within minutes. Great variety of music that kept everyone dancing all night. We would highly recommend them for any function you are planning.
Grand Opening•Reviewed on October 6, 2016•From Colorado Springs, CO
This group was perfect! The Raising Cain band really made an impression with our guests! Our small venue had us concerned with how loud the music might be. But never did we have any issues with volume and the music was fantastic. Every member conducted themselves so professionally. They helped with announcements and setting the tone of the evening. The band has awesome stage presence! They had great crowd interaction and really engaged the entire room! We will always use this band! They performed every genre of music flawlessly and their ability to switch from one style to another exemplifies their talent and ability. This is the band you want at your party!
Corporate Function•Reviewed on February 12, 2016•From Denver, CO
The Band was great! They were so accommodating and easy to work with during the planning stages. At the time of the event, they were professional and full of energy. Our employees loved the event. Raising Cain was even able to get our executives out of their chairs and on to the dance floor! Very Impressed - they were a blast!!
Banquet•Reviewed on November 10, 2016•From Akron, CO
The Band was great! Our guest all enjoyed. Thank you for your expert entertainment.
Corporate Function•Reviewed on January 9, 2016•From Colorado Springs, CO
They did a great job and we are looking forward to having them again.
Wedding•Reviewed on August 22, 2015•From Dillon, CO
We hired Raising Cain to play at our wedding in August at Arapahoe Basin Ski Resort. We booked them without having seen them live based solely on reviews and on videos of their performances and are SO glad we did. To start, Mike was incredibly helpful in the planning process with his attention to detail and expertise in helping us determine a reasonable timeline. On the day of the event the band members were all professional, kind, engaging with all of our guests, and above all were fantastic performers... at over 10,000 feet elevation no less! We would hire Raising Cain again in a heartbeat. Thank you all for making our wedding so special!
Wedding Reception•Reviewed on December 13, 2014•From Beaver Creek, CO
Raising Cain played both our ceremony & wedding reception and were nothing short of EXCEPTIONAL. All of our guests agreed it was the best wedding band they have ever heard. They play a ton of styles, have an impressive song list, & are extremely flexible. Our wedding venue necessitated hauling the band's equipment up a mountain in a snowcat...and they made it work without any fuss. The icing on top: the band NEVER took a break (they have 3 lead singers and a very well thought out playlist so they don't fatigue.) They read the crowd SO well too. One tip: if you want to check them out before booking, they play at NIssi's once a year or so. Thank you Raising Cain!
Wedding Reception•Reviewed on September 27, 2014•From Fort Collins, CO
We couldn't have asked for a better wedding band for our event. The musicians were all excellent, friendly, and incredibly accommodating. We had a LOT of kids (20 children under age 15) who were all over the dance floor, and the band was patient and graceful about the chaos. The lead female vocalist, who was also the coordinator, was helpful and flexible with a few last-minute changes. All in all, we are SO happy we went with Raising Cain for our wedding. A band this tight and professional is WELL worth the price. Thanks, guys!!
Wedding Reception•Reviewed on October 8, 2011•From Estes Park, CO
Mike was incredibly helpful throughout the planning process and the day of. When the weather threatened to derail our entire day, Mike and the band remained very flexible and worked around the logistical difficulties to help us have the wedding and reception of our dreams - the guests all had an absolute blast and can't stop talking about how much fun the band made the party. We can't imagine our day without Raising Cain, they really made the reception, and we recommend them to anyone looking for a fabulous band for any event - you can't go wrong with these guys!
Wedding Reception•Reviewed on June 22, 2012•From Breckenridge, CO
Raising Cain were so good at my wedding reception that people were on the dance floor all night long. They have a wide range of genres that they play so it appeals to all ages. It was awesome watching them switch instruments and really showed us how amazingly talented they are. I would definitely recommend them to anyone looking to have a great time!
Wedding Reception•Reviewed on September 22, 2012•From Aspen, CO
Raising Cain was fabulous and exceeded my expectations! From the guitar music at the ceremony, the cocktail hour jazz, the swing numbers, to the rocking encore, they were musically perfect, engaging with the crowd and made our daughter's wedding SO MUCH FUN! The female vocalist, Anya, is amazingly talented and everyone danced the evening away. I highly recommend this band. Wendy B. Aspen, CO
Wedding Ceremony•Reviewed on June 4, 2011•From Estes Park, CO
IT'S QUITE NERVERACKING CHOOSING A BAND ON LINE , SIGHT UNSEEN, BUT WE COULDN'T HAVE PICKED BETTER. OUR GUESTS COULDN'T WAIT FOR DINNER TO BE OVER AND THE FUN TOO BEGIN. EVERYONE WAS ON THE DANCE FLOOR TILL THE FINAL SONG. THANK YOU!
Holiday Party•Reviewed on January 11, 2013•From Denver, CO
Wedding Reception•Reviewed on October 6, 2012•From Allenspark, CO
Raising Cain exceeded our expectations at our wedding! Our venue has a noise ordinance which they met easily without complaint. They made huge accomadations (due to the layout of our venue) so that they could play our dinner by bringing another, smaller sound system that they set up seperately in our dinner room! They learned a song for us and sang it VERY well and they had our wedding song ready on thier iPod since they could not play it (it had a horn section). Raising Cain is so versitle and played all genres of music extremely well! I was blown away by thier kindness and professionalism. Everyone at the wedding had a fabulous time and danced until the very end!
Wedding Reception•Reviewed on September 24, 2011•From Crested Butte, CO
Raising Cain is a fantastic band with a fabulous sound. There is no doubt these guys and pretty woman are true musicians. Having several of the band members sing - and can they sing! - gives their sound a versatility throughout the night that kept our guests on their feet the whole night. With just the right mix of music, great energy and enthusiasm, their performance did not take over the party; just kept us going 'til the lights went out! We would recommend them for any event that is meant to be a Fun celebration!
Corporate Function•Reviewed on December 12, 2012•From Denver, CO
This band was easy to book through gigmasters and working with Mike from the band. They worked with me for a good flow of the party and were able to accomodates some last minute changes. I received lots of compliments from our guests on what a great band we had this year! Thank you so much, we had a great experience!
Wedding Ceremony•Reviewed on July 17, 2011•From Boulder, CO
We can't say enough good things about Raising Cain! It was very important to us to have good music for our daughter's wedding and they did not disappoint. We look forward to our next trip to Colorado to see them again. We would highly recommend them to anyone looking for great and personable musicians!