Back to profile
518 Reviews Matthew Cutillo Music Superior Events Reviews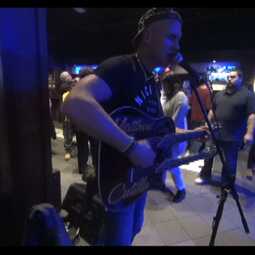 Avg 5.0 | 518 Reviews

Top 40 Acoustic Guitarist from Amityville, NY

565 Verified Bookings
Starting at $375 per event
---
518 Reviews for 518 Reviews Matthew Cutillo Music Superior Events
Wedding Reception•Reviewed on June 5, 2016•From Amityville, NY
Matt went out of his way to make sure all of our request were met. My wife is a little bit Country and I'm a whole lotta Rock n Roll. He did a great job blending all our musical taste with a specialized set list. The ultimate compliment to Matt is that people were coming up to us after the wedding asking us for his number. Between him & our caterer they made our wedding the best and most memorable. Thanks Matt!
Wedding Reception•Reviewed on March 10, 2018•From Amityville, NY
My wife and I had gotten married out-of-state, so we put together a semi-formal, catered party at a local restaurant/bar for our friends and family. From our initial contact to the day of our party, communication with Matthew was super easy; he was also super accommodating, letting me know I could e-mail, text, and/or call him at anytime. On the day of event, MC was professional from start to finish and over-delivered and exceeded every expectation we had for him. MC's performance and personality set the perfect tone and balance for our party. Many of our guest have stated that his performance was the highlight of the event. Thanks again Matthew!!! -Matt and Amanda D
Bar Mitzvah•Reviewed on April 29, 2017•From Manhasset, NY
Matthew was reliable, nice and we really enjoyed his music. I would hire him anytime I had a party.
Birthday Party (Adult)•Reviewed on June 6, 2015•From Hauppauge, NY
Matt performed at my husband's 50th Birthday party. Matt made the preparation for the party very easy by allowing me to choose the songs from a list. He was always easy to reach and extremely respectful and accommodating. He is a wonderful performer and made the night extra special. He even learned a song that is one of my husband's favorites.
Celebration•Reviewed on July 31, 2015•From Long Beach, NY
Matthew was enthusiastic and professional from the first correspondence we had over email. Right away I felt at ease that he was going to bring the party to life. Everyone complimented on his talent and energy, and wondered where I found him. Matthew was accommodating taking last minute request and making sure everyone was having a great time. I highly recommend Matthew Cutillo for any event. His music selection is lengthy and will not disappoint. Thanks Matt!
Celebration•Reviewed on July 4, 2015•From Port Washington, NY
Great experience and was thrilled with his entire performance and professionalism
Engagement Party•Reviewed on June 4, 2015•From New York City, NY
I very highly recommend Matt. Needed a quick turnaround on an engagement proposal gig. Matt picked up songs amazingly quickly, was the highest quality performer, and was incredibly responsive to my needs. Incredibly personable to top it off. Very glad and appreciative I worked with Matt and would easily would rehire for future projects.
Wedding•Reviewed on May 30, 2015•From Great River, NY
Matthew was professional from beginning to end. He played at my daughter's wedding and all of our guests asked me where I found him and that they absolutely loved the way he sounded and the variety of songs he played. Many people asked for his card! I would highly recommend hiring Matthew Cutillo for your party or event!
Birthday Party (Adult)•Reviewed on May 3, 2015•From Farmingdale, NY
Matthew was an amazing and priceless part of our party! Professional and delightful from beginning to end. He arrived early, played beautifully, made guests of all ages sing and dance, even walked around to tables and asked if there was something they would like to hear. I would hire Mathew for any and every party I ever plan....shoot, I would hire Matt to play while I eat breakfast!!! :)
Private Party•Reviewed on March 13, 2015•From New York City, NY
Matthew did an outstanding job during my surprise proposal on 3/13/15. He was punctual, listened to my thoughts and needs, and helped craft the perfect script for his portion of the night. I requested 3 specific songs, all of which he was familiar with, all of which he practiced and performed incredibly well. I would highly recommend Matthew to any other person looking for a talented guitarist and vocalist. Thank you so much for putting so much time and emotion into each song which made them memorable for us! 5 Stars all around!
Celebration•Reviewed on February 20, 2015•From East Setauket, NY
Matt is a very friendly and professional musician, he was a key part of my surprise wedding proposal, his experience and advise on this type of event were priceless. Our engagement story is one that we will remember forever because of his performance. Anyone planning a surprise proposal should speak to Matt.
Christmas Party•Reviewed on December 13, 2014•From Bridgehampton, NY
Matt was great the entire night. The guests really enjoyed all of the music he played and we are very pleased with how professional he is. We will definitely use him again for our next event.
Celebration•Reviewed on November 15, 2014•From New York City, NY
Matt was terrific, and was extremely instrumental in helping me pull off a perfect proposal! He was extremely helpful and responsive during the planning process. His performance of our song during the proposal was amazing, despite the fact that it was a song that he had never performed before. I would highly recommend Matt to anyone looking to hire a guitarist for an event.
Private Party•Reviewed on October 25, 2014•From New York City, NY
What more can I say that hasn't already been said about Matt. He's truly one of a kind! Beyond being a supremely talented artist, he's an equally great person. I knew from our first phone call he was what I was hoping to find. So sincere & personally vested and really listens to the client. He nailed everything for my secret proposal. Great open communication, and I didn't have to worry about a single thing that day. He handled everything like the true pro he is. You'll be looking for an excuse to throw another party just to have Matt there! Thank you yet again for everything Matthew!
Celebration•Reviewed on November 15, 2014•From Farmington, CT
Birthday Party (Adult)•Reviewed on October 12, 2014•From Stamford, CT
Bravo! Matt did a tremendous job, and I recommend his services without hesitation. Professional through every stage of the process, Matt delivered a performance perfectly tailored to our needs. In fact, Matt's entertainment was the key to turning my event into a party. Matt is very personable and engaging, and he simply put on a great show. Our guests loved his music and the fact that he could handle easily all of their requests. Nice job Matt!
Birthday Party (Adult)•Reviewed on September 27, 2014•From Huntington, NY
He helped make what was a great night even better. I would highly recommend him to do all types of parties
Wedding•Reviewed on September 6, 2014•From Hampton Bays, NY
When we began planning our wedding, we were seeking something unique and special over the regular bands and DJs most people hire. Immediately Matthew Cutillo was our first and only choice. Matthew played all day long, from the pre-ceremony music, the bridal processional, cocktail hour & the entire reception. He arrived early to set up at our out-of-the box venue, dressed professionally, & appropriate for a beach wedding. Our guests are still raving about how talented and fun he is, and he helped us create the magical and different wedding we were dreaming of. He even learned a few new songs I requested just a few days prior to the event! I highly recommend Matthew!
Private Party•Reviewed on September 18, 2014•From Bellmore, NY
Matthew handled a tough situation in a very professional manner. He approached the gig as if I was his best client.
Birthday Party (Adult)•Reviewed on September 13, 2014•From Water Mill, NY
Matt was incredible! He learned my wife's favorite song in less then 2 weeks and performed it in an amazing way. He got all our guests super excited and played the perfect music. His performance, professionalism and overall experience of working with him was a pleasure. I would recommend him to anyone and use him again in a heartbeat.
Wedding Cocktail Hour•Reviewed on August 16, 2014•From Brookhaven, NY
Matt did an outstanding job and was very focused on all the details we covered prior to the wedding. I would highly recommend Matt.
Wedding Cocktail Hour•Reviewed on August 16, 2014•From East Setauket, NY
Matthew was an absolute pleasure to work with. He was incredibly responsive and really helped work with me to put together an amazing cocktail hour for my wedding. I am so glad I decided to use Matthew for the cocktail hour, as all my guests raved over him. He was supposed to play for an hour, but due to guests showing up early, he started playing earlier! Everyone could not stop talking about how great he was. I can't say enough nice things about him, and I hope my 3 younger siblings will be able to use him for their weddings.
Wedding•Reviewed on July 27, 2014•From Portland, ME
We couldn't have been happier with Matthew as the choice to play our wedding. Not only was his pricing very reasonable, but he drove up to Portland, ME from NY, played for 6 hours straight with no break (literally, no break), and absolutely wowed our attendees. Everyone was so impressed not just with his musical ability, but with the wide range of music he played that met everyone's taste. Our teenage cousins loved him, our middle-aged parents loved him, our 80+ year-old grandparents loved him, even our vendors loved him. Super professional from start to finish, and an absolute joy to have at out wedding. We couldn't have made a better choice in musician.
Birthday Party (Adult)•Reviewed on July 20, 2014•From Port Jefferson Station, NY
Just like all his other reviews he was great. He was there early and stayed later then he had to. He played 5 hours straight without taking a break. He's probably one of the nicest guys you'll meet and very talented. He takes his job very serious. Everyone at the party loved him and he was a big hit.
Graduation Party•Reviewed on June 26, 2014•From Wantagh, NY
WOW!!!!! Mathew Cutillo was an ultimate performer. Amazing guitarist and singer. He made the event so much more. it was fun, exciting, uplifting and the most of all memorable. I would hire him back again in a heart beat.