21 Ideas for a Trendy Western Theme Party
Giddy up and start planning this trendy western theme party.
The traditional western party theme of dressing up like cowboys and cowgirls to line dance is always fun, but definitely repetitive. How many times can you possibly wear the same flannel shirt and boots to a party? Thankfully, there's a new party theme in town—trendy western.
A trendy western themed party can still include the cowboy classics you know and love, but featuring current trends like disco balls and espresso martinis. Incorporate as many of the classic western touches you want, but this theme focuses on a new and modern twist. Swap the drab dark color scheme for bright and neon, or even a minimalist rustic tone.
Giddy up and get party planning because you'll want to use this modern western party theme for upcoming birthday parties, bachelor and bachelorette parties, and even bridal showers.
Here are 21 trendy western theme party ideas:
Wear Trendy Western Theme Party Outfits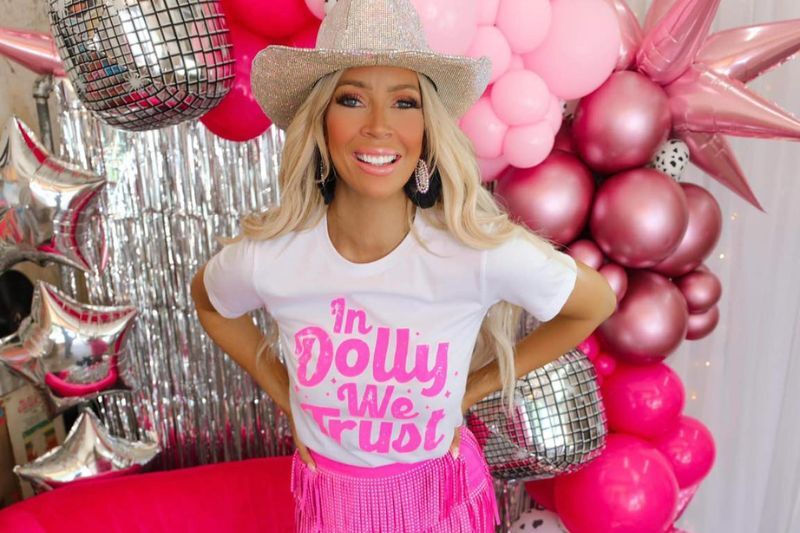 Photo: The Lace Cactus
The question of what to wear to a western theme party can be difficult, especially if you want to change things up. You can always wear your favorite flannel and pair of boots, but try incorporating a touch of today's style into your look. Bold colors as well as fringe and sequin accents will take your western theme party outfit to the next level.
Make Western Theme Party Drinks
If there is one thing cowboys love, it's a fresh pour of whiskey. Of course you can drink it on the rock or straight up, but it's also a delicious addition to cocktails for western theme party drinks. To fit the western vibe, whip up Old Fashioneds, whiskey sours, and whiskey lemonade.
Book a Western Band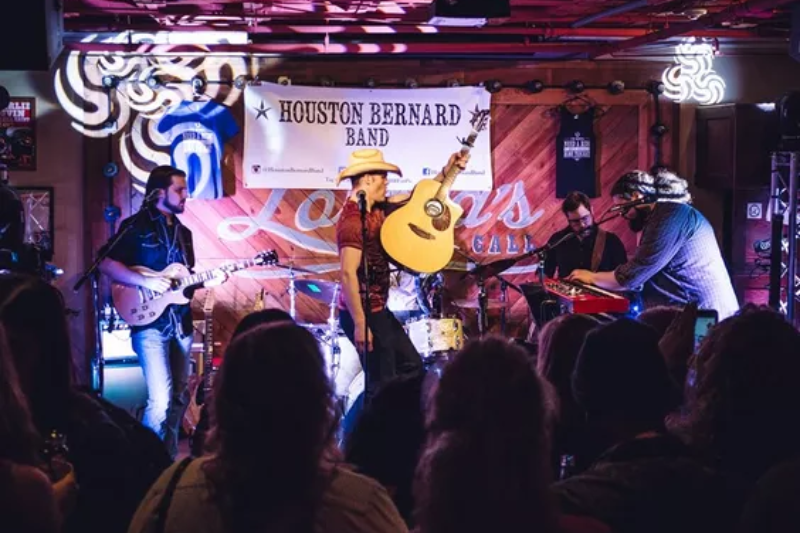 Photo: Houston Bernard Band
Nothing beats good, old fashioned country music, especially during a live performance. Book a western band to help set the mood at your shindig. Guests will love dancing and singing along to this fun and upbeat music.
Western Theme Party Games
A few friendly rounds of horseshoes and cornhole are mandatory at this celebration, they're the perfect party activity for this western theme. Paint a set of horseshoes and cornhole boards to match the color scheme of your event.
Serve Cowboy Caviar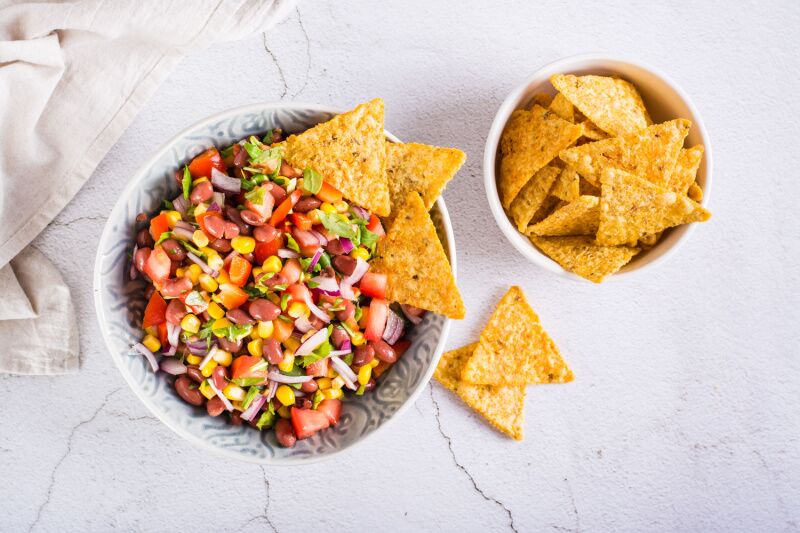 Photo: Rui Elena/shutterstock.com
One of TikTok's most favorite recipes makes a delicious party appetizer, especially a western theme party food. Mix together corn, a variety of beans, and bell peppers with a lime vinaigrette dressing and serve with tortilla chips. One of the best parts of this caviar is that it's completely customizable and extremely simple to make!
Send Western Theme Party Invitations
Set the tone for your western theme party right away with the invitations. Gear up for the bride-to-be's last rodeo or a fun western theme birthday party with custom western theme party invitations available on Etsy.
Decorate with Dried Flowers and Pampas Grass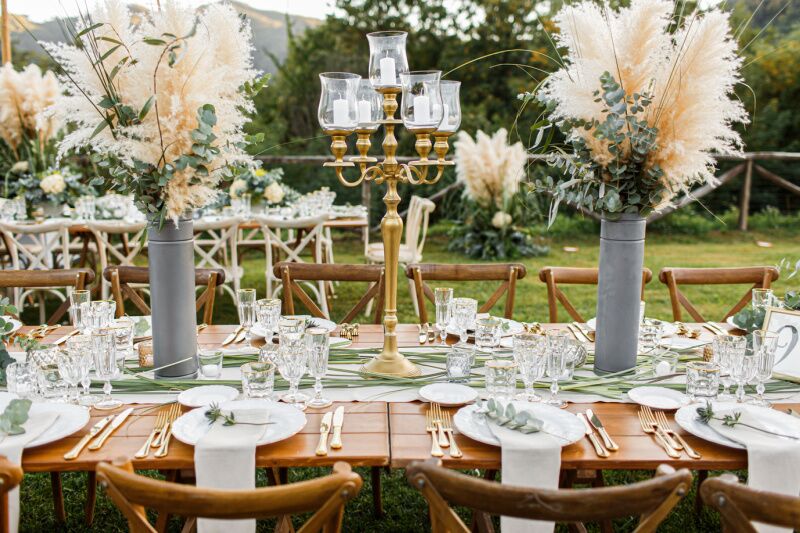 Photo: Gladius Stock/shutterstock.com
Rather than hay for this western themed party, opt for dried flowers or pampas grass instead. Repurpose your old arrangements by letting them dry out to create a rustic-chic look. Use these dried flowers in your centerpieces or petals sprinkled on tables for easy DIY western theme party decorations.
Hang a Howdy Tapestry
You'll probably be using a lot of western slang at this event, so hang up a tapestry of your favorite phrase that will double as a photo backdrop. Make western theme decorations for parties a breeze with a simple but cute tapestry that you can use as decor after the party is over.
Hire a Bartender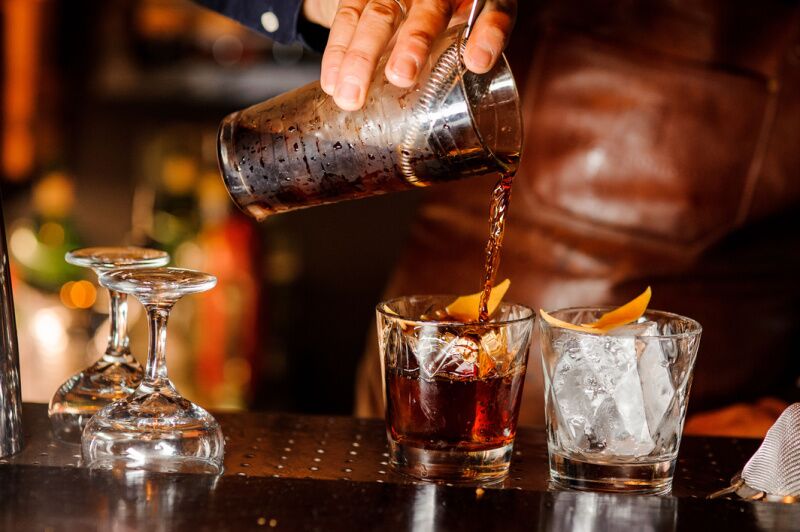 Photo: Maksym Fesenko/shutterstock.com
Leave the mixology to the professionals by booking a bartender to make delicious handcrafted cocktails. Work with them prior to the event to come up with signature cocktails for your bachelor or bachelorette party, birthday celebration, or bridal shower.
Make Country Lemonade
Who can pass up a delicious glass of country lemonade? Whip up a big batch prior to the party and maybe even some iced tea for guests to mix up an Arnold Palmer. For another fun cocktail option, spike your drink with vodka or whiskey.
Decorate with Cow Print Patterns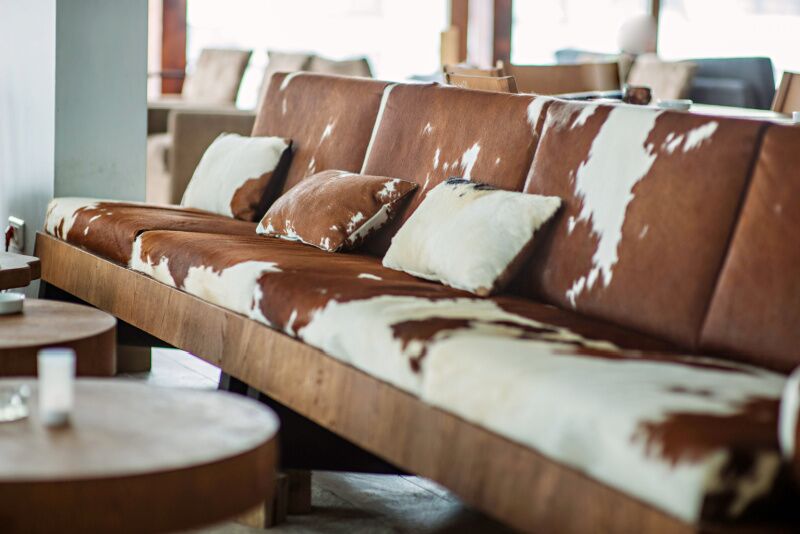 Photo: Marko Poplasen/shutterstock.com
The signature cow print is slowly becoming the new leopard print. Haven't you noticed an increase in cow print fashion, phone cases, and decor? Believe it or not, the cowhide print is in and will accent the aesthetic for western theme party decorations.
Rent a Mechanical Bull
No western party would be complete without a mechanical bull. Bring the rodeo to you with a mechanical bull rental for an exciting western themed party game and activity. Guests will enjoy testing their strength and competing with others to see who can stay on the bull the longest.
Serve Espresso Martinis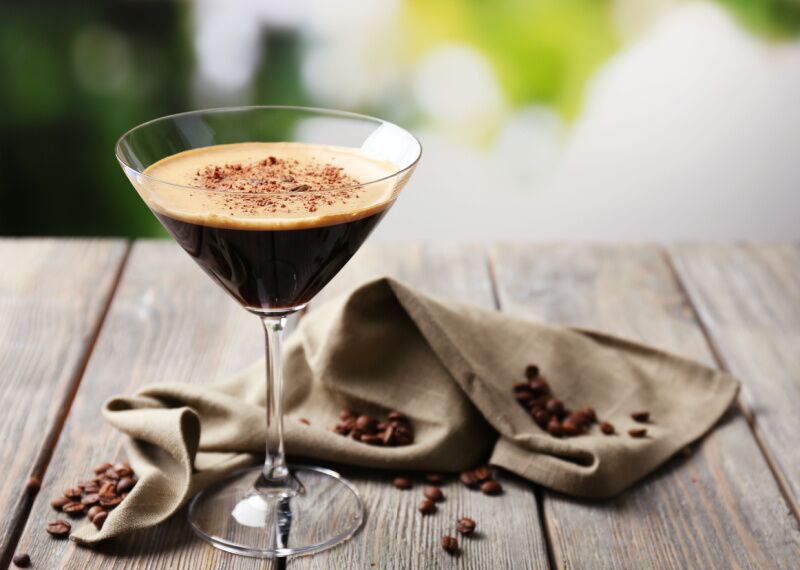 Photo: Africa Studio/shutterstock.com
Cowboys enjoy a cup of coffee every now and then, so they would obviously like espresso martinis, right? Make this trendy cocktail for a modern western theme party drink idea that guests will be happy to see featured on the drink menu. 
Book a Karaoke DJ
Country songs make the best karaoke songs, don't you think? Sing your heart out to country favorites like Carrie Underwood, Luke Combs, and Morgan Wallen with the help of a karaoke DJ. They will bring and set up all of the equipment to make your performance run as smoothly as possible.
Decorate with a Balloon Arch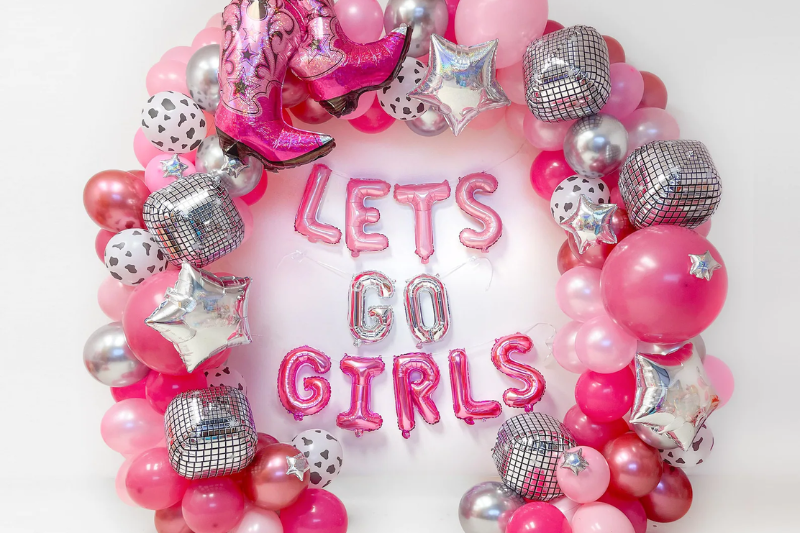 Photo: Etsy
Match the color scheme of your event using different shades of balloons and ones with cow print accents. Since the cow pattern is black and white, any color balloons will work. Stick with neutral colors to flow with the minimalist theme, or use the guest of honor's favorite color for this western theme party decoration idea.
Book a Caricature Artist
Who doesn't love getting their caricature done? This handmade or digitally created drawing is the perfect party favor for guests to commemorate the western themed party. These talented artists will be able to transform everyone into a cowboy or cowgirl with their own custom cameo.
Set Up an Aesthetic Seating Area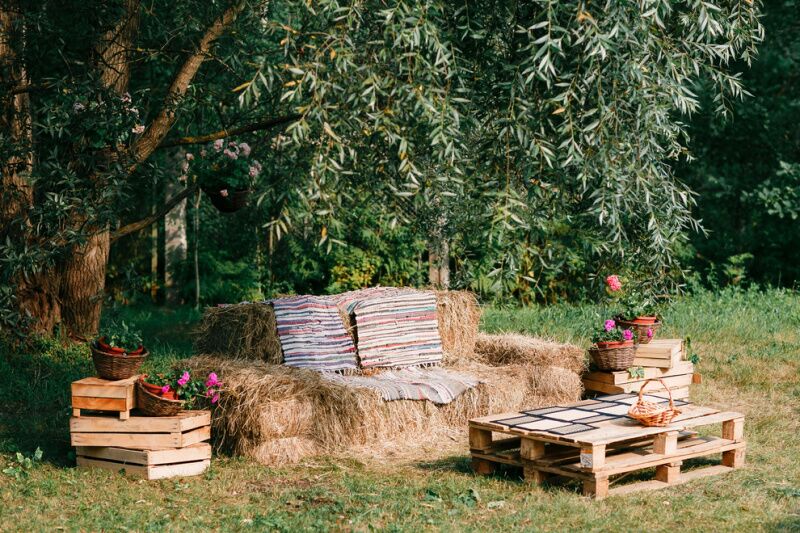 Photo: Fusionstudio/shutterstock.com
Stack a few hay bales, faux fur throws, pillows, and cowhide printed blankets for an Instagramable seating area. Guests can take a quick breather from dancing and enjoy the rustic-chic aesthetic of this area.
Serve Jalapeño Poppers
Western food is known to have a kick of heat, and who doesn't love jalapeño poppers? Stuff jalapeno peppers with cream cheese, wrap in bacon, and enjoy this crowd favorite western theme party food. If cooking isn't your favorite thing to do, book a caterer to whip up finger-lickin' good appetizers and treats.
DIY Cowboy Hats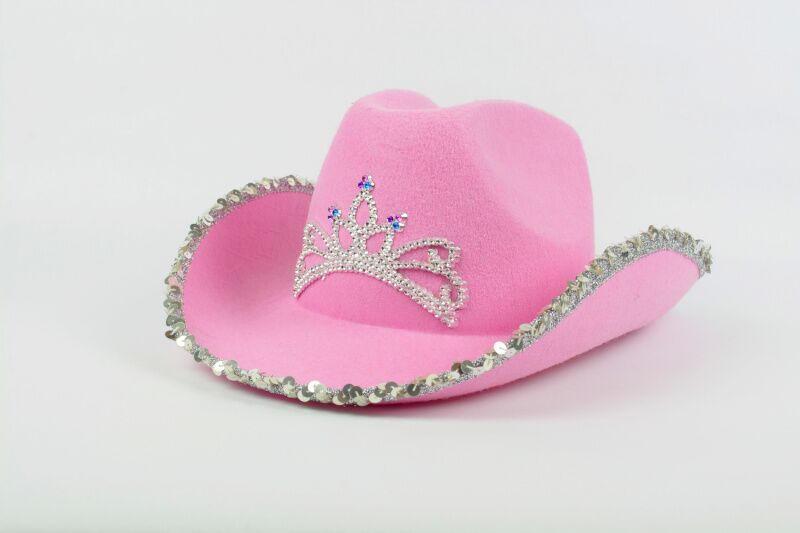 Photo: Susan Newcomb/shutterstock.com
If guests don't have their own cowboy hat to wear to the party, grab a few plain ones from the craft store to decorate your own. Get creative with fringe, sequins, and different color paint so everyone can have a hat and their own western theme party favor.
Serve Western Sugar Cookies
Horseshoes, cowboy hats, stars, and boots are western shapes that will make adorable sugar cookies and can be customized for your event. Decorate them to say "the groom's final rodeo," "birthday sheriff," and other festive phrases that will be too cute to eat.
Find more party ideas and inspiration here on The Bash.