22 Trendy Ideas for a Disco Theme Party
Follow the call of the disco ball with these trendy disco theme party ideas.
Trends come and go but there is one thing that will never go out of style, disco. Instead of the traditional decades party theme with the 1970s undertone, we're talking a trendy and modern disco theme party. Who can resist a dance session underneath a glowing disco ball in bright, sparkly outfits?
The key for this disco party theme is that it's different from a 70s themed party, but still including the fun vibes from the decade. This versatile theme can be used for any type of occasion; host a trendy birthday party, New Year's Eve celebration, or even a disco themed bachelorette party. It's time to break out your dancing shoes because a disco theme party guarantees good vibes all around.
Here are 22 ideas for a trendy disco themed party:
Disco Theme Party Outfits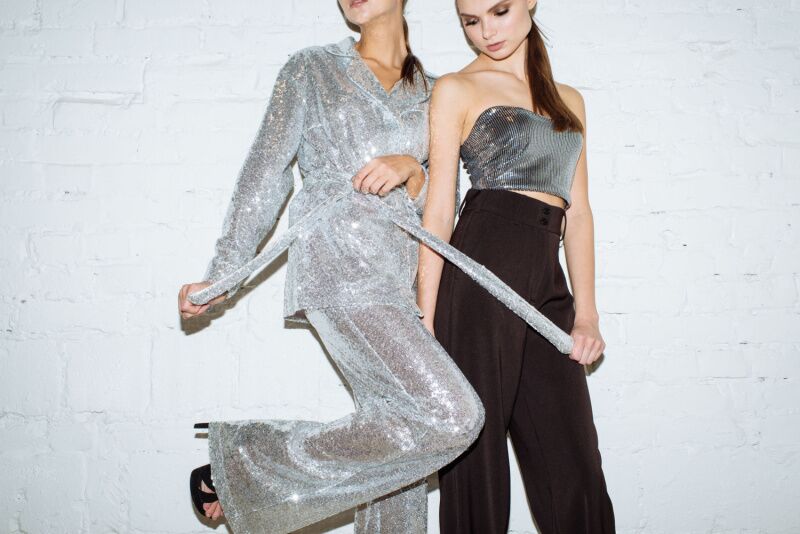 Photo: Lumen Photos/shutterstock.com
You're probably thinking what to wear to a disco theme party besides the typical 70s fashion, and the answer is anything sparkly, floral, bright, or metallic. If you can't get enough of 70s disco theme party outfits, wear your best bohemian style, tie dye, colored suit, and platform shoes (they're coming back in style!). The most important part of disco themed party outfits is that you'll be able to dance!
Hang Disco Ball String Lights
The best decor for a disco themed birthday party or event is incorporating disco balls wherever possible. Since bright, colorful lights are what complete the disco aesthetic, add disco ball string lights around the party space. Browse Amazon to check out more disco lighting.
Serve Disco Drinks
Easily turn any signature cocktail or mixed drink into a disco themed beverage by adding edible glitter. Take inspiration from the sparkle of the disco ball to turn your martinis, lemonade, or party punch into a shimmering drink. Book a bartender for professional cocktails that are sure to impress guests.
Book a Disco Band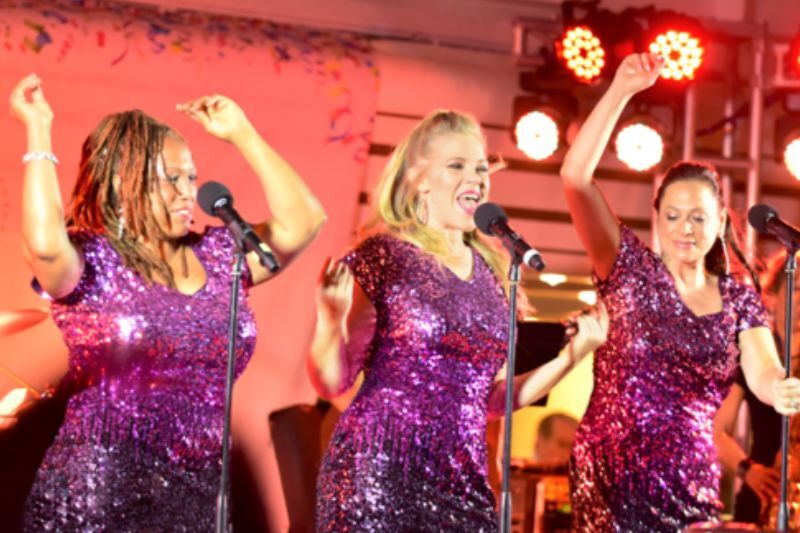 Photo: The Chiclettes
Nothing beats the energy of live music, and luckily there are disco bands near you! Browse our site to find local disco bands that will perform classic 70s hits ranging from Donna Summer to the Bee Gees. Get your groove on with a disco band that will tie your whole party together.
Host a Silent Disco
You've probably been to at least one 70's party before, so why not put a twist on your own disco theme party? Rent all the equipment you'll need to host a silent disco. Each guest will wear their own set of headphones and listen to their choice of throwback tunes and today's hits. Although there's no music playing out loud, everyone still gets down on the dance floor!
Disco Fries
This popular diner food is perfect for your disco themed party because it's right in the name! Guests can snack on this treat that is made with french fries, gravy, and cheese for a delicious party appetizer. Set up a station for guests to assemble their own using different types of fries and cheese for a customized food option.
Bake Disco Cake Pops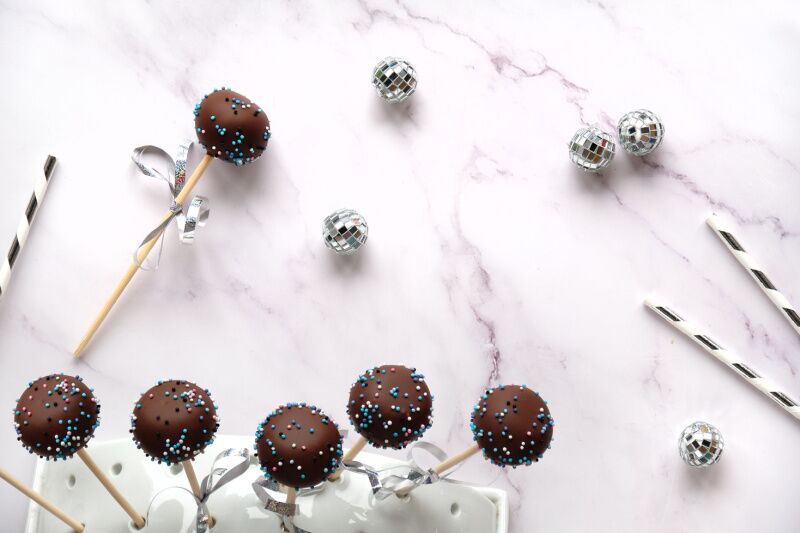 Photo: tilialucida/shutterstock.com
Cake pops are one of the best party desserts because they're simple to make, customize, and enjoy. Choose your favorite cake and frosting recipe, but to make these on brand for the 70s disco party theme, roll them in sanding sugar or edible glitter to look like mini disco balls.
Disco Ball Planters
Disco decor has been everywhere recently. Add a little extra sparkle and shine to your party venue with hanging disco ball planters filled with floral arrangements and greenery. Browse options on Amazon that you can even use as home decor after the party.
Get Down to The Hustle
"The Hustle" is mandatory for any disco themed party no matter if you're taking the traditional route or adding a modern twist. Released in 1975, this song and dance is known and loved by people across the world, initiating the disco era. Book a DJ to play all of your favorite groovy hits for this disco theme party.
Neon Sign Backdrop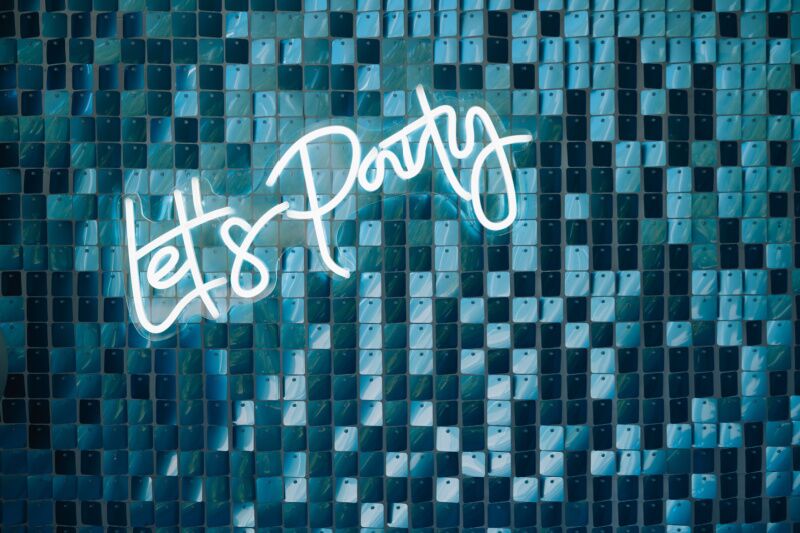 Photo: M_Orlataya/shutterstock.com
No one can resist a photo opportunity with a neon sign, it makes the perfect Instagrammable post. Browse disco inspired signs with sayings like, "follow the call of the disco ball," "disco made me do it," and "disco party" that will make the perfect disco theme party decoration.
Snack on Mini Quiche
Quiche has always been a popular event hors devour, especially in the 70s. Channel the 70s in little party details by serving an assortment of mini quiche for guests to pick on. Include traditional quiche Lorraine, spinach, ham and cheese, the combinations are endless.
Pro tip: Book a caterer to whip up delicious homemade quiche bites for your disco theme party.
Serve Jello Shots
Jello was an extremely popular dessert throughout the decades, but for this trendy party, spike the jello with your choice of alcohol to make individual jello shots. You can never go wrong with this party classic, especially when you include an assortment of different jello flavors and liquor.
Book an ABBA Tribute Band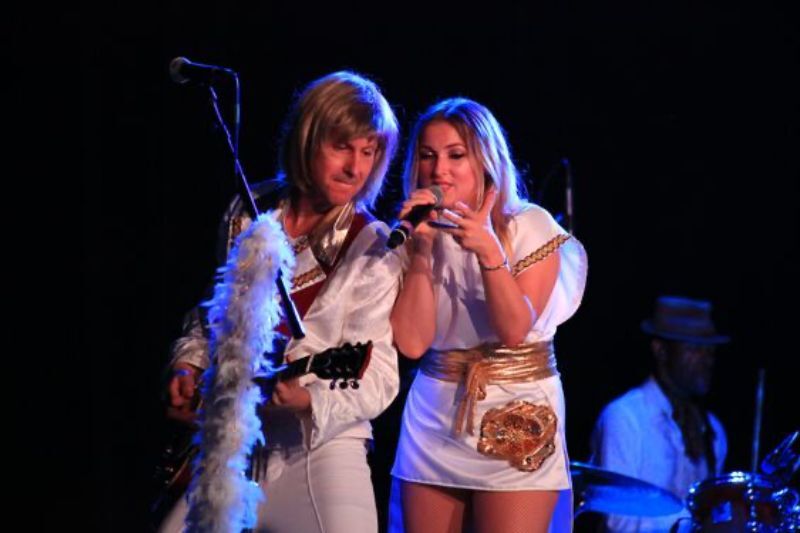 Photo: DANCING DREAM (AKA ABBA GIRLZ)
Although they're a popular Swedish band from the 70s, they are definitely making a comeback in this modern disco era. With the popularity of Mamma Mia and themed events, ABBA is more loved now than ever before. See a live performance of all of your favorite musical hits including, "Dancing Queen," "Mamma Mia," and "Gimme Gimme Gimme."
Rent Dance Floor
A dance floor is required for a disco party, we don't make the rules! Especially if hosting in your home, you won't want guests' platform shoes to scuff up your floors. Find local vendors in your area that have light up dance floors for a fun disco theme party idea.
Karaoke Battle
If there are a few disco divas attending this get-together, may we recommend a karaoke battle? Sing everything from your favorite 70s hits to today's top 40 when booking a karaoke DJ. They will bring and set up all of the equipment, so all you have to worry about is your performance.
Disco Ball Drink Tumblers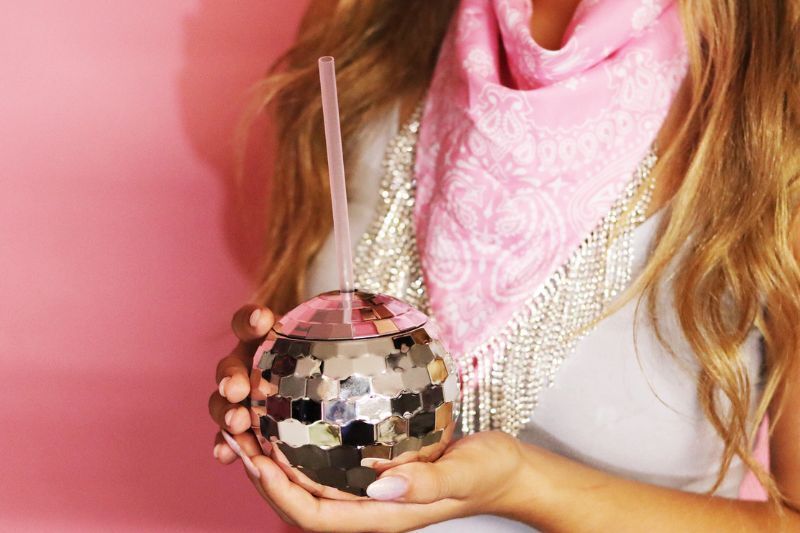 Photo: Etsy
Give everyone their own individual disco ball with these sparkling drink tumblers from Etsy. Guests will be able to sip their disco drinks and stay on theme with their own customized cup that can be used even after the party is over. Use these as a fun party favor for a disco theme bachelorette party or birthday celebration that everyone will love.
Hang LED Lights
The disco ball needs lighting to reflect, that's where the LED lights come in. Accent your party space with colorful lights to create a bright and bold setting that will bring your disco to life. Use strip lights, hanging lights, or even strobe lights that will make the event space sparkle and shine.
Dirty Shirley Cocktail
This grown-up version of Shirley Temple has made a comeback, recently dubbed the drink of summer 2022. Made with vodka, grenadine, and lemon-lime soda, the fruity and sweet cocktail is perfect to sip on while you're busting it down on the dance floor. For a delicious mocktail, skip the vodka so everyone will love this trendy beverage.
Wear Bold Makeup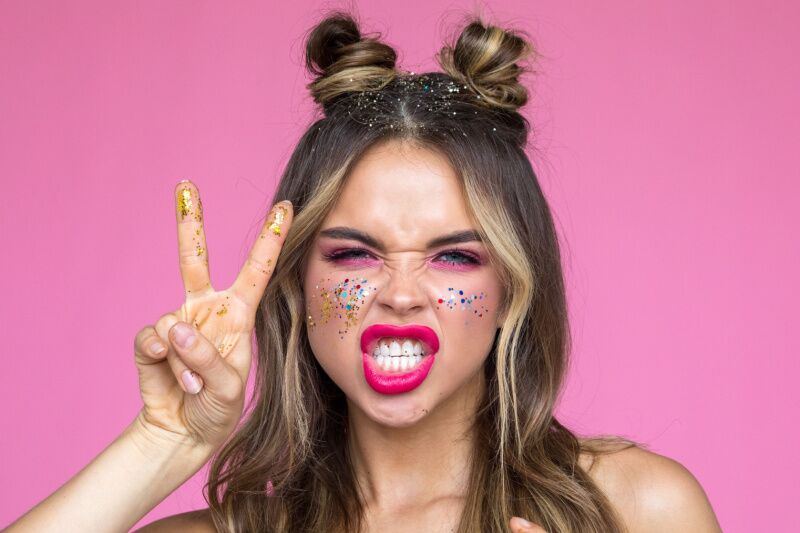 Photo: Freeman Studio/shutterstock.com
Bold and bright is the theme of the night, with glitter of course! Step out of your comfort zone by adding sparkly eyeshadow, a statement lipstick, and blush that will compliment any disco party theme outfit.
Rent a Photo Booth
These outfits will be far out, so why not capture everyone's party look with a commemorative photo booth? Incorporate throwback 70s props like wigs, sunglasses, and headbands, or a minimalistic backdrop that will look perfect for your Instagram feed. A Photo booth is the perfect idea for a disco theme party you're going to want to use.
Serve Kabobs
Another 1970s inspired dish that is subtle enough to serve at this trendy bash are kabobs. This food is easy to customize for different dietary restrictions because you can make them vegan, gluten free, or low carb. Try your hand at grilling up your own prior to the party, or book a caterer for a guaranteed delicious party snack.
Balloon Decor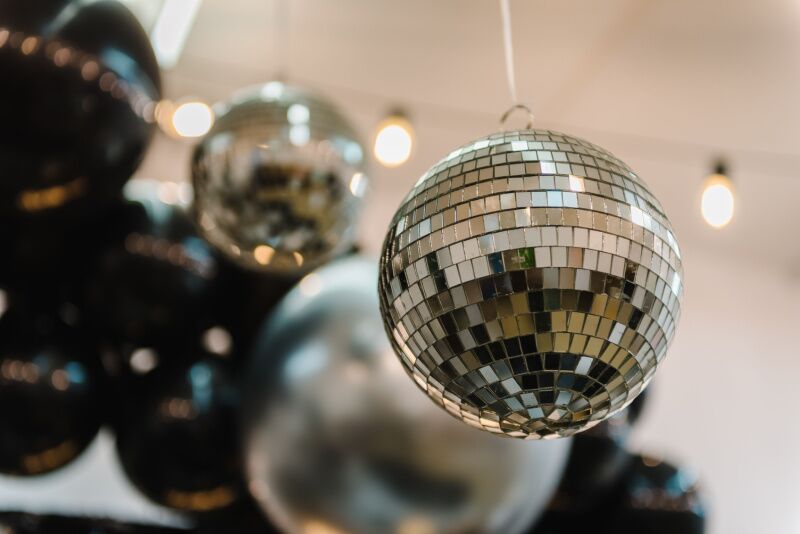 Photo: Sergii Sobolevskyi/shutterstock.com
A safe decor option is balloons, because you know they'll always look good. Assemble your own balloon arch, wall, or other type of arrangement with metallic and shiny balloons, or even fill them with sparkles. DIY this project or consider hiring an event planner to make this setup a breeze. 
Find more party ideas and inspiration here on The Bash.