10 Ideas for a Holiday Hot Chocolate Bar
Toast the holiday season with a glass of the most comforting beverage.
Lilly Blomquist
Contributor
The holiday season is quickly approaching, which means that everyone is starting to prepare for the upcoming festivities with holiday music, gingerbread houses and mistletoe. But, the excitement of the holidays also means dropping temperatures and falling snow. There's no better way to warm up on a chilly evening than with a big glass of hot cocoa and a get-together with friends. Whether you're hosting a holiday party or you're just trying to bring your family and friends out of their winter hibernation, adding a hot cocoa station is perfect for setting that ambience. 
Preparing a hot chocolate bar is an easy and festive way to entertain and satisfy any crowd. Kids and adults alike will love getting creative and customizing their own drink, and really, who doesn't love hot chocolate?
Hot chocolate bars can be as simple or as elaborate as you'd like, but to help you get some ideas flowing, these hot chocolate bar tips are a great place to start. From festive toppings to flavored infusions, these trending hot chocolate bar ideas will make the winter chill much more enjoyable. So, grab a mug and enjoy a glass (or a few).
1. Custom Marshmallow Shapes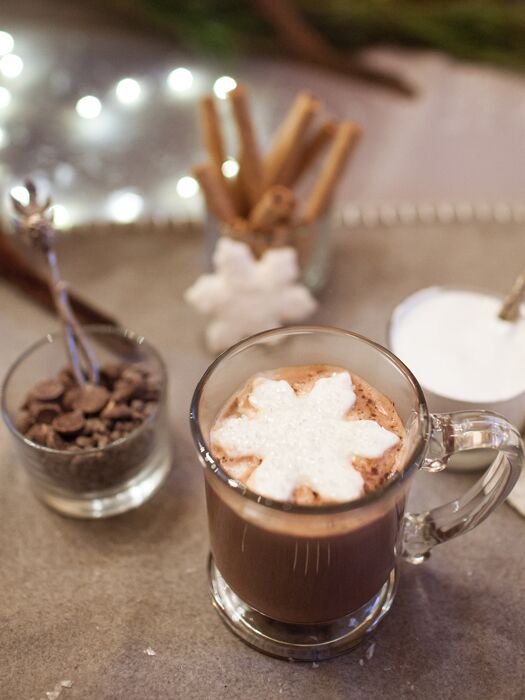 Jazz up your usual hot chocolate beverage with an assortment of marshmallows in various shapes, such as snowflakes, snowmen and Santas. If you're feeling crafty, you can buy a bag of Kraft Jet-Puffed Marshmallows and make your own festive treats: Try dipping each marshmallow into melted chocolate, and layer it with crushed candy canes. 
2. Cinnamon, Spice and Everything Nice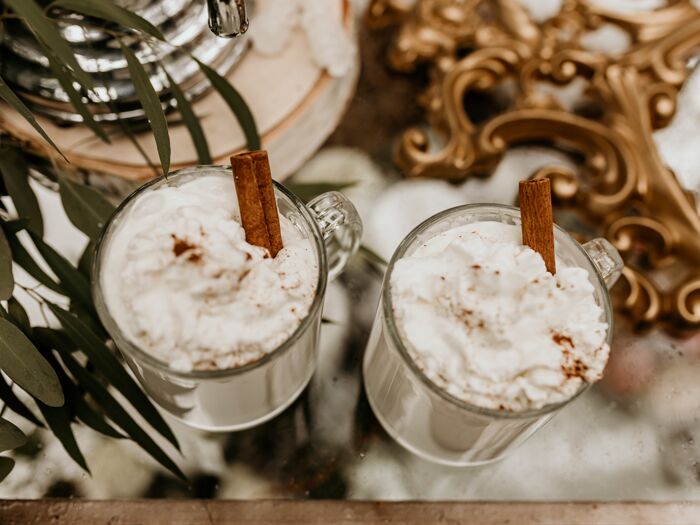 Spice up the taste of your hot chocolate with cinnamon and just a dash of cayenne pepper for a Mexican hot chocolate twist. It doesn't matter if you're making the hot chocolate from scratch or preparing a big batch of store-bought cocoa mix. In either case, just add the two ingredients into the batch until it has the level of flavor you're going for. Garnish with cinnamon sticks, and voilà. If you want to offer even more flavors, create separate batches made with peppermint extract, caramel or butterscotch.
3. Frozen Hot Chocolate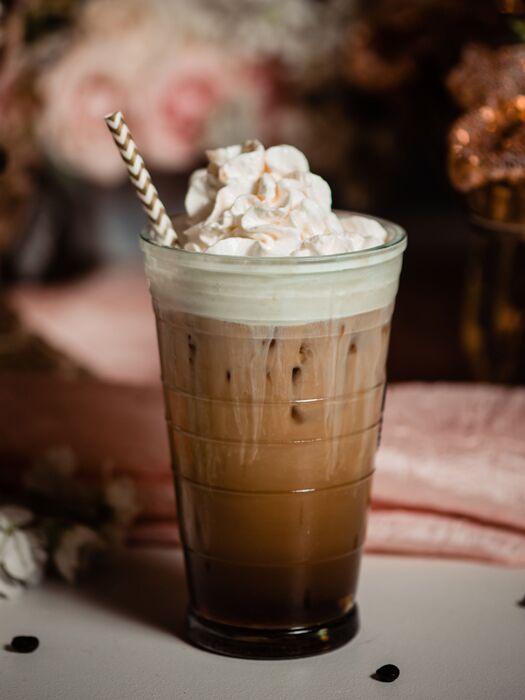 If the temperature is warmer where you live or if you just want to savor the chocolatey goodness for a little longer, frozen or iced hot chocolate is a tasty option. The rich, creamy and smooth texture will taste more like dessert and less like a drink. Plus, if you're throwing a family holiday party and don't want the kiddos to burn their tongues, frozen hot chocolate is an equally delicious drink at a milder temperature. For toppings, you can set up whipped cream and chocolate shavings as garnishes. 
Bartender: Concoctions Bartending
4. Edible Straws and Stirring Spoons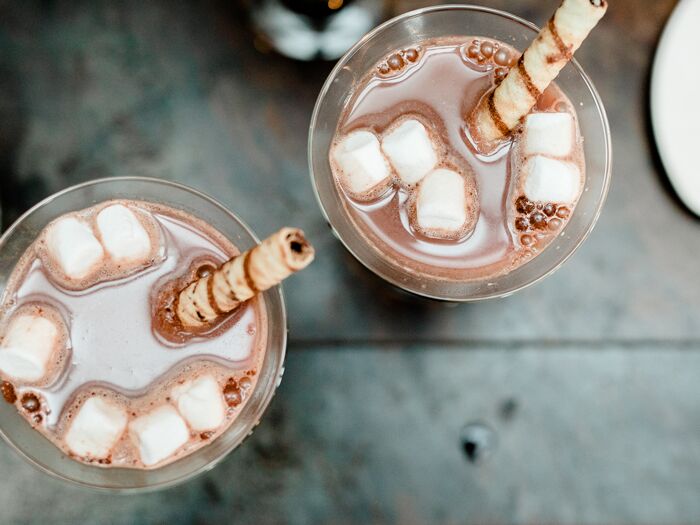 Replace plastic straws and spoons with an edible substitute that tastes a lot better and still gets the job done. You can stir your hot chocolate or sip the tasty drink with a cookie straw in chocolate, hazelnut or cinnamon flavors. The hot cocoa will soften the cookie, and the melted dessert will sweeten the drink even more. Plus, no spoons means means less dishes for you. 
5. Gourmet Whipped Cream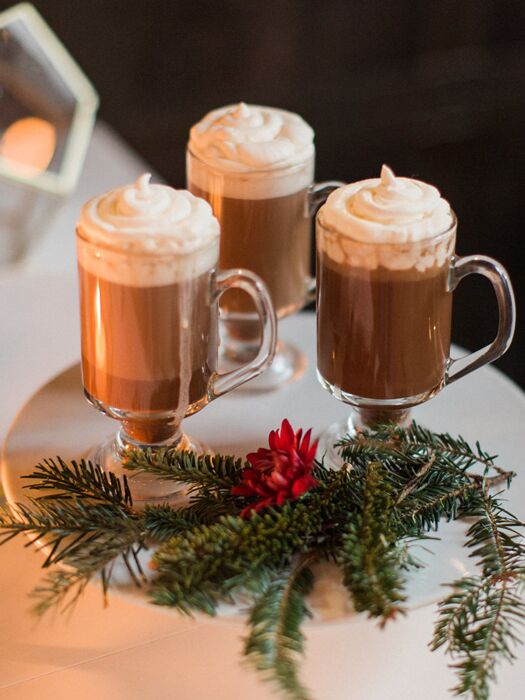 What's hot cocoa without a swirl of whipped cream? Consider serving a few different flavors—in case you haven't visited that section of the dairy aisle in awhile, you'd be surprised how many new flavors are adorning the shelves. Think: Hershey's caramel whipped cream, Reese's peanut butter whipped cream or Reddi Wip chocolate whipped cream. Guests can top off the whipped cream with chocolate syrup, holiday sprinkles and mini marshmallows.
6. Spiked Hot Cocoa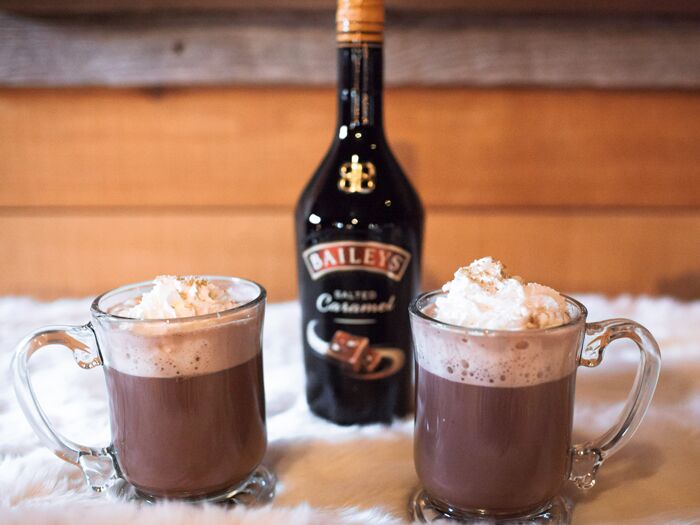 People of all ages love hot chocolate, but if you're throwing a holiday party for a crowd of adults, up the ante with boozy hot cocoa. Supplement the hot cocoa station with options like coffee liqueur, peppermint schnapps, whipped cream vodka or whiskey.
7. A Smorgasbord of Toppings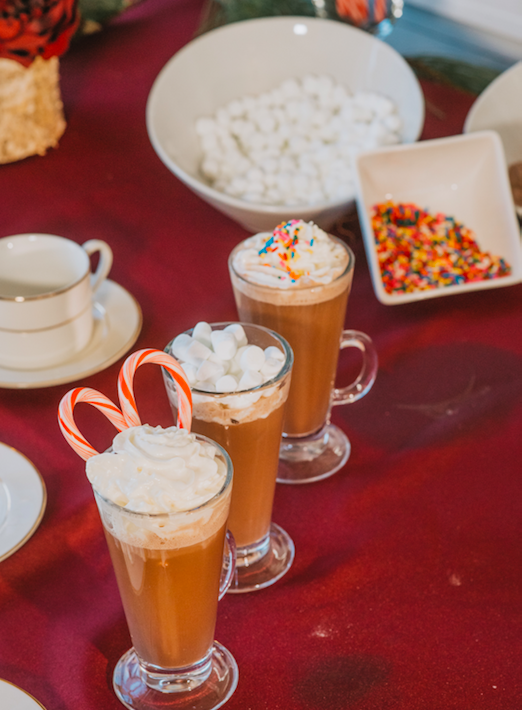 Sure, hot chocolate is delicious on its own, but piling on the toppings takes the drink to a whole other level. Think: Sundae bar meets hot cocoa station. Set up a platter with a variety of candies, such as chocolate chips, chocolate shavings, coconut shavings, candy canes, mini marshmallows, caramel squares, red and green sprinkles and crushed M&M's. Everyone can select their favorite toppings and have fun creating their own chocolate masterpieces. 
8. A Drink That Fits Your Color Scheme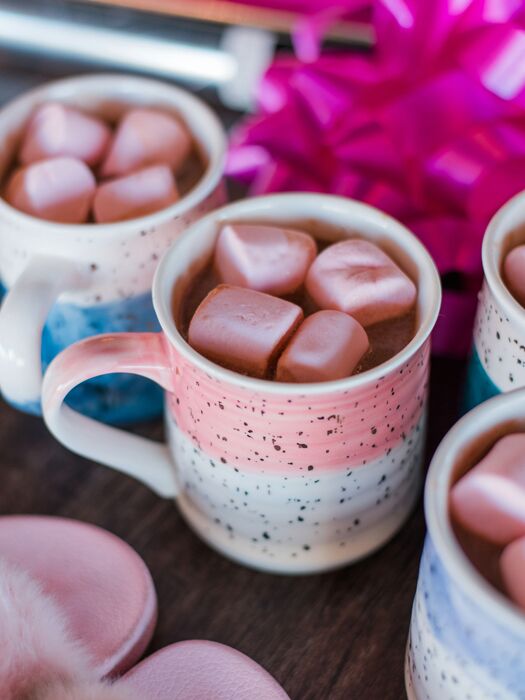 If you're having a themed party, your hot chocolate bar doesn't have to deviate from your color palette. Choose a festive color, and gather mugs and candy toppings in that same hue. If you're going for a red or green color scheme, fill bowls with holiday Hershey's Kisses, M&M's and gumdrops. The color-coordinated party will be an Instagrammable scene that everyone will want to capture. 
9. Sweet Treats for Dipping
Dipping cookies in milk is a classic, but have you ever tried dipping cookies in hot cocoa? Before the party, bake sugar cookies, cut them into holiday shapes like snowmen or stockings and decorate them with red and green icing and sprinkles. The holiday cookies will be a festive way to celebrate the season, and no one will go hungry. 
10. Nutella Rim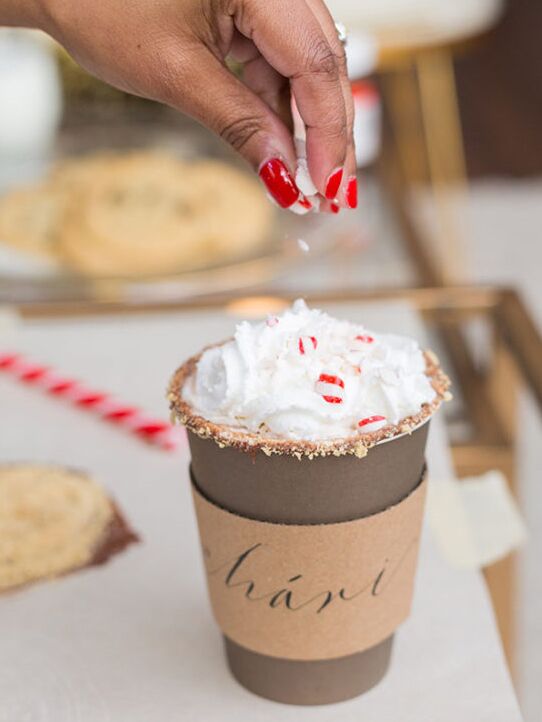 Photo Credit: Chári Herndon
Last but not least, how amazing is this flavored mug rim idea? Turn any cup of cocoa into a gourmet masterpiece with the addition of nutella and crushed graham crackers or other candy bits. 
Read the full recipe at Chic Home & Styled Parties.
Let's Get This Party Started!
Find event inspiration, themes, and unique party vendors here on The Bash. We'll share customized ideas, personalized tips, and recommended vendors to help bring your celebration to life!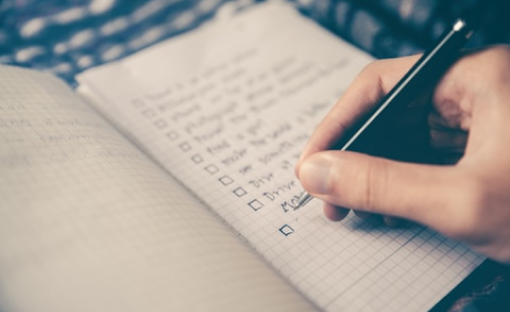 Party Planning Checklist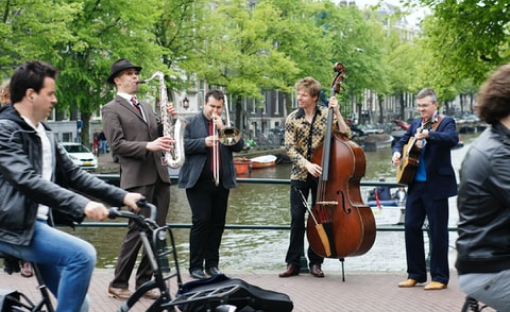 Recommended Vendors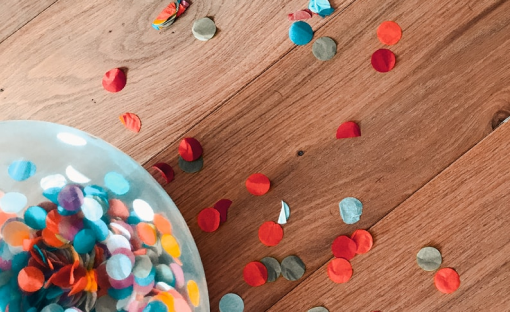 Party Trends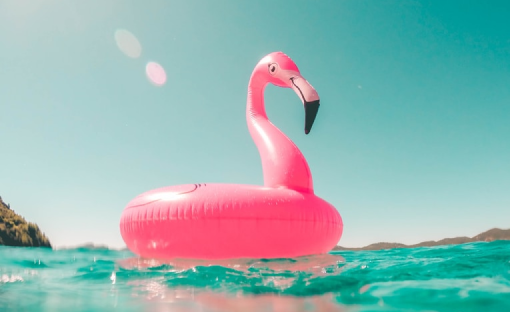 Party Themes