Your Complete Wedding Planning Checklist
Countdown to your wedding day with our timeline of to-dos, plus a free wedding budget and guest list manager.
Congratulations, you're engaged! Start planning your one-of-a-kind celebration with our compete wedding checklist. We've put together a timeline of wedding to-dos to make your planning journey easy and stress-free. From announcing your engagement to walking down the aisle, we have all the tips and tricks you need in a handy, completely customizable wedding planning worksheet. 
Typically, couples start planning a year in advance of their big day for less stress, more options when it comes to wedding venue and vendor selection, and to give guests plenty of notice—so our wedding timeline checklist starts at 12 months before the wedding date. However, it is possible to plan a wedding in 6 months or even less if that's what your hearts desire. Simply delete or add to the 130 tasks listed and adjust the timeline to suit your unique circumstances.
Wedding checklist formats
We've provided this free wedding planning checklist template in multiple formats so you can choose the best one (or two) for your planning needs.
1. Printable wedding checklist
Keep track of tasks with a printable wedding checklist. Simply download and print page 1 and page 2.
2. Wedding planning google doc
For easy access from any device and planning on the go, make a copy of this detailed wedding planning checklist (bonus: you'll get a wedding budget worksheet, guest list manager, and vendor contact list, too!). All you need is a google account to make a copy of your own wedding planning google sheet and collaborate with your partner, wedding planner, and any other loved ones you need to keep in the loop. 
3. Wedding planning checklist excel
Prefer an excel workbook? Download this wedding planning excel template to your computer. File includes wedding checklist, budget worksheet, guest list manager, and vendor contact list.
4. Wedding checklist web page
Don't forget to bookmark this page! We've got a simple wedding checklist below including links to more wedding ideas, venues and suppliers.


Here is your complete wedding planning checklist.
10 - 12 months before
 Announce your engagement
 Choose a city and season
 Start your wedding guest list
 Figure out your budget
 Plan an engagement party
 Research and hire a wedding planner
 Select a theme and colour scheme
 Research wedding officiants
 Choose your wedding party members
 Research wedding venues with a few dates in mind
 Start your wedding gift registry
 Start collecting guest list info
 Book your ceremony and reception venues and set the date!
 Research and book your wedding catering
 Create a wedding website
 Start researching photographers
 Schedule an engagement photo shoot
 Create a weather "Plan B"
 Research live music, wedding DJs and entertainment for your reception
 Meet with a few photographers
 Start looking at wedding dresses and groom's attire
 Update the guest list
 Confirm your wedding party
 Book your photographer
 Create and order your save the dates
7 - 9 months before
 Book your reception live music and/or DJ
 Start researching wedding party attire
 Come up with a wellness plan
 Reserve hotel blocks for your guests
 Start researching videographers
 Start looking at florists
 Start researching how to get married in your state
 Book your videographer
 Research decorations for your ceremony and reception
 Start researching wedding invitation designers
 Book your florist
 Research wedding rings
 Start looking at honeymoon destinations
 Make a few appointments at wedding attire shops
 Choose your wedding attire and schedule your first dress fitting
 Update your vendor team on your plans
 Schedule a bachelor and bachelorette party with your VIPs
4 - 6 months before
 Book your wedding officiant
 Research rentals like tents, place settings, chairs, and aisle runners
 Research headpieces and veils
 Update your registry
 Confirm your honeymoon plans!
 Research cake vendors and schedule a tasting
 Send save the dates
 Order your invitations and thank you cards
 Book your ceremony musicians(s)
 Book rental, decoration and lighting professionals
 Book photobooth
 Book transportation for you and for your guests
 Research rehearsal dinner venues
 Start researching hair stylists
 Start researching makeup artists
 Book your cake vendor
 Prepare to send the invitations - confirm guests' addresses!
 Book your hair and makeup professionals
 Use Guest List tab to collect guest info (RSVP's, meal selections, etc.)
 Look into getting a marriage license
 Buy or rent men's formalwear
 Book accommodations for your wedding night
 Schedule your ceremony rehearsal
 Order wedding party attire
 Order your wedding favours
 Think of wedding band engravings
2 - 3 months before
 Purchase fashion accessories
 Address and send your wedding invitations
 Purchase your guest book
 Purchase your wedding rings
 Research/book a day-of-coordinator
 Check on passports, vaccines and visas!
 Think of a signature cocktail
 If you want a hair cut, book now!
 Purchase a wedding gift for your spouse-to-be
 Think of something unique!
 Sit down with your photographer again
 Decide on hair and makeup styles
 Double check with your transportation
 Order any wedding party accessories
 Check in with your officiant
 Confirm meal selections and notify caterer and dessert vendor of any food allergies
 Book a bartending or alcohol service, if not included in your venue or catering
 Finalize the song list for your reception
 Make a packing list for your wedding/honeymoon
 Create your ceremony and reception timelines
 Order ceremony programs
 Order menus/place cards/seating chart or escort cards/signage
 Make sure your wedding party knows the timeline
 Buy wedding party gifts
 Start thinking of your vows and speeches
 Pick up your rings
The last month
 Hair and make up trial!
 Review the guest list and call guests that haven't RSVP'd
 Finalize vows
 Next-to-last wedding dress and attire fitting
 Confirm rehearsal ceremony and dinner timeline and attendance
 Finalize and share the seating plan with your reception venue
 Make sure the speeches are ready
 Start practicing for your first dance
2 weeks before
 Pamper yourself!
 Double check your ceremony programs and place cards
 Pick up your marriage license
 Pick up your wedding attire and partner's attire
1 week before
 Confirm details with wedding party
 Confirm final details with all your vendors and put tip money aside
 Pack for your honeymoon
 Write a sweet note to your partner
 Pack emergency kit(s)
The day before
 Pull together all the essentials
 Drop off decor to the venue(s)
 Relax and set your alarm
Wedding day
 Smile. It's your big day!
 Package up wedding cake
 Gather up keepsakes and gifts
After the wedding
 Return rentals
 Preserve your bridal bouquet
 Arrange for gown and veil to be cleaned and preserved
 Post reviews of your vendors on The Bash
 Order wedding photos
 Share wedding photos and video
 Write and send thank-you notes
 Arrange for gift deliveries and exchanges; look into completion discounts
 Update insurance policies
 Do paperwork for name change (if required)
 Store marriage license in safe place
 Distribute change of address info
Let's get started
Access and make your own copy of The Bash's free wedding planning google doc or download this excel file to customize your wedding checklist, plan your budget, manage your guest list, and keep track of your progress.
Or, download our free printable wedding checklist (2 pages).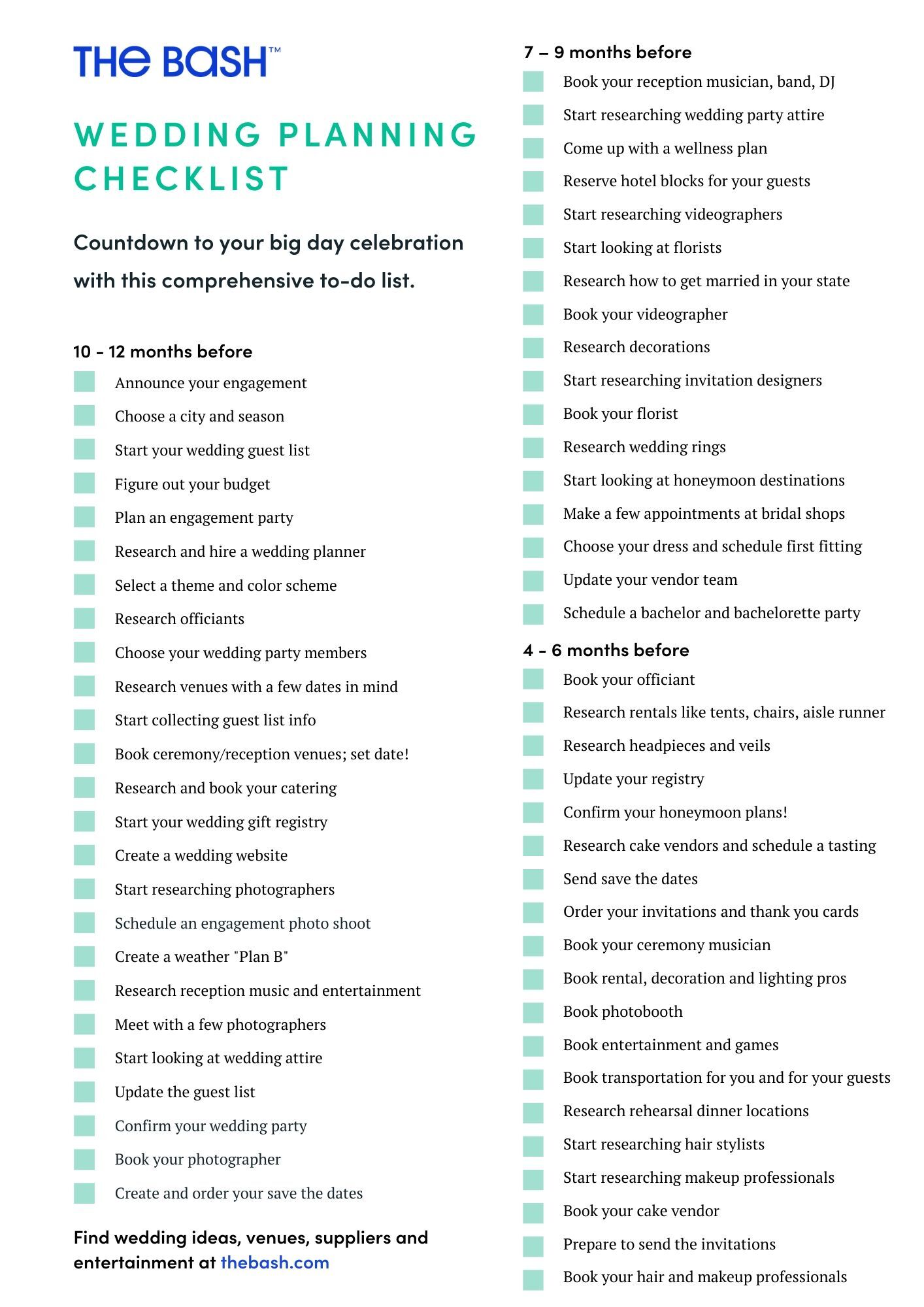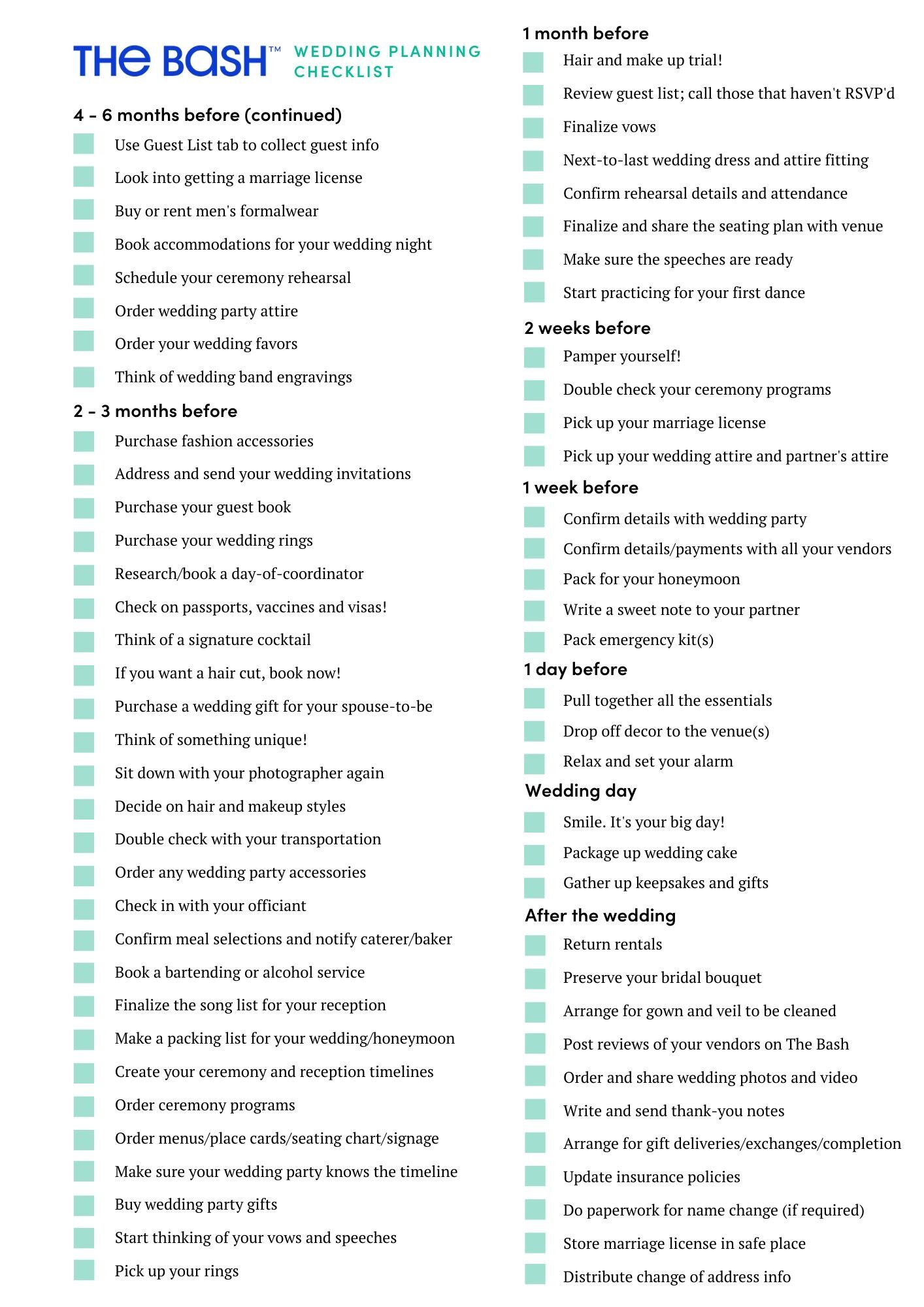 Find wedding ideas, venues, suppliers and entertainment in The Bash Wedding Planning Guide »