Back to profile
Melody Pipes Reviews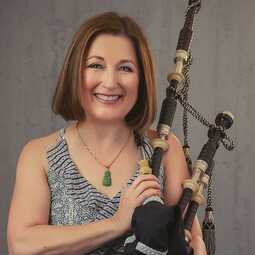 Avg 5.0 | 19 Reviews

Bagpiper from Cupertino, CA

28 Verified Bookings
---
19 Reviews for Melody Pipes
Wedding•Reviewed on November 27, 2018•From Martinez, CA
Melody was great. She even anticipated the slight rain and handled it perfectly. Everyone was extremely pleased with hoer performance.
Birthday Party (Adult)•Reviewed on May 19, 2018•From Atherton, CA
She was wonderful! Prompt, wonderful attitude and played beautifully! It was for Mom's 88th birthday and she wowed the crowd! Would highly recommend Melody!
Celebration•Reviewed on May 27, 2017•From Menlo Park, CA
Melody was perfect. She offered suggestions for tunes, and was the ideal accent for celebrating the life of our dear departed lass.
Happy Hour•Reviewed on March 16, 2017•From Mountain View, CA
Melody was easy to work with - the set up was effortless. Melody arrived on time and knew exactly what to do. Melody engaged in conversation with our employees who wanted to know more about the bagpipes and her experience. Last but nor least, her music was fun and flawless for our event! Thank you Melody!
Melody Pipes:
Thank you, Amy, for engaging me and for your review. It was a fun event!
Funeral•Reviewed on December 2, 2016•From Campbell, CA
Melody was fantastic. She was very professional yet approachable. We could not have been happier with our choice. My mother was surprised and so touched with Melody playing Danny Boy. I would have no problem recommending Melody to a friend. Thank you for a great easy to use web site. Happy New Year.
Memorial Service•Reviewed on November 11, 2016•From Half Moon Bay, CA
Melody Pipes played at my mother's ash scattering service on the bluffs at Half Moon Bay's Venice beach. Melody was very accommodating to work with and provided suggestions on songs to play. She arrived early and warmed up so we had an opportunity to hear her before the actual service. She was dressed in full regalia. Between her playing and the overcast day on the bluffs, we felt like we were in Scotland. Her rendition of "Amazing Grace" was perfectly paced for a solemn occasion, and it was just beautiful. Melody did a great job and we would hire again.
Celebration•Reviewed on June 12, 2016•From Fremont, CA
Melody is personable & accomodating. She wants to be sure your needs are met.
Retirement Party•Reviewed on April 27, 2016•From Novato, CA
I was blown away at the level of expertise Melody played. There wasn't a dry eye to be found! Thank you so much for making my husbands last day as a police officer an extrodinary day! You were amazing!
Melody Pipes:
Dear Tricia, Please thank your husband for his many years of dedicated service to the community -- I was honored to pipe for his retirement. Thank you for engaging me and also, thank you for your review! All the best, Melody
Wedding•Reviewed on April 22, 2016•From Watsonville, CA
Had Melody play prior to my daughter's wedding reception...everyone enjoyed the pleasant surprise... SHE WAS GREAT! Do not hesitate to book her.....
Melody Pipes:
Dear Kevin, I thoroughly enjoyed piping for your daughter's cocktail hour before the wedding reception, and was a pleasure to meet you. Thank you engaging me and for your review! Best, Melody
Funeral•Reviewed on April 21, 2016•From Seaside, CA
I would highly recommend Melody. She arrived on time, played beautifully, & performed as a true professional... Five stars all the way!!! Thank you from the bottom of my heart, Melody for making our Fathers Military Funeral Services truly HONOURABLE & memorable!!!
Melody Pipes:
Dear Lorena, I was truly honored to pipe for your father's memorial. What an illustrious military career and legacy, indeed -- WWII, Korea and Vietnam. I only wish I could have met him in life. All the best, Melody
Corporate Function•Reviewed on March 17, 2016•From San Francisco, CA
Melody was very professional and helpful from the booking to the performance. She is friendly and kind and an excellent player. For such a unique talent I would highly recommend Melody. Hopefully next time we can book her whole band. Thank you!
Melody Pipes:
Dear Cher, Thank you for reviewing my performance -- I sincerely appreciate your kind words. I had a great time piping for you and your clients for your March Madness event! All the best, Melody
Event•Reviewed on October 1, 2015•From San Geronimo, CA
Melody, is a true professional and a great talent. She was an outstanding hit with our clients and our associates. I hope to have her out for another event. Thank you so much Melody was a great pleasure to meet you ! Regards, JB
Birthday Party (Adult)•Reviewed on May 16, 2015•From Monte Rio, CA
What a special night. I had Melody play at my mom's 60th birthday and I kept it a surprise from everyone. Melody was great and met my boyfriend nearby and came in playing my mom's favorite song to the entire party's delight. It was really special. Melody is an incredibly talented musician and so nice. She spoke with several guests and I had just about everyone come up to tell me how wonderful it was to have her there. She put together a really great list of songs even though I was pretty clueless about what she should play. I would recommend her 110% for any event!
Celebration•Reviewed on March 14, 2015•From Rodeo, CA
She was great. Everyone really enjoyed her talent. She was very engaging with everyone. We would love to have her again.
Memorial Service•Reviewed on August 15, 2014•From Saratoga, CA
Melody Pipes went above & beyond in making our event so special. She was prompt in responding to emails/phone calls & very helpful in selection of a variety of pieces she played, which made it so unique & personal for the Dedication of trees in Memory of my Father. She gave of her time to go to the site of the event & meet with the event coordinator. Melody is so friendly, very professional & outstanding in her playing, giving her very best & high standards in all that she does. All attendees were very impressed & enjoyed her music & talent. Some asked her about the bagpipes & she graciously answered every question. I HIGHLY recommend Melody Pipes, she's the BEST!!
Funeral•Reviewed on June 2, 2018•From Walnut Creek, CA
Melody was on time, played beautifully. My only disappointment was I payed for her to play for 45 min and she was distracted by people who were not even part of the funeral chatting with her. Honestly? I didn't hear much music played.
Melody Pipes:
Dear Edna , I honestly felt you were pleased with my services. I am sorry you felt need to give me an unfavorable review. I arrived 90 minutes before the service, professionally dressed. I tuned my pipes and was in place before the agreed-upon time. Before you arrived, I started piping 30 minutes earlier than we agreed as early mourners were arriving. I piped for over an hour before Mass and 15 minutes after. I played Irish Tunes as requested, and even learned a new tune to play an honor of your family's Irish heritage. I was not distracted by passers-by, only polite in answering questions briefly, and then returning to piping. I appreciate that you liked my playing.
Memorial Service•Reviewed on April 25, 2019•From El Sobrante, CA
First Melody played beautifully. It was a memorial service for a veteran and she selected wonderful military pieces to play. Her Amazing Grace finished our program and was just wonderful. I also appreciated her flexibility; we started late and had to shift her timeline. She accepted all with grace and professionalism. I highly recommend Melody if you are looking for a bagpiper.
Church Service•Reviewed on March 17, 2019•From Morgan Hill, CA
Melody did a wonderful job for a difficult event. Could not have asked for more and we are so grateful. I would recommend her without hesitation
Community Event•Reviewed on January 26, 2019•From San Mateo, CA
She was awesome!! She played before our high school basketball game, and she killed it!! I'd definitely recommend her again.