Back to profile
Cher Impersonator - Helene Masiko Is (almost) Cher Reviews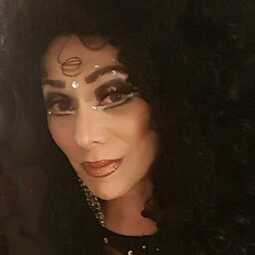 Avg 5.0 | 12 Reviews

Cher Impersonator from Woodbury, NJ

16 Verified Bookings
Starting at $850 per event
---
12 Reviews for Cher Impersonator - Helene Masiko Is (almost) Cher
Birthday Party (Adult)•Reviewed on May 21, 2016•From Charleroi, PA
OMG - she nailed it as Cher - Helene did an awesome performance on all accounts! The singing, the dancing, the interaction with the guests, the humor. She looks, sounds and acts like Cher in every way. I could not be happier with her performance - it was everything she promised and more. She made my husbands birthday party the best party ever and so so so much fun! Love you Helene - thank you so much.
Private Party•Reviewed on August 18, 2012•From Poughkeepsie, NY
Helene made my party!!!!! I am still getting calls about it!!!!! She really sounds and looks a lot like Cher!!!!!! Very professional, her and her staff!!!! If your looking for a Cher impersonator, you found her. She may be more expensive then others', but totally was worth it!!!!!!!!!
Birthday Party (Adult)•Reviewed on October 29, 2011•From Berkeley Heights, NJ
To be honest, I was apprehensive about hiring talent for my party over the web with only videos and sound tracks to listen to. However, once Helene and I spoke on the phone and traded emails regarding the specifics of the show, I felt much better. Helene put on a magnificent show where my friends and family are still talking about it. She does a great Joan Rivers and fabulous Cher!! She's well rehersed, very professional and involved the audience so everyone felt part of the show. I would recommend Helene without question. Thank you so much Helene, Almost Cher (Cher should look so good!!)
Fundraiser•Reviewed on June 4, 2010•From Woodbury, NJ
We all had a enjoyable evening. From sound to lights, costume to makeup. this act was great.Thank you Helene!
Birthday Party (Adult)•Reviewed on August 22, 2009•From Buena, NJ
She was excellent. Everyone loved her and a couple of people are thinking of engaging her to perform for their function. Just wonderful, she made the party very memorable for my mom's 90th birthday party. \ Thank you Helene
Dinner Dance•Reviewed on December 8, 2007•From Ogunquit, ME
EVERYTHING WAS GREAT.. I WISH I COULD RATE HER HIGHER THAN A 5.. HER LOOK, TALENT, ACTIONS MY CREW THUGHT SHE WAS CHER...THANK YOU I WOULD BE HAPPY TO TALK TO ANYONE WHO IS INTERESTED IN HAVING THE ALMOST CHER AT THEIR NEXT PARTY. DPCJR@AOL.COM
Birthday Party (Adult)•Reviewed on November 4, 2006•From Titusville, NJ
Helene was absolutley stunning. She's beautiful, funny, engaging and talented. She put on a great show and it really was the highlight of our party. She looked like Cher, sounded like Cher and her costumes were incredible. She was wonderful to do business with as well. Very proffessional and accomodating. She worked everything out herself with the DJ so I didn't have to worry about a thing. I really appreciated that because as the hostess I had enough to do. If you're thinking about entertainment for your event, you won't be disappointed if you hire Helene. My entire party has called me to rave about her performance. Thanks so much Helene!!! (and Andy!)
Private Party•Reviewed on October 15, 2006•From Magnolia, DE
It was truly like having Cher, in person, at our party. The look, the costumes, the voice, the moves - right on the money! In addition to her professionalism, she personalized her jokes and had a marvelous rapport with her audience. Everyone who was there will be talking about a fabulous night with (almost) CHER for a long time to come. We would absolutely recommend Helene for a fun and memorable event. The best I've ever seen. Gerald Hendricks
Private Party•Reviewed on February 5, 2005•From Livingston Manor, NY
Helene knows the meaning of entertainment on every level. She WOWed the audience, was gracious to our staff; and from our point of view, did more to help our business in the brief time she spent with us than we've been able to do in weeks or months. There are not enough superlatives to describe the show she put on. Thank you again Helene. Sincerely, Marion & Colleen View Finder Tours
Birthday Party (Adult)•Reviewed on August 21, 2021•From Wauconda, IL
Very Professional. Pleasure to do business with. I would recommend her in a heartbeat for any event.
Birthday Party (Adult)•Reviewed on January 19, 2019•From Felton, DE
AWESOME AWESOME AWESOME. Cher interacted with everyone. The dj was great playing music in between performances and the lights and spot light-perfect. Wonderful crew, She blended in like family. Cher did some comedy as well, everyone loved her and loved her performances. Her voice sounds so much like Cher- the real deal For meshe is the real deal. Everyone had a blast from young to old. Facebook was blowed up with videos and pictures of the birthday party the next morning. Everyone had such a great time they wanted to CHER with their friends and family. I highly recommend her for any event. LOVED LOVED LOVED-THANK YOU FOR THE MEMORIES ??
Cher Impersonator - Helene Masiko Is (almost) Cher:
Thank you Kathy! It was truly a pleasure to "Cher" with you and your lovely family and friends. I hope our paths will cross again. xoxo
Birthday Party (Adult)•Reviewed on June 24, 2017•From Bowers, PA
OH my gosh!! I couldn't have asked for anything more! We had a blast!! The costumes, the performance, the interaction with the crowd, were all above and beyond. The preparation she took to make souveniers for the guest(s) of honor. I would highly recommend Cher (Helene) to anyone! Her sound guy Joe played great songs and did requests and Andi and Andrew were so great! If you're looking for a great party, start here!!