Back to profile
Didi Maxx Magic And More! - 70+ Bookings! Reviews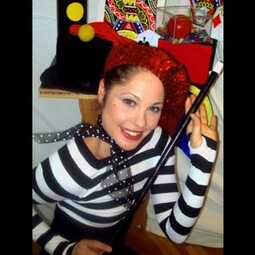 Avg 4.5 | 25 Reviews

Comedy Magician from Garden City, NY

72 Verified Bookings
Starting at $250 per event
---
25 Reviews for Didi Maxx Magic And More! - 70+ Bookings!
Birthday Party (Kids)•Reviewed on April 25, 2021•From Brooklyn, NY
Birthday Party (Kids)•Reviewed on January 25, 2020•From Tarrytown, NY
Wow! What an entertainer?! Didi Maxx, is the magician to the max! She's professional, accommodating and absolutely loves what she does. She had the kids and adults mesmerized. I would hire her again in a heartbeat. Thank you Didi, for making my son's party absolutely easy and memorable.
Birthday Party (Kids)•Reviewed on April 29, 2017•From Eastchester, NY
Didi was excellent at keeping a bunch of 3, 4 and mostly 5 year olds entertained for an hour and a half. You can tell that she is experienced at judging situations and altering the format to get the best out of the children. We had previously discussed a mix of magic, balloons and tattoos and on arriving, she changed the format slightly to ensure that the kids were kept fully entertained and involved. I would thoroughly recommend Didi for your children's party. She was professional, reliable, experienced and most of all fun! My 5 year old son had a ball at his party and felt like the star of the show!
Club Event•Reviewed on December 18, 2011•From Greenvale, NY
Didi Maxx and her staff have been entertaining the distinguished members of our country club for over 12 years with consistency and excellence. This year's Christmas party was no exception, as I had to extend the time due to the overwhelming response. I highly recommend Didi Maxx for her expertise in creative event planning as well as her incredible talent as a performer. Every event, from the most outlandish to the most elegant has been a huge success!
Birthday Party (Kids)•Reviewed on March 19, 2011•From Brooklyn, NY
Didi was amazing. I hired her for the entire party including the DJ and she had someone with her who did the most amazing face painting I have ever seen. They also did Balloon animlas, a magic show, they dressed up as elmo and took pictures with everyone and they played games with the kids. It was so much fun and the kids where completely entertained for the entire party. The music was great as well. A good mix of current hits and party music to keep everyone happy! I would highly recommend DiDi to everyone and I will be using her again in the future as well!
Birthday Party (Kids)•Reviewed on February 12, 2011•From Stony Brook, NY
Didi Maxx was wonderful for our son's birthday party. She was great with the kids and performed a wonderful show including magic, games and balloon twisting. Everyone had a blast, thank you Didi Maxx!
Birthday Party (Kids)•Reviewed on March 20, 2011•From Elmont, NY
Didi and Christine did an excellent job entertaining my guests. They kept the children interested during the entire performance. The rates were affordable and both Didi and Christine's mannerism was pleasant. I look forward to hiring them at future events.
Christening•Reviewed on June 23, 2012•From Stony Brook, NY
Didi was great. She entertained the children as well as adults with her magic show and balloon twisting. She was very sweet and very professional. She helped make the party alot of fun!
Birthday Party (Kids)•Reviewed on July 5, 2019•From Bloomfield, NJ
Didi was great with the kids! They loved her! I left her in a room with 9 kids of all ages and she was able to entertain them for two hours. Thank you Didi for a fun night!
Birthday Party (Kids)•Reviewed on May 26, 2012•From Long Island, NY
Didi maxx was really funny and all the kids really liked her.
Birthday Party (Kids)•Reviewed on September 24, 2011•From Valley Stream, NY
My children had a really good time she definitely kept them entertained and she was a very easy person to deal with...her magic show was both funny and nice..overall made this first time experience very easy and rewarding...would use her again
Birthday Party (Kids)•Reviewed on June 9, 2018•From Bay Shore, NY
Tina was amazing. She was so friendly and outgoing with all the kids. Tina did a fantastic job with the detailed face painting and Balloon making. The kids loved her and were all really engaged when she played games with them. I would highly recommend her for any party. I received many compliments about how great she was at the party .
Birthday Party (Kids)•Reviewed on January 7, 2012•From Flushing, NY
WOW, is all I can say! If you love something unique,fun, different, and a little Cirque du Soleil feel, HIGHLY recommend!! Didi is so professional, works with you, senses what the children like, and just overall wonderful to work with..I even booked her at the party for my next! Thank u, Didi!! :)
Birthday Party (Kids)•Reviewed on October 1, 2011•From Bellmore, NY
They were AWESOME!!! the kids loved every second of them. I even got calls up to two days after the party and parents were telling me that the kids were still talikng about the clowns and how much fun they had. The ages were 1-7 and they all loved it. They were early on arrival very proffessional!!! A+++ reccommend to ALL
Halloween Party•Reviewed on October 30, 2011•From Long Island, NY
Everything with DidiMaxx, from the initial booking of our party to the actual party entertainment was easy and professional. Didi made you feel confident that she had all the details under control. Marabelle was terrific with the kids - very kind and friendly but kept everyone in order. Her face painting designs were terrific. Ours was a Halloween party and her face paintings beautifully accented the girls' costumes. She also did balloon animals (great big designs) and played an extra parachute game. Everything was terrific and the kids had a blast. I would definately recommend Didi Maxx Entertainers for any of your party needs.
Celebration•Reviewed on May 7, 2011•From Merrick, NY
We were extremely happy with Maribelle from Didi Maxx's party entertainers for my son's communion party (5/2011). Didi was great with brainstorming and planning with me before the party to come up with age appropriate fun games. Maribelle was great with keeping all of the children (ages 3-12) happy and entertained. She was very friendly, professional and patient! All of the children loved their face paintings. Maribelle was able to paint what very child requested no matter how crazy it sounded! I would highly recommend Didi Maxx's NY Children's party entertainers.
Birthday Party (Kids)•Reviewed on March 19, 2011•From Deer Park, NY
Our performer was great!! She was there for over an hour and keep the children very entertained. I loved how she included the birthday boy in the activities even though he was only a year old. She made my older son (4) feel very special also. I would highly recommend DiDi's and will always use her in the future. Great job Maribell !!!
Birthday Party (Kids)•Reviewed on August 13, 2011•From Valley Stream, NY
Marty was excellent! He entertained the kids and adults alike with his magic show and tricks. My son especially loved with "Brobee" came to visit. He was so excited that he didn't want to share Brobee with anyone else!
Birthday Party (Kids)•Reviewed on May 28, 2011•From Smithtown, NY
My baby loved it, also the age appropiate games was perfect. Barney lokked real. I defenetely will call didi for my next party. We had a blast!! Thanks much
Birthday Party (Kids)•Reviewed on April 15, 2012•From Long Island, NY
Simone She was great, entertaining and kept about 20 kids active and happy. Just had a little trouble with making the balloon animals. They kept popping. But other than that I would definately use them again. She came early and didn't rush out when time was up. Thanks for making my little 1 yr old birthday a hit!
Birthday Party (Kids)•Reviewed on August 14, 2010•From Brooklyn, NY
It Was A Pleasure To Have NY Party Entertainers In My Son's First Birthday. She Was Very Professional And Great With The Kids. I Would Highly Recommend Them For Any Event. Thanks!
Birthday Party (Kids)•Reviewed on May 21, 2016•From Brooklyn, NY
The majice show could use some refreshing. Some of the kids figured out what was going on before the big "tada" moment because the props were old and could've used replacing. But overall the kids had a good time. Face painting was nice as well as the balloon art.
Birthday Party (Kids)•Reviewed on March 24, 2012•From Long Island, NY
We had coco the clown bc didi maxx was booked for that day. Coco was a mess. It took about 15 minutes for her to get situated and even with that she was still is disorganized. The other parents were all joking about it. It was quit embarrassing. I will not be using them again. Didi maxx received 5 stars on her websites and i was very excited to book one of her entertainers but was truly disappointed.
Birthday Party (Kids)•Reviewed on July 24, 2010•From Riverhead, NY
She was very friendly, but didn't live up to expectations. Although it was a very hot day, Didi didn't seem to bring her sales pitch to the table. We spoke of several games the kids could play in the pool, but they only played one brief game and then she did rub on tatoos and did some balloon art, but was unsuccessful, perhaps due to the weather. Not worth the amount of money paid and I could not in good faith, recommend.
Birthday Party (Kids)•Reviewed on November 11, 2012•From Bronx, NY
This was the worse $225 I spent...What I was promised I didnt get instead I got a clown/face painter that was totally unprofessional & rude to the kids...She came w/o shoes & didnt know how to paint faces or make different balloons for the kids smh every kids had to get the same thing...Totally disappointed!