Back to profile
More Love Band featuring the Loveless Duo Reviews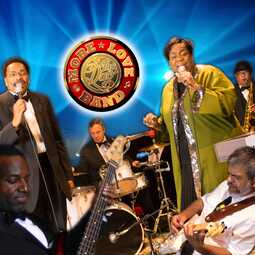 Avg 5.0 | 24 Reviews

Cover Band from Dallas, TX

38 Verified Bookings
Starting at $400 per event
---
24 Reviews for More Love Band featuring the Loveless Duo
Wedding Reception•Reviewed on June 2, 2018•From Keller, TX
We had a stress free and an incredible time with James and Yvette and the More Love Band at our wedding reception. Their vocals are spot on with all the covers that they sang and were so inventive as to incorporate myself and my wife's name in some songs. James coaxed others out by being on the dance floor with his amazing voice and moves while Yvette's song choices and incredible vocal range were more than what we could have ever asked for. We can't recommend them enough. Their professionalism, class and vocals are the best thing we could have asked for to perfect our reception. Thank y'all again so much we appreciate everything and will never forget it!
Community Event•Reviewed on April 29, 2017•From Denison, TX
Almost a month after our event, I am still being stopped and being asked "who was that band" "they were AMAZING" "Can I have their info, we want to book them". I have put on events all over the US, but most recently in Las Vegas before moving to the The Metroplex, and I have to say out of all the bands I have ever worked with and hired, The James Loveless Band is #1. They are so accomondating and their members are just so friendly and talented you can hear the passion when they perform. When booking, I considered much more expensive bands with more mainstream looks, but I could not recommend The Loveless band more. I am over the moon with my choice.
Wedding Reception•Reviewed on September 16, 2017•From Plano, TX
I really liked The More Love Band after hearing their demo online but loved them after my initial phone call with Yvette. Since my first contact with the band they have been nothing but accommodating. When they came to set up for our outdoor reception I was having a problem with the venue and the band helped put my mind at ease and worked with the coordinator to make sure things went off without a hitch. Their music was upbeat and had everyone dancing through the last song and the band breaks were mixed in seamlessly so the guests didn't notice. James was an excellent MC and many of our guests asked where we found such a great band. Will hire them again. 5 stars!
Wedding Reception•Reviewed on April 7, 2018•From Fort Worth, TX
We hired the More Love Band to play at our wedding and everyone had a blast. We got complements all night on how great they were. The dance floor was always full of people having the time of their life. Thank you!
Birthday Party (Adult)•Reviewed on November 19, 2016•From Grand Prairie, TX
The band was great! They had a good variety of music and their energy levels were so high that the crowd was able feed off their energy! They had the place rocking out to the oldies. The guest of honor turned 70 and he talked about the band all weekend and how great they were! Thanks again guys. Now my boss is throwing hints about his birthday coming July, we might be having another party and if we do we will definitely reach out to you guys.
More Love Band featuring the Loveless Duo:
Thank you, Marquita for the review! The band had an awesome time providing entertainment for your special event. Please tell Mr. Hamilton that we would consider it an honor to provide music for his birthday party in April! Thanks again.
Anniversary Party•Reviewed on June 9, 2018•From Pilot Point, TX
We had so much fun with this band. I received so many compliments from guest at my party "saying they are really good, and I love this band" I would hire them again and definitely recommend this band to people looking for a band for their party. Great job
Birthday Party (Adult)•Reviewed on June 23, 2018•From Carrollton, TX
Absolute professionalism. Amazing entertainment factor. Talent, talent, talent. So many guests said, "They are fabulous!" Followed immediately by "Where did you find them?" I replied, "I found them on Gigmasters and it was amazingly easy, and they have been wonderfully communicative and professional from minute one!" I just can't say enough about this duo and the party atmosphere they created with all the songs performed being appropriate and perfectly executed. 20 people or 100, I think they would bring the party! Thank you Loveless Duo - I look forward to hearing the whole band sometime!
Awards Night Party•Reviewed on April 14, 2018•From Thackerville, OK
Band was fabulous and kept everyone on the dance floor! Great entertainment for any venue.
Anniversary Party•Reviewed on June 3, 2017•From Waco, TX
The Loveless Duo was awesome! They contacted my wife immediately and communicated with her from the planning stages to the day of the event. This husband and wife team arrived early to set up and agreed to stay as long as we they were needed. They were extremely accommodating. My in-laws had a fantastic time celebrating their 50th wedding anniversary and everyone enjoyed the music. Thank you Loveless Duo!! Vincent & Terri- Austin, TX.
Community Event•Reviewed on October 28, 2017•From Dallas, TX
We had a very good time at the Eastminster Presbyterian Church Fall Festival and a very big part of that was directly attributable to the Loveless Duo. What a lot of fun they were and oh-so engaging. We felt as though we had known Yvette and James for years as they were easy-going and engaging. Before the big day, it was easy to communicate with both of them via phone, email and text. But on the day of their performance they really delivered. Yvette and James brought to the stage all of their talent and friendliness, encouraging folks to dance and constantly working to engage the audience and many of our guests commented on how talented and fun they were. Great!
Celebration•Reviewed on June 28, 2017•From Fort Worth, TX
They exceeded our expectations and made our reception unforgettable.. best band we have had in the past 4 years. Truly made our event special! Thank you!
Family Reunion•Reviewed on July 6, 2017•From Waco, TX
The Class of '67 would like to rate in all categories a 6 if possible. You guys are the best of the best according to my classmates, perfect for our 50th Reunion. Thanks again!
Birthday Party (Adult)•Reviewed on September 1, 2017•From Dallas, TX
The Loveless Duo was fantastic and made my colleague's Birthday party a great success. They were fun, entertaining, and easy to work with. I'd recommend them in a heart beat!
Celebration•Reviewed on November 5, 2017•From Austin, TX
Yvette and James were amazing! We hosted a gospel brunch as a post wedding celebration after our daughter's wedding. The booking process was a breeze, they were prompt on arrival and were ready to play before our guests arrived. Their selections were well thought out to appeal to our guests - from 8 months to 70 years of age! Loved having them with us!!! Thank you to the Loveless Duo!!! Gerry and Tom Donnelly
Birthday Party (Adult)•Reviewed on December 3, 2017•From Dallas, TX
They were very entertaining and able to reach all ages of attendants. They were very interactive with the audience and had a wide variety of music as well.
Christmas Party•Reviewed on December 17, 2016•From Arlington, TX
Very professional and energetic! Played all of the old school music with a twist! Loved them!!!! Genuinely nice people!
Grand Opening•Reviewed on October 12, 2017•From Mansfield, TX
Loveless Duo was exceptional! Music selection was on point. We will definitely use for future events!!
Funeral•Reviewed on June 4, 2018•From Dallas, TX
Great music! We're very accommodating and provided exactly what the family wanted.
Birthday Party (Adult)•Reviewed on January 5, 2019•From Dallas, TX
Great James is fabulous both have great voices. Sax player very good . Had our party jumping. So very glad I got them great group !!
Private Party•Reviewed on October 4, 2018•From Dallas, TX
The Loveless Duo were absolutely fantastic. Everyone enjoyed the song selection and danced throughout the night! Their professionalism and most importantly their enthusiasm for their work showed throughout the evening. We would gladly hire them again any time!
Concert•Reviewed on April 21, 2017•From Lancaster, TX
Very good sounds. Was very understanding of our needs
More Love Band featuring the Loveless Duo:
Appearing at your gorgeous Helen Giggings Amphitheatre was a beautiful experience. Many thanks to Mr. Bakahri Thorton for your dedication to the community of Lancaster, Texas. Because of your persistence the community enjoys many wonderful events in sports, music and recreation. Please call us again, we had a blast.
Private Party•Reviewed on July 26, 2018•From Fort Worth, TX
The Loveless Duo did not disappoint! Our party was spectacular and the Loveless Duo made it sparkle, shimmer, and shine! EVERYONE LOVED James and Yvette! They are amazing performers and were so personable with our residents! It shows in their performance how much they love what they do! They MADE the party! Love, love, love them! Would have them back without a doubt!
Celebration•Reviewed on January 15, 2017•From Fort Worth, TX
God Bless You The Loveless Duo they did a awesome awesome performance and perfee
Anniversary Party•Reviewed on June 30, 2018•From Hurst, TX
More love band was just simply amazing! My goodness they had everyone out on the dance floor and engaged the crowd. I would use them again!