Back to profile
Indigo 6 Reviews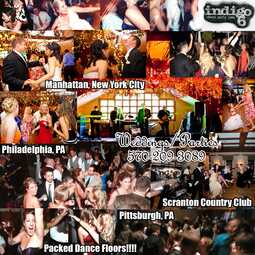 Avg 4.5 | 13 Reviews

Cover Band from Scranton, PA

29 Verified Bookings
Starting at $1,000 per event
---
13 Reviews for Indigo 6
Wedding•Reviewed on October 12, 2013•From Pennsburg, PA
OMG they were absolutely amazing! They were there when they said they would be, they played the last 2 hours straight through which was sooo awesome! We got out onto the dance floor later then I wanted but they just kept playing till the night was over and I couldn't have been happier with the whole experience. Also, since day 1, Dick has been so kind, friendly, and just overall reassuring that they were the band for us and I believed him 100% after our first phone call. He is a great manager, and you guys as a band are absolutely out of this world unbelievable. I will recommend them to anyone, and I would selfishly do so because I want to see them all again!
Wedding Reception•Reviewed on October 27, 2013•From Alpine, NY
Indigo 6 was an amazing band to work with! We could not have been any more pleased with the professionalism and extreme attention to details. As a bride it was so nice to let them handle all the details on that day and they were superb, not to mention they know how to rock and get the people going with all genres of music! Could not have made a better choice and If you are hesitating don't bother, book them today I promise you will not regret it! Kevin & Karen Fountainebleau Inn October 27, 2013
Wedding Reception•Reviewed on June 23, 2012•From Hawley, PA
Indigo 6 did an AMAZING job playing at our wedding! The dance floor was never empty, and they played a ton of great songs, both old and new. Our guests kept remarking how great the band was, which felt great since we really wanted everyone to have a good time. I would definitely recommend Indigo 6 to anyone looking for a fun wedding band. The band was also very accommodating with learning some new songs for us, and they did an awesome job playing them. I booked Indigo 6 after only hearing a few song examples online and it was one of the best decisions I made. They rock!
Wedding Reception•Reviewed on September 1, 2012•From Warren, PA
Indigo 6 was GREAT to work with. they really researched what music we liked and were more than accomodating to the random requests being thrown out. they were early, looked great, and meshed well with the wedding. we had an all-out bash and people are still calling and messaging me saying how great they were. i would DEFINETELY book them again, they set the mood of the whole wedding!!! A+++
Wedding Reception•Reviewed on October 1, 2011•From Jim Thorpe, PA
Indigo 6 was a hit! They played at our wedding and had everyone dancing! I would recommend them to anyone who can afford a live band for their wedding-the cost is higher for a band-however, it is well worth it! We had the longest conga line I've ever seen!
Celebration•Reviewed on February 18, 2012•From Pocono Pines, PA
They were great for our family party. We have been doing this for 23 years, and this band had more people danceing than any other band. We are thouroughly satisfied.
Birthday Party (Adult)•Reviewed on June 20, 2009•From Clifford, PA
Indigo 6 is a great band and helped make my event a complete success. The entire band was extremely friendly, accommodating, and professional. Their sound was amazing and they were able to play music that appealed to all the age groups that attended. The have an expansive genre that enables them to be able to get all your guest up and dancing. I received numerous compliments about the band from my guests. I will definitely be hiring Indigo 6 again for another event.
Wedding Reception•Reviewed on October 8, 2011•From Ithaca, NY
Wedding•Reviewed on September 14, 2013•From Preble, NY
Indigo 6 was great! They were personable and professional. They learned two new songs for us, and did well in performing them. We really appreciated it! Some awkward moments early on in the wedding in transitioning between entrance and first dance, and some questionable reading of what the crowd wanted at points. But people were up and moving on the dance floor all night! Our families are still calling to tell us how much fun they had. So, great! Thank you Indigo 6!
Wedding Reception•Reviewed on July 2, 2011•From Bellefonte, PA
Great wedding band! Our crowd danced all night.
Private Party•Reviewed on February 16, 2013•From Pocono Pines, PA
We have been doing our family dance party for 25 years. We need a big band, a great band, and a family oriented band to accomodate our multi-generational extended family group of approximately 100. When we discovered how talented Indigo Six was last year we had to bring them back again for our celebration this year. If its even possible, they are better than ever. We love the fact that there are two lead vocalists, and so many talented musicians and a great play list. I would recomend Indigao Six to anyone looking for a great time. I received compliments all night, I would recomend Indigo Six to all.
Wedding Reception•Reviewed on July 14, 2018•From Shavertown, PA
I decided very last minute that I wanted a band and I somehow got so lucky and stumbled upon Indigo 6. Even if I had two years to pick a band I still would have went with them. We had a backyard wedding under tents that started at almost 90 degrees and ended with heavy rain and they had everyone having a blast through both. Multiple guests told me how amazing they were. They had the best energy and their songs were awesome. Our wedding would not have been the same without them. We didn't stop dancing the whole reception. Thanks guys!
Wedding Reception•Reviewed on December 31, 2014•From Conyngham, PA
When I first found indigo 6 I was very excited, we went to see them play a few times talked with the guys and emailed with them back and forth confirming everything was all set and we wouldn't run into any issues. The band received a schedule with times/songs/bridal party names ect. When I got to the reception I was asked for all the information that was already sent to them and then I was told that the they did not know the 3 most important songs I have chosen for the 1st dance, Father/daughter & mother/son dance, the contact clearly stated the band would learn 2 songs for the wedding. At this point i was very disappointed & glad I had a DJ in addition to the band
Indigo 6:
The Client requested a "Reasonable" offer in the original bid. So we cut our asking price by $500. In turn a few options were not available. I have an email here that shows how I explained that they would have to provide the 3 Special Dances on an ipod for us to play thru our system. I also have pictures of a FULL dance Floor & everyone was kindly praising the band after the Wedding ended. The facility manager asked for our cards as he loved the band also. Actually the bride was VERY nice & considerate. This looks like a simple case of mis-communication. The DJ was great to work with and all the songs were played without a hitch. Great Wedding & very nice people.