Back to profile
Sonja Denyse Reviews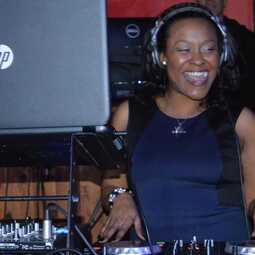 Avg 4.5 | 13 Reviews

DJ from Milford, CT

41 Verified Bookings
Starting at $550 per event
---
13 Reviews for Sonja Denyse
Sort:
Wedding Reception•Reviewed on July 24, 2021•From New Canaan, CT
What can I say...Sonja is a gem! She had me, the bride, LITERALLY dancing on the table with my mother. If that is not a sign of a good party, I don't know what is?! It was an absolute pleasure working with her and she will make sure the dance floor will be full at all times. She really listened to our song wishes and just made sure it was the most fun party you could imagine. Even my 81 year old Dad was tearing up the dance floor almost the entire time. Book her now!
Birthday Party (Adult)•Reviewed on June 5, 2021•From Boston, MA
Sonja was amazing. She kept the party going, made sure my guest had a great time, funny and professional. All my guest love her. I'd book her again in a heart beat.
School Assembly•Reviewed on June 24, 2021•From South Salem, NY
Sonja Denyse is a true professional. Arrived on time and easy to work with. Kids we happy as were adults. Will definitely use her DJ skills again. She had good music and had songs that were requested. Thank you for a wonderful afternoon Sonja Denyse!
Birthday Party (Kids)•Reviewed on September 21, 2018•From Scarsdale, NY
Sonja has awesome energy! She totally got the group of 30 10-year-old girls moving and having a great time. She suggested really fun games that totally got the room energized. She is fun, happy, loves music. Very professional, punctual, spent real time getting to know what we were looking for. She even went out a bought a whole software package and learned how to use it to accommodate our request for karaoke.
Sonja Denyse:
I had so much fun it was MY Pleasure! Feeds my soul to connect with people thru music and good times. Thank you!!!
Corporate Function•Reviewed on December 15, 2016•From Manhattan, NY
Sonja could not have been more professional, accommodating, and fun! I would recommend her for any and all occasions as she caters to all tastes. Many thanks Sonja!
Graduation Party•Reviewed on July 28, 2018•From Piermont, NY
Sonja is great! This is the second event we hired her for.
Halloween Party•Reviewed on October 28, 2016•From South Salem, NY
Sonja was the perfect DJ for our school event! She was so much fun and the kids loved her music and her super positive personality!
Corporate Function•Reviewed on September 23, 2016•From New York City, NY
Sonja made our event awesome and actually performed under pressure like the pro that she is! I would hire her again. Very nice and well prepared.
Community Event•Reviewed on September 16, 2016•From Bethel, CT
Sonja was very professional and was very accommodating to all our guests. She brings and energy with her that is key to being a success. Very personable and was a pleasure to have her here! I would highly recommend her.
Fundraiser•Reviewed on July 10, 2016•From Brooklyn, NY
Sonja was so wonderful! Very talented and energetic, and really brought a spark to the event. She is an excellent DJ and a great person to work with.
Birthday Party (Kids)•Reviewed on November 12, 2016•From West Haven, CT
We were very satisfied with sonja denyse performance the music she played for our daughter is just what my daughter loves to listen to, my daughter wanted certain requested songs to play and without delay sonja denyse handled it very professional and professional equipment. You will not be disappointed from lights to sounds she has it all, we even had our party guest coming up to us and repeatedly asking who is that dj, thanks sonja for giving our daughter this great experience to remember.
Sonja Denyse:
Thank you so much for the kind words! It truly was my pleasure it brings me much joy to see people happy and enjoying themselves, to play a part in such a milestone is an honor. Thanks for having me!
Birthday Party (Kids)•Reviewed on October 20, 2018•From Old Saybrook, CT
Sonja was very nice and energetic on the phone & upon arrival. She set up and then just seemed to be floundering, when I approached her, she told me that she was missing a piece to her microphone (hmm, maybe she could inform me?)after looking for it and now an hour into the party, my MIL offered and went to the local Walmart. She was mediocre. To top it off and what really aggravated me -my mother in law used her own money and time away from her grandson's party & when she approached Sonja for a suggestion on how to get reimbursed, she made a somewhat rude comment, asking if "she should pay her from her tip" I'm disappointed to say that I would not reccomend her.
Sonja Denyse:
My goal, create FUN party memories. My footage and our convo at the end I know that goal was achieved BUT, I Apologize for mishandling your MIL. After completing my set up b4 party started I realized, missing 1of 2, gold tip mic adapter. I had it when I left my house according to checklist. Thanks for helping look, I so appreciated your MIL timing and her help. The mishandle, I was told she would take the part back I said okay, gave you the package. Then she said she didnt want to lie and did I mind buying I said okay the only cash I have is the tip you gave asked did she have change she didnt, the wire purchased w so CC I couldn't return. My sincerest Apologies!
Birthday Party (Adult)•Reviewed on August 14, 2021•From Pleasant Valley, NY
She was fun, engaging, lively, and did a great job weaving music together to create a seamless and fun dance experience! Everyone at the event loved her!