Back to profile
Harpist, Adele Stinson Reviews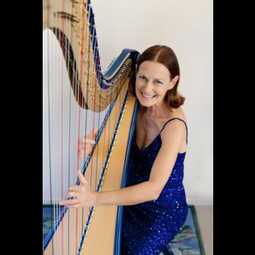 Avg 4.5 | 7 Reviews

Harpist from San Jose, CA

20 Verified Bookings
Starting at $250 per event
---
7 Reviews for Harpist, Adele Stinson
Club Event•Reviewed on September 5, 2020•From Redwood City, CA
Due to Covid-19 restrictions, our event was canceled. Adele was very understanding and gracious in dealing with this situation that was beyond our control. When we are able to reschedule, we will again cotact Adele for our event.
Harpist, Adele Stinson:
Thank you so much, Peggy! I was very sorry also that corona prevented your national music box/player piano groups from having their convention at which I was scheduled to play. I had spent lots of time finding popular and classical songs requested; nature pieces where the harp imitates waterfalls, fountains, rivers, oceans, breezes; figurines showing harps from many countries to supplement my speech on the history, parts, and sounds of a harp; and research on the invention of a "player harp". I hope you'll be able to reschedule your event for another time!
Private Party•Reviewed on June 22, 2019•From Los Gatos, CA
She was a great harpist but was difficult and rude at set up. If you hire her make sure you are prepared to help with set up and take down which we gladly did but would have appreciated if she was more polite when asking for help.
Harpist, Adele Stinson:
I'm very sorry that my harp services did not meet your expectations. I strive to provide exceptional service to my clients and I'm extremely disappointed that this wasn't the case for your event. I arrived exactly on time, played 2 hours with a 5 minute break in 88 degree heat and played a little extra so as not to interrupt a party game. Upon arrival, I pulled down the drive as per directions, then rushed unloading so another car could exit. I wasn't trying to be argumentative when I told 1 of the party planners that I preferred to use my own extension cords, I just knew that they were the right gauge to power my speaker-amp. Similarly, when I asked about the loca
Church Service•Reviewed on December 24, 2013•From Aptos, CA
Adele was prompt, reliable, communicative & thorough. She acted like a pro had wonderful equipment & support. My only tiny suggestion is that she played almost everything very slowly, while relaxing & beautiful, a few songs could have used a slightly faster tempo. But she did play very competently and gracefully otherwise. I would recommend her anytime.
Holiday Party•Reviewed on December 11, 2013•From Los Gatos, CA
We have a great experience, she was very cordial with the kids and a great Harpist. On time and played more than expected.
Memorial Service•Reviewed on January 3, 2013•From San Jose, CA
We can't say enough good things about Ms. Stinson. --She played at our Father's Memorial Service. She selected beautiful soothing pieces which she performed brilliantly. The positive responses that we received from our family and friends were overwhelming. We were also very grateful that Ms. Stinson was so accommodating and flexible. The Priest changed the order and selections for the ceremony at least three different times-- and each time she focused on "making it happen". We would be honored to recommend Ms. Stinson to family and friends. And, when the opportunity arises, I'm sure we will hire her again as well.
Holiday Party•Reviewed on December 19, 2012•From San Jose, CA
Adele was great-- very prompt, professional, and played beautifully.
School Assembly•Reviewed on September 13, 2012•From Los Gatos, CA
Adele did a terrific job mixing playing with explaining the history and makeup of the harp at grade level to our students. She went above and beyond with her props, including her dress with a harp painted on it. She played classical harp music as well as Disney favorites for the kids. She was very organized and animated in her presentation. And she let the kids play the harp at the end, which they all loved. Wonderful job.