Back to profile
John Shore (Stone Castle Magic Co.) Reviews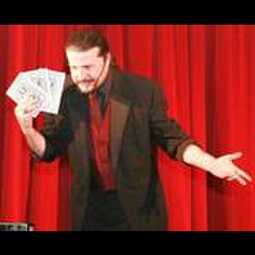 Avg 5.0 | 18 Reviews

Magician from Versailles, KY

22 Verified Bookings
Starting at $350 per event
---
18 Reviews for John Shore (Stone Castle Magic Co.)
Christmas Party•Reviewed on December 20, 2012•From Georgetown, KY
John gave an incredible performance at my company's Christmas party. He was professional throughout all our pre-event conversations and was very easy to work with. Having seen some underwhelming performances at company events in the past, I was a little nervous as to what the quality of this performance would be. From the moment John started working the crowd my fears subsided. He was personable, engaging professional and his skill level was top notch. He really made our party a success and I am very pleased with every aspect of his performance. Highly recommended!
Corporate Function•Reviewed on February 13, 2007•From Lexington, KY
Excellent! John Shore made our corporate dinner meeting an entertaining success! Thank you. Denise
Corporate Function•Reviewed on October 9, 2012•From Cincinnati, OH
John did a great job of gauging the crowd and making sure he performed for everyone at the event. We had him performing close up, strolling illusions which were simple but amazing! He really got the conversations started - which can be tough at a business function. I highly recommend him.
Anniversary Party•Reviewed on July 21, 2012•From Cincinnati, OH
Really made the party everyone loved him
Christmas Party•Reviewed on December 19, 2009•From Lexington, KY
John was a crowd pleaser. Our employees really enjoyed him.
Awards Night Party•Reviewed on December 12, 2007•From Cincinnati, OH
John was there early and ready to go, he worked the crowd nicely with some smaller tricks early in the night, and his show at the end of the night was great! He had some great slight of hand tricks, several card tricks, and some tricks that many of us could not quite figure out at all. He was certainly worth having at our event and I'd recommend him to other groups, organizations, or businesses having parties.
Community Event•Reviewed on January 4, 2007•From Lexington, KY
John has been wonderful to work with. His expertise has added a level of fantasy to our production of Cinderella I had not thought attainable for a high school show. I highly recommend him.
Birthday Party (Adult)•Reviewed on January 12, 2008•From Louisville, KY
John did an outstanding job engaging and entertaining 60 teenagers for my daughter's Sweet 16 party. He provided wandering tricks before an exciting magic show, and continued the night with palm readings. Clusters of teens surrounded him on several ocassions during the event, completely engrossed in his "tricks". He worked extremely well with the DJ on set-up, scheduling, etc. He also did a great job involving my daughter in his performance in front of all her friends. I would highly recommend John Shore for any event, age group or corporate function. Thank you.
Community Event•Reviewed on September 29, 2007•From Lawrenceburg, KY
John Shore performed three outdoor performances for our festival and was very accomodating and easy to work with. He was an excellent perfomer, very professional, friendly, and really drew the crowd into his act. He captivated his audience each time he performed and the crowds got bigger as the day went on. He kept the attention of all ages, both young and old. I would definately recommened John Shore not only as an excellent magician, but also as a great entertainer.
Birthday Party (Kids)•Reviewed on September 13, 2008•From Richmond, KY
My 11 year old son was totally amazed with John. The adults at the party were too!! He has such a great personality along with the magic tricks. He made us laugh and he made us say "Oh my gosh". He was excellent and our son is still talking about him. Thanks again for a wonderful time, and a happy birthday boy. His best birthday ever!! Melony Douglas
Corporate Function•Reviewed on October 18, 2007•From Clarksville, IN
Two things: I was in the hall, ready to call John, he came up to me, shook my hand and said "Hi Anita, John Shore with Stone Castle Magic. You were about to call me". Needless to say I was floored cause we never met and I WAS about to call. He picked someone from the audience saying he had a dream about her & was there a special day, she said no. He was telling a story & tearing some paper up, he crumbled it, unfolded it and put a birthday hat on her head. The wierd part was the night before about 10 of us was celebrating her 60th birthday. ALL 10 of us from the night before was floored - HOW DID HE DO THAT. He will definitely have you wondering all night !
Event•Reviewed on August 25, 2007•From Richmond, IN
Corporate Function•Reviewed on August 31, 2008•From Newport, KY
Several people were disappointed that they were unable to have their palms read. Most complained that the wait was too long, or too much time spent on each individual.
Private Party•Reviewed on December 21, 2007•From Lexington, KY
School Assembly•Reviewed on May 20, 2012•From Louisville, KY
He was wonderful the kids loved him.
Corporate Function•Reviewed on September 3, 2009•From Danville, KY
It was great
Festival•Reviewed on September 27, 2008•From Lawrenceburg, KY
This was John's second year coming to Lawrenceburg for the annual Anderson County Burgoo Festival and as last year he did an excellent job. He has a lot of audience participation and even with the problems with the wind on an outdoor stage he had them spellbound for all 3 performances on Saturday. We would definately recommend John Shore for any event.
Sweet 16 Party•Reviewed on October 23, 2010•From Somerset, KY
The only complaint I had was that he was 30 minutes late. The GPS sent him to the wrong place, which I totally understand, but I would have expected him to call and give me a heads up.