Back to profile
Randy Masters Reviews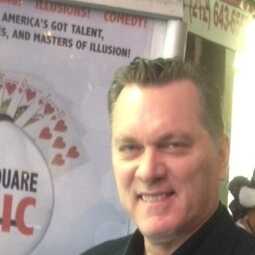 Avg 5.0 | 23 Reviews

Comedy Magician from New York City, NY

54 Verified Bookings
Starting at $200 per event
---
23 Reviews for Randy Masters
Birthday Party (Kids)•Reviewed on September 7, 2013•From New York City, NY
(Had to revise my review bc it was too long and I have nothing but praises for him) Randy performed at my child's birthday party (9/13) and he was great! He arrived early and even when we couldn't start on time, Randy said not to worry even though he had another performance right after mine. The children's ages ranged from 3 to 13 and he kept them entertained the entire time! Each child had an opportunity to assist in the tricks which they loved! Not only were the children entertained, the adults were too! After the party was over, many of our friends complimented Randy and how great he was. If we ever throw another party, we would hire Randy in a heartbeat!
Birthday Party (Kids)•Reviewed on April 25, 2015•From New York City, NY
Randy and his assistant, Angela, engaged all the kids personally and Randy's illusions were amazing. Everyone had a blast. I'd highly recommend Randy for any kid's party or even and adult event. Great!
Birthday Party (Adult)•Reviewed on May 4, 2013•From New York City, NY
Randy was prompt, professional, and most of all fun. We threw together a birthday party for my boyfriend in my cramped NYC apartment with 40 people in attedance, and Randy made the space work perfectly. Everyone enjoyed his performance and couldn't stop talking about how much fun we had. His price was very reasonable and even stayed longer for us. Definitely recommend.
Corporate Function•Reviewed on December 3, 2013•From New York City, NY
Very accommodating, good sense of humour. Great tricks.
Halloween Party•Reviewed on October 30, 2010•From Brooklyn, NY
Randy's show was such a Halloween Birthday highlight! It was such a great time and Im happy that he was the surprise guest! His show was entertaining and soo much fun for everyone at the party. Randy was on time and even stayed longer than expected to continue his show. Randy incorporated the theme of Halloween into his show which added to the evening's excitement.Everyone had a great time and it was a night to remember. The show surpassed my expectations! I recommend his show to anyone that wants an exceptionally entertaining show that goes above and beyond.Professional,pleasant,entertaining and Funny! Looking forward to our next event.Thanks for everything Randy!
Birthday Party (Kids)•Reviewed on December 15, 2012•From Brooklyn, NY
Randy was very professional from beginning to end -- he got back to me quickly and answered all my questions and showed up right on time. When the kids got a bit rambunctious, he took it all in stride and kept them in line while keeping the show moving swiftly along. His magic was amazing. Even the adults were left wondering how he did it! All the kids got to participate and they have been talking about nothing else ever since. Randy was also very funny. The level of sophistication was perfect for the audience of 8- and 9-year-olds, and I would gladly hire him again for children or for adults because we all loved it!
Christmas Party•Reviewed on December 17, 2010•From New York City, NY
we really enjoyed his performance. Lots of fun and a great act.
Birthday Party (Kids)•Reviewed on May 5, 2013•From Brooklyn, NY
Randy performed great despite of the challenges created by 12 year old crowd :)
Sweet 16 Party•Reviewed on July 31, 2010•From Coto de Caza, CA
Randy is an incredible entertainer and such a nice person. We highly recommend him and we will use him again in the future. He made our daughter's Sweet 16 wonderful!!!
Birthday Party (Kids)•Reviewed on June 23, 2012•From Manhattan, NY
We are so happy to have hired Randy and his partner Angela for our son's 5 yr birthday party. Randy was very professional in handling our request from the very beginning. Our party theme was cat-in-the-hat and hoped he could incorporated that theme into his show some way. He actually came dressed in cat-in-the-hat costume. The magic shows were great. Both kids and adults were entertained. Randy was very kids friendly. All the kids got excited with him. Angela is a very talented face painting artist. All the face paintings she made was so beautiful and matched each kid so well. The party was really hilarious. Thanks Randy and Angela!
Celebration•Reviewed on May 7, 2011•From Floral Park, NY
Randy and his assistant were not only professional, but also extremely nice people and a pleasure to work with. They had some space issues to deal with since we had the party in a restaurant and it was very crowded, but they made it work. They were extremely accomodating. They even stayed longer than agreed upon to make sure that every child who wanted a balloon animal received one. I was very happy with the show as well.
Birthday Party (Kids)•Reviewed on June 9, 2011•From New York City, NY
Randy was great with the kids (3-6 year olds), extremely calm and able to deal with their craziness, but very fun---the kids loved him. Lots of involvement with the audience which they also loved. The balloons and facepainting were a hit too. I would definitely recommend Randy Masters to friends.
Birthday Party (Kids)•Reviewed on August 22, 2010•From Pasadena, CA
Thank you for the great performance for my son,Randy! He and us were so happy. I like your magic very much. Especially, escape magic and balloon magic were excellent.
Corporate Function•Reviewed on December 11, 2009•From Long Beach, CA
Randy was great to work with. He was great at communicating before the event and was very accommodating. Everyone really enjoyed his show.
Birthday Party (Adult)•Reviewed on May 8, 2010•From Palmdale, CA
Randy was very friendly and he did a terrific job working with kids and adults alike.
Birthday Party (Kids)•Reviewed on March 28, 2010•From Los Angeles, CA
The first thing I want to say that they were on time. Time is very important and he was on time to the second that we had agreed. They were both very generous and nice to all the kids. They did a wonderfull show. All the kids were really into it. No kid was left behind for the face painting and all kids got to participate in the magic show. I was very pleased. The only thing that some adults were saying I want to leave it as a positive not ass good feed back. The adults were suggesting for the clown to wear a wig.
Birthday Party (Adult)•Reviewed on May 29, 2011•From New York City, NY
Halloween Party•Reviewed on October 30, 2010•From New York City, NY
Bat Mitzvah•Reviewed on November 27, 2010•From Bloomfield, NJ
Birthday Party (Kids)•Reviewed on May 15, 2010•From Palmdale, CA
Graduation Party•Reviewed on June 4, 2010•From Piru, CA
I was very disapointed in Randy's tardiness. He was 1:15 min late arriving for the event.He was scheduled to arrive @ 6:30 he did not arrive till 7:45. I had other venders that had no problem finding the party and showing up on time. Because of his tardiness I was unable to charge for his services at our FUNDRAISER. He never offered to lower his fee even though the event was half over by the time he made his first balloon, and I personally didn't care for his art. I would Not recommend him for another event.
Randy Masters:
I respectfully disagree. We were actually scheduled to be there at 7:00 pm, not at 6:30 pm as she stated (even my "Past Appearances" box states 7:00 pm). Angela and I were 25 minutes late due to a bad accident on I-5. We called Ms. Baker's cell to explain this, but she didn't answer. We then stayed 35 minutes longer than our required time (to make up for being late). All the kids got balloons & were happy. Then the balance due was $140, but she actually paid us $20 less than what was owed (a check for $120), even though we stayed longer. I would've even waived the $120 if I felt Ms. Baker was unhappy, but she mentioned nothing to me at the event or afterwards.
Birthday Party (Kids)•Reviewed on July 30, 2016•From Greenwich, CT
Amazing time for 13 yr olds and all the adults. Wow!
Birthday Party (Kids)•Reviewed on May 22, 2016•From Brooklyn, NY
Randy was great! He put on a good show and was able to handle a bunch of 8/9 year olds at the same time.