Back to profile
Darryl Ross - Author & Motivational Speaker Reviews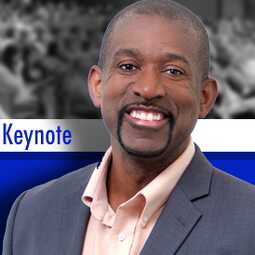 Avg 5.0 | 22 Reviews

Motivational Speaker from Orlando, FL

30 Verified Bookings
Starting at $2,500 per event
---
22 Reviews for Darryl Ross - Author & Motivational Speaker
Corporate Function•Reviewed on December 16, 2021•From Saint Augustine, FL
Darryl was professional and a really compelling speaker! I'd recommend him for any corporate event.
Corporate Function•Reviewed on June 8, 2021•From St Petersburg, FL
What can I say?? Darryl was amazing! He worked with my group to understand exactly our needs prior to the event, and the day of the event he was just over the top! Our group was energized and revitalized after his performance. He understood our employees and what they've been working through this past year and helped them laugh and have some fun and he was just fabulous! I plan to work with him again and again!
Corporate Function•Reviewed on February 18, 2019•From Tampa, FL
Darryl Ross was amazing. He was engaging, energetic, and entertaining. He really was intuitive with the Tampa Bay Way. He did his research of our company to ensure he presented what we were asking for. Before the event, he contacted us several times and returned any communication we sent in a timely manner. Our team loved him and would recommend him for any event you may have.
Corporate Function•Reviewed on March 5, 2019•From Fernandina Beach, FL
Darryl was well received by our attendees. We received all positive feedback. What struck me particularly was the time he took to "personalize" his session to specifically relate to our organization and attendees, rather than just presenting a 'cookie cutter". He was a joy to work with; professional, warm and extremely accommodating. I look forward to working with Darryl again in the near future!
Corporate Function•Reviewed on July 16, 2018•From Charleston, SC
I highly recommend Darryl Ross. His preparation for the event was unparalleled and it showed in his speech. Darryl is a mix of motivational speaking and business training, wrapped in a dynamic personality. Everyone was engaged throughout his time and have since inquired if we can have him present at future events. I am highly satisfied with his performance. Thank you.
Corporate Function•Reviewed on February 23, 2016•From Mulberry, FL
Darryl was wonderful! We worked together prior to the event so that he could learn a little about our company and our leadership's motivation needs. It was obvious that Darryl did his own research prior to the event as he spoke about our stores and our business. He was extremely professional, energetic, and knowledgeable about the topic. Our leaders loved how engaging he was and very approachable. We wanted the session to last all day! I have had employees contacting me all day via email or by just stopping me in the hall to share with me how much they enjoyed Darryl's session. I highly recommend Darryl Ross!!!
Event•Reviewed on December 3, 2014•From Ashburn, VA
Darryl did an outstanding presentation! My company is undergoing a lot of changes this year and he was able to deliver a humorous perspective on managing change. Darryl gave employees new ways to look at and deal with change. I even heard people talking about his presentation days after his visit. His presentation definitely motivates people to alter how they perceive and react to change…I personally did. Thanks Darryl!
Corporate Function•Reviewed on April 21, 2016•From Tampa, FL
Darryl was the perfect speaker after a dull stockholders meeting. He was able to tailor his topics to fit matters relevant to our company. He was also very professional and had a good grasp of management issues. Additionally, and perhaps most importantly, his use of humor help keep everyone's attention and made the evening enjoyable. Keith Appenzeller, CEO King Engineering Associates, Inc.
Corporate Function•Reviewed on January 17, 2018•From Miami, FL
First, I want to say including a speaker in our sales/operations kick off meeting was last minute. I was amazed at how quickly Darryl understood our business and could tailor his presentation to both our industry and what the organization is currently experiencing. He was knowledgeable, energetic and engage everyone throughout the entire presentation. The session was 2 weeks ago and employees are still talking about it and referencing some of the things we learned. We were beyond pleased and cannot wait to work with him again.
Corporate Function•Reviewed on May 29, 2015•From Long Island, NY
Darryl was awesome!! We enjoyed him so much we hope to have him back again soon!!
Event•Reviewed on November 5, 2014•From Germantown, MD
Mr. Ross gave three engaging presentations through cultivating students curiousity, encouraging determination, focus, and hard work to promote social and emotional well being. Look forward to having him visit MCPS in the future!
Club Event•Reviewed on March 10, 2016•From Naples, FL
We were looking for a speaker for our event to have fun with group, give the group a motivational "charge", and give us a new perspective. His presentation was fresh and enlightening and the entire group really enjoyed day! We got exactly what we were looking for!
School Assembly•Reviewed on January 15, 2016•From Brooksville, FL
He was great, kids loved him. I hope to get him into another school here in Hernando County in the future.
Corporate Function•Reviewed on May 25, 2017•From Tampa, FL
Darryl knocked it out of the park! We are a not-for profit leadership development and community service organization. We have been building leaders in the Tampa Bay area for over 30 years and our board needed some fresh leadership ideas at our board retreat. Darryl brought a lot of energy, laughs, and very useful information that our board will use at our programs and in our leadership development of our class members. Darryl, we are grateful for you :)
Event•Reviewed on April 21, 2017•From Orlando, FL
The BEST speaker to date! Funny. Inspirational. Informative.
Corporate Function•Reviewed on May 4, 2016•From Orlando, FL
he was very motivational and kept the crowd interested.
Corporate Function•Reviewed on April 26, 2016•From High Springs, FL
We very much enjoyed having Darryl speak at our event and the feedback I received from the other participants was all very positive. His message hit our target exactly and we feel he was well worth the money. I referred him to another department in our company who is planning their event as this time.
Corporate Function•Reviewed on February 1, 2019•From Saint Petersburg, FL
Darryl brought great energy and humor to our corporate event. He showed up early to get a good understanding of our event and incorporated that information into his presentation. Our members enjoyed his message and really help contribute to the success of our association meeting. I would highly recommend Darryl for anyone's event or company meeting.
Celebration•Reviewed on December 18, 2020•From Washington, DC
Darryl was fantastic he was very engaging and motivated and kept the audience attention the entire time. I would highly recommend him.
Corporate Function•Reviewed on May 23, 2019•From St Petersburg, FL
Darryl is fantastic! Very engaging and energetic. The audience felt like they were being talked with instead of talked to. He engaged the audience appropriately. The room was full of laughter and smiles. Exactly what this group needed. Everyone left very motivated.
Meeting•Reviewed on April 10, 2019•From Clearwater Beach, FL
Our group has not had someone as engaging, interactive and informative as Darryl Ross was as our keynote speaker. Individuals from my group continue to come up to me and tell how great Darryl was. Darryl would definitely get a recommendation from our orginaztions. Thanks!!
Corporate Function•Reviewed on October 11, 2021•From Tampa, FL
Darryl was great! He focused on the topic/material we requested and engaged our group. Our employees were energized by his presentation and are still talking about it. We will definitely use him again. Wonderful presentation.