Back to profile
Le' Mixx Reviews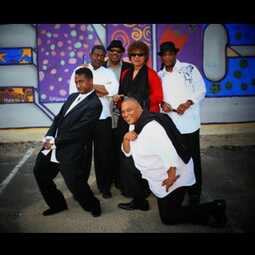 Avg 5.0 | 19 Reviews

Motown Band from Hamden, CT

30 Verified Bookings
Starting at $1,000 per event
---
19 Reviews for Le' Mixx
Birthday Party (Adult)•Reviewed on June 6, 2021•From Branford, CT
I booked Le' Mixx for my husband's 65th birthday party and they were absolutely wonderful!!! What a talented, fun and interactive group of people...a pleasure to work with! All of our guests enjoyed the music and stayed on the dance floor for most of the event (many told me how sore they were the next day because they had danced so much!) They even accommodated our on the spot request to stay longer than the allotted time, as our guests were enjoying themselves so much. I highly recommend Le' Mixx for any event you may be considering. They are true professionals, and I hope to have the opportunity to work with them again in the future. Cheryl H.
Wedding•Reviewed on September 2, 2017•From Milford, CT
Le Mixx did an absolutely incredible job playing our wedding. Our guests were raving about their performance. Le Mixx plays a great mix of Motown, Funk, Soul, and pop hits from timeless artists like Bruno Mars. This is not your typical "canned" wedding band. These guys have soul. They absolutely rock. And they are cool enough to have let me (the groom) jam with them. We could not be happier with their performance. We could not more highly rate this band for your events.
Wedding•Reviewed on June 21, 2015•From Redding, CT
Le Mixx was great! They played music which kept people having fun on the dance floor all night. They also did a great job MC'ing and helping keep the "flow" to our wedding reception going. Thank you Myke!
Wedding Reception•Reviewed on May 9, 2015•From Mystic, CT
Le Mixx is awesome and we would recommend them to anyone. From the first time we contacted Myke to the day of the wedding he was friendly, professional, helpful, and extremely easy to coordinate with. Le Mixx brought the party to our wedding and mastered every song they played. Our guests didn't want to sit down the entire night. We had multiple people tell us they don't like to dance, but couldn't stop. At the end, many of our guests were asking for their information. This is a group of talented musicians who know how to work the crowd. We can't express how our wedding wouldn't have been half of the party it was without them! We can't wait to see them play again!
Bar Mitzvah•Reviewed on March 28, 2015•From Montclair, NJ
Le' Mixx is the real deal -- a band of incredibly talented musicians with a floor-filling repertoire. From the opening medley of Good Times/Rapper's Delight through Blurred Lines, Get Lucky and a host of funk and soul classics, to the Walking on Sunshine finale, our friends were hailing Myke and his crew as the best party band they've ever seen. We danced all night and wouldn't hesitate to see them playing live again if we got the chance. Myke made the planning very easy, helping us pick songs, agree a running order and announce the family as we entered the party. If you're looking for a band to get the party moving to classic funk and soul, your search is over!
Wedding Reception•Reviewed on August 23, 2014•From Boston, MA
Le Mixx played at my wedding reception recently in Boston and rocked the place. We received many compliments on the band and they kept everyone on the dance floor. They were professional, accommodating, and helpful every step of the way. Myke was pleasant to work with and the rest of the band was as well. Would very much recommend to anyone looking for a cool, funky Motown/R&B band or similar genre. They even played some new songs out there that we all enjoyed as well. Thank you for everything Le Mixx!
Fundraiser•Reviewed on November 9, 2013•From Hartford, CT
The musicians of the Motown band are the easiest people to work with. Since the very first contact I felt that Mr. Mike Ross was a great man willing to accommodate my requests. The band was on time, worked with the tight schedule and played the best music from the 80's. For my Brazilian guests, who visited the US for the first time, the Motown Show was a life time experience. They went back to Brazil with a real vision of what the 80's represented to all of us in terms of music. Motown made my event a great event. Thank you!!! Ester Sanches-Naek , Brazilian Cultural Center, President Representative of Brazilians Abroad
Retirement Party•Reviewed on November 3, 2013•From Long Island, NY
Le Mixx, made my mom's retirement party, the talk of the town! They were punctual, professional, reasonably priced, courteous and completely rocked the house! There were a few music teachers in attendance that moonlight in various bands and they all were super impressed! We all danced until our feet hurt! I am planning to use them again as soon as I can come up with a reason to have another party. Le Mixx, job we'll done!
Wedding•Reviewed on August 31, 2013•From Long Island City, NY
Le Mixx played at our wedding on August 31st and they were fantastic!Myke kept in touch with us and offered to learn three songs (and he even threw in an extra one). The playlist they have is phenominal, and its a nice touch that they learn songs specially for the couple. Le Mixx sounded amazing and the evening felt like a concert. Even let my husband sit in and drum with them for a song, what a great moment! They followed the energy of the crowd all night. Each guest said how great the band was. We only wish the night could have lasted longer. We will definitely be making the trip to CT to see a few shows, they are too good not to.
Wedding Reception•Reviewed on July 12, 2013•From Niantic, CT
We couldn't be happier with the great job that Le' Mixx did performing at our recent wedding! They had everyone up and dancing the whole night and they were professional and accommodating! We highly recommend them- very talented and fun! Thanks so much!
Wedding Reception•Reviewed on June 29, 2013•From Wilmington, VT
We saw LeMixx at a friends wedding in the Catskills two years ago and took their card then for our wedding and we weren't even engaged. We just had them come to Vermont for an outdoor wedding and it was amazing. Almost all the guests came up to us that night saying it was the most fun they've ever had at a wedding and we're raving about the band....We danced from the beginning to the end...FULL DANCEFLOOR, and SO MUCH FUN!!! I love these guys so much...it was an honor to have them play at our wedding. Thank you LeMixx...You totally rocked it!!!! My voice is still raspy, from singing all night long!! XOXOXOX
Wedding Reception•Reviewed on September 15, 2012•From New Paltz, NY
Not only did they learn the songs we requested, but they killed them. All of our guests were out of their seats dancing, and the selection of songs they picked were perfect. They really read the vibe of the room and played the set according to what our guests were in to. All of the musicians are professionals and each member really is essential for the full Le Mixx experience. I would recommend them for any wedding, party, or just go see them when they perform live gigs. Really, truly happy I found this band. Thank you!!!!
Celebration•Reviewed on September 2, 2012•From Hauppauge, NY
The Band was more than great. A goup of very talented musicians who played exactly what I wanted for my surprise wedding event. They kept it mellow during our cocktail hjour and turned it up during the rest of the evening. Everyone was extemely cordial..Great voices, great musicians. Got more than my money's worth in my opinion. Drew
Wedding Reception•Reviewed on May 12, 2012•From New Haven, CT
Amazing simply put! We had a wedding party of 100 or so from around the country and they kept the floor packed! Within 20 seconds of starting their first song they literally had 80% of the wedding on the floor! They were extremely professional, friendly and very accommodating to exactly the genres of music we wanted played. They even learned 4-5 songs for us! We got feedback all night and still are wondering where we found this killer band. Great job guys, you really made the wedding! Also, I must say they were pros at guiding the music as the evening went on, knowing when to kick up the upbeat toons and when to take it slow. Great great job!
Wedding Reception•Reviewed on October 15, 2011•From Big Indian, NY
Le Mixx is an extraordinarily talented group of musicians. Our guests danced from the first song to the last. My mother was dancing on her chair! Perhaps my favorite moment was when the keyboardist got down from the stage and sang "Just My Imagination" to my father and me. Incredible! Myke Ross, bandleader, was professional and accommodating from the first phone call to checking in after the last song. Our guests can't stop talking about what an incredible time they had on the dance floor. If you want your guests boogieing all night and raving about your special event, don't hesitate! Hire Le Mixx!!!
Wedding Reception•Reviewed on June 11, 2011•From Mashpee, MA
Le Mixx are truly awesome. Easy going guys, great to deal with, versatile, adaptable, excellent musicians, and great attitude. We hired them for our wedding and couldn't be happier. We also got a HUGE amount of complements on the band. They were great about playing tunes through their PA, about when to play and what type of music to play, and their sound is fantastic. I'd hire them again for any other event and happily recommend them to any of my friends needing a bangin band. Myke and the crew are outstanding.
Fundraiser•Reviewed on February 12, 2011•From Painted Post, NY
Amazing! This is a fantastic group of performer/musicians. They play everything well. LeMixx brings the party! Excellent control of the sound, the vibe, the event! Four months later, people are still taking about how LeMixx turned out our charity ball. Simply the best! Although the GigMaster page captures the offering, it does not do the group justice. You have to be at the venue to experience the joy, the fun, the "dance till you drop" music of LeMixx. We plan to have them again! Our customers have demanded their return!!!!
Dinner Dance•Reviewed on June 11, 2010•From Hartford, CT
Le Mixx band leader was especially great to work with. The Gala attendees danced the night away, and the event planners expressed that they would hire the band again.
Private Party•Reviewed on June 5, 2010•From Newport, RI
This band is phenomenal! Le Mixx played for my wedding celebration and exceeded all expectations for professionalism, talent and support. Myke, the band leader, was amazing. He was in touch with me early and often to make sure everything was coordinated. The band even learned two songs for us and let us pick from a wide range of party favorites, from Sinatra to the Stones to Prince. Our guests raved about Le Mixx - they had the dance floor packed! Le Mixx played a cocktail hour then two sets that blew the roof of the place. I'm only sad the fun is over! My wife and I (and all our guests) will have happy memories of that night because Le Mixx was there.