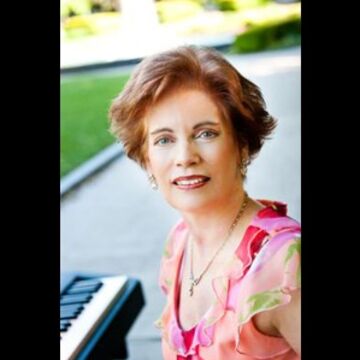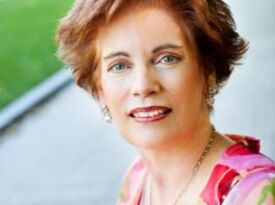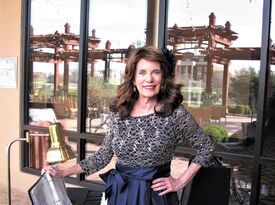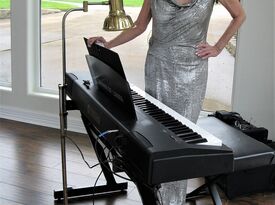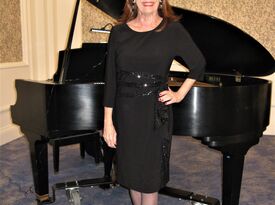 About Vendor
Learn more about this vendor for your event.
If you are looking for a very "special" award winning pianist in the Dallas/Fort Worth area with a "great" extensive repertoire, you have come to the right place. SOUNDS OF LAURA has won the 2018 COUPLES' CHOICE AWARDS from Wedding Wire Network. This latest Award is in addition to Awards from Wedding Wire 6 years in a row: 2010, 2011, 2012, 2013, 2014 & 2015. Awards are for excellence in quality, service, responsiveness, and professionalism. Laura provides top-quality live piano music for Wedding Ceremonies, Receptions, Corporate Events, Grand Openings, Parties (Christmas, Birthday, Anniversaries, Retirement, Children's Parties, etc.) She can provide her own 88 key electric, Yamaha piano & sound system. She further customizes the sound to fit the song style & genre of the music played. The result is a rich, beautiful, unique sound appropriate for many venues. This creative, customizing of sound on her Yamaha Piano has set her apart from most pianists in the Dallas/Fort Worth Area. No other pianist is doing this type of creative work on their portable pianos. And to make things even better, Laura plays on an 88 key piano, not a keyboard. A keyboard only has 66 keys or less, and does not give an artist full range of the treble and bass. Being trained Classically, having full range of the treble and bass is "Very" important to Laura. Traveling to 62 different towns, and cities across Texas, Laura has played both Traditional & Non-Traditional Weddings; both Indoor & Outdoor Weddings are all within this talented pianist expertise. The words of past & present clients best express what you will hear when you listen to SOUNDS OF LAURA: "Awesome," "Beautiful," "Romantic," "Elegant," "Amazing," "Unique", "Wonderful," "Flawless," "Spectacular," and simply "Gorgeous." Laura's broad repertoire of over 500 pieces of music enables her to create whatever mood or theme you are wanting for your special occasion. Song styles range from the 20's through the Contemporary Sounds of Today. Genres include: CLASSICAL, BROADWAY/FILM, POPULAR STANDARDS, FOLK, CLASSIC ROCK, POP, OLDIES, JAZZ, NEW AGE, RAGTIME, DIXIELAND/JAZZ, ALTERNATIVE ROCK, R&B, EASY LISTENING, COUNTRY, CONTEMPORARY, RELIGIOUS, GOTHIC, CHILDREN'S MUSIC, and WORLD MUSIC (including Russian, French, Italian, Indian, German, Asian, Indian, Hungarian, Spanish etc.) Laura's versatility in genres & decades makes her ideally suitable for many venues: Conventions, Luncheons & Dinners (as background,) & Fundraisers, etc. Coffee Houses, Restaurants, Retirement Communities, Hotels are also part of Laura's broad experience. In addition, she welcomes new venues. Sounds of Laura can also provide a vocalist. She often accompanies her husband, T.J. Winner of 2010 BRIDE'S CHOICE AWARD from WeddingWire Network for excellence in quality, service, responsiveness, and professionalism. Winner of 2011 BRIDE'S CHOICE AWARD from WeddingWire Network. Winner of 2012 BRIDE'S CHOICE AWARD from WeddingWire Network. Winner of 2013 BRIDE'S CHOICE AWARD from WeddingWire Network. Winner of 2014 AWARD from WeddingWire Network. Winner of 2015 AWARD from WeddingWire Network. Named to 2011 & 2012 WEDDING PROFESSIONAL HOT LIST from Momentville. Winner of 2018 COUPLES' CHOICE AWARDS from WeddingWire Network Sounds of Laura has published 10 music/videos on You Tube. The best way to access some of these wonderful videos is to go to her website titled SOUNDS OF LAURA. The videos are listed at the top of the HOME PAGE. In all her music/videos, Laura does both the music and the photography. They are very Unique.
Services
View a list of services offered by this vendor.
Reviews
Check out these verified reviews from bookings on The Bash.
Wedding Ceremony•Reviewed on May 26, 2018•From Fort Worth, TX
Laura was amazing when she performed at my wedding! I waited until the last minute to book music for my ceremony and she met with me around my schedule, suggested beautiful songs, and sounded amazing! Not to mention she went out of her way to visit my venue a few days before the wedding to make sure her set up would work with my venue, before I even officially booked her! She also picked out an adorable dress to match my wedding colors and is just a genuinely sweet person! Thank you Laura for making our special day sound amazing and a lot less stressful! -Cassie Marquez Arballo
Laura Cummings:
Thank you so much Cassie for leaving this review on Gig Masters. I really appreciate it. It was an honor to play your wedding. Laura Cummings
Wedding•Reviewed on August 4, 2018•From Fort Worth, TX
Laura is very kind and accommodating and the music was beautiful.
Private Party•Reviewed on December 16, 2017•From Dallas, TX
Laura played at my husband and I's Christmas housewarming party with friends and family, and her beautiful music really made the party so festive the guests loved it! She arrived early to set up which was very professional and was so accommodating with special requests including doing a Christmas singalong at the end of the night! Thank you Laura!
Laura Cummings:
Hello Diana, I am so glad that everyone was happy with the music. Your review is greatly appreciated. Thank you. Laura Cummings Sounds of Laura
Awards & Badges
See why this vendor is top rated on The Bash.
Song List
Get a feel for the songs performed by this vendor. Contact them directly for special requests.
MIXED GENRES FOLLOWED BY CLASSICAL MUSIC
Don't Cry For Me Argentina
Ramona fr. the 20's Silent Movie "Romona

Unforgettable

| Irving Gordon

Diane fr. "Seventh Heaven"

| Silent Movie, 20's

Feather Theme fr. "Forrest Gump"

| Silvestri

Stranger on the Shore

| Acker Bilk

Do You Know Where Your Going To?

| Goffin & Masser

Come What May fr. "Moulin Rouge"

| Baerwald

Intermezzo fr."Intermesso"

| Provost

Laura fr. the movie "Laura"

| David Raksin

Honey; an oldy

| Hit for Rudy Vallee

Sunrise, Sunset from "Fiddler"

| Jerry Bock

The Impossible Dream fr. "Man of La Mancha"

| Darion & Leigh

Where Do I Begin fr. "Love Story"

| Sigman & Lai

What a Wonderful World

| Weiss & Thiele
CLASSICAL MUSIC FOLLOWED BY MORE MIXED GENRES:

Rondo Alla Turca

| Mozart

My Heart at Thy Sweet Voice

| Saens

Romance

| Rubinstein

Waltz fr. The Serenade for Strings

| Tchaikovsky

Prelude 1 in C Major

| Bach

Emperor Waltz

| Strauss Jr.

La Donna e Mobile

| Verdi

None But the Lonely

| Tchaikovsky

Cannon in D

| Pachelbel

Clair de Lune

| Debussy

Prelude in A Major

| Chopin

Ave Maria & Serenade

| Schubert/Schubert

Moonlight Sonata

| Beethoven

Fur Elise

| Beethoven

Romanze

| Beethoven

Valse Lente/Musetta's Waltz (Medley)

| Delibes

On Wings of Song

| Mendelssohn

Piano Concerto No. 1

| Tschaikowsky

Once Upon A Dream (adapted by..

| Tschaikowsky

Waltz of the Lilac Fairy

| Tschaikowsky

Excerpt from Prince Igor

| Borodin

Morning Song

| Grieg

Wedding March from "Lohengrin"

| Wagner

Wedding March from "A Midsummer's Night Dream"

| Mendelssohn

Minuet

| Bach

Jesu, Joy of Man's Desiring

| Bach

Andante

| Cluck

Humoresque

| Devorak

Largo from "The New World"

| Devorak

Melody

| Schumann

Theme from 'Water Music'

| Handel

Dance of the Hours

| Ponchielli

Viennese Waltzs

| Lanner, Strauss Jr., & Lehar

Promenade (fr. "Pictures at An Exhibition"

| Mussorgsky

Spring

| Vivaldi

Symphonic Theme & Theme fr. Liebestraume/Medley

| Beethoven

Rhapsody on A Theme by Paganini Variation XVIII

| Rockmanioff

Air on the G String/Arioso (Medley)

| Bach

Theme from Finlandia

| Sibelius

Hallelujah Chorus

| Handel

Ode to Joy

| Beethoven

Pathetique Sonata

| Beethoven

The Swan

| Saens

You Belong to Me

| King, Stewart, & Price

Vilia fr. "The Merry Widow"

| Lehar

Memory from "Cats"

| Webber

Misty

| Garner

Fly Me to The Moon

| Howard

What'll I Do

| Berlin

Castle On a Cloud from "Les Miserables"

| Kretzmer & Schonberg

Send In The Clowns from " A Little Night Music"

| Sondheim

Try To Remember

| Schmidt

Moon River

| Mancini

UnChained Melody

| North

A Whole New World from "Aladdin"

| Menken & Rice

When You Wish Upon a Star from "Pinocchio"

| Washington & Harline

You're Still You

| Thompson & Morricone

Love Me Tender

| Presley & Matton

Always

| Berlin

Take My Breath Away from "Top Gun"

| Moroder & Whitlock

All My Life

| Bennett & Hailey

My Favorite Things & Edelweiss Medley from "Sound of Music"

| Rogers & Hammerstein

Santa Lucia

| Neopolitan Song

New York, New York

| Kander

Angel Eyes

| Jim Brickman

A Taste Of Honey

| Marlow & Scott

If We Only Have Love

| Jacques Brel

One Night

| Bartholomew & King; performed by Elvis

To All The Girls I've Loved Before

| David & Hammond performed by W. Nelson

Bella Notte

| Lee & Burke

What's Love Got To Do With It

| Britten

La Vie En Rose

| Louiguy

Today

| John Denver

So This is Love from "Cinderella"

| Hoffman & Livingston

Roses are Red My Love

| Byron & Evans

Lollipops and Roses

| Velona

Cara Mia

| Trapani & Lange

Star Dust

| Parish & Carmichael

I'ts Impossible

| Manzanero & Wayne

Fascination

| Marchetti

I Left My Heart In San Francisco

| Cross & Cory

Volare

| Modugno

Only You

| Ram & Rand

Vaya Con Dios

| Russell, James, & Pepper

What"ll I Do

| Berlin

If You Go Away

| Jacques Brel

Autumn Leaves

| Prevert & Kosma

Smile from "Modern Times"

| Chaplin
My Heart Will Go On fr. "Titanic"

Young Love

| Joyner & Cartey

The Rose

| McBroom

What Are You Doing The Rest Of My Life

| Legrand

Mr Lucky

| Mancini

Piano Man

| Billy Joel

Scarlet Ribbons/Classic Country

| Segal & Danzig

Peg O' My Heart

| Fisher

Music of the Night/All I Ask of You/Medley

| Webber

P.S. I Love You & Something

| Beatles

The Entertainer

| Scott Joplin

Jean from "The Prime of Miss Jean Brodie"

| Rod McKuen

Scarborough Fair

| 16th Century English Folk Song

Where Have All The Flowers Gone?

| Seeger

Dust In The Wind

| Livgren

Tonight, I Celebrate My Love fr. "Beauty and the Beast"

| Masser & Goffin

Great Balls of Fire

| Jerry Lee Lewis

Hoppipolla

| Rues

I Want You, I Need You, I Love You

| Elvis

If I Fell

| Beatles

Let It Be Me

| Beatles

Forever and For Always

| Twain
Making Memories of Us

The First Time Ever I Saw Your Face

| Flack

The Way of Love

| Cher

You Are My Sunshine

| Davis & Mitchell

When You Tell Me That You Love Me

| Stevie Wonder

You and I

| Stevie Wonder

Something

| Beatles

In A Simple Way I Love You

| Ford

Yesterday

| Beatles

I Want to Hold Your Hand

| Beatles

All You Need Is Love

| Beatles

Can You Feel the Love Tonight

| Elton John

They Long to Be (Close to You)

| Carpenters

More

| Ortolani & Oliviero

Charade

| Mancini

The Shadow of Your Smile

| Mandel

I Will Wait For You

| LeGrand

Al Di La

| Donida

Dear Heart

| Mancini

The Days of Wine and Roses

| Mancini

Ebb Tide

| Maxwell

The Wind Benneath My Wings

| Henly & Silbar

Beauty and the Beast

| Ashman & Menken

O Sole Mio

| Capua

Music of the Night/All I Ask (Medley)

| Webber

Once Upon a Dream fr. "Jekyel & Hyde"

| Wildhorn & Bricusse

Somewhere In Time

| Barry

The Notebook

| Zigman

WaterMark

| Enya

Only Time

| Enya

Wonderful Tonight

| Eric Clapton
Diane fr. 20's Silent Movie

April Love

| Fain

Sayonara

| Berlin

Evangeline

| Jolson & Rose

Tammy

| Livingston & Evans

My Funny Valentine

| Hart & Rogers

Gigi

| Lerner & Loewe

Somewhere My Love

| Jarre

As Time Goes By

| Hupfeld

The Sweetheart Tree from "The Great Race"

| Mancini

Looking Through the Eyes of Love from "Ice Castles"

| Hamlisch

Evergreen

| Striesand
Separate Lives from "White Nights"

Speak Softly Love from "The Godfather"

| Kusik & Rota

It's Easy To Say from "10"

| Mancini

The Way We Were

| Hamlisch

Paper Roses

| Torre & Spielman

You'll Be In My Heart fr. "Tarzan"

| Phil Collins
Come Back to Sorento

Theme fr. "Romeo & Juliet"

| Rota

Here Comes My Baby

| Classic Country/Eddy Arnold

All I Have to Do Is Dream

| Classic Country

Release Me

| Classic Country/Humperdinck

Make the World To Away

| Classic Country/Eddy Arnold

Crazy

| Classic Country/words & music by Willie Nelson

Three Coins In The Fountain

| Jule Styne
Believer

Can't Help Falling In Love from "Blue Hawaii"

| Weiss, Peretti, & Creatore performed by Elvis

Getting to Know You from "The King and I"

| Rogers and Hammerstein

Angela (Theme from "Taxi")

| Bob James
CHRISTMAS MUSIC FOLLOWS
White Christmas
Mary's Lullaby
Winter Wonderland
The First Noel
We Three Kings O Orient Are
Away In a Manger
Little Town of Bethelem
Let It Snow, Let It Snow
Silver Bells
O Holy Night
Silent Night
The Christmas Song
Believe from "Polar Express"
Joy to The World
O Christmas Tree
We Wish You A Merry Christmas
Greensleeves
I Saw Three Ships
God Rest Ye Merry Gentlemen
I'll Be Home For Christmas
Christmas Carol/Distant Bells (Medley)
O Come, O Come, Immanuel
The Night Was Cold
Hark! the Herald Angels Sing
Jingle Bells
Deck The Halls
Lullay, Thou Little Tiny Child
Home For The Holidays
It Came Upon the Midnight Clear
See How The Night Arrives
Bright Star of Christmas
Oh Come, All Ye Faithful
Rudolph The Red-Nosed Reindeer
The Chipmunk Song
Santa Claus is Comin to Town
Many More CHRISTMAS PIECES
RELIGIOUS/SACRED & SECULAR

I Believe

| Drake, Graham, Shirl, & Stillman

How Beautiful

| Twila Paris

Amazing Grace

| John Newton

Angels Watching

| Arr. by Tim O'Neill

Parents Prayer

| Greg Davis

Morning Has Broken

| Traditional Gaelic

The Prayer

| Sager & Foster

You Raise Me Up

| Josh Groban

The Lord's Prayer

| Malotte

Come, Thow Fount of Every Blessing

| Wetzler

To Where You Are

| Marx & Thompson

All Through The Night

| David Owen

How Great Thow Art

| Bach

He Reigns

| Newsboys

A Mighty Fortress Is Our God

| Martin Luther

Bless The Broken Road

| Rascal Flatts

A Song For The Virgin Mary

| Traditional
Calendar
We recommend that you contact the vendor to confirm that the event date is open.
• : Booked Events
Choose the Date of Your Event
Date Selected: 6/29/2022
Booked Events
: The Bash Verified Bookings
Upcoming Events
No upcoming events
Past Events
December 24, 2020 • 
Private Christmas Party
December 19, 2020 • 
Colonial Country Club
December 1, 2020 • 
Wedding Ceremony - Marty Leonard Community Chapel
November 26, 2020 • 
Thanksgiving Brunch - Trophy Club Country Club
November 6, 2020 • 
Wedding Ceremony - Hidden Gardens Venue
October 24, 2020 • 
Wedding Ceremony - Marty Leonard Community Chapel
October 24, 2020 • 
Wedding Marty Leonard Community Chapel
October 23, 2020 • 
Wedding Marty Leonard Community Chapel
October 23, 2020 • 
Colonial Country Club
October 23, 2020 • 
Wedding Ceremony - Marty Leonard Community Chapel
October 23, 2020 • 
Wedding Marty Leonard Community Chapel
September 3, 2020 • 
Wedding Ceremony - Marty Leonard Community Chapel