Back to profile
Trilogy Reviews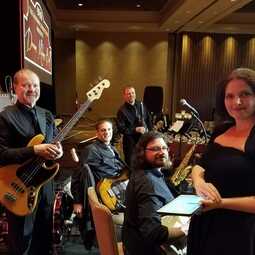 Avg 5.0 | 23 Reviews

Variety Band from Taylor, MI

44 Verified Bookings
Starting at $1,500 per event
---
23 Reviews for Trilogy
Sort:
Wedding•Reviewed on July 6, 2013•From Petoskey, MI
They were incredible!! They sounded perfect for the ceremony and reception, and they were very accommodating and helpful working with me - I was a little late figuring out the ceremony music and they were very patient and helpful. Several of our guests told us the wedding was amazing and that was in large part because of Trilogy! AMAZING BAND!!!
Wedding Reception•Reviewed on September 29, 2012•From Lake Orion, MI
Trilogy was excellent and I could not be more pleased with having had them play as the entertainment at my wedding. I highly recommend them as performers and as professionals. They are a good band that gets the crowded excited, were easily the most professional band we dealt with, it was easy to communicate with them, they lived up to what they said they would do and made the wedding really fun. I did not have to worry about checking up on them because they are good at putting their customers at ease. Their work shown on the website is helpful and is representative of how well they perform in person. I highly recommend Triolgy and would use them again
Wedding Reception•Reviewed on July 10, 2010•From Detroit, MI
We booked Trilogy for our wedding at the Detroit Athletic Club. They were excellent to work with and come highly recommended. My emails and calls were responded to immediately. The entertainment provided was wonderful as well. We chose to go with classic hits, Motown etc. They also DJ newer songs on their short breaks which was great. A lot of bridesmaids became extremely interactive with the band as the night went on and they were very welcoming and fun with that aspect as well. Again, I would highly recommend Trilogy!!
Wedding Reception•Reviewed on April 9, 2010•From Sterling Heights, MI
Trilogy went above and beyond to make our special day remarkably special for us. Everyone at our wedding raved about the band and how they were able to entertain all walks of life. We had people from another wedding poking their heads in and grooving to their music outside the doors-- even the wait staff at our venue said they had never heard a band as good as Trilogy. Fabulous guys, extremely friendly, very talented- they were fabulous! Thank you, Trilogy, for making our wedding a huge hit!
Wedding Reception•Reviewed on July 4, 2010•From Toledo, OH
We hired Triology for our wedding and it was one of the best decisions we made. The band was amazing! The dinner music was extremely well done and not too loud so that our guests were able to carry on a conversation. After the meal the band got everyone involved by handing out tambourines and cowbells to the crowd and playing the music we had hoped for ('80s and oldies). We have received countless compliments on the band from friends and family. We are trying to come up with another reason for a party just so we can hire Trilogy again!
Graduation Party•Reviewed on June 29, 2008•From Bay City, MI
I can't say enough good things about this band. People thought the D J was playing CD ,music when they first started they sounded so good. The Guy's were wonderful one of the best bands I've ever heard.Thank you so much for making my daughters party a hugh success.
Festival•Reviewed on September 27, 2008•From Ovid, MI
Ovid Carriage Days could not have choosen a better group to use this weekend. They really focus on the crowd and for the size community we are, you would have thought they had 1o,ooo people in the stands. Without ever saying a thing about what type of music we like, they had no problem pleasing the croud. We have had plenty of great talent at this festival but, their is no question in my mind that this group shoots right to the top of Ovid`s list. They definately will play in our festival again. P.S. Thank you for giving one of our residents a feel of his dream.
Birthday Party (Adult)•Reviewed on August 13, 2011•From Dublin, OH
Trilogy was a pleasure to work with. Everyone that attended my husband's 40th Birthday party reported loving the band. They have exceptional talent and appear very concerned about the audience enjoying the music! As we live in Columbus Ohio = Buckeye Nation, we were very impressed the Michigan based band did Hang on Sloopy for us! We loved it! I would highly recommend Trilogy if you want an excellent band sure to please at your event!
Wedding Reception•Reviewed on June 26, 2010•From Detroit, MI
Trilogy was awesome!!! They did a great job playing, and keeping the party going all night long. Only reservation was the bride and groom had to provide the songs for special dances/ key events and requested music in between sets. This is a very talented group however, with the know how to keep the event running smoothly and fun. Overall, we'd both highly recommend this band for your next event with the one minor reservation.
Event•Reviewed on April 25, 2011•From Lansing, MI
The Triology Band was very accomodating to us because we had to change the date as well as the venue and they came through for us and gave us a great performance on Sat. 4/30/11 MaryAnn Daniels QM The Red Hat Buzy Beez
Birthday Party (Adult)•Reviewed on March 5, 2011•From Novi, MI
Trilogy was GREAT! Our friends loved them, great music, great musicians and an all around great time for all! Thanks for getting my husband to sing - he loves singing with musicians and was unusually shy that night - must have been overwhelmed by the surprise party.
Wedding Reception•Reviewed on October 23, 2010•From Findley Lake, NY
They were amazing!! Everyone had a terrific time
Wedding Reception•Reviewed on July 28, 2012•From Grand Rapids, MI
These guys were great...very professional. They have clearly done hundreds of weddings, and the fact that they knew the routine gave us a real sense of calm and trust. Though we were late in getting them information regarding the specifics of our ceremony they easily assimilated the information and pulled everything together. Also, I've seen some cheesy wedding bands in my time. The members of Trilogy were completely classy and fit well in a formal country club. They played jazz during dinner, dance music later, and having the use of their sound system during our ceremony and later for toasts meant one less vendor with whom to coordinate. A+++
Birthday Party (Adult)•Reviewed on July 8, 2012•From Toledo, OH
We enjoyed the Trilogy band that played at our 7/08 Birthday party. The performance was enjoyed by all. The music enticed our party goers to get up on their feet. We would recommend them highly.
Wedding•Reviewed on May 16, 2009•From Ypsilanti, MI
Trilogy were very very good! Very accommodating, learned a lot of songs specifically for this event. They did not have an issue of being too loud, which is very common with live bands. They catered to all guests interests and knew just what songs to keep things hopping! An amazing band with great talent.
Wedding Reception•Reviewed on May 25, 2019•From Bowling Green, OH
These guys are accomplished musicians who run a professional business, and have a huge repertoire. They rocked the house and my guests and I had a blast dancing the night away with them!! I can't recommend them enough!!
Corporate Function•Reviewed on July 29, 2018•From Clarkston, MI
We had this band play at our company event, they were wonderful to listen to and I would definitely hire them again in the future. They played a variety of music with a little bit of everything for everyone to enjoy.
Corporate Function•Reviewed on May 11, 2018•From Auburn, IN
Arrived on time, set-up quickly and our crowd really loved them. Great value.
Wedding Reception•Reviewed on October 13, 2017•From Troy, MI
Trilogy Band was unbelievable from start to finish! We were invited to a rehearsal session at which they not only previewed the songs and styles they could provide, but took the time to know us on a personal level. During the planning process, they were completely open to requests and were always available to answer questions. At the event, they were totally professional and were genuinely happy to have some of our musician friends and family participate on stage. Trilogy Band obviously loves what they do and it showed from the first moment we met them to the final song of the reception. Most common phrase "best wedding ever! The band was awesome" Thank you Trilogy!
Wedding Reception•Reviewed on October 21, 2017•From Detroit, MI
Tim is friendly and professional. He always got back with me quickly and was willing to come up with a playlist that my daughter loved for her wedding. Their sound is superb. I would highly recommend.
Wedding Reception•Reviewed on August 19, 2017•From Port Clinton, OH
Amazing band that truly made the reception a success!! When you have your guests coming up to you all night long asking...where did you get these guys is the highest compliment! They were tight all night and have an excellent playlist that kept our guests out on the floor all night long and everyone stayed right up to the end :)
Wedding•Reviewed on June 20, 2015•From Clinton Township, MI
Trilogy was absolutely amazing. I can't tell you how many compliments we received on the music. The dance floor was packed all night long! They are so talented. Their professionalism and friendliness was unbeatable. I would recommend Trilogy to everyone that I know! Thank you so much for making our wedding reception so amazing!
Trilogy:
Thank you so much, it was truly a wonderful evening and we had so much fun with you both, your families & friends. We wish you the best life has to offer!
Wedding Reception•Reviewed on September 20, 2014•From Windsor, ON
Trilogy went above and beyond our expectations! Trilogy provided live jazz for dinner, live dance music and photobooth. Our guests are still raving about how wonderful everything was. The music was seamless from song to song. Dinner music set the mood and the volume was perfect to have conversations at the tables. The dance floor was packed from start to finish! The photobooth was a crowd pleaser; lined up all night. Picture quality was great and we received a DVD to print a copy for ourselves. All the band members were lovely to work with, accommodating, detail oriented, made the night perfect, leaving no details for us to worry about. Recommend Trilogy to anyone.