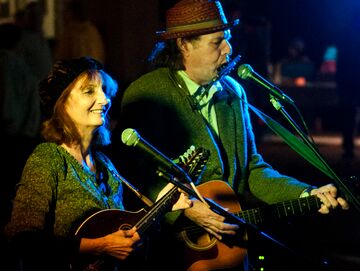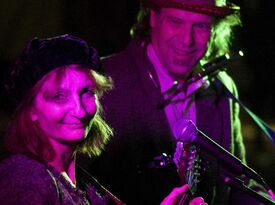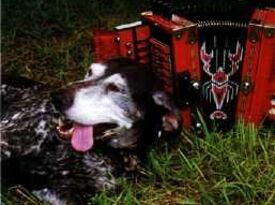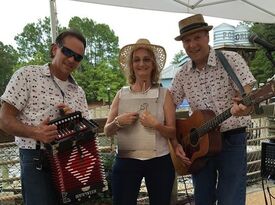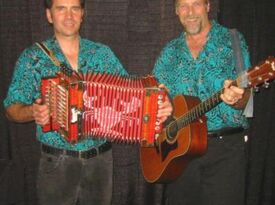 About Vendor
Learn more about this vendor for your event.
I'm Andy -- I play guitar and harmonica and sing; Sara plays mandolin and helps sing; we add other musicians as desired or needed. Specialties: 1950s-'80s 'oldies;' folk, bluegrass, skiffle, and classic country; Irish and Celtic; authentic Louisiana Cajun and zydeco and New Orleans pop (since 1992!); Christmas music; and childrens and family music and comedy. Among the many places we've performed: repeat performances or long-term engagements at Walt Disney World and Universal Studios Orlando; daily at the Florida State Fair (Tampa) 9 of the past 18 years; South Florida Fair (3 years); multiple days annually (15+ years) at the Iron Horse Saloon in Daytona during Bike Week and Biketoberfest. We've had repeat multi-day performances at Cypress Gardens, Silver Springs, The Villages, Busch Gardens Tampa, and at many, many community events and festivals, weddings, picnics, and house parties. As performers, we love doing what we do. We're easy to work with, we like to help everyone have a good time, and we don't take ourselves too seriously. We're fully equipped with professional sound and lights (as little or as much as needed) and we're very volume-conscious -- we believe your guests shouldn't have to SHOUT in order to speak with each other. Costume can be important in helping set the theme for events. We wear special outfits (when desired) for Mardi Gras, Swamp theme, Country/Western, Farmer, Hillbilly, Bluegrass, Pirate, Irish, and Christmas. Please read our reviews!
Services
View a list of services offered by this vendor.
Reviews
Check out these verified reviews from bookings on The Bash.
Wedding Reception•Reviewed on March 12, 2022•From Oakland, FL
Excellent experience, great to work with while planning, and fantastic music!
Private Party•Reviewed on November 15, 2021•From Tampa, FL
We had a wonderful experience with Andy Burr. They were professional, prompt and helpful with our event. They have their own sound and equipment, which made our evening so easy. Their song selection was full of variety and they accommodated our requests. We throughly enjoyed their folk/ Irish sound.
Corporate Function•Reviewed on August 15, 2019•From Naples, FL
Wonderful evening! Thank you!
Awards & Badges
See why this vendor is top rated on The Bash.
Song List
Get a feel for the songs performed by this vendor. Contact them directly for special requests.
Over 300 songs by

| Various Artists
Cajun
Zydeco
Bluegrass
Country
Southern Rock
Pop Standards
Irish Music
Holiday Music
Blues
1950s-'70s

List doesn't include many of our Irish

| Cajun/zydeco
--SONGS BY DECADE
--1950s
WalkAfterMidnight
USendMe
Goodnight Irene
UnderYourSpellAgain
TruckDrivin'Man
TennWaltz
SeaCruise
ReadyWillin&Able
Pop-a-Top
I CantStopLovinYou
OhLonesomeMe
NoKnowsYouWhen You're down and Out
MyBlueHeaven
MonaLisa
MardiGrasMambo
KansasCity
KeepKnockin
Jambalaya
ImWalkin
HeyGoodLookin
GatorMan
FadedLove
DoinWhatYouWant
Don'tBeCruel
Corinna
ColdColdHeart
Bye-bye-Love
blueberryHill
BlueEyesCryin
BattleOfNewOrleans
AintThat A Shame
--1960s
WhatAWonderfulWorld
Sittin Here In YaYa
TheWeight
TellItLikeItIs
SugarSugar
SolitaryMan
ScarboroughFair
Rockytop
IKnowYouRider
PutYourHeadOnMyShoulder
MightyQuinn
ProdigalSon
ProudMary
It'sNowOrNever
norwegianWood
Ain'tNobody'sBusiness
MustangSally
MyGirl
MrBojangles
MoonRiver
MidnitHour
Lodi
LittleThings
LittleWing
LittleSister
LayLadLay
lastkiss
KnockOnWood
KingOfTheRoad
JustLikeAWoman
I'llBeYourBabyTonight
ICantHelpFallingInLove
Iko Iko
HowSweetItIs
HelloJosephine
GreenRiver
GetTogether
GeorgiaOnMyMind
FolsomPrison
Everybody'sTalkin
DockOfTheBay
cherry cherry
CinnamonGirl
CestLaVie
BringItOnHome
BrnEyedGirl
BornOnTheBayou
BlueBayou
BadMoonRisin
EasyChair
--1970s
Willin
WonderfulTonite
WastedDaysWastedNights
TulsaTime
TupeloHoney
TwoMoreBottlesOfWine
UDontHaveToCallMeDarlin
TequilaSunrise
3rdRateRomance
That'sTheWayLoveGoes
SweetHomeAlabama
TakeThisJob&ShoveIt
Sundown
SonOfASailor
StirItUp
SuchANight
IShotSherriff
SimpleMan
TakeMeToTheRiver
PirateLooksAt40
Paradise
OneLove
OldMan
OnANightLikeThis
NoWomanNoCry
NightMoves
Moondance
Margaritaville
Masquerade
MaggieMay
Magnolia
LoveIsARose
LayDownSally
LowRider
Landslide
IntoTheMystic
IllegalSmile
ICanSeeClearly
henry
HeartOfGold
KnockinOnHeavensDoor
HavanaDaydreamin
Harvest Moon
GoingToCalifornia
GolddustWoman
GoodHeartedWoman
GrapefruitJuicyFruit
TheGambler
FriendDevil
FreeBird
DownInTheFlood
EverSeenTheRain
EdmundFitzgerald
DroveDixieDown
Driftaway
CountryRoads
DeadFlowers
Desperado
CrazyLove
ComeMonday
Cocaine
CityOfNewOrleans
ChangesInLatitude
CantYouSee
BucketsOfRain
BreakDown
CallMeTheBreeze
BobbieMcGee
AgainstTheWind
Wild Horses
--1980s
WonderfulWorld
MyTootToot
YouGottaServeSomebody
RedRedWine
TheOneILove
LittlSister
LouisianaSaturdayNight
HeavensDoor
HelloAgain
HandleMeWithCare
GuitarTown
FreeFallin
EverytimeYouGoAway
EndOfTheLine
Drive
DontWorryBeHappy
CouldIHaveThisDance
Ain'tItFunny
--1990s
Three am
TheRiver
SeminoleWind
Popatop
LetTheMysteryBe
MillionMilesFromYou
LovinInMyBaby'sArms
LowPlaces
LearningToFly
KingRoad
FieldsOfGold
FiveOclockSomewhere
Don'tRockJukebox
closing Time
BootScootBoogie
AllMyExes
AcheyBreakyHeart
AChange'llDoYouGood
--21st Century
WhenTheSunGoesDown
WagonWheel
thunderOnTheMountain
SomeBeach
SomedayBaby
NoShoesNoShirt
LeonaHadAParty
FollowMe
--CHRISTMAS SONGS
Blue Christmas
Away in he Manger
Winter Wonderland
White Christmas
Silent Night
Santa Claus is Coming to Town
Rudolph the Red-Nosed Reindeer
Must Be Santa
Let it Snow
Joy to the World
It's Beginning to Look a Lot Like Christmas
I Saw Mama Kissing Santa Claus
I'll Be Home For Christmas
What Child Is This
Here Comes Santa Claus
Frosty the Snowman
Jingle Bells
Holly Jolly Christmas
The Christmas Song (Chestnuts)
Jingle Bell Rock
We Wish You a Merry Christmas
Have Yourself a Merry Little Christmas
No Place Like Home For the Holidays
Cold Frosty Morning
Silver Bells
St Anne's Reel
--IRISH SONGS
AllForMeGrog
AngelineTheBaker
BlackberryBlossom
BlackVelvetBand
BlowTheManDown
BrennanOnTheMoor
BrownEyedGirl
TheCobbler
ColdFrostyMornin
DannyBoy
DirtyOldTown
DiceyReilly
FarFromHome
FiddlersGreen
Fisher'sHornpipe
FollowMeUpToCarlow
Galway Bay
Galway Girl
GypsyRover
IrishRover
Kathleen
LasVegas
LochLomond
MacnamarasBand
Maggie
MollyMalone
Moonshiner
OldGreyCat
OverTheWaterfall
RareOulMtnDew
RedHairedBoy
RisingOfTheMoon
RosinTheBow
SallyGardens
Soldier'sJoy
St.Anne'sReel
StarOfTheCountyDown
StreamsOfWhiskey
SwingingOnTheGate
TellMeMa
Tooraloora
TrippingUpTheStairs
TheUnicorn
WhenIrishEyesAreSmiling
WhiskeyBeforeBreakfast
WhiskeyInTheJar
WildColonialBoy
WildIrishRose
WildMtnThyme
WildRover
Calendar
We recommend that you contact the vendor to confirm that the event date is open.
• : Booked Events
Choose the Date of Your Event
Date Selected: 10/5/2022
Booked Events
: The Bash Verified Bookings
Upcoming Events
November 8, 2022 • 
Birthday Party (Adult)
November 29, 2022 • 
Festival
December 3, 2022 • 
Christmas Party
December 23, 2022 • 
Birthday Party (Adult)
Past Events
June 16, 2022 • 
Community Event
June 11, 2022 • 
Private Party
April 30, 2022 • 
Fundraiser
April 9, 2022 • 
Club Event
March 12, 2022 • 
Private Party
March 12, 2022 • 
Wedding Reception
March 5, 2022 • 
Private Party
February 19, 2022 • 
Club Event