Back to profile
CrescenDuo: Flute and Guitar Reviews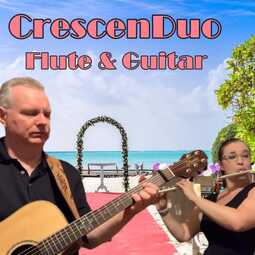 Avg 5.0 | 34 Reviews

Acoustic Duo from Mesa, AZ

46 Verified Bookings
Starting at $200 per event
---
34 Reviews for CrescenDuo: Flute and Guitar
Sort:
Wedding Ceremony•Reviewed on November 10, 2019•From Sedona, AZ
We booked Colin to play guitar - both instrumental only and with vocals - for my daughter's wedding at an outside venue in Sedona. We live in Illinois so we communicated with Colin via email. He was super easy to communicate with and responded to all of our inquiries in a very timely manner. My daughter did not request any specific music/songs and we asked Colin to select music that he thought would be appropriate for the event/venue. His performance was outstanding and just what we hoped for. We highly recommend Colin.
Birthday Party (Adult)•Reviewed on April 21, 2018•From Sedona, AZ
OMgoodness, Colin was AMAZING. He played songs we liked, he has a fantastic voice and guitar was so beautiful. He was truly a huge hit for our party. I highly recommend him in the future.
Christmas Party•Reviewed on December 16, 2017•From Mesa, AZ
Colin arrived promptly at the designated time, setup efficiently and began playing right on time. Also, he offered to accommodate any requests. His music was wonderful, enjoyed by all. We will definitely request to hire him in the future!
Anniversary Party•Reviewed on December 9, 2017•From Gilbert, AZ
Ours was a private party and we were very pleased with Colin's professionalism, his talent,his quick response to emails and his ability to entertain without being intrusive so our guests could still visit with one another. He followed up with us both before and after the event. We received numerous compliments from our guests on his performance. Well done!
Event•Reviewed on August 12, 2017•From Sedona, AZ
I was pleasantly surprised to be able to book Acoustic Echoes on such short notice. Even more pleasantly surprised by how much my party guests enjoyed the music! Since the rain kept the 40 of us indoors, it was really nice to have the music. I hope Acoustic Echoes will want to play NEXT year at this annual party!
Corporate Function•Reviewed on April 7, 2016•From Phoenix, AZ
Very professional and very good. The perfect level of lovely noise for a corporate event. Everyone loved his music!
Wedding•Reviewed on March 12, 2016•From Phoenix, AZ
AMAZING! We got so many compliments on Colin! He played beautiful music and just blended into our wedding reception. Learned our special songs and really made our evening! He was prompt, professional,and quick to respond to any correspondence! We changed our event times several times and he never hesitated to accommodate us! I really felt that he cared about us and really when above and beyond to make our day special! Thank you Colin from the bottom of our hearts! Your great at what you do! If anyone is looking for beautiful music and ambiance at their event...Colin is your man!
Private Party•Reviewed on November 22, 2015•From Phoenix, AZ
Colin was talented, entertaining, accommodating and a pleasure to have at my party.
Private Party•Reviewed on April 25, 2015•From Phoenix, AZ
He was great! Very easy to work with and a great communicator! And he played wonderful music at our party!
Wedding•Reviewed on February 28, 2015•From Phoenix, AZ
I would hire again and recommend Colin to anyone for their event. He was incredibly accommodating to song requests and some last minute changes and it was nice to work with someone so laid back when other parts of the event (wedding) were getting a little crazy. He played great sets and his music choices were exactly what we wanted. Also, he wasn't so loud that we couldn't talk during the reception - that was very appreciated. Thank you Colin!
Christmas Party•Reviewed on December 6, 2014•From Phoenix, AZ
Wedding Reception•Reviewed on November 7, 2014•From Mesa, AZ
I don't even know where to being. I had a hard time finding someone who was reasonable in price and talent, until I found Colin. Colin actually played the guitar as I performed at my Best friends wedding. He was very professional and even rehearsed with me until the day of the wedding. I even changed the song I wanted to sing a week before the wedding!! (Crazy I know) But he executed the song that I wanted to sing and even arranged the music himself. Which made the experience very special to me and my friends. I couldn't imagine anyone else to play for me that night! so again Thank you Colin!! I will always remember that night. - Carlos
Wedding•Reviewed on September 27, 2014•From Paradise Valley, AZ
Colin was the perfect choice for my sons wedding. He learned new songs, kept the volume at the perfect level and added both uniqueness and ambience to our evening. We had to adjust plans due to weather and he flowed with it. If you want the perfect elegant touch to a wedding, choose Colin!
Wedding•Reviewed on November 17, 2013•From Scottsdale, AZ
Colin did an amazing job for our wedding. He was set up and ready to go on time. Colin played songs prior to the wedding and during the ceremony. IT WAS PERFECT!!!!! Exactly what I had asked for!! I did not get a change to hear him play for the cocktail hour but all the guests had nothing but wonderful things to say. He helped to make our day AMAZING!!!
Wedding Ceremony•Reviewed on October 12, 2013•From Sedona, AZ
Colin was amazing! He sounded beautifully and put up with my bridezilla moments. I would recommend him to anyone!
Celebration•Reviewed on October 5, 2013•From Phoenix, AZ
Colin was awesome came early set up explained everything he was doing before hand. Was courteous kind, very professional and talented his partner singer too was awesome both of them were magic all my party goers just loved them and thier music. I can't wait to hire Colin again and Colin too was very affordable!
Event•Reviewed on September 12, 2013•From Scottsdale, AZ
Private Party•Reviewed on August 17, 2013•From Scottsdale, AZ
Colin was very helpful with our event - learned a new song just for us! He also stayed longer than the event plan, which really added to our evening. He was personable, professional and very nice.
Private Party•Reviewed on August 2, 2013•From Phoenix, AZ
Colin was a real boost to our party. Nice, talented, entertaining. Easy to work with. I got many comments from party goers about how they enjoyed his singing and playing and how it 'made the party'. We will definitely invite Colin back for any parties in the future! He did a great job!
Community Event•Reviewed on June 20, 2013•From Phoenix, AZ
We held a charity benefit and I was looking for some ambient music to be played at the event. At first I told Colin that I only wanted him to play to the guitar and no vocals since it was a charity event. However, I quicky changed my mind when I went to see him at a local venue. His performance was awesome. On the night of the event, he showed up right on time and had everything he needed. The music selection he chose was perfect, and I received rave reviews all night. He even agreed to stay for an extra half hour since people were enjoying it so much. He will be my go to musician for any event I have going forward. I highly recommend him!
Private Party•Reviewed on June 19, 2013•From Tucson, AZ
I had arranged to have Colin entertain as a surprise for my guests. I couldn't have been happier. Not only was Colin easy to work with - his outgoing personality and professionalism made it a real pleasure. The guests were thrilled - couldn't stop raving. Would definitely use him again -
Wedding Ceremony•Reviewed on May 25, 2013•From Scottsdale, AZ
Colin Barley did our wedding ceremony music for us and we are absolutely delighted that we used him. We gave Colin songs that we wanted and sure enough, he learned each of them and performed them beautifully. He is very professional, always responsive and we will be using him again for any private parties we have in the future. Most of all, Colin is extremely nice, genuine, very kind and a pleasure to not only work with but to get to know as person. Hire him!!
Corporate Function•Reviewed on May 9, 2013•From Scottsdale, AZ
I requested a guitarist the day before a corporate event and Colin was the first to respond to my request. Not only did he respond via e-mail, he also called to see if I had any other needs for the evening. he was very prompt with all of his correspondences. Upon arrival Colin was able to set up very quickly and made sure to check in with me that that everything looked ok. His music was perfect for our small group of 20 dinner guests. I had originally talked to him about only performing instrumental music, but his singing with the guitar was wonderful. Several of our guests asked for his contact information. I would love to work with Colin again!
Anniversary Party•Reviewed on April 27, 2013•From Phoenix, AZ
Colin was wonderful, my guest just loved him and so did we! He is very talented, professional and was the perfect addition to our special event.
Wedding•Reviewed on April 6, 2013•From Phoenix, AZ
Colin was very professional and detail oriented in preparation and execution. His sound and musicality provided the right backdrop to my daughter and new son-in-law's wedding ceremony. We had a professional musician as one of our guests and he commented on how talented and clean Colin's guitar and vocals were during the event. Thank you again Colin for helping make the day special for everyone.