Everything You Need For a Casino Themed Party
Transport yourself to Vegas with a casino themed party.
Meabh McCrossan
Contributor
If Lady Luck is on your guest list, we're willing to bet that a casino themed party is in the cards. The glitz and glamour of high-rolling destinations like Monte Carlo, Las Vegas, and Atlantic City have inspired many soirées, allowing party-goers from all over to enjoy the excitement of the lavish lifestyle. 
Throwing a casino-inspired event is a perfect way to celebrate any number of occasions, including birthday parties, graduations, New Year's Eve parties (á la Ocean's 11), and pre-wedding gatherings. Casino parties are also a great way to raise money for charity, putting the 'fun' in 'fundraiser'. 
Similar theme ideas would work well with this one, such as a roaring 20s event, a Great Gatsby-inspired shindig, a Vegas themed party or a James Bond soirée. If you play your cards right, you and your guests will not only have a lot of fun but experience a night to remember.
Here's everything you need to throw a casino themed party:
Casino Game Rentals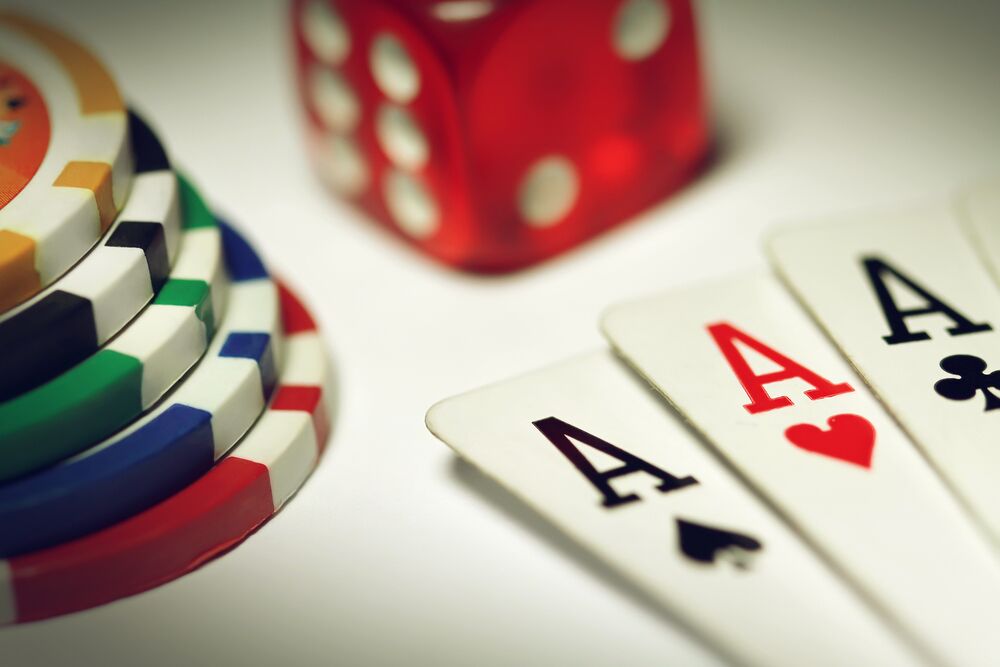 Photo: imasecret/shutterstock.com
Bring the thrill of the casino right into your own event. Casino game rentals will provide everything you need to play classic games like poker, black jack, roulette, and maybe even a slot machine! Let the professionals handle the set up of tables and dealing of games and get ready to be transported to your favorite casino.
Drink Servers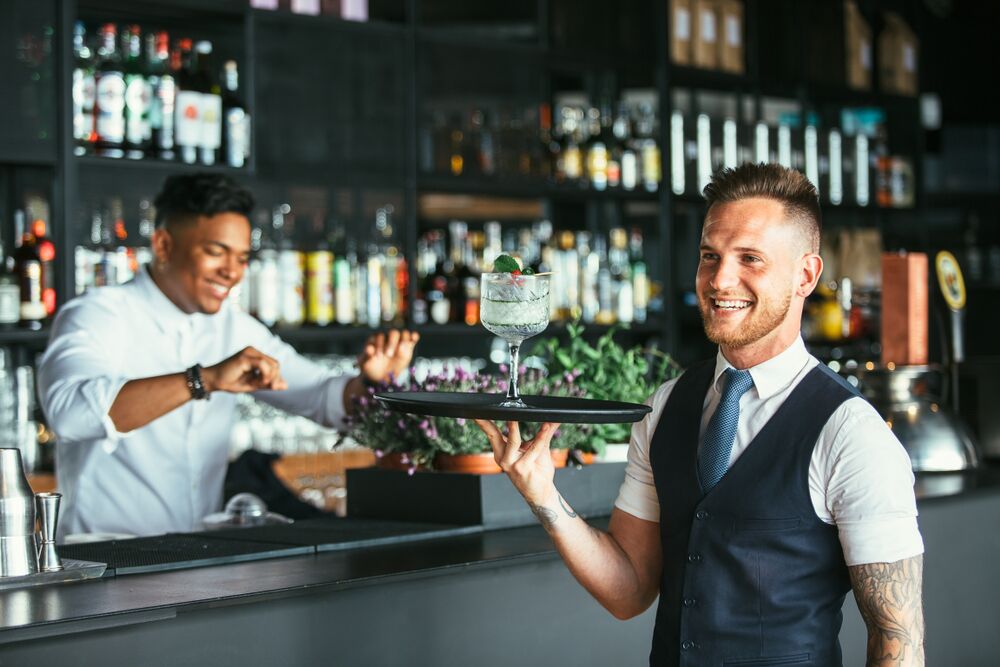 Photo: Click and Photo/shutterstock.com
When you're a high-rolling punter on a winning streak, you might find it hard to pull yourself away from the action. Many bartending companies offer the services of friendly and professional waiters that would happily provide delicious refreshments throughout the duration of your event. Having drinks served on a silver platter will make your guests feel like real VIPs!
Elvis Impersonator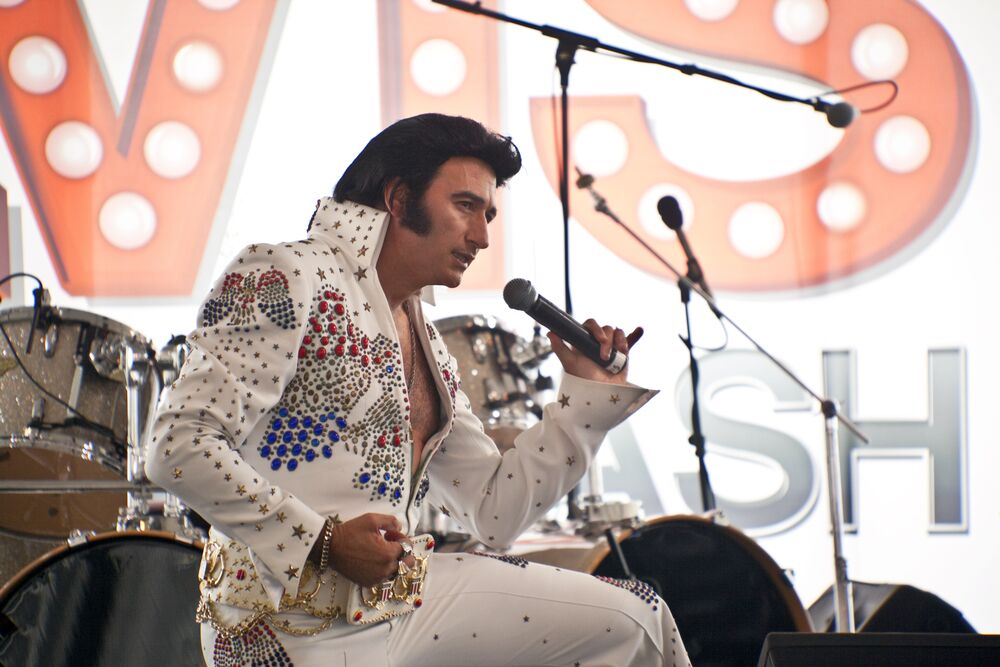 Photo: GTS Productions/shutterstock.com
Are you all shook up trying to find the perfect entertainer for your party? An Elvis Presley impersonator would be a great fit for your festivities. Elvis' iconic song, 'Viva Las Vegas,' is a fitting tune for any evening spent rolling dice and playing cards. You'll feel like you're in a Las Vegas casino in no time.
If it's a wedding you're celebrating, you could have Elvis as a memorable officiant, just like in the little white chapels of the City of Lights.
Magician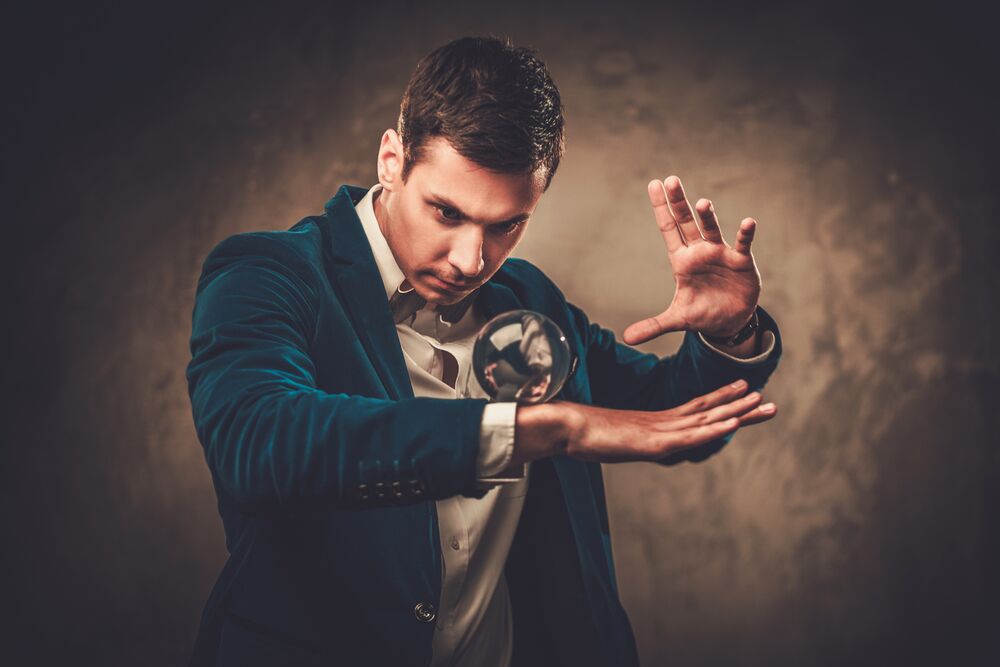 Photo: Nejron Photo/shutterstock.com
Casinos are places full of excitement and anticipation—just like magic shows. Allow a professional illusionist to wow your guests with sleights of hand all evening as you mingle and converse with party goers. You'll leave your loved ones wondering, hey, where did that rabbit come from?
Photo Booth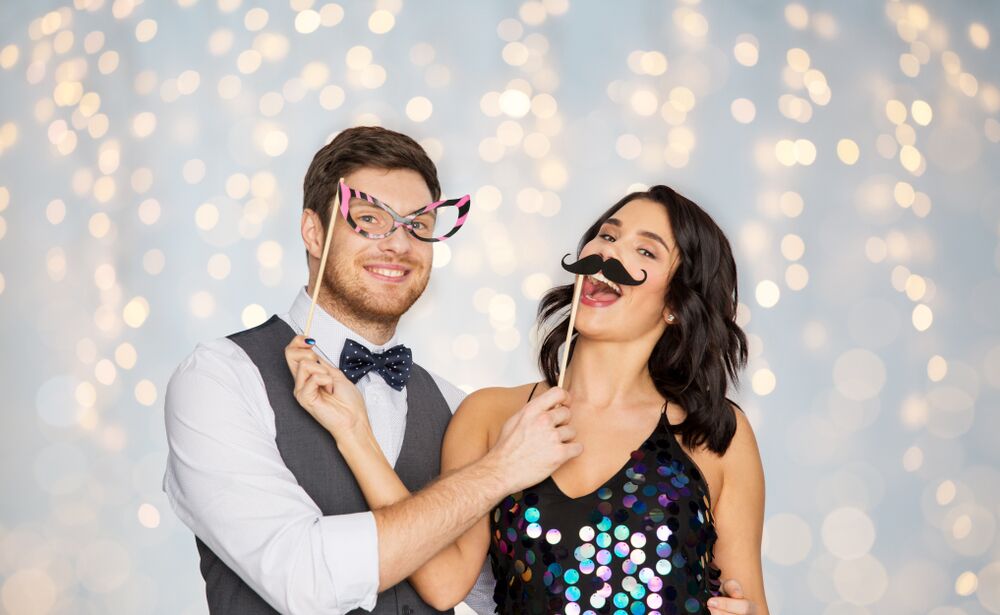 Photo: Ground Picture/shutterstock.com
Photo booths are a great addition to any kind of event, but they're particularly great for capturing the essence of themed celebrations. Many photo booth rental companies can provide eye-catching props and glitzy backdrops, as well as design customized frames for your photo strips. Don't forget, the prints can double as party favors for guests to take home.
Casino Themed Venue Ideas
Hotel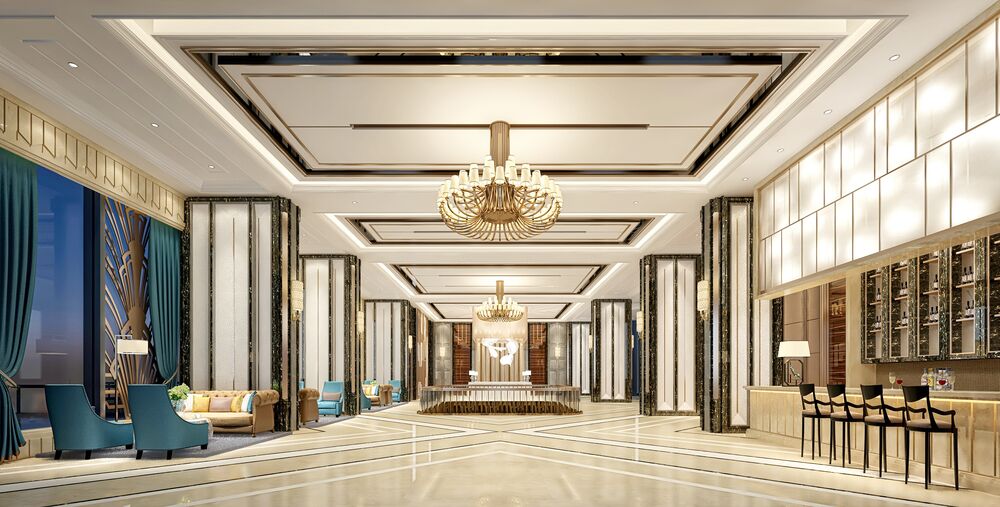 Photo: murattellioglu/shutterstock.com
You may not be in Las Vegas, but any hotel can be magically transformed into Caesar's Palace! Hotel ballrooms are ideal for events such as this, with their warm ambient lighting, open-plan layouts, and designated bar areas. You can also achieve the window-less, time-doesn't-exist-here feel in many hotel banquet halls where you can let the hours slip away.
Bar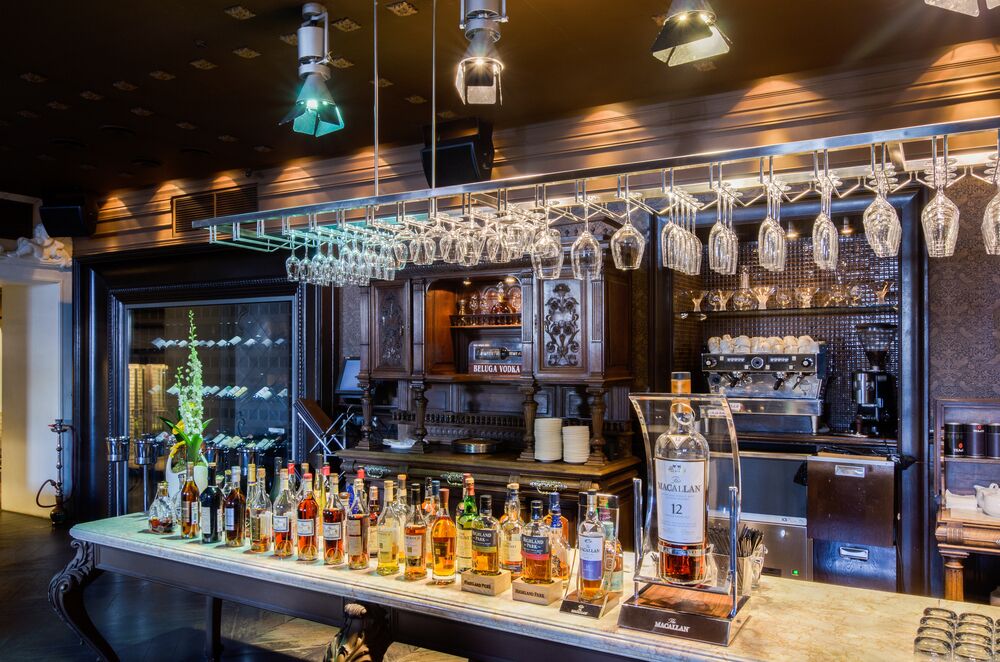 Photo: fractalmonster/shutterstock.com
If you can host your event in a swanky bar, then you've hit the jackpot. Friendly bartenders? Check. Delicious bar food? Check. Vibrant atmosphere? Check! 
All you have to do is prepare some casino games for your invited guests, and many establishments will even be able to provide their own card tables, roulette wheels, a poker party, and more. 
Event Hall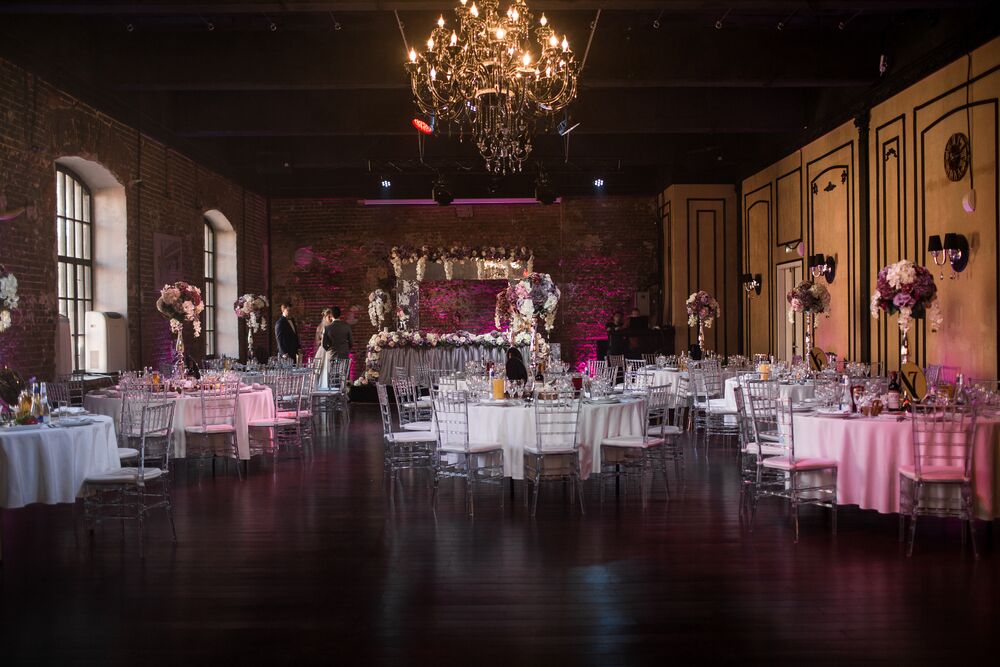 Photo: Andrey Nastasenko/shutterstock.com
Do you need a blank canvas to bring your exact vision to life? A versatile, open-plan event space can be transformed into a magnificent house of revelry. You can use drapery to cover walls for a luxurious effect and gold decor pieces inspired by the glamor of Monte Carlo throughout the room.  
Make sure your venue has some high-tech lighting equipment so that you can create an unforgettable atmosphere complete with an ambient glow. With an event space like this, you'll definitely need a red carpet to enter.
Casino Party Creative Details
Playing Card Decor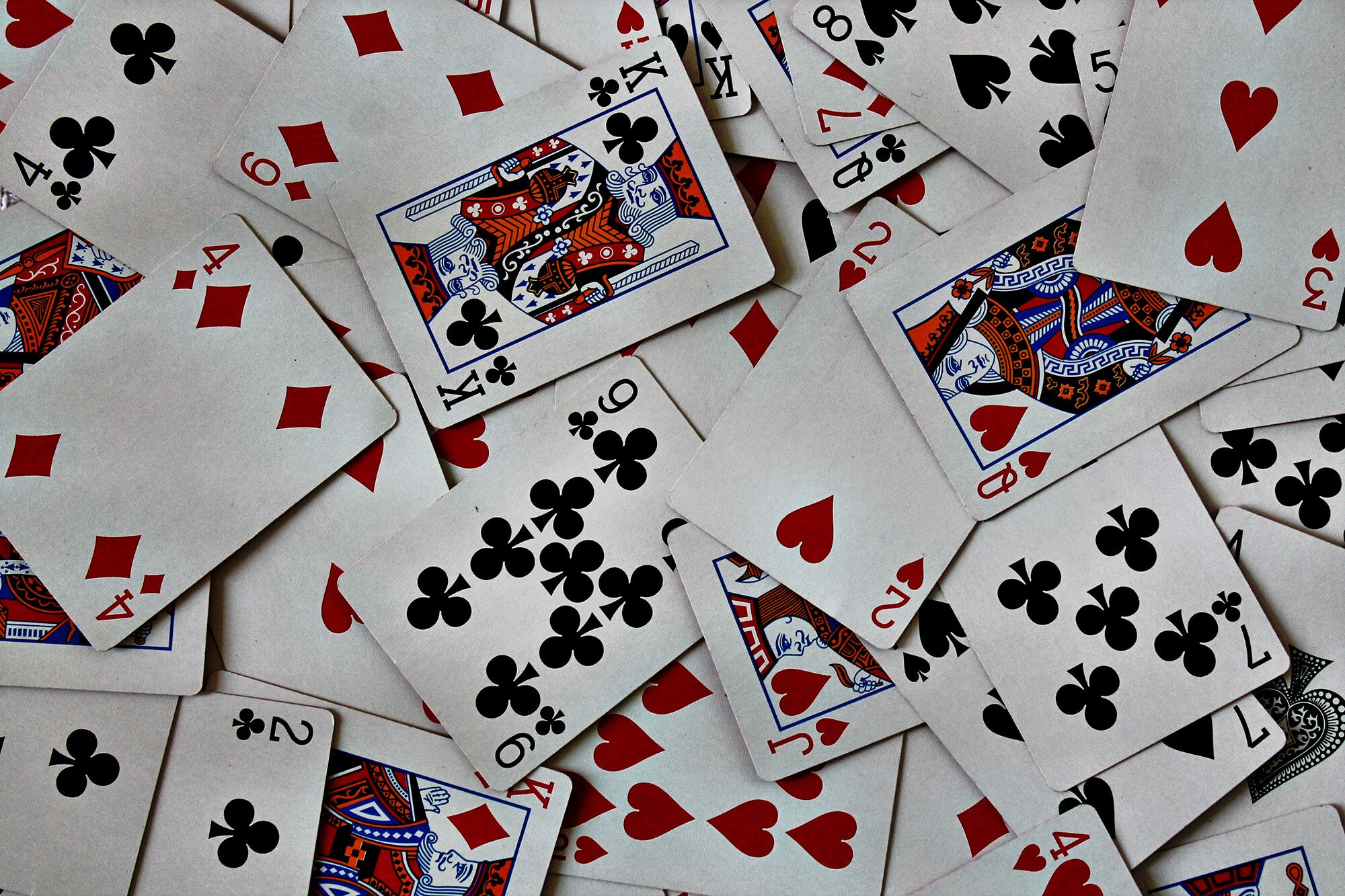 Who needs casino party decorations when you can make them yourself? Hearts, diamonds, spades, and clubs are iconic symbols reminiscent of countless card games and can be seamlessly incorporated into your decor. String them together to create garlands, add them as cupcake toppers, and find card-inspired party decor to bring the theme together.  
Personalized Poker Chips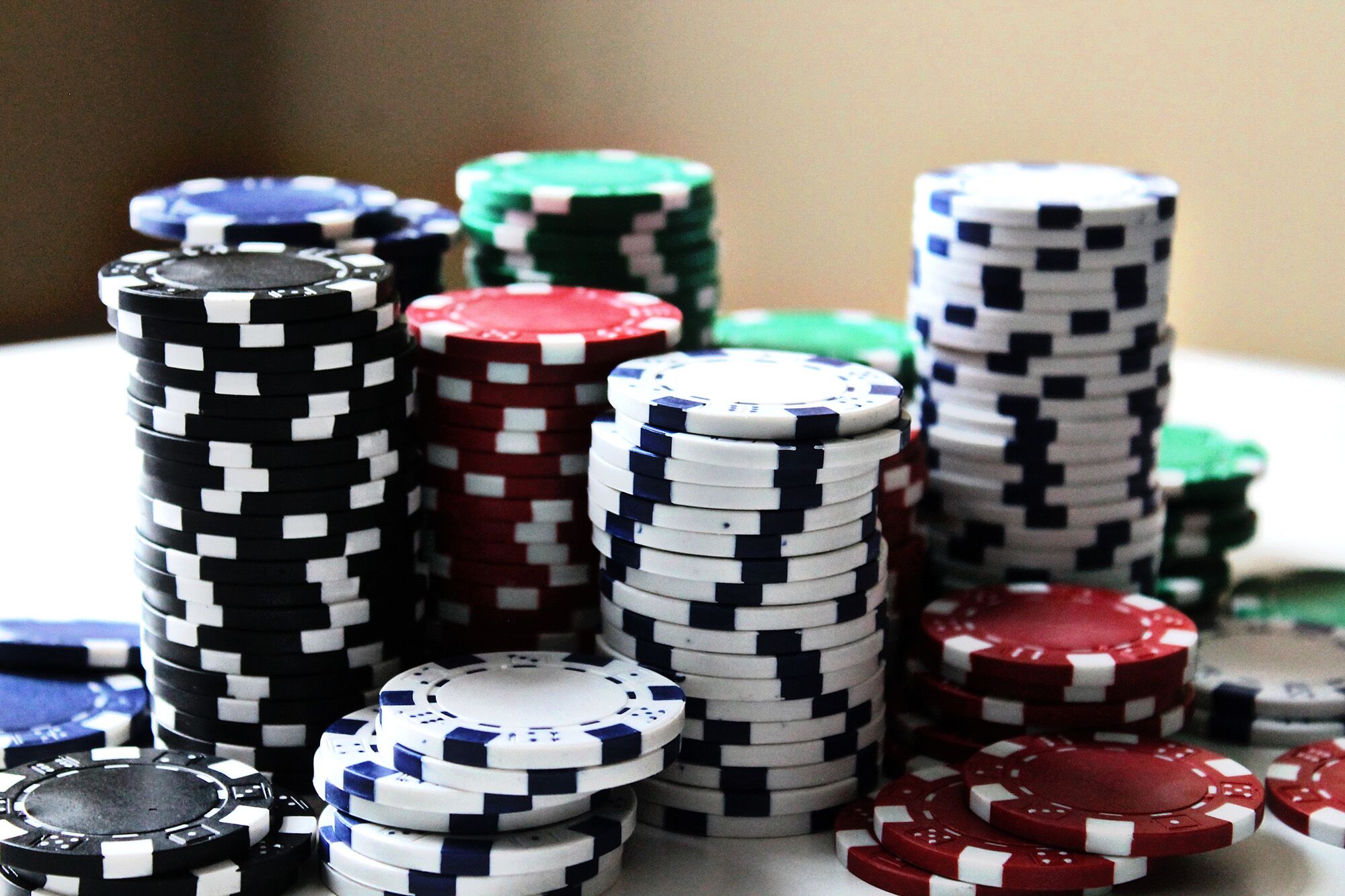 Are you celebrating a 21st birthday? Add a photo of the guest of honor to your chips! An engagement? Include your wedding date and use them as creative save-the-dates.  
There are so many designs and fun color combinations available that we bet you'll find something one-of-a-kind for your day.
Centurion and Caesar Costumes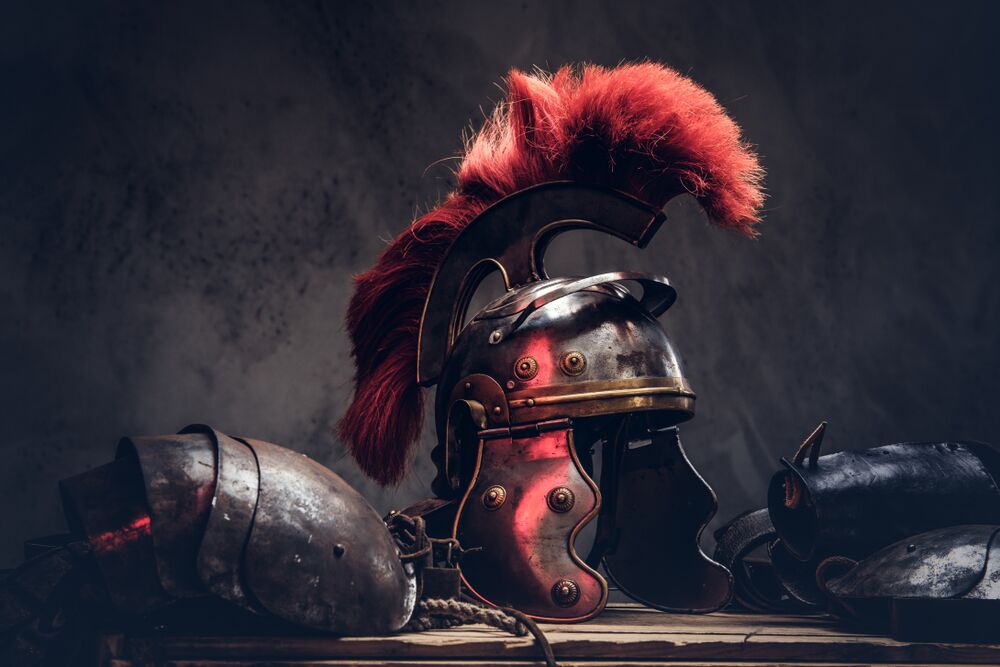 Photo: FXQuadro/shutterstock.com
Any history buffs on the guest list? Have a little fun bringing your vision of Caesar's Palace to life by having your guests come in fancy dress as Roman centurions or Caesar himself. You can even host a costume contest, awarding the winner with chips, or to keep it more on-theme, a laurel crown.
King, Queen, and Joker-inspired Outfits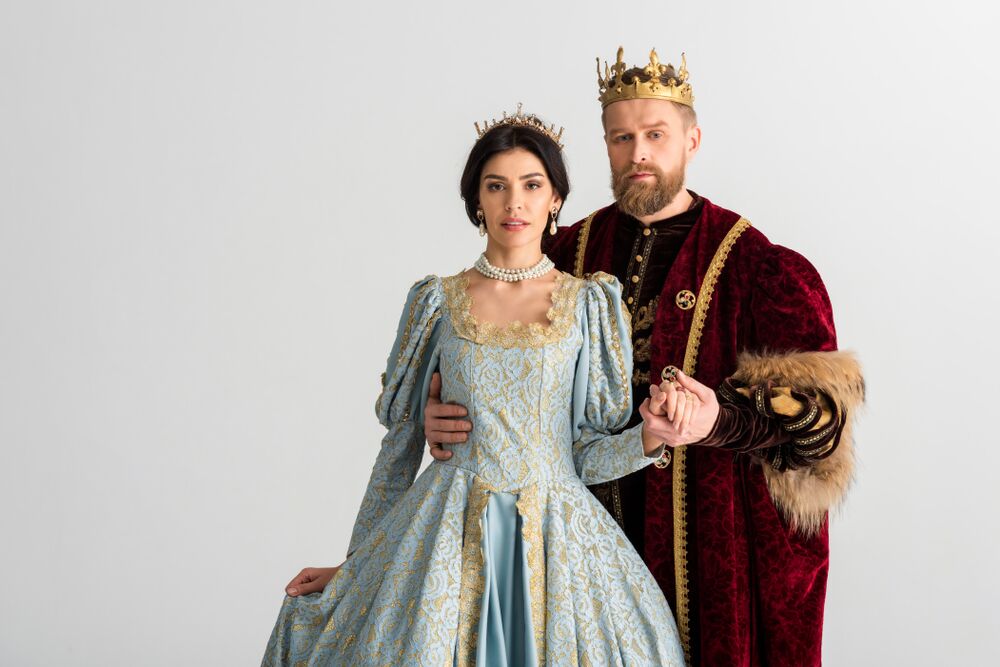 Photo: LightField Studios/shutterstock.com
You can do so much with this dress code, so let your imagination run wild. Dress up as a king, queen, or jester and incorporate hearts, clubs, spades, or diamonds into your ensemble. With a casino night party, the outfits can be totally over the top.
Black-tie Dress Code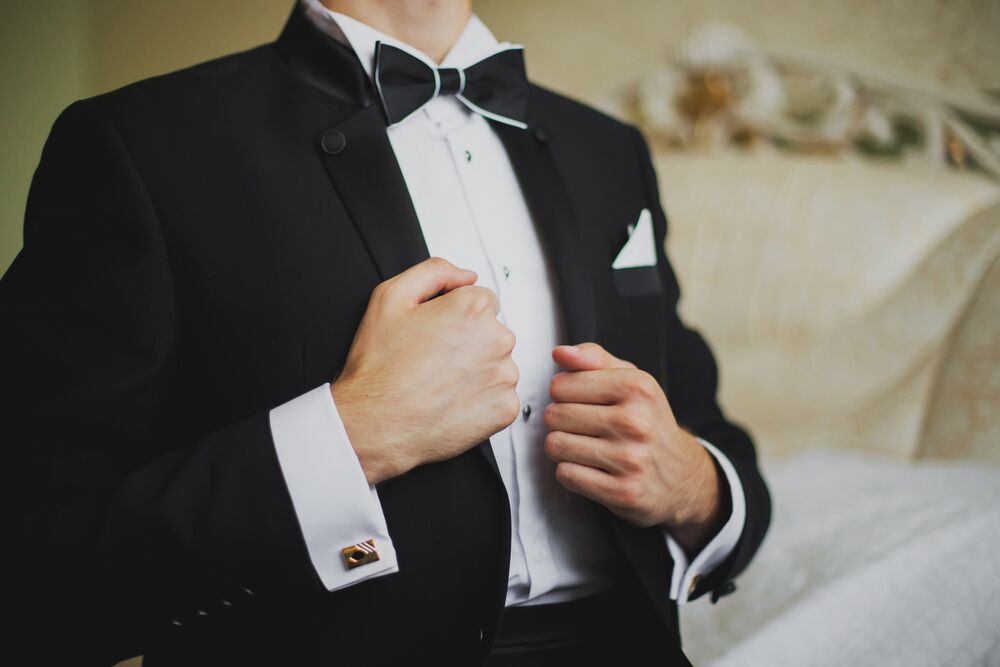 Photo: Zadorozhna Natalia/shutterstock.com
Formal gowns, silk ties, dapper coats; it's not often we get to dress up to the nines, so a black-tie dress code will add even more excitement to your festivities. It will give your loved ones an excuse to don their best attire and feel like movie stars.
Casino Themed Food Ideas
Poker Chip and Playing Card Cookies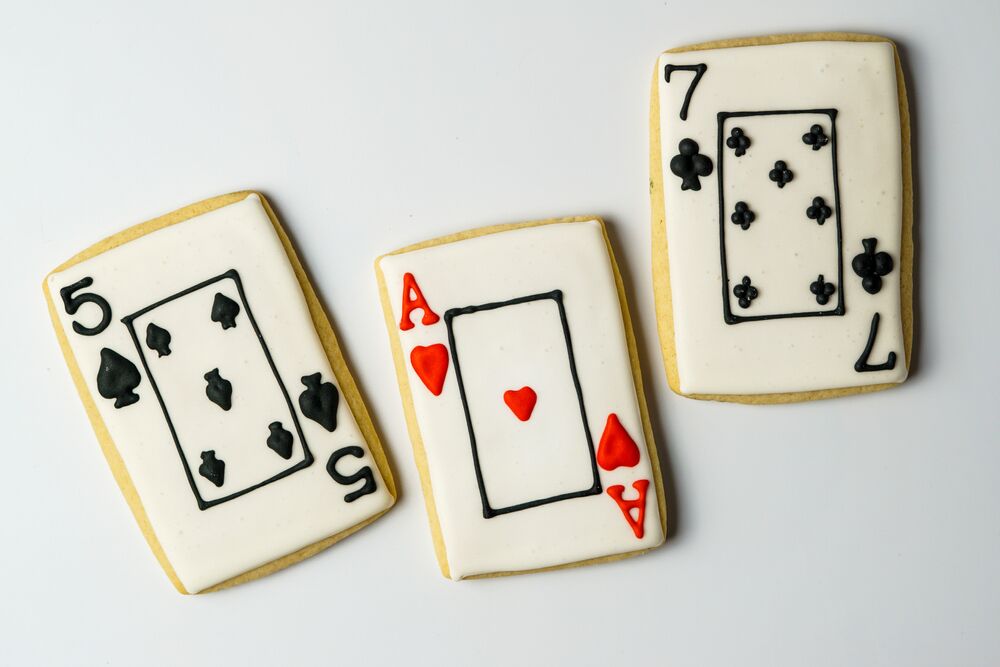 Photo: Hope Phillips/shutterstock.com
These cookies are so simple to decorate, yet so effective and impressive. If you were throwing a DIY bash you'd have no problem with this simple design, and many bakeries would be happy to fulfill an order like this. To make it even more straightforward, you can order card suit cookie cutters online that are perfect for both professional and amateur bakers alike.
Black, White, and Red Dessert Buffet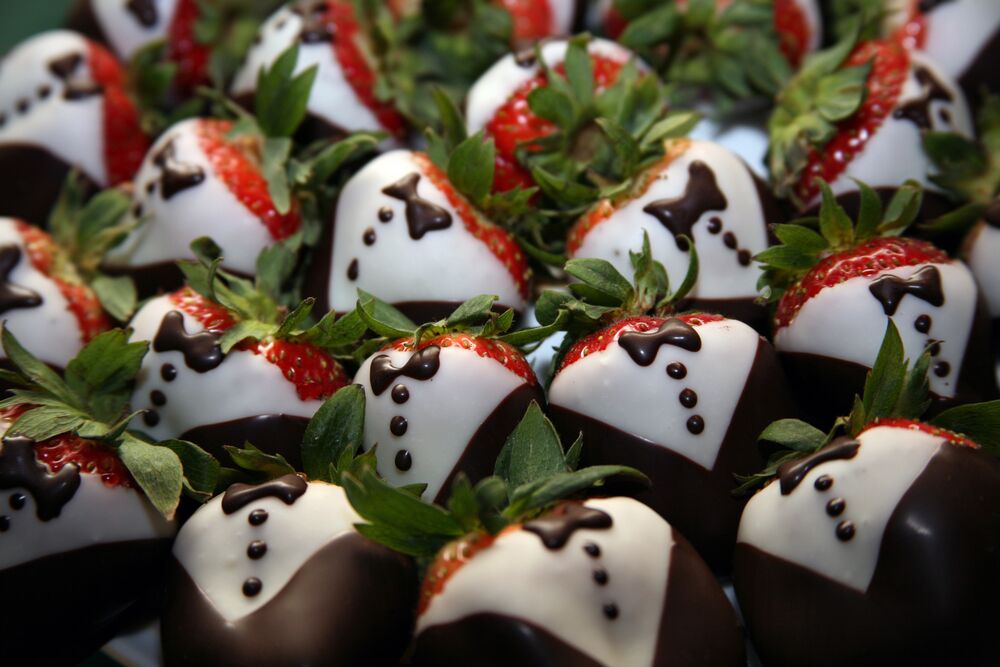 Photo: Sherri R. Camp/shutterstock.com
This is another no-frills yet effective way to apply a casino theme to your delicious fare. Add Oreos, white chocolate-covered strawberries, Red Vines, and licorice to a range of other sweet treats for an impressive and carefully curated spread.
Dice Cake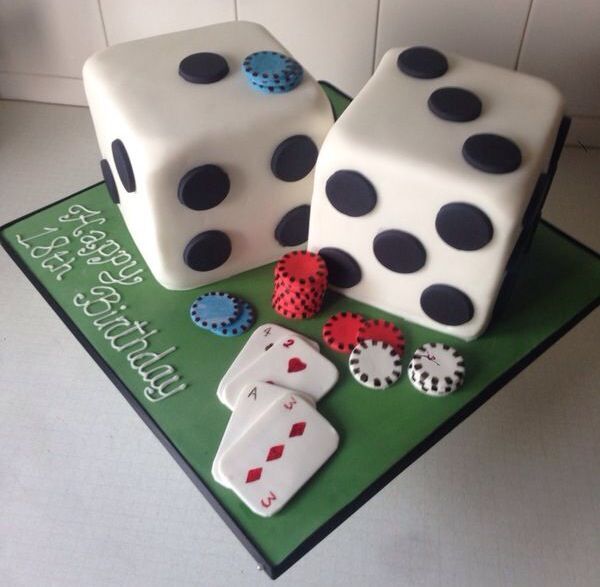 Indulge your sweet tooth with an impressive dice cake! This cake can be made easily at home due to its simple design and can be decorated with sweet fondant or fluffy buttercream. If you want to show off your baking skills, you could add multiple dice to your display as if they were just rolled—it's a versatile design that can be customized to your liking and skill level.
Casino Themed Drink Ideas
Martinis - Shaken, not stirred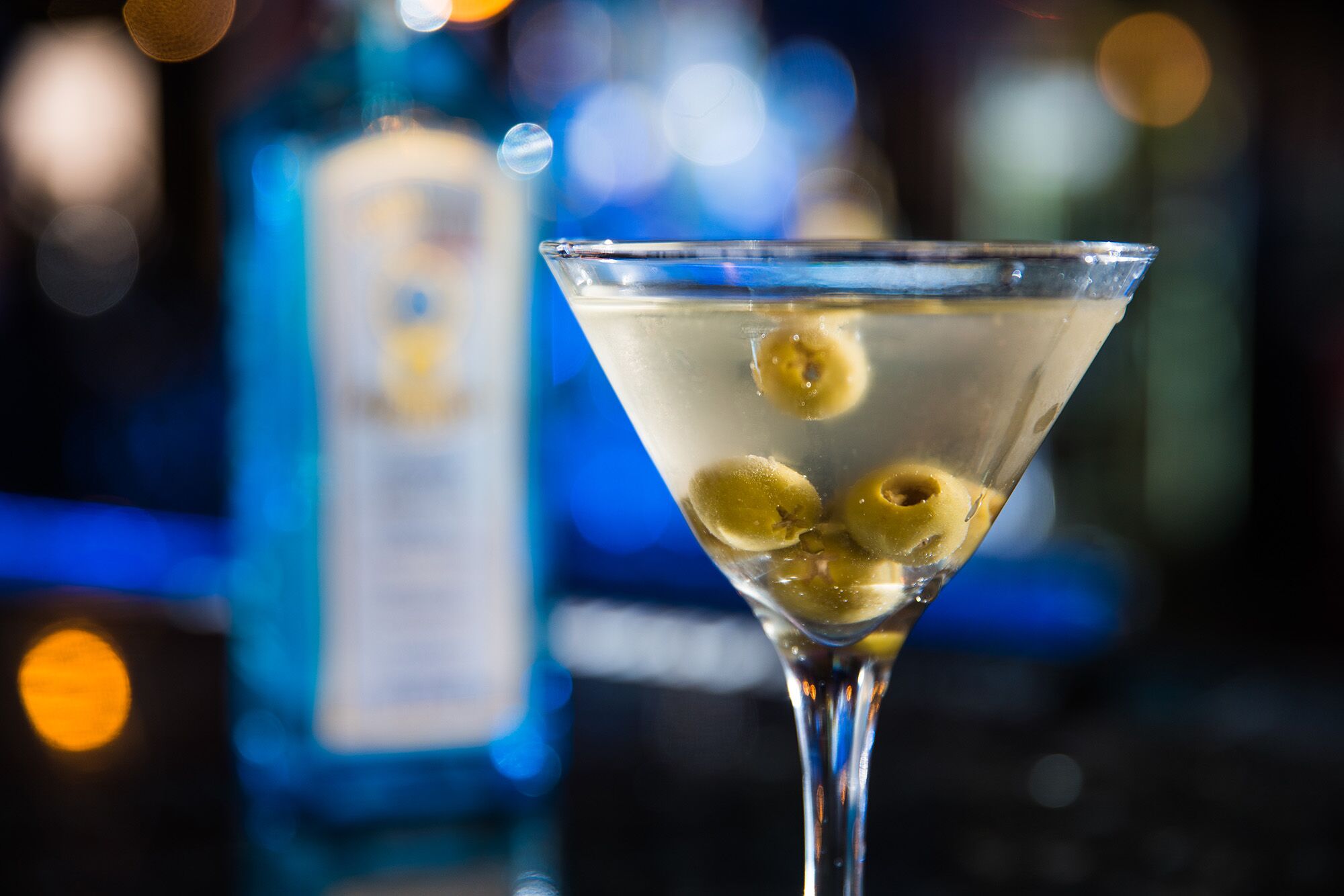 Martinis are a staple cocktail that allow creativity, so you can curate an entire menu full of them. Sample a classic martini of gin and vermouth, spice things up with a Gibson, or shake things up entirely by serving Cosmopolitans and Appletinis. Just be ready to deliver the famous line - "shaken, not stirred" - as you order for a proper movie star moment.
Blackout Cocktail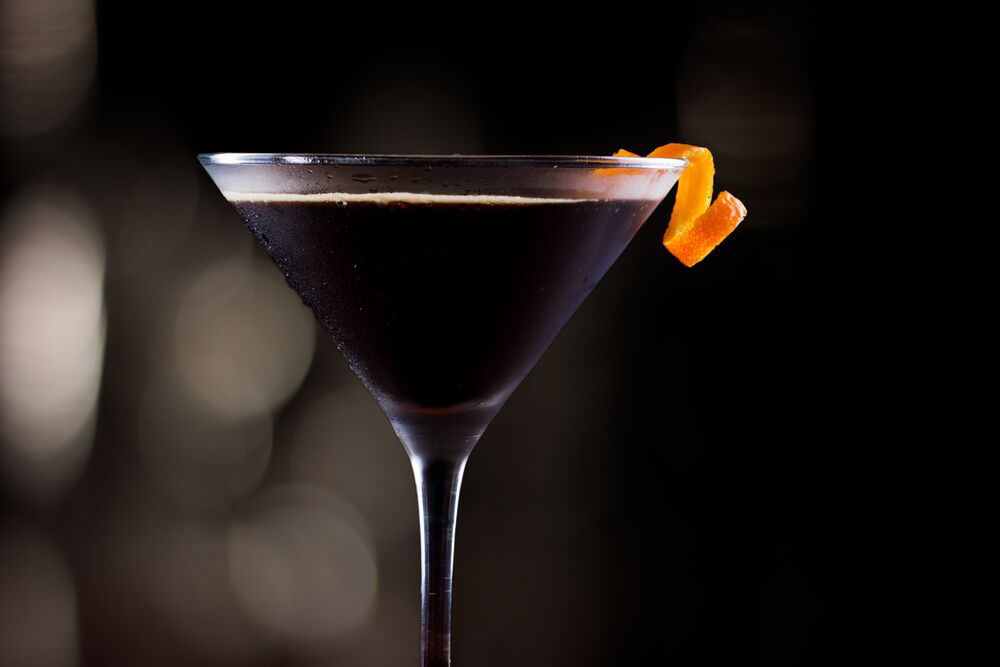 Photo: Wollertz/shutterstock.com
Inspired by the 1960's classic film, Ocean's 11, a Blackout Cocktail is a perfect addition to any drink menu. The blackberry brandy adds a strikingly bold color to the concoction, making it an Instagram-ready refreshment. 
Casino Cocktail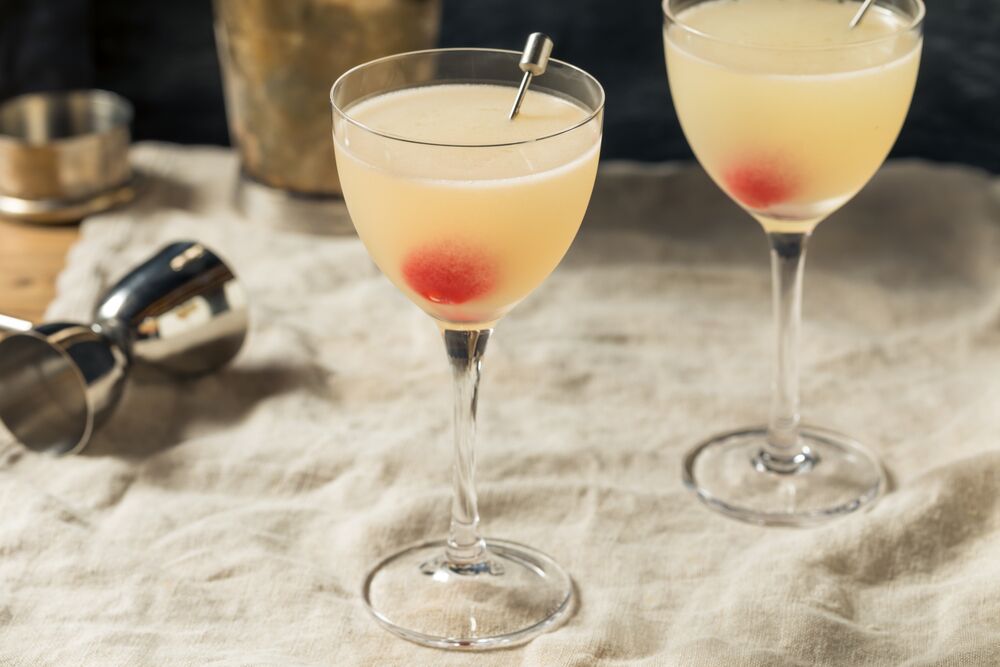 Photo: Brent Hofacker/shutterstock.com
Drop a Maraschino cherry into this dreamy, cloudy mixture and you have yourself a delicious Casino. The original recipe is over 100 years old, and there's a reason why it's been passed down through generations of mixologists.
Find more party theme ideas here on The Bash.