Everything You Need for a Cookie Monster 1st Birthday
C is for a Cookie Monster 1st birthday party.
Laoise Ní Raghallaigh
Contributor
The Cookie Monster is a character beloved by children and adults alike. With his undying love for all things cookie related and his fuzzy blue appearance, he's proven to be a true star over the years. Alongside his friends on Sesame Street, this cultural icon lends himself perfectly for a Cookie Monster 1st birthday.
If you or your little one is a fan of the Cookie Monster, he will make the ideal theme for a 1st birthday party. You can put both him and your favorite cookie, in whatever form you like, at center stage to celebrate this special 1st birthday. 
Here is everything you need for a Cookie Monster 1st birthday party:
Sesame Street Neighbors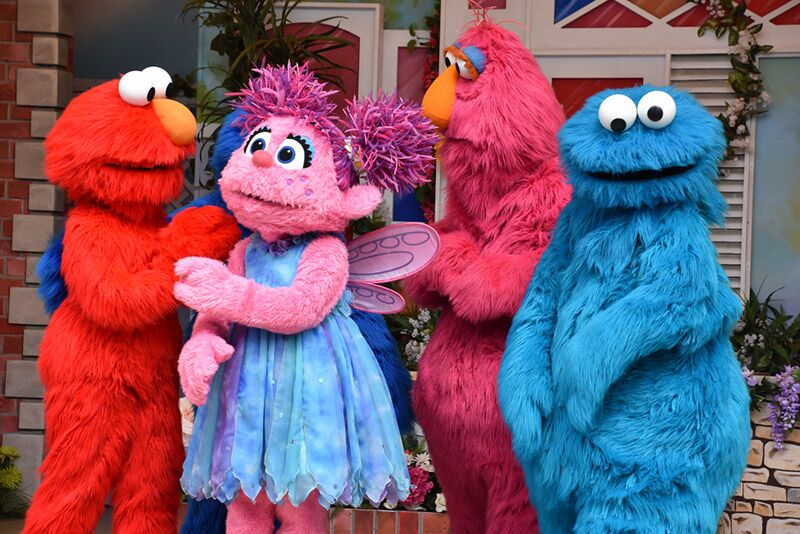 Photo: Ritu Manoj Jethani/shutterstock.com
For a truly special addition to your baby's day, why not have some visitors drop in from Sesame Street? A cuddle from the Cookie Monster or one of his friends could be the icing on the cake. You can choose to dress up yourself, or hire a costumed character for a special visit. Find someone in your local area to bring the magic of Sesame Street to your party.
Cookie Invitations
As an homage to his favorite treat, try some chocolate-chip cookie-shaped invites! This delicious snack will leave no mystery as to your party's theme. While round envelopes can be hard to come by, why not use cookie-shaped postcards? The novelty invitation is a memorable touch: the front will be bedecked in chocolate chips, while the back will contain all the important information. 
Sesame Street Playlist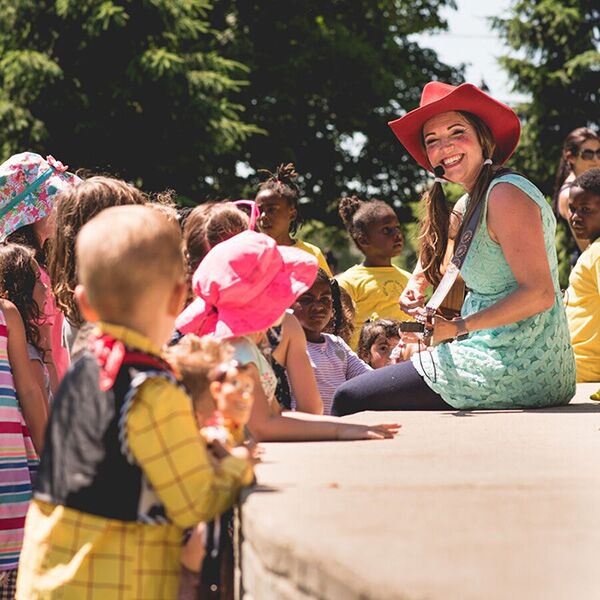 Photo: Miss Jamie
Sesame Street is full of catchy tunes that have captured the hearts of many. To create the perfect ambiance, you can compile a playlist of your favorites to set the tone as your guests arrive. From "If You're Happy and You Know It" to "Cookie Shark" and "C is for Cookie", these memorable songs will stay with you long after the party finishes!
Pro Tip: Hire a Children's Music Singer to perform some Sesame Street hits and other kid appropriate songs live.
Cookie Monster Balloon Decor
For a truly one-of-a-kind touch, you can have a Cookie Monster balloon arch set up for pictures of your guests as they arrive! Balloon decor is a popular choice for any party, but this extra-special addition is sure to wow the kids and create adorable photos. 
Cookies, Cookies, and More Cookies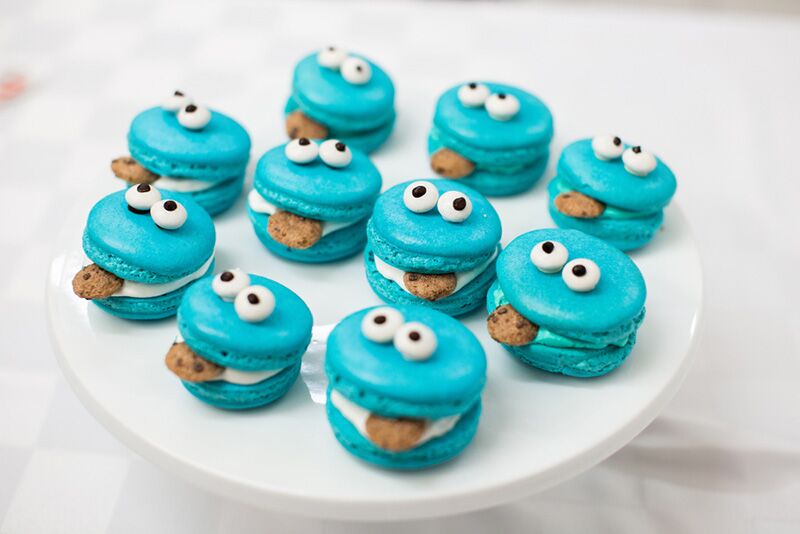 Photo: pablo_guate/shutterstock.com
The Cookie Monster's famous catchphrase is "Om Nom Nom Nom", and your guests will join him as they delight in various cookie offerings! From the traditional chocolate chip to elegant macarons, there'll be something for everyone. For the macarons, you can keep it simple with some blue food coloring, or you can go all out with some tiny Cookie Monsters! 
Cookie Scavenger Hunt
Scavenger hunts are a great way to get people up and about, searching high and low and putting their minds to good use. For the older children at your party, you can organize a hunt for them across your home or garden. Hide baked-good clues for them to find, leading to the ultimate prize of your choosing. A huge triple-chocolate cookie, perhaps?
Cookie Monster Cupcakes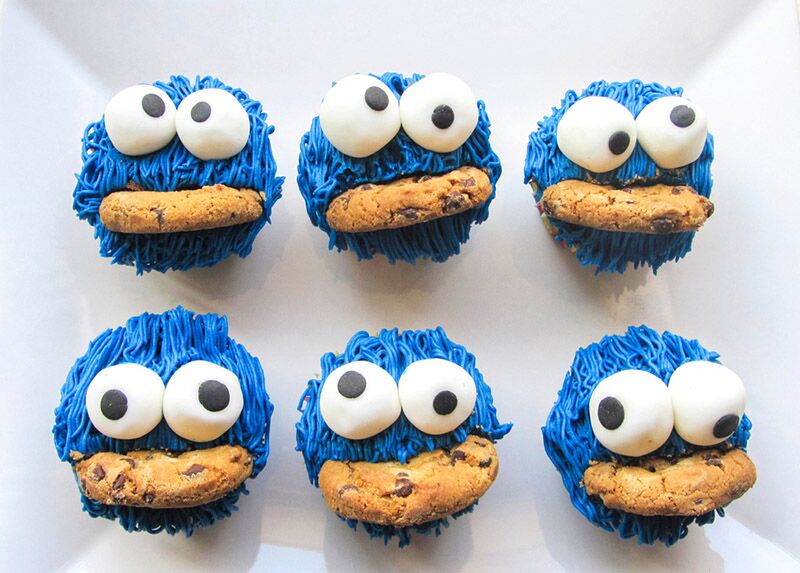 Photo: juan rafael perez lopez/shutterstock.com
Cookie Monster cupcake are sure to check all the boxes, as the cake can be any flavor you want. These cupcakes will allow for a little creative freedom for your little one as they enjoy their birthday treat. Decorate with blue frosting, marshmallow eyes, and mini chocolate chip cookies for an added special touch.
Cookie Balloons
These delicious floating treats will add a little something to your décor. You can create another photo wall with plenty of streamers. Capture Cookie Monster's classic color palette with shades of blue, white, and brown or tan to get the full effect. Combined with the floating cookies, you'll have a winner on your hands. 
Bounce House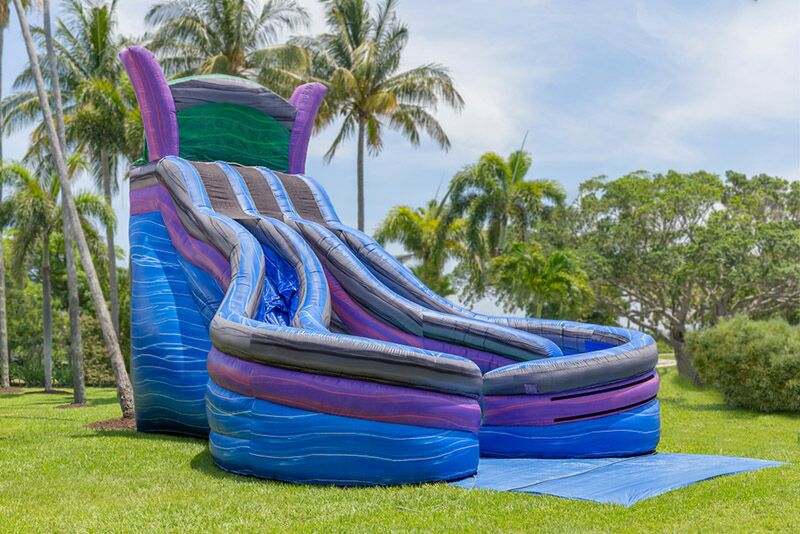 Photo: Manny DaCunha/shutterstock.com
A long-time favorite of birthday celebrations, you can rent a blue bounce house for your party. While it may be unsuitable for your one-year-old, the older children attending will have a blast jumping around. Like cookies do for the Cookie Monster, this classic entertainment will have you walking on air, and the Bash can help you hire the perfect one.
Cookie-Decorating Competition 
Using paper or card cut-outs, you can bring out your creative streak with this relaxing activity. Parents can team up with younger guests, while older kids can see where their artistic flair takes them. You can add drawn-on frosting, sprinkles, or little candies as you see fit.
Blue Milkshakes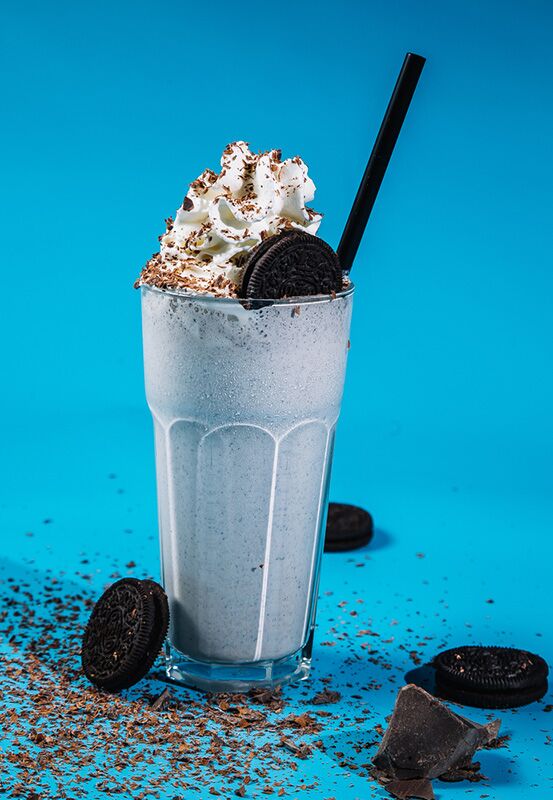 Photo: shafiga baghirova/shutterstock.com
Using blue food coloring, you can elevate a simple cookies 'n' cream milkshake into something worthy of your Sesame Street star. These delicious drinks are both fun and easy to make; you can whip them up in a flash and serve them to your guests. Feel free to decorate the glasses as much or as little as you like. 
Fuzzy Blue Decor
In an ode to his beautiful blue coat, you can bedeck your party space with this gorgeous faux fur. As soft as the Cookie Monster himself, it'll surely be a hit with your guests as they explore the party. For little ones looking for sensory play, this could be the ideal treat
Blue Cocktails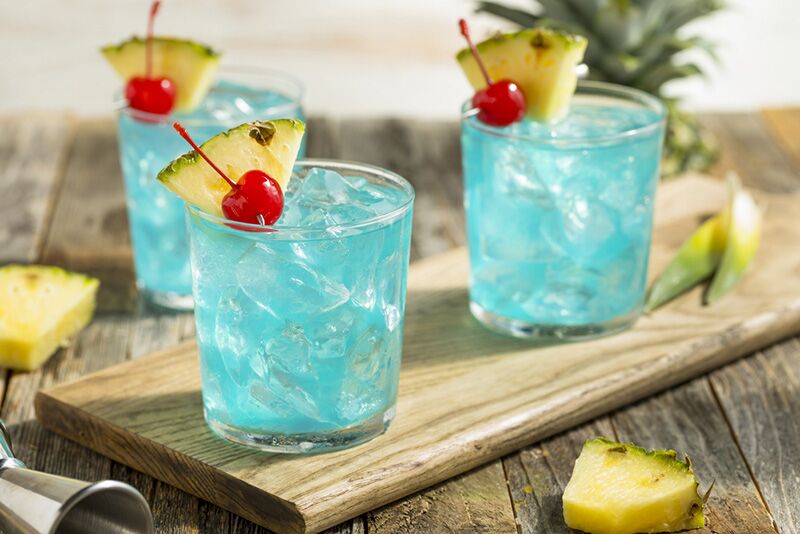 Photo: Brent Hofacker/shutterstock.com
For the grown-ups at your party, pay homage to the Monster's signature color with these delicious blue drinks. You can join in with the blue, cookie-loving fun in your own way, adding your preferred soda or juice. With a wide variety of blue-hued cocktails and mocktails, you'll be spoiled for choice.
Find more kids' party ideas and inspiration here on The Bash.