Back to profile
Mr. Twisty Reviews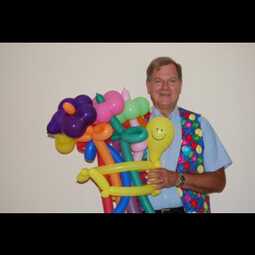 Avg 5.0 | 77 Reviews

Balloon Twister from Riverhead, NY

185 Verified Bookings
Starting at $225 per event
---
77 Reviews for Mr. Twisty
Birthday Party (Kids)•Reviewed on November 26, 2016•From Coram, NY
He was absolutely AMAZING! Best balloon twister I have ever seen, so original. And during the magic show he did a great job interacting with everyone (adults and kids) and kept everyone's attention. Was a pleasure to work with and I would definitely refer to a friend and hire again for upcoming events....HE IS A MUST FOR A KIDS PARTY!!!!!
Birthday Party (Kids)•Reviewed on April 21, 2018•From Port Washington, NY
Mr. Twisty was amazing at our daughter's first birthday party. We hosted the party for 55 adults and 30 kids at a restaurant. Before he arrived, kids were running all over he place, but as soon as he made his first balloon they started lining up! He was super flexible and letus play the hour by ear as to if we wanted balloons the whole time or a magic show as well. Once the kids finished eating, Mr. Twisty did put on a magic show which was awesome. All the kiddies sat on the ground and loved the entire act. My wife and I absolutely recommend Mr. Twisty for any party! He really made the day special
Birthday Party (Kids)•Reviewed on October 14, 2017•From Westhampton, NY
Mr. Twisty was amazing! He was the perfect addition to my daughters 1st Birthday. All the kids loved the balloons he made and everyone loved the magic show! He had all the adults laughing and all the kids totally engaged. It was great! So glad I hired him!!!
Birthday Party (Kids)•Reviewed on June 11, 2011•From Massapequa, NY
When I asked my daughter, "what was your favorite part of the party?" She immediately replied "The Magician and balloons!" I don't think there is any better of a review to write than that. I will add that Mr. Twisty was on time and ready to go as scheduled, a very nice man that I will recommend to anyone asking for the name of a performer for their kids' parties. Thanks again!
Birthday Party (Kids)•Reviewed on September 26, 2021•From Sag Harbor, NY
Mr. Twisty has a fun personality and held the children's attention, as he entertained with magic and balloon creations. Since my great granddaughter is into magic, Mr. Twisty was delightful addition to her 7th birthday party.
First Communion•Reviewed on May 11, 2019•From Baldwin, NY
Mr. Twisty was excellent with the kids; keeping them engaged and entertained the entire time. He is a wonderful performer and a very kind and personable man. The kids had a blast!!
First Communion•Reviewed on May 19, 2018•From Huntington, NY
Mr Twisty was terrific. He was very accommodating, and kind to the kids. He demonstrated some fun magic tricks and kept the kids attention the whole show. He went above and beyond with the balloon animals. He even made wedding hats since our party was the same day as the royal wedding. Both kids and parents enjoyed him. Two big thumbs up!
Celebration•Reviewed on May 17, 2014•From Holtsville, NY
My daughter loved having Mr Twisty at her Communion. Arrived on time (maybe even a little early). While he did have my daughter assist with many tricks he included all the other children as well. After his show he did balloon twisting and was VERY patient with all of the kids requests. Did not rush out the door after his hour and made sure all the kids had their balloons :)
Birthday Party (Kids)•Reviewed on May 2, 2021•From Roslyn, NY
Working with Mr Twisty was! He was kind, caring and talented. I would recommend
Celebration•Reviewed on May 5, 2018•From Bethpage, NY
He was wonderful and kept the children very engaged. We loved him. Thank you very much :)
Birthday Party (Kids)•Reviewed on May 20, 2017•From Long Island, NY
My twisty kept the kids at my daughters first year bday entertained the entire event! They loved him! Balloon animals and magic show was great def recommend him!
Mr. Twisty:
Thank you for taking the time and effort to write such a great review. I had a great time at your party and I know everyone else did. Thanks again!!!
Christening•Reviewed on May 7, 2011•From Copiague, NY
Can I just say how wounderful Mr. Twisty was he was on time,Was awesome with the kids , no complaints at all. Would recommended him and would use him again for my other daughter communion next year. Thanks agin Mr Twisty for the great job you did at my daughters communion the kids loved you!!
July 4th Party•Reviewed on June 30, 2017•From Mattituck, NY
Paul was a true professional. He was easy to communicate with and was OUTSTANDING with the kids. Extremely reliable. We would love to work with him at future events.
Halloween Party•Reviewed on October 28, 2017•From Middle Island, NY
The kids loved him- thats all that matters- He left them smiling !
Birthday Party (Kids)•Reviewed on June 2, 2018•From Westhampton, NY
He's the best. very patient with wild little humans and so talented!
Birthday Party (Kids)•Reviewed on November 22, 2017•From Sayville, NY
Excellent !! Mr. twisty made the party. The kids loved him!!!!
Birthday Party (Kids)•Reviewed on March 7, 2018•From Freeport, NY
Very satisfied!!! My son loved it and so as his classmates. I will definitely call him back for other events!
Family Reunion•Reviewed on August 13, 2016•From Sag Harbor, NY
MrTwisty was the perfect entertainment for our group. Very professional and personable. He gets 5 stars from us!!!!
Birthday Party (Kids)•Reviewed on February 23, 2013•From Lindenhurst, NY
Loved Mr. Twisty!! He arrived early began his balloon magic right away and the kids loved him! He has a great presence about him and he is a nice guy. Mr. Twisty gets 100+ balloon recommendation from me!
Birthday Party (Kids)•Reviewed on February 10, 2018•From Commack, NY
Excellent party, thanks Mr Twisty!
Community Event•Reviewed on June 8, 2013•From Port Jefferson, NY
Mr. Twisty accommodated our rain date favorably even coming earlier than anticipated. He was so friendly to all the children, listened to their little stories then accommodated their request as to the designs requested. A line formed around him waiting patiently for their turn and leaving with their balloon designs with big smiles on their faces with their prize in hand or string on their strollers. We had at least 250 children or more at this popular event and all had a beautiful time. Quite simply, I would book Mr. Twisty again with hesitation as part of any celebration that would feature - "Fun for Children". Thank you for your recommendation and service.
Birthday Party (Adult)•Reviewed on November 8, 2014•From West Hempstead, NY
Mr. Twisty was just great. When I arrived he was already making balloon animals and handing them out to the guests during our cocktail hour. When I went up to introduce myself he was very personable and gave me a very intricate lady bug balloon wrist corsage. Very impressive. He was a guest favorite and it seemed everyone was going over to him to get giraffes, flowers and poodles. I didn't realize just how much they liked him until near midnight, hours after he had left, I saw lots of guest leave with shopping bags full of his creations. He told me he was going to make some inventory for us, I just didn't realize how much. Mr. Twisty was aces!
First Communion•Reviewed on May 6, 2017•From Farmingdale, NY
Mr. Twisty arrived early and immediately started entertaining the kids at my daughter's communion. My daughter was thrilled with all of his creative balloon creations.
Celebration•Reviewed on October 29, 2016•From Westhampton Beach, NY
Mr twisty was engaging for kids & parents alike. His tricks were current and everyone enjoyed the banter.
Birthday Party (Kids)•Reviewed on April 9, 2017•From East Setauket, NY
Very sweet man. My son said it was his favorite part of his party
Mr. Twisty:
Thank you for the nice review and nice tip! It is appreciated! Have a great summer!