Back to profile
Smooth Brew Reviews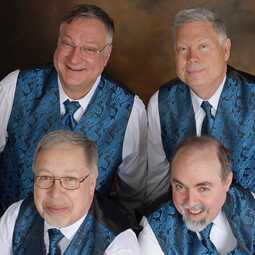 Avg 5.0 | 38 Reviews

Barbershop Quartet from Plano, TX

62 Verified Bookings
Starting at $200 per event
---
38 Reviews for Smooth Brew
Birthday Party (Adult)•Reviewed on September 22, 2021•From Plano, TX
We had Smooth Brew sing to our sister for her 70th birthday. We, her sisters, are in New York, Oregon, and Idaho! They "ambushed" her at church choir and sang a favorite family song in addition to Happy Birthday and a precious blessing. They were even better than we expected! These fellows were great to work with - especially since I was arranging this from Oregon!! Amazing gift for our sister!! Thank you Smooth Brew!!
Christmas Party•Reviewed on July 25, 2021•From McKinney, TX
Smooth Brew did a Zoom concert for us for our Christmas in July family celebration. They did a fantastic job and choose a great selection of music, appealing to all age levels. The experience was fun & enjoyable for all. I highly recommend Smooth Brew !
Birthday Party (Adult)•Reviewed on September 26, 2020•From Dallas, TX
Smooth Brew worked really well with me to deliver what I needed. I am living abroad and needed someone to sing to my mother for her 60th and they really made her day so memorable. I was very grateful to find them.
Birthday Party (Adult)•Reviewed on February 29, 2020•From Frisco, TX
Smooth Brew made our birthday get-together a real party! Jon was excellent to plan with...taking our requests and making suggestions that were perfect for our event. They were flexible when changes came up and had great communication. We loved how they didn't just show up and sing. They truly planned a show. They introduced each song with fun facts and were playful with the audience. Their love for their work shined through as they sang and left my father honored and happy on his birthday. I HIGHLY recommend this incredible group!
Birthday Party (Adult)•Reviewed on November 23, 2019•From Frisco, TX
Smooth brew was wonderful charming talented and made our event for my mother-in-law's 90th birthday so special! I highly recommend them!
Funeral•Reviewed on November 23, 2019•From Rockwall, TX
Awesome professional caring group They were very accommodating and exceeded our expectations.
Birthday Party (Adult)•Reviewed on March 23, 2019•From Dallas, TX
Excellent! Performed on time and everything went great.
Review by Francine Hannigan H.
Community Event•Reviewed on January 14, 2019•From Richardson, TX
Birthday Party (Adult)•Reviewed on November 3, 2018•From Dallas, TX
How do say "perfection"? These four men made our family reunion, Baptism, and our matriarch's 89th Birthday so very special. Their talent is amazing, superb communication plus special songs not normally available on their play list, all contributed to a very special evening. Hire them. You will have memories to cherish!
Wedding Reception•Reviewed on September 22, 2018•From McKinney, TX
My daughter and her fiancé wanted a Barbershop Quartet to perform during cocktail hour at their wedding reception. After looking at several they hired Smooth Brew and could not be happier with their choice. The selection of songs was a wonderful mix of traditional old love songs and modern pop classics and the tribute they performed for the newlyweds at the end of the performance will not ever be forgotten. As the proud father of the bride I can only say these guys got our reception off to a fabulous start and should the occasion arise again I would hire Smooth Brew NO question.
Celebration•Reviewed on April 21, 2018•From Dallas, TX
I contacted Smooth Brew only two days before the event and they not only accepted my request, but they sent a personalized response and contacted me via a phone call. Their professionalism and expertise in communication were beyond expectations. The recipients of their performance were filled with delightful surprise and described the experience as being awesome and "making them grin from ear to ear!" You see, I never heard their voices because I "rented" Smooth Brew from WA to sing to a son and daughter-in-law from CA who were on a mini-retreat in TX! So if you desire to bring joy through music, contact Smooth Brew. They will do just that!
Birthday Party (Adult)•Reviewed on April 3, 2018•From Plano, TX
I was not able to be with my mother for her birthday and she is temporarily in a rehab center recovering from surgery... Smooth Brew went and serenaded her with Happy Birthday and a few other oldies... She loved it and it made her day so special and memorable!
Birthday Party (Adult)•Reviewed on December 26, 2017•From McKinney, TX
We've hired barbershop quartets for 15 years. Smooth Brew is the best. To plan our event, in addition to their recommendations, they had a wide selection of songs we could hear from their website. They were creative and flexible about the surprise element of our event (their entrance) and they pulled it off without missing a beat. The song selection led to us experiencing the world class vocal range of each member of the group. We want to bring them back as soon as we can. They are awesome.
Holiday Party•Reviewed on December 10, 2017•From McKinney, TX
Smooth Brew performed at our Senior Men's Golf Association Christmas Party for an audience of 103 attendees. The audience showed their approval with strong applause with many members expressing their approval with a standing ovation. We would not hesitate to recommend this wonderful group. The group made our Christmas Party extra special.
Birthday Party (Adult)•Reviewed on August 20, 2017•From Wylie, TX
Smooth Brew is very talented and entertaining. There was good communication leading up to the event. They have a great selection of songs and were able to be available with short notice. Highly recommended!
Birthday Party (Adult)•Reviewed on August 6, 2017•From Frisco, TX
Communication back and forth was very professional and warm. They were very accommodating to our schedule (they waited until our last group got there prior to starting the show). Had our whole group smiling the entire performance. Highly recommend Smooth Brew.
Birthday Party (Adult)•Reviewed on October 29, 2016•From Plano, TX
They were great & all the guests enjoyed it
Convention•Reviewed on June 23, 2016•From Frisco, TX
Smooth Brew performed for over 1,000 key women educators at our State Convention at the Frisco Convention Center. The arrived early and did a sound check with the sound system. The selections of songs that I selected they included in the performance. The audience really enjoyed their performance and even asked for an encore which they provided. This was the beginning of our conference, The Opening Session, and it set the tone for our members. Great musical selections, terrific harmony, enjoyment by the performers as well as the audience, and very reasonable.
Memorial Service•Reviewed on April 30, 2016•From Dallas, TX
The group did a great job and was the perfect addition to our Veteans Reunion.
Corporate Function•Reviewed on February 12, 2016•From Dallas, TX
Smooth Brew was easy to reach and extremely flexible and accommodating for our event. They went above and beyond to provide us with excellent customer service - I would highly recommend them for any event. The audience loved it!
Birthday Party (Adult)•Reviewed on January 24, 2015•From Dallas, TX
Smooth Brew was a perfect addition to my aunt's birthday party. The men were organized, easy to work with, and very entertaining. I found their communication and planning skills excellent. They arrived on time, stayed in contact with me, and were very professional. But, most importantly, they were great singers and performers. I highly recommend the men of Smooth Brew.
Celebration•Reviewed on December 20, 2014•From Dallas, TX
Birthday Party (Adult)•Reviewed on September 21, 2014•From Mansfield, TX
It was a delightful experience from the initial search for Smooth Brew to the last song they performed. They made the birthday party a very special occasion. We would certainly book them again ??c
Anniversary Party•Reviewed on August 16, 2014•From Richardson, TX
SB was very entertaining and professional. They even relearned, at our request, lyrics to a song for us.
Birthday Party (Adult)•Reviewed on April 29, 2014•From Richardson, TX
The gentlemen in Smooth Brew provided a fantastic sensorial experience to my parents and friends for my dad's birthday. Since they live in a retirement community, part of the performance was given in the main dining hall so that all the residents could enjoy the song and cheer. I was able to easily organize this + the logistics online in absentia, and I found them very professional, witnesses speak of beautiful voices and personalized repertoire. They have now lots of requests at the retirement community to return, and the management wants them back. That speaks for itself, I think, so I would strongly recommend this group for their talent and their heart.