Back to profile
Islandboys Reviews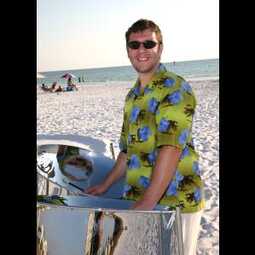 Avg 5.0 | 157 Reviews

Steel Drum Band from Gulfport, FL

255 Verified Bookings
Starting at $300 per event
---
157 Reviews for Islandboys
Birthday Party (Adult)•Reviewed on May 22, 2022•From Sarasota, FL
Winston was awesome. He loves what he does and it comes across to the crowd. I highly recommend him to anyone looking for a great addition to your party
Nursing Home Event•Reviewed on April 26, 2022•From Sarasota, FL
The Island Boys were a lot of fun, good sound, brought everything they needed for us to have a successful party. And they were on time despite traffic and construction!
Celebration•Reviewed on March 30, 2022•From Sarasota, FL
Winston was great. His playing added a big chunk of fun to our party. I'd definitely hire him again.
Birthday Party (Adult)•Reviewed on March 18, 2022•From Belleair Beach, FL
Excellent! Communication was great, music was wonderful and the event was delightful because of it!
Corporate Function•Reviewed on January 30, 2022•From Port Charlotte, FL
Lovely man and great music!
Private Party•Reviewed on December 31, 2021•From Englewood, FL
Winston from Island Boys was our steel drum player New Years Eve and he did an outstanding job! He sent a couple of reminder emails and arrived in plenty of time and set up quickly. His music was awesome, all of our friends got up to dance, Highly recommend!
Anniversary Party•Reviewed on October 2, 2021•From Fort Myers, FL
What an excellent addition to our party! Winston was friendly and attentive. Definitely plan to use again.
Resort Event•Reviewed on December 18, 2021•From Lake Wales, FL
Corporate Function•Reviewed on November 21, 2021•From Port Charlotte, FL
Very pleasant and professional
Wedding Reception•Reviewed on November 13, 2021•From Bradenton, FL
Awesome!!
Wedding•Reviewed on June 6, 2009•From Saint Petersburg, FL
Wonderful job! Winston was so nice and pleasant to do business with. Everyone loved the steel drum music at our wedding. We will definitely hire them for future events. Thank you!
Memorial Day Party•Reviewed on May 25, 2009•From Sarasota, FL
Hiring the Island Boys was the smartest thing I did for my party -- by far. They set the stage for the event, and filled my backyard with music that transported us to the "Islands". I heard from others who want to hire them!
Birthday Party (Adult)•Reviewed on May 23, 2009•From Punta Gorda, FL
Jesse of the Island Boys was fantastic. My party was a total success and Jesse provided absolutely the best music for my birthday party - Tropical Nights - Caribbean Style. His music was perfect. I've gotten many phone calls saying that my party was the best that many had ever attended. And, of course, everyone wanted to know how to reach the Island Boys should they want entertainment for their own Island Party! Great! Karen Lyons Punta Gorda, FL
Wedding•Reviewed on May 16, 2009•From Saint Petersburg, FL
The Island Boys did a wonderful job playing at my beach wedding. Many guests came up to me and stated how cool it was that he could play Canon in D and other traditional wedding songs on the Steel Drum. Thanks for making our wedding unique!
Birthday Party (Kids)•Reviewed on May 9, 2009•From Saint Petersburg, FL
We were very pleased with the performance and professionalism of Josh (our performer) and Winston his dad, with whom we made arrangements. The music was wonderful - exactly what we wanted. Josh and Winston worked with us on the song list, the duration of the gig, and the special song requests for our daughter's birthday. The party was so successful, we extended him an hour on the spot and the guests were begging to keep him all night. We would have, but it was Josh's anniversary, so we reluctantly let him go home! We had a wonderful experience with Josh, very polite, easy going and talented! Great steel drum player!
Wedding Reception•Reviewed on May 2, 2009•From Saint Petersburg, FL
A wonderful experience. They were very professional and worked with us for all the details for our daughter's wedding. They were fantastic. Rick and Marti
Wedding•Reviewed on March 27, 2009•From Clearwater, FL
Perfect in every way!
Birthday Party (Adult)•Reviewed on February 8, 2009•From Saint Petersburg, FL
The Island Boys, Jesse, was excellent. My guests were very pleased with Jesse's performance. He was courteous and very accomadating to my guests. I recommend the Island Boys to anyone who wants a Steel Drum Band. I certainly will use the Island Boys again for my next party. Thank you Gigmasters.
Graduation Party•Reviewed on May 16, 2009•From Largo, FL
Jesse was absolutely wonderful. He was very professional and was enjoyed by everyone. It was a great addition to the graduation party and several people asked how to get in touch with him. We also recommended they go to Bilmar to hear the bad perform. Thank you so much.
Wedding•Reviewed on May 27, 2009•From Sarasota, FL
First of all He was late and our guest that were supposed to be entertained for 30 minutes before the wedding were not entertained because he was not set up until 4:00. I paid the full amount anyway because once he got started he was good, but I did not get my money's worth.I deserve some free cd's or something. Also he had about 2 months to figure out where he should have been ON TIME
Islandboys:
I have a contract signed by these clients that states a 4:00 starting time for the gig. I have a secured gigmasters bid no.509816 secured by these clients stating 4:00 as "time needed". The client states in this feedback that we started at 4:00, the exact time we agreed to start. I am very sorry that some how the client misunderstood the 4:00 starting time, that was clearly stated on two separate contracts that they read and discussed with me and signed many months before the event. I don't believe that this clients feedback reflects the truth and the fact that we started when we agreed to start and never discussed otherwise with the cli
Birthday Party (Adult)•Reviewed on December 13, 2008•From Largo, FL
While the person arrived on time and was set up, the contract stated 2-15 minute breaks over 3 hours. Before the end of the first hour I found him outside on his phone and many people remarked throughout the evening that he had on the "canned" music and was not playing the drums- again he was outside on his phone. When I confronted him on the terms of the contract, he seemed to not know this. I was very disappointed and felt that I did not get my money worth. I would not hire this preformer or this group again, and would not recommend them. I feel as if i should get a partial refund, but did pay him the full amount.
Islandboys:
After viewing the clients feedback, we immediately e-mailed & called her to sincerely apologize. Although it's no excuse, the truth was that our son, Jesse was on that cell phone because his car is broke down in Georgia since Thanksgiving. And he had arranged to go to try to get it that evening after this job and his friend who was driving had to cancel. So, he was trying to find someone else ASAP. This is why he was so distracted from this gig. Again, it's no excuse for our young son. The client was kind enough to return our call and except our apology. She didn't feel comfortable for a whole refund that we offered so we sent her half. Jesse learned a lesson!!
Private Party•Reviewed on July 11, 2009•From Saint Petersburg, FL
Fundraiser•Reviewed on June 20, 2014•From Safety Harbor, FL
Amazing!
Birthday Party (Adult)•Reviewed on June 1, 2014•From Orlando, FL
Winston was awesome! We hiref him for our bon Voyage and Birthday party. We all loved listening to him play the steel drums. Winston was prompt courteous and professional. I would rehire him for an event and I would highly recommend him to family & friends. Thank you Winston! Sylvia B.
Celebration•Reviewed on May 14, 2014•From Hudson, FL
Winston was very accommodating and professional. He always returned phone calls and never caused me to worry in the least. He was early to the celebration, played for the whole 2 hours without any fuss. He was very interactive with our residents and families. They enjoyed him tremendously. I would definitely hire the Islandboys and Winston again. No complaints whatsoever. This was the easiest entertainment I have ever worked with and made for a much more enjoyable celebration for me as well. Thank You!