Back to profile
Frantic City Reviews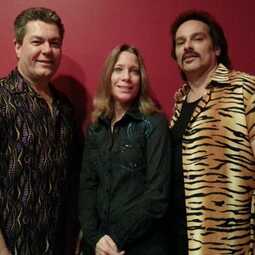 Avg 5.0 | 35 Reviews

Rock Band from Shelton, CT

52 Verified Bookings
Starting at $550 per event
---
35 Reviews for Frantic City
Club Event•Reviewed on August 7, 2021•From Ridgefield, CT
Epic Band Party night with Frantic City!!! They rocked the house and had everyone up and a Dancing for hours! Chris was so great to work with and they were very accommodating and most of all were super talented musicians! Their set list was amazing snd they read the crowd perfectly! Wish I could hire them every weekend!
Birthday Party (Adult)•Reviewed on July 17, 2021•From Southington, CT
I loved this band, They were amazing. So professional and respectful. The guitar solos were off the hook. They honored all my song requests. we danced all night long. I would hire them again and again.
Birthday Party (Adult)•Reviewed on July 10, 2021•From New Canaan, CT
Frantic City rocked our party! They were professional & amazingly talented. Days later guests are still contacting me to rave about the band and have requested they become part of an annual tradition. They were awesome and I highly recommend to anyone who wants to rock!
Birthday Party (Adult)•Reviewed on June 26, 2021•From Shelton, CT
Wow Absolutely Amazing performance this band is the real deal professional from first contact Chris came by a few days ahead to do a walk through they showed up early to set everything up unbelievable sound system and equipment truly professional really nice lighting equipment also they interacted with the crowd a guitar solo all throughout the property I keep getting calls and text from everyone that was there saying how unbelievable the band was highly recommended Frantic City for any event you want to have an awesome band that makes it an unforgettable event Thank You Frantic City we will definitely be hiring you again !!!
Birthday Party (Adult)•Reviewed on June 5, 2021•From Pleasantville, NY
What an awesome experience all around! Huge thank you to Frantic City for a stellar gig. Incredible vocals, sound & song selections. Would definitely book again and recommend! They were also super accommodating as we shifted the time to mitigate with the sun and heat that day.
Birthday Party (Adult)•Reviewed on August 25, 2018•From Monroe, CT
Wow! They kill it! Everything went so perfectly! Everybody is so friendly . They are talented in many different way!! Guests had an amazing time and still talking about the band. We will definitely have them over for another party for sure !! Highly recommended this band!! Nikki Slattery
Birthday Party (Adult)•Reviewed on September 21, 2019•From Milford, CT
Frantic City was amazing! They rocked all night from Beatles Clapton to Green Day with dj music and lighting. Very talented band Rachel Hewett
Wedding•Reviewed on April 14, 2018•From Branford, CT
Hey guys, Thanks for making our wedding night one to remember. We had a blast, you guys put on one hell of a show. I'm hoping in the future we can come out and see you guys perform again. Definitely got some new fans after Saturday night. J+K
Birthday Party (Adult)•Reviewed on July 9, 2016•From Killingworth, CT
Frantic City was awesome. Chris was very personable and worked with me in every aspect of the party. My guest loved the range of music played, and handed out several business cards to friends after the party! I would 100% hire them again for an event.
Private Party•Reviewed on June 17, 2017•From Westport, CT
We hired Frantic City again for another party because they were SO great at our first one. Once again Frantic City delivered! Chris, Stacey and Remo are fabulous! They are all so very talented and sound like a larger band; Chris even hopped off stage and played his guitar throughout the crowd which was amazing. They are all very nice and want to help you make your party a success. Everyone had a great time and danced out on the lawn for hours. If we have another opportunity I will most certainly hire them again. Thank you Stacey, Chris and Remo for an AWESOME evening!!!
Private Party•Reviewed on July 8, 2017•From Hamden, CT
Frantic City was amazing! This is the second time I booked the band for a party and they were even more impressive than the last time I booked them. Who could believe that a 3 peice band could sound like a 6 peice band only better. They were very professional every step of the way they scheduled music and breaks based on our needs for the event. Once again I would recommend them to anyone looking for a band that is way above average in talent and ease of booking.
Wedding•Reviewed on June 1, 2013•From New Haven, CT
Frantic City performed for our wedding reception and exceeded our expectations. The talent, professionalism, and flexibility of the band blew us away. Chris really worked the crowd and got everyone on the dance floor. We highly recommend Frantic City to anyone looking for a great rock band!
Private Party•Reviewed on August 20, 2016•From Westport, CT
Chris, Stacey and Remo were FABULOUS!! We held an outdoor party for about 100 guests and Frantic City was the highlight! They sounded awesome and got all the guests up and dancing. We want to host another party just to get them back. From the very beginning Chris made it super easy to communicate with them about their playlist and other details. He was organized and really helpful. Thanks guys, you're the best!
Wedding Reception•Reviewed on June 27, 2015•From Norfolk, MA
Frantic City played for our reception party and were fantastic. Chris was very accommodating and flexible with all of our last minute requests and changes. They were very easy to work with. They sounded excellent and I got a lot of compliments and questions on how I found them. Several of my friends got their contact information for future parties! If I ever have an event again that calls for a live band, I will definitely have Frantic City come back. Very professional and a lot of fun!
Apres Ski Party•Reviewed on November 16, 2013•From Windsor, CT
Frantic City did an amazing job entertaining a very diverse crowd. They are extremely talented musicians AND entertainers. I highly recommend Frantic City. The Hartford Windsor Marriott staff also complimented Frantic City on their professionalism. Chris was professional, flexible and accommodating when working out the logistics for the evening. If you want a band that will blow you and your guests away then hire Frantic City!
Graduation Party•Reviewed on June 28, 2014•From Brookfield, CT
Frantic City is amazing!! They did a great job for our party. Very professional yet personable. Great people, great time, fantastic music! Thank you Frantic City for making our night special!
Bar Mitzvah•Reviewed on May 5, 2012•From Pittsfield, MA
These guys rocked! We had a great time and they were very professional and courteous every step of the way! I'd hire Chris and the band again in a hot minute. Thanks Frantic City!
Halloween Party•Reviewed on October 15, 2011•From Medfield, MA
It has been two weeks and I am still getting compliments on the band. They were fantastic and I would hire them again without a second thought. If you have a chance to see them play or a chance to hire them for your party, you would be crazy not to!!
Wedding•Reviewed on September 8, 2012•From West Point, NY
They were great to work with
Anniversary Party•Reviewed on September 9, 2011•From Glastonbury, CT
This band was great! Show up on time. no maintenance. great talent. 3 member rock band, and still 12 hours later the songs are ringing in my head. Would hire again and recommend... The Glastonbury Elks
Private Party•Reviewed on September 3, 2011•From Winsted, CT
My fellow campers could not stop telling my wife and I how great they were.Hope to see themm next year.
Picnic•Reviewed on June 3, 2011•From Chappaqua, NY
Frantic City was awesome. Thanks for a fun, rocking evening.
Bar Mitzvah•Reviewed on March 27, 2011•From New York City, NY
Frantic City were great. Band is super tight and full of energy. Terrific performers whether room was full or not. They were very easy to work with, patient with last minute timing, and adjusted to varying needs at the event. Most importantly they are great musicians and a lot of fun to have playing an event. Very, very satisfied.
Birthday Party (Adult)•Reviewed on July 3, 2010•From Southington, CT
Frantic city was a pleasure to work with. It was my first time hiring a band for a private party and they were so accomodating. My husband knew he was having a 40th birthday party, but he didn't know that I had a band waiting for him on the back patio. He was thrilled and loved the party. The music provided by Frantic City made the night. All of our guests were impressed with their performance. I would definitely recommend them.
Birthday Party (Adult)•Reviewed on August 22, 2009•From Sandy Hook, CT
Frantic City played for my husbands 30th birthday party. They learned a couple of special request songs and were a pleasure to deal with. Chris was always very quick to respond to my questions. They have the feel and sound of a larger band with the benefit of them not taking up too much space. I was very impressed w/ their level of talent and I would highly recommend them. If you have this group to your event - you won't be dissapointed!! THANK YOU FRANTIC CITY!!! - Sara D. Sandy Hook. CT.