Back to profile
Roger Hurtado Reviews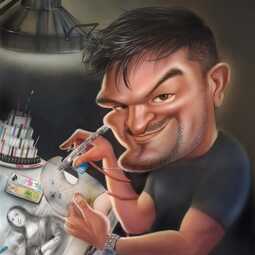 Avg 5.0 | 169 Reviews

Caricaturist from Chicago, IL

322 Verified Bookings
Starting at $125 per hour
---
169 Reviews for Roger Hurtado
Birthday Party (Kids)•Reviewed on June 16, 2012•From Mundelein, IL
I strongly recommend to hired Roger Hurtado for any party. Very talented person. That was pleasure to have him in our party. Thank you very much. Kathy
Trade Show•Reviewed on May 5, 2012•From Chicago, IL
We hired Roger to give our National Restaurant Association booth a little extra pizzazz, and he definitely stole the show! People were stopping by and asking for caricatures, making our booth look full. He drove in a lot of extra traffic. All in all, Roger was incredibly professional and just fun to hang out with during the slow hours. He laughed at all of our terrible jokes and drew all of us twice. I would recommend him to anyone!
Bat Mitzvah•Reviewed on February 5, 2012•From Wilmette, IL
Roger was fantastic -- friendly, great with my guests from young to adult, and incredibly talented. I wouldn't hesitate for a moment to hire him again. Thanks, Roger!
Luau Party•Reviewed on September 3, 2011•From Crown Point, IN
Roger did an AWESOME job during our party. All our guests loved him. They enjoyed his artistic talent and had so much fun interacting with him while he drew their caricature. He was A BIG HIT!! I'm so glad we hired him. I would recomend Roger anytime. GREAT JOB!!!
Graduation Party•Reviewed on July 7, 2012•From Homer Glen, IL
Everyone loved Roger! He was a lot of fun and a great addition to the party. Would totally recommend him to anyone thinking of having a little something different at a party!
Wedding Cocktail Hour•Reviewed on July 16, 2011•From Munster, IN
He was the best! Everyone loved him... His work is wonderful! We had several people ask how we found him. He is very good at what he does.This was perfect for our wedding.Thanks Again! Keith & Christine
Graduation Party•Reviewed on June 26, 2011•From Glenview, IL
Roger was very professional and accomodating in every respect. He showed up on time, set up immediately and worked without a break for the contracted time. Roger was very friendly and able to work with both the adult and children guests. He is a very talented artist and produced very intersting caracatures. Everyone seemed to appreciate his work. I highly recommend Roger. Michael F.
Anniversary Party•Reviewed on June 11, 2011•From Chicago, IL
Roger was great. The patrons loved him. We would definitely have him again. A+
Birthday Party (Kids)•Reviewed on May 1, 2011•From Lemont, IL
Roger was very talented and worked well with the kids and even the adults enjoyed him. Great job and I will definately use him again. Thanks Roger!
Birthday Party (Adult)•Reviewed on March 25, 2011•From Hammond, IN
Roger was wonderful. He kept my guests laughing all night as he drew piece after piece. He was such a hit, at my husbands 40th birthday party, we had to ask if he was willing to stay for an extra hour (and of course he was.) He was entertaining to everyone at the party, the old the young and everyone in between. I have nothing but good things to say about Roger and his work.
Birthday Party (Adult)•Reviewed on January 8, 2011•From Crete, IL
Roger was a huge hit at my birthday party! People loved him and waited in line for hours to get a picture drawn up. He is very talented in his line of work! I would refer him to anyone that is looking for a caricature artist. He was great on extending the time for all my guests to get drawn up. Once again, thank you Roger for making it to my party! I look forward to working with you again in the future.
Wedding Reception•Reviewed on June 2, 2012•From Glen Ellyn, IL
Our wedding was on June 2nd 2012 in Glen Ellyn. We still don't have our sketch that was contracted to us. Roger contacted me after I left him poor feedback on GigMasters. He apologized and promised our sketch in the next week. Almost 3 months later, no sketch, and he won't email or call me. I've tried several times to have GigMasters reach out to him, but to no avail. He was great at the reception and came on time but unfortunately this was the worst service with a vendor I've dealt with for our whole wedding. My husband and I are super disappointed.
Picnic•Reviewed on August 6, 2011•From Schaumburg, IL
Celebration•Reviewed on June 25, 2021•From Bensenville, IL
He was amazing! Very talented! Highly recommend!
Birthday Party (Kids)•Reviewed on September 12, 2021•From Hobart, IN
Roger was so amazing everything was perfect for my daughter 10th party he made the event amazing
Celebration•Reviewed on August 27, 2021•From Chicago, IL
He was great!!! Will definitely use him again -everyone was so impressed and he made it so fun!
Wedding Reception•Reviewed on August 6, 2021•From Buffalo Grove, IL
Roger is very talented at what he does. His Caricature drawings were amazing. It brought many people smiles at my wedding. I highly recommend him!
Birthday Party (Kids)•Reviewed on July 10, 2021•From Tinley Park, IL
Roger was amazing! We had a last minute cancellation for my daughter's 10th birthday party and we're scrambling at the last minute to find a new artist. Roger came to the rescue! He was a pleasure to work with and his skills are amazing! My entire family enjoyed his artwork and professionalism. He was very friendly and easy to talk to. We would definitely recommend him to a friend and plan on booking Roger again in the future!
Wedding Reception•Reviewed on May 14, 2021•From Oconomowoc, WI
Everyone loved having Roger at our wedding, he was a hit the whole night! We loved that he was able to create a caricature of us before the wedding that we could display the day of. It's a great way to remember our day.
Birthday Party (Kids)•Reviewed on April 10, 2021•From Cicero, IL
Absolutely happy with his services Very cordial My guests had a blast with him Highly recommend his services
Birthday Party (Adult)•Reviewed on February 11, 2021•From Skokie, IL
Roger was such a pleasure to deal with. He is professional, extremely talented, and patient. I would definitely recommend him!
Engagement Party•Reviewed on September 12, 2020•From Chicago, IL
Corporate Function•Reviewed on January 25, 2020•From Chicago, IL
Roger was great! We loved working with him and would highly recommend him!
Corporate Function•Reviewed on December 14, 2019•From Palatine, IL
Roger is consistently professional, we have hired him many times and is he is so incredibly talented, engaging with guests, and really does a great job overall. He adds alot to a party. I will always hire him when I need a caricature artist!
Birthday Party (Kids)•Reviewed on December 8, 2019•From Franklin Park, IL
Roger did a fantastic job at our party! He met and exceeded all expectations. I am very glad we hired him and will do so again in the future. All my guests loved his drawings. He is truly talented!!!