Back to profile
Romantic Cello Reviews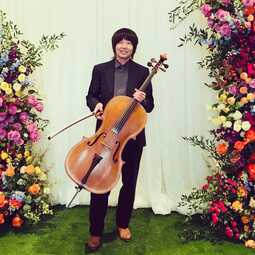 Avg 5.0 | 90 Reviews

Cellist from San Clemente, CA

186 Verified Bookings
Starting at $250 per hour
---
90 Reviews for Romantic Cello
Awards Night Party•Reviewed on January 27, 2023•From Tustin, CA
Hitoshi performed at our corporate event. He was professional, timely, and accomodated our special requests. He plays beautifully, and we would totally use him in the future. Thanks so much.
Celebration•Reviewed on September 25, 2022•From Laguna Beach, CA
Great performance- thank you very much for being there!
Wedding Ceremony•Reviewed on September 10, 2022•From Carmel, CA
Hitoshi was professional and respectful. He was such a pleasure to have at our event.
Wedding Ceremony•Reviewed on August 22, 2022•From San Diego, CA
Hitoshi is ABSOLUTELY AMAZING!! Our special day would not have been the same without Hitoshi there. He played beautifully and even when the venue changed, he was very accommodating. Will definitely book for future events. Thank you!!!!!
Wedding Ceremony•Reviewed on August 19, 2022•From San Luis Obispo, CA
Hitoshi was amazing. He was extremely nice and professional. I had a few requests for songs and then he filled in the rest with what he thought fit nicely and he did a fantastic job. I would highly recommend him to anyone!
Wedding Ceremony•Reviewed on August 6, 2022•From La Jolla, CA
Hitoshi was so incredible! Our guests could not say enough kind words about his talents for our ceremony and cocktail hour. He was so professional, kind, and talented! I would recommend him to anyone and hope we can hear him play agin one day. Even the children at our wedding were in awe of his talents!! Thank you Hitoshi for making our day the best it could be!!!! <3
Wedding Cocktail Hour•Reviewed on July 31, 2022•From La Jolla, CA
I could not be any more amazed by Hitoshi as a human being, and by his dedication, and talents! He was so willing and able to learn, memorize, and flawlessly perform some of my favorite pieces, and was incredibly communicative and accommodating. He arrived half an hour before the given time and decided to begin playing early purely out of the goodness of his heart! I am so so sad that I missed greeting him goodbye but I can honestly say from one musician/music-lover to another, he is such an absolute dream to work with! Hitoshi, I wish you all the best in your future endeavors!! From the bottom of our hearts, Saif and I, our families, and guests thank you!!!
Quinceañera•Reviewed on May 22, 2022•From Simi Valley, CA
Great performance, will definitely request him to play in future events. Thank you.
Private Party•Reviewed on April 10, 2022•From Long Beach, CA
Total professional. Beautiful music, prompt, courteous. Wonderful afternoon.He is a master cellist. Hire him. He delivers!
Wedding Ceremony•Reviewed on March 26, 2022•From Oxnard, CA
Hitoshi is truly one of a kind. He isn't only a great pianist/cello player he is also the most genuine person you'll ever meet. His passion for music is one of a kind. He listens to every little detail you have & perfects it. I can't wait to book with him again. Thank you Hitoshi for an unforgettable night ! Nothing but compliments we've received from his performance !
Wedding Ceremony•Reviewed on March 5, 2022•From Palm Springs, CA
Hitoshi was great to work with! He was very accommodating for my clients both in learning unique songs they requested and being flexible day of when we had to move everything inside at the last minute due to inclement weather! He plays soooo beautifully and really added a special touch to my clients ceremony! Would definitely refer him again!
Commitment Ceremony•Reviewed on March 1, 2022•From Palm Springs, CA
OMG!! I could NEVER say enough about how great Hitoshi is as a professional, as a performer, or as a person. I hired him to play in Joshua Tree NP where I proposed to my partner. He was flexible when my venue changed, he learned two new songs and played them perfectly, he was open to performing in a unique place for an unorthodox request. He was so kind and humble in all communications, but especially at the event, playing amongst the rocks of Joshua Tree...it was stunning...far exceeding my expectations. Perfect! I couldn't recommend Hitoshi more highly. Thank you, Hitoshi! You are such a gift!
Christmas Party•Reviewed on December 22, 2021•From Pacoima, CA
Celebration•Reviewed on December 2, 2021•From Ladera Ranch, CA
We hired a duo this time around - Hitoshi and a pianist. FABULOUS ARTISTS! GRACIOUS PEOPLE! Can't wait to hire him/them again!
Wedding Ceremony•Reviewed on February 20, 2016•From Orange, CA
Hitoshi was great. He was on time and well dressed. His set up was perfect and not overbearing. He knew all the musical cues that we had discussed and played exactly the right songs. He music added a very romantic feel to our wedding. I would highly recommend.
Wedding Ceremony•Reviewed on October 18, 2014•From Eagle Rock, CA
Hitoshi was an absolute pleasure to work with! He's very talented, kind and professional. He played beautifully at our wedding. We requested one piece of music, and he nearly had me crying before the ceremony began because I've never heard it played so well! We highly recommend him!
Wedding•Reviewed on December 8, 2012•From Newport Beach, CA
Hitoshi was my brother in law and his wife's cellist (September '12) at the Ritz-Carlton in Dana Point, as well as for mine and my wife (December '12) at the Balboa Bay Club and Resort. He was on time for both events, and played beautifully for both of our weddings. My wife had made some requests for specific songs, and he accommodated and played them wonderfully. We were very pleased and happy to have him as a part of our weddings. Having Hitoshi as our cellist was romantic and classy for our ceremony and cocktail hour. He is VERY reasonably priced for the quality of work he puts out. You won't regret it!!!
Anniversary Party•Reviewed on May 6, 2011•From Coto de Caza, CA
Hitoshi was PERFECT. I would recommend him to anyone and will definately use him again. He responded quickly to my emails, arrived on time, has an amazing talent, played longer than expected, was accommodating and make our special night even more special. I was impressed with every aspect of his performance, professionalism, talent and kindness. Thank you so much!!!
Celebration•Reviewed on August 30, 2012•From San Diego, CA
Hitoshi was incredibly accommodating. I requested he play at a fountain in front of a Starbucks which my friend frequents each morning as a birthday gift. I wanted the event to be anonymous and perfect timing was imperative. Hitoshi showed up at the venue early, contacted me and even texted me pictures so I would know he was there. He checked in several times and the event went off perfectly as planned. My friend was extremely pleased and raved about Hitoshi's talent and presence. I am extremely satisfied with Hitoshi's level of professionalism, dedication and incredible talent. I hope to have occasion to engage him again at a time when I can be present.
Wedding Ceremony•Reviewed on February 11, 2012•From Twentynine Palms, CA
Hitoshi drove all the way out to Joshua Tree National Park to play his cello for about 30 minutes in what turned out to be quite chilly weather. He did a fantastic job accommodating our requests for non-traditional cello music and was a pleasure to finally meet in person after only communicating via email leading up to our ceremony. I would definitely recommend him to anyone getting married in California!
Wedding Ceremony•Reviewed on December 15, 2012•From Dana Point, CA
Excellent. Very professional and the performance was amazing.
Memorial Service•Reviewed on October 26, 2012•From Santa Monica, CA
We hired Hitoshi (Romantic Cello) to play at the memorial service for our Mother. He was all that we could have asked for and added a very special touch to the service. He was extremely professional and played beautifully. Several of our guests took his business card, as they were equally impressed by him.
Birthday Party (Adult)•Reviewed on September 29, 2012•From Irvine, CA
Hitoshi has the highest level of professionalism and musical ability. He arrived for our garden party and fit into the ambiance and style of the party with ease. He was "in the zone" and immersed in his music -- playing for longer than the contracted time period. No watch checking, and committed to his contribution to the party. Great jub!
Wedding Ceremony•Reviewed on July 13, 2012•From San Bernardino, CA
Hitoshi was awesome. He played before and during our wedding ceremony. Before the event he was always quick to respond via email and on the day was at the venue early and ready to go. Very very professional. Not only that but at the end of our ceremony when our Ipod malfunctioned in playing our favorite song he saw something was wrong and immediately played to cover the mistake, saving the day. I would highly recommend him to anyone looking for a very talented and very professional cellist!
Wedding Ceremony•Reviewed on September 25, 2011•From Los Angeles, CA
Hitoshi of Romantic Cello was so wonderful! Before the wedding we spoke a number of times to go over the best music and instrumental duo for our special day. Hitoshi took the time and care to answer each and every question and never made me feel bad for asking! On the day of our wedding he played the songs we requested for cocktail hour and our ceremony music was perfect too! Our family and friends were so impressed and I heard a number of people say that they look forward to hiring him for future events. His cello and digital piano are top quality instruments At first, I thought he had brought a real piano with him! I highly recommend Hitoshi for your event!