Back to profile
Spanish Classical Flamenco Guitar by Jay & Lee Reviews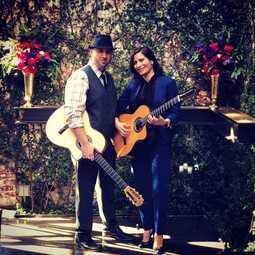 Avg 5.0 | 55 Reviews

Flamenco Guitarist from New York City, NY

148 Verified Bookings
Starting at $650 per event
---
55 Reviews for Spanish Classical Flamenco Guitar by Jay & Lee
Wedding•Reviewed on June 21, 2014•From North Bergen, NJ
Jay and Elysa Hochman are an amazing guitar duo! The guests and even the owners of the wedding venue were raving about them long after our event ended. They played before and during our ceremony as well as during the cocktail hour and their performance was simply perfect! I even requested that they arrange and learn a song they hadn't played before for my entrance (during the ceremony) and they simply created a magical moment for my husband and I that we will never forget! I highly recommend this vendor to anyone looking for an amazingly talented and classy duo for their next event. Michele & Jack
Birthday Party (Adult)•Reviewed on September 17, 2011•From Brooklyn, NY
Highly recommend this talented trio! For anyone looking for beautiful music to accompany any occasion, look no further than this group. Their music appealed to everyone, young and old, from many backgrounds. They were very professional from the start. They were very flexible, changing locations mid-way through the performance to accommodate the party, and also had a wonderful sense for the appropriate volume. Most importantly, the music was beautiful. My only regret is that I was too busy to sit and watch and listen while they played; I'm glad that my guests did, and they only had great things to say. Five stars all around for this group!
Wedding Cocktail Hour•Reviewed on June 18, 2011•From Fair Haven, NJ
We hired Jay and Elysa to play during the ceremony and cocktail hour of our wedding. Not only were they helpful, accommodating, and easy to talk to during the booking process, but they also put on an amazing show! We got married in my parents' backyard and the neighbors (who were not even at the wedding) said that the music was so beautiful that they sat outside their houses to enjoy it as well! My mom proclaimed that the money we spent to hire the guitarists was, "the best spent money for the entire wedding!" We strongly recommend that you hire this duo to play at your event!
Birthday Party (Adult)•Reviewed on October 4, 2009•From East Meadow, NY
My event required classy yet subtle background music to accentuate the Havana theme without overpowering the guests. Jay and Lee gave me the exact performance I needed and they barely stopped for 4 hours. Every detail was easy and the event went off without any issues at all. Many of my guests wanted to know how I found such quality performers. MANY THANKS to the Rumba Flamenco Group!
Wedding Cocktail Hour•Reviewed on June 28, 2013•From Hamburg, NJ
We hired Jason (also Elysa and a percussionist) to play for our wedding ceremony and cocktail hour. They were absolutely fantastic. Jason was responsive in emails and helped me with the song choices. All three musicians showed up early enough to play music while the guests were arriving for the ceremony which created a lovely atmosphere (so I heard!) I would certainly recommend them for any event!
Hotel Event•Reviewed on June 19, 2013•From Elizabeth, NJ
Amazing Artist!! All of our guests raved about how amazing he was ! Book him!
Birthday Party (Adult)•Reviewed on March 2, 2013•From Brookhaven, NY
Engagement Party•Reviewed on October 21, 2012•From Morris Plains, NJ
The ambiance created by these very talented musicians was perfect. Your performance was wonderful, it really contributed substantially to the beauty and success of our party. Thank you! Thank you! Thank you!
Wedding Cocktail Hour•Reviewed on September 30, 2012•From Chesterfield, NJ
Wedding Cocktail Hour•Reviewed on September 15, 2012•From Long Island, NY
Jason and Elisa were fantastic. They were a great addition to our outdoor wedding. We received so many compliments about the beautiful music choice. I would definitely recommend them.
Wedding Cocktail Hour•Reviewed on September 9, 2012•From Cape May, NJ
Excellet Guitar Duo! Jason and Elysa performed at our wedding in Cape May, NJ. we were thrilled with their perforrmance and our guest loved them. I have gotten a lot of complimments from our guest. Everyone wanted to know how we found them. They were very professional and easy to work with too. We worked out the songs together and they provided me with some really nice suggestions. My husband and I recommend this duo to anyone looking for somethig really upbeat and original. They were a real nice touch to our wedding.
Wedding Cocktail Hour•Reviewed on August 11, 2012•From New Hope, PA
We had such a great time! They were excellent! Everyone keeps asking me how I found them and commenting on how great they are! The whole event was so amazing and having you guys be a part of it just made it that much more special! Thank you so much!!!!! Any way to get on an email list so I know where you guys are playing would love to see you again! Best! Michelle and Jeff
Wedding Cocktail Hour•Reviewed on June 23, 2012•From Jersey City, NJ
Completely amazing performance!! Made a very special day that much better with music that will be remembered for the rest of our lives.
Wedding Cocktail Hour•Reviewed on April 28, 2012•From North Bergen, NJ
Jason and Elysa put together an amazing performance at our wedding. They brought so much energy and fun to our event, their talent is unparalleled! Matt and Leo
Wedding Cocktail Hour•Reviewed on April 22, 2012•From New York City, NY
They were phenomenal! Our guests enjoyed the music so much and they helped make our night special and unforgettable!
Wedding Ceremony•Reviewed on September 17, 2011•From New York City, NY
They played for my wedding ceremony and cocktail hour. They really added a special element to it overall. So many guests commented on how beautiful it was to have the Spanish Guitar Trio playing. I couldn't have been happier with anyone else! Jason, who I corresponded with, always got back to me right away. The whole Gigmaters experience was a pleasure and The Spanish Guitar Trio was such a talent!
Anniversary Party•Reviewed on September 10, 2011•From Newark, NJ
My guests LOVed them, great fun was had by all...Sometimes with a backyard party it's casual but it lacks something...atmousphere...so I must say that Jason and his beautiful wife set the mood and made it a great day!They even learned my parents' wedding song "Moore" from 45 years ago for the event which made it even more special!Will definately hire them again!
Bat Mitzvah•Reviewed on April 30, 2011•From Wynnewood, PA
We hired Jason and Elysa to perform during cocktail hour at our daughter's bat mitzvah. They played for an hour and a half without a break. Our family and friends all thoroughly enjoyed them. The musicians and music aficionados in attendance all came up to me to tell me how impressed they were. I would highly recommend them for any occasion.
Wedding Reception•Reviewed on October 10, 2010•From New York City, NY
Jason and Elysa played during our wedding reception at a Spanish restaurant, and they did an amazing job. The music fit the mood perfectly, and many of our guests commented on how much they enjoyed it. They were also very accommodating and easy to work with, and were very friendly. I would highly recommend them as a great addition to any party or event.
Wedding Cocktail Hour•Reviewed on October 9, 2010•From Brookfield, CT
Great to work with Jason. Professional, prompt, and excellent musicianship. Great job making our cocktail hour perfect!
Cocktail Party•Reviewed on September 25, 2010•From Rockaway Park, NY
Birthday Party (Adult)•Reviewed on July 10, 2010•From Hicksville, NY
I was very happy with Jason. His music was beautiful, everything that I expected it to be. My guests enjoyed it very much. I would highly recommend booking him to others.
Wedding Reception•Reviewed on May 23, 2010•From Lancaster, PA
Jason showed up right on time and was playing at the cocktail hour...it was such a pleasant experience in the midst of all the hectic planning. My family truly appreciated the music, they thought it was fantastic! So sorry we did not get to really say hello before you left, but thank you so very much for making our day memorable. We'll hope to come see you sometime in CT! Thanks, Christine & Joel
Wedding Cocktail Hour•Reviewed on April 24, 2010•From New Rochelle, NY
I hired the Rumba Flamenco Group for the cocktail hour at my wedding (the trio). They were amazing! The music was so perfect, after the cocktails ended, my guests came to me and ranted and raved about how wonderful they were. I would highly recommend them to anyone! My entire experience from start to finish was stress-free and I am so thankful to them for their beautiful music - thank you again! Diane
Graduation Party•Reviewed on July 14, 2013•From Staten Island, NY