Back to profile
Tavi Jinariu, Los Angeles Classical Guitarist Reviews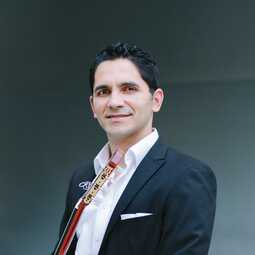 Avg 5.0 | 134 Reviews

Classical Guitarist from Los Angeles, CA

209 Verified Bookings
Starting at $300 per event
---
134 Reviews for Tavi Jinariu, Los Angeles Classical Guitarist
Wedding Ceremony•Reviewed on June 20, 2015•From Beverly Hills, CA
Writing this review is one of the easiest things I've ever done. I only wish there was a higher rating than 5 stars. Tavi, simply put, was amazing from start to finish. His playing is nuanced and passion filled. Our guests were essentially treated to a world class concert the moment they arrived at the church. He was extremely accommodating and sensitive to every need and request we made, from the moment we met over the phone and during our face to face. He is patient, personable and an absolute pleasure to work with. For anyone considering hiring Tavi for an event, my whole hearted advice is, don't hesitate, book him now and rest assured you are in great hands!
Wedding Ceremony•Reviewed on October 19, 2012•From Los Angeles, CA
The scale only goes up to 5? I'd give more stars if I could! Tavi was the perfect choice for us for our wedding ceremony and cocktail hour. He is exceptionally talented, and also very easy to work with. He gave us some great choices for songs since we weren't sure what we wanted for certain parts of our ceremony. Tavi was also willing to play or learn specific songs if we wanted them. The ceremony music was absolutely beautiful! Tavi and his fellow musicians also created an incredible atmosphere at our cocktail hour. They were all very talented, and our guests couldn't stop talking about how great they were. 100% recommended! Thank you Tavi!!!!!
Memorial Service•Reviewed on June 29, 2013•From Alhambra, CA
Honestly, if I could give more than 5 stars, I would. Tavi is one of the most talented musicians I have heard play. His technique is great, but his musicality is out of this world. He also arrived an hour early for the Service and stayed late when requested without any hesitation. His communication was timely and constant prior to the actual event. During a very trying time, Tavi and his beautiful music was one thing my family did not have to worry about. Thank you so very much, Tavi, for helping make my father's Service beautiful and memorable.
Wedding Ceremony•Reviewed on August 31, 2013•From Santa Barbara, CA
Tavi is a gem of a musician! Let me tell you why: 1) Technically speaking, Tavi is a fantastic classical guitarist. He plays delicately and beautifully, with the highest level of attention to details and expressiveness. 2) In his performance at our wedding, Tavi brought forth such warmth, class, and elegance to the space...it was truly timeless. 3) Tavi is extremely professional, personable, and a joy to work with. 4) He looks confident and performs confidently, putting everyone at ease. 5) Tavi has the extra touch of refinement: his gorgeous layering, flawless timing and transitions, and artistic transparency truly set him apart. Thank you Tavi!
Wedding Ceremony•Reviewed on June 28, 2013•From Solvang, CA
Tavi was fantastic. First of all, he is a top notch guitarist. We had several experienced musicians in attendance who commented on the high quality of the music during the ceremony and reception. In addition, we learned at the last minute that we had no power at the ceremony site. Tavi went above and beyond by helping us find a high quality battery powered amp for his guitar and our officiant, and even rented the amp and set it up for us. We couldn't be happier with his performance, professionalism, and high level of service.
Wedding Ceremony•Reviewed on August 6, 2011•From Huntington Beach, CA
Tavi Jinariu is not only an amazing guitar performer but he's also a lovely person! He took the time to meet with us, listen to what we envisioned for the ceremony and played us a few tunes. He knew instantly what we liked and we were blown away by his performance on our wedding day. He was very flexible with moving whereever we needed him, i.e. from the tent playing for everyone to the waterfront where we had the ceremony. It was stress-free, he played beautifully, all the guests loved it. It was a perfect day & he played a big role in it. He played our wedding song beautifully and we are very grateful to him to have made this day so memorable to us. Thank you Tavi!
Wedding Ceremony•Reviewed on September 14, 2013•From Sylmar, CA
Being the musician in the couple, I was in charge of ceremony and cocktail hour music. I knew I wanted a live classical guitarist to play for both, and searched for several days to find one in the Los Angeles area. While there are many, many qualified and talented guitarists out there, Tavi stood out miles beyond the rest. A quick search on Youtube pointed me to dozens of high-quality playing samples and I was instantly sold. There is no question that Tavi is the most professional, talented guitarist in Southern California. Nearly all of our guests raved about how superb Tavi's playing was. Absolutely no regrets. Please consider Tavi for your big day.
Wedding Ceremony•Reviewed on July 27, 2013•From Malibu, CA
I engaged Tavi to play for my wedding ceremony and cocktail hour. I asked him to play some contemporary songs for the ceremony and Spanish/Latin/Brazilian guitar arrangements during the cocktail reception. Tavi learned the songs I requested for the ceremony without issue and played them brilliantly on my wedding day. His specialty is Latin guitar (you can see his samples on this website) and he also executed these arrangements flawlessly for the cocktail hour. Guests actually came up to me and told me they thought the guitar music was a recording because it was so perfect and flawless, until they saw Tavi playing. Thank you so much Tavi, you made my day very special!
Birthday Party (Adult)•Reviewed on November 14, 2012•From Agua Dulce, CA
Tavi is an extraordinary talented musician that made our evening one to remember for life. He was extremely accommodating with my requests and his music selection was excellent for the event I had planned. He was really professional and on time. He arrived early, which made me feel good as I wanted everything to be perfect, and delighted us with beautiful classical guitar pieces. I can't thank Tavi enough for his great performance, Julie and myself will always treasure that evening. I highly recommend having Tavi enhance or as in my case make your event possible, with great music. And I wish him the best in his career and business. Thank you again Tavi.
Wedding Ceremony•Reviewed on May 14, 2011•From San Jose, CA
Awesome guitar solos for our wedding! The only music for the entire wedding was performed by Tavi and he nailed it. The guitar solos were the perfect romantic music for our intimate ceremony. We selected some songs that Tavi knew and also wanted him to play "And I Love Her" by the Beatles which he needed to learn. It was played during some poems readings and it was beautiful. Our wedding was in Northern California so he had to commute from Southern California. He was on time and professionally dressed. Working with him prior to the ceremony was via email and he was very responsive. Would definitely hire him again!
Wedding Reception•Reviewed on September 24, 2010•From West Hills, CA
Tavi is an unbelievably talented musician! He was great to work with, and made our wedding reception so wonderful with his beautiful guitar music. What a pleasure to have him be part of our special evening!
Tavi Jinariu, Los Angeles Classical Guitarist:
Dear Holly, I had such a good time playing for your wedding! Thank you for inviting me to be part of your very special day and I wish you and your husband much happiness. Los Angeles Classical Guitarist, Tavi Jinariu www.losangelesguitarist.com
Christmas Party•Reviewed on December 11, 2010•From Hollywood, CA
Tavi was great! Easy to work with, professional and very, very talented! I would highly recommend him & will certainly hire him again when the need arises! Patti Negri, Brain Brew Entertainment. www.BrainBrewEntertainment.com
Wedding Reception•Reviewed on January 8, 2011•From Sun Valley, CA
Tavi is more than excellent as a classical guitarist. I first heard him play for the reception of a friend of mine, and as a result knew that I'd like him to perform for my wedding reception as well. His technique is superb, as well as his choice of music. Tavi is unobtrusive and contributes greatly to creating a beautiful atmosphere. He responds quickly to emails/communication. I knew that we would be in good hands and we were!
Christmas Party•Reviewed on December 5, 2010•From Santa Clarita, CA
Our event--a church Christmas dinner--invovled a number of different musical needs. Tavi was extremely flexible in working with our in-house musicians. His playing was consistently excellent on concert pieces, soloist accompaniment, and corporate carols. Not knowing Tavi previously, I wasn't sure what someone with so much talent would be like. Just a few mintues of discussion after the concert revealed great character, a love for his craft and a genuine desire to bless our people. Wow. Tavi was worth every penny. He made our night richer and more special. I heartily recommend him as both musically-accomplished and the epitome of humility and grace.
Tavi Jinariu, Los Angeles Classical Guitarist:
Thank you for allowing me to play on Sunday evening. What a great time I had with you and all the folks there. Tavi
Wedding Ceremony•Reviewed on April 9, 2011•From Ventura, CA
Tavi did a wonderful job and made our day even more special. The ambience he set was the perfect background for an intimate wedding. Tavi is very professional and a pleasure to work with not to mentioned a very talented artist.
Wedding Reception•Reviewed on May 15, 2011•From Ojai, CA
From the very first contact with Tavi, he was professional, polite, and accommodating. His communication with us through email and on the phone was always very friendly, prompt and clear. He did everything to make sure that we would be completely happy and satisfied and we were! His presence and his beautiful guitar playing provided the perfect ambience for our wedding reception.
Christmas Party•Reviewed on December 23, 2011•From Lancaster, CA
Tavi was absolutely amazing. He arrived promptly, and it was obvious from the beginning that he is a very accommodating gentleman. He provided the perfect atmosphere for our holiday luncheon. His musicianship was nothing short of superb, and his song selections were very appropriate for our event. As coordinator for the event, I received numerous comments from attendees who thoroughly enjoyed Tavi's performance. Many inquired about his contact information for future events. Most of all, Tavi came across as a humble and extremely talented individual with a huge heart. We look forward to having him perform on future occasions.
Wedding Ceremony•Reviewed on October 8, 2011•From Fullerton, CA
Tavi is a real talent, and a pleasure to hear play. He made our ceremony the most beautiful ever. Everyone at the wedding really enjoyed his playing, and we would recommend him to anyone. Thanks Tavi for making this a special day for us.
Celebration•Reviewed on August 27, 2011•From Fullerton, CA
Tavi was a truly professional performer. The music he played made the event. Well organized, showed up early. Highly recommended! I hope to work with him again in the future.
Corporate Function•Reviewed on September 8, 2012•From Santa Monica, CA
We hired Tavi to play at our corporate 25th Anniversary party at Shutters on the Beach. As the planner of the event, many people came up to me, including the owner of our company, to compliment me on my choice of Tavi. He was simply wonderful and obviously has the powerful combination of loving what he does and being very very good at it.
Fundraiser•Reviewed on March 18, 2012•From Beverly Hills, CA
Tavi set the perfect mood for the cocktail reception, sophisticated yet light, encouraging a great atmosphere! He also gave that wow effect, (amazing musician). We were lucky to have him part of our event. Everything handled very professionally too!
Wedding•Reviewed on July 5, 2012•From Altadena, CA
Wonderfully talented and accommodating. Tavi created the perfect tone for a beautiful event.
Wedding Ceremony•Reviewed on May 5, 2012•From Palm Springs, CA
Tavi is a wonderful musician, a genuine professional and a really nice guy! Tavi in incredibly communicative. He sent numerous emails with song suggestions. On the day Tavi was early, well dressed and charming. Our guests noted how nice the music was on many occasions. Thanks Tavi!
Corporate Function•Reviewed on November 30, 2011•From Los Angeles, CA
Tavi played great music and was very professional.
Wedding•Reviewed on August 10, 2012•From Newbury Park, CA
Tavi made our wedding more beautiful than we could have hoped for! His talent and professionalism were only matched by his kindness and earnest desire to make our event just what we'd dreamed of!